The 'Troublemaker' himself is heading to Haydock Park Racecourse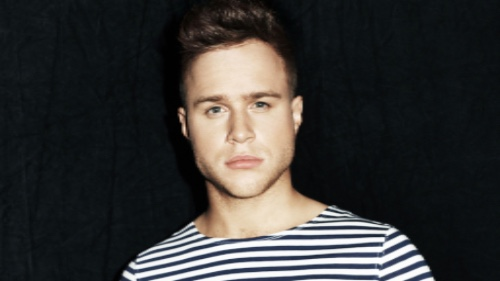 THE Jockey Club Live and Haydock Park Racecourse are proud to reveal that the 'Troublemaker' himself, Olly Murs, was the 1st act announced for their 2017 Summer Season.

Since Olly shot to fame on 'X Factor' in 2009, he has crafted four multi platinum albums and produced 4 number 1 singles with total record sales exceeding 10 million. His latest studio album:- '24 HRS' was released earlier this month and became his fourth consecutive LP to reach the top spot on the UK charts, becoming the most successful solo artist ever to come from the X Factor. A formidable performer, he has sold out arena tours across the UK and cemented himself as one of the Britain's very best live acts.

Olly Murs said:- "I'm really looking forward to playing Haydock Park Racecourse next summer, it'll be 1 of the 1st chances I'll get to play tracks from 24 HRS in the sunshine so will be a special show to share with my fans. I love a day out at the races too so can't wait to get in the crowd during the day to place a cheeky bet..."

Open air concerts at Haydock Park Racecourse offer an experience unlike any other this summer. Alongside a show stopping headlining performance by some of the worlds biggest artists, the action kicks off earlier in the day with a 6 race card; giving fans the chance to witness powerful equine athletes who are stars in their own right, and enjoy the thrilling drama and spectacle of them racing for glory.

Jason Fildes, Haydock Park General Manager, said:- "We are delighted to welcome Olly Murs to Haydock Park Racecourse next summer. He has an excellent catalogue of hits and is a UK pop favourite, I am sure he will be really well received with Haydock Park racegoers. I'd encourage people to buy early to secure their tickets for what will be one of the highlights of the summer!"

The Jockey Club Live are leading promoters on the UK live scene, delivering spectacular line ups of some of the hottest chart talent and legendary household names to some of the world's most famous racecourses. The events are renowned for combining a fun filled evening at the races with a spectacular evening concert in the informal and relaxed open air setting of the hallowed turf. Having welcomed over 200,000 fans of live music to their events in 2016, this year is set to continue the incredible success.

The racecourses have world class customer facilities, featuring an array of award winning restaurants that cater for all tastes, be it Fine Dining through to delicious bistro food. The Jockey Club venues welcome over 2million people a year for some of the UKs biggest racing events so you can be sure a fantastic evening.

Tickets can be obtained online. Tickets are priced starting from ₤37.50 adult /₤15 child (under 18). Please note child tickets are limited and all under 18s must be accompanied by an adult. All Terms and Conditions are also available online. There will be hospitality packages available to suit all budgets.

In addition to Haydock Park, The Jockey Club Live will be hosting live concerts across Sandown Park, Newmarket, Wincanton, Aintree, Market Rasen, Epsom Downs and Carlisle racecourses this summer.

If you do not know anything about Haydock Park Racecourse... Haydock Park is a dual purpose racecourse, staging 32 racing days on the Flat and over Jumps in 2016, and a leading conference centre in the north west of England. Haydock Park is part of The Jockey Club which has been at the heart of British racing for more than 260 years. Today the largest commercial group in the sport, The Jockey Club runs the largest racecourse group in the UK by turnover (2014: ₤162.9m), courses (15) including those at Aintree, Cheltenham, Epsom Downs and Newmarket, attendances (2015: 1.95m), total prize money (2015: ₤43.9m), contribution to prize money (2015: ₤19.9m) and quality racing (Group and Graded races); more than 3,000 acres of world-class training grounds in Newmarket, Lambourn and Epsom Downs; The National Stud breeding enterprise and education provider; and the charity for racing's people in need, Racing Welfare. Governed by Royal Charter, every penny The Jockey Club makes it puts back into British racing. More information is available online.
Epstein Theatre to host Channel 5's Milkshake! Live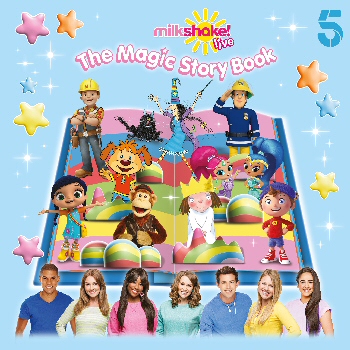 THE Epstein Theatre is delighted to announce that Channel 5's 'Milkshake! Live, The Magic Storybook' will be coming to Town, on Friday, 2 June 2017, much to the joy of children all across Liverpool! Set in Milkshake's magical bookcase, characters from 'The Magic Storybook' will come alive from page to stage in this brand new live show which is sure to amaze and delight.

Milkshake Live stars all the Channel 5 favourites from:- 'Bob the Builder,' 'Little Princess,' 'Noddy,' 'Fireman Sam,' 'Shimmer and Shine' and 'Pip' from 'Pip Ahoy' to 'Winnie and Wilbur,' 'Wissper,' Milkshake's very own 'Milkshake Monkey' and 2 Milkshake presenters!

The musical masterpiece, will take young audiences on a journey through the world's favourite fairy tales. The Milkshake cast will be singing songs and sharing stories that audience members, young and old, will know and love. With music, singing and dancing:- 'Milkshake! Live, The Magic Storybook' is the 5th nationwide live tour from Channel 5's Milkshake!

Milkshake Presenter and Show Director Derek Moran said:- "We cannot wait to be back touring the country with our brand new show 'The Magic Story Book.' It's a magical show full of audience participation. The Milkshake audience will love the classic fairytale storylines, the songs and seeing lots of their favourite Milkshake characters live on stage."

Theatre manager, Rebekah Pichilingi, added:- "Our little Epsteinees will absolutely love Milkshake! Live, no doubt about it. We've all seen Milkshake on our television sets before school every morning and the live show will be the perfect chance to make the little ones' dreams come true by seeing their favourite characters on stage!"

Find out more about Milkshake! Live, The Magic Storybook by visiting the shows website or Facebook Page To book tickets call:- 0844 888 4411 or go online.

'Out of Order' at the Opera House, Manchester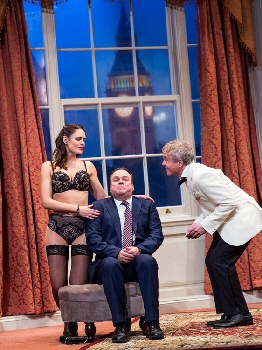 RAY Cooney celebrates his 85th Birthday and 70 years in showbiz in 2017, and to mark these momentous milestones he is working with producer Tom O'Connell on a brand new season of his classic comedies; including an updated production of his Olivier award winning Westminster comedy:- 'Out of Order.' Currently touring the UK, the show features a stellar cast. 'Out of Order' is directed by Cooney himself; who has been dubbed as:- 'The Master of Farce' by The Telegraph. 'Out of Order' runs at the Opera House, Manchester, from Tuesday, 30 May 2017, through to Saturday, 3 June 2017.

Ray Cooney's credits include Run For Your Wife, Funny Money and 2 Into 1, Caught in the Net, and It Runs in the Family. 'Out of Order' was 1st produced regionally in 1980, under the original title:- 'Whose Wife is it Anyway,' with Cooney playing George Pigden. The show was subsequently produced in the West End in 1990 starring Donald Sinden, Sandra Dickinson and Michael Williams, with Cooney directing.

Ray Cooney said:- "Having directed my Olivier Award Winning play in London and all over the world, and hearing all that wonderful raucous laughter from audiences, it has become one of my favourite plays. I've updated it to present day and, fortunately, the basic premise of a philandering politician is as likely today as it was when the play was originally written!"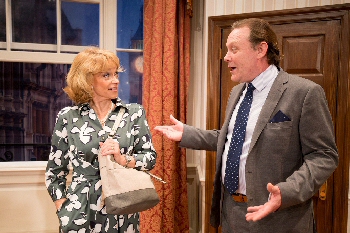 When Tory Junior Minister Richard Willey tries to spend the evening with Jane, 1 of the Opposition's secretaries, in the Westminster Hotel, things don't exactly go according to plan; starting with the discovery of a body trapped in the hotel's only unreliable sash window.

Enlisting the help of his hapless private secretary George Pigden, Willey's sticky situation goes from bad to worse, and with the arrival of Jane's distraught young husband and with the addition of an unscrupulous waiter, Mrs Willey and Nurse Foster things really come to a head!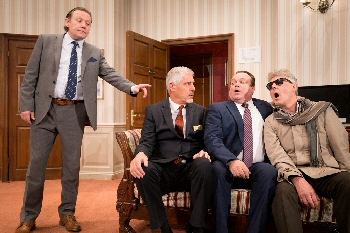 Shaun Williamson (EastEnders, Extras) stars as George Pigden; Sue Holderness (Only Fools and Horses, Green Green Grass) as Mrs Willey; Jeffrey Harmer (Out of Order, Fox on the Fairway) as Richard Willey; Susie Amy (Footballers' Wives) as Jane Worthington; James Holmes (Miranda) as the Waiter; Arthur Bostrom ('Allo 'Allo) as the Hotel Manager, with Elizabeth Elvin as Nurse Foster; Jules Brown as Ronnie Worthington, and David Warwick as the Body. Completing the cast are Raphael Bar, Simon Murray, and Kate Sawyer.

David Warwick has been involved in 'Out of Order' since 1990, when he played the Body in the try out at Leatherhead's Thorndike Theatre (under its initial title of Whose Wife is it Anyway), then in the West End at the Shaftesbury Theatre, and the subsequent national tour. He went on to direct the play in the UK (Bournemouth and Sonning), Vienna, the Far East (Singapore and Kuala Lumpur), and the USA (Miami and New Jersey). He has also played Pigden and the Hotel Manager. While Jeffrey Harmer previously played Richard Willey in a production of Out of Order for Vienna's English Theatre in 2009.

Out of Order is produced by Tom O'Connell, Debbie Hicks and Laurence Myers, with design by Rebecca Brower, lighting by Jack Weir, sound by James Nicholson, and casting by Marc Frankum CDG.

Book now at:- ATGTickets.Com/Manchester or by calling the Box Office on:- 0844 871 3018.
Crack down on drug driving
A total of 46 suspected drug drivers were arrested in Sefton by Merseyside Police in March as part of a joint initiative with Sefton Council. Merseyside Police has been working in partnership with the Council to tackle the issue of road safety around drug use and carried out a total of 70 drug wipe tests throughout the month, 46 positive tests resulting in arrest. The cost of the wipes, which are used to detect if a driver is under the influence of controlled drugs, was met by Sefton Council as part of the Sefton Safer Communities Partnership. Throughout the force as a whole 114 people were arrested during March on suspicion of driving under the influence of drugs. Merseyside Police Inspector Andy Bragg of the Sefton Targeted team said:- "These figures show the importance of taking a multi agency approach to tackling road safety, but also the excellent commitment of our officers in removing these drivers from our roads, undoubtedly reducing a significant risk to the public. For the past seventeen months our drug wipes have been funded by Sefton Safer Communities Partnership, who continue to support the Targeting Team by purchasing our drug wipes since their introduction in late 2015, with ₤10,000 being invested so far." The funding has so far seen 362 drug wipe tests on the roads in Sefton resulting in 195 arrests based on positive results. Of those arrested 75% already had a criminal background. It has already resulted in driving bans totalling 135 years, 36 months in prison sentences and 850 hours in unpaid community work. Inspector Bragg added:- "This proves what a valuable partnership we have with Sefton Council in our drive against people who are prepared to risk driving their vehicles under the influence of drugs. To help us recoup or costs we are also applying to the Courts for the cost of the drug wipes to be recovered from the offender on conviction." A spokesman for Sefton Council said:- "Through the Sefton Safer Communities Partnership funding was made available for this important piece of partnership working. Driving while under the influence of drugs or alcohol can cause massive consequences on our communities and through this initiative many drivers have been taken off the roads. It is very simple, drugs and driving just don't mix."