Brexit reinforces need for comprehensive industrial strategy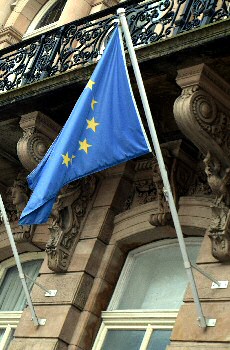 NORTH West England's manufacturers have called on the next Government to commit to a long term, ambitious industrial strategy as part of post Brexit plans for growth in a manifesto that has just been published by Engineering Employers' Federation (EEF), the manufacturers' organisation.
In the manifesto:- 'Making the Future, making Britain Great,' EEF is urging a new Government to use the opportunity to fully commit to a comprehensive industrial strategy, building on the momentum created by the surge in recent manufacturing performance in recent data including GDP and PMI figures.
However, EEF's Interim Region Director in the North West, Richard Halstead, warned that Brexit risked swamping plans to boost economic growth, and failure to reach agreement on a comprehensive trade deal with the EU could scupper manufacturers' ambitions.
Setting out the organisation's key aims for a new Government EEF calls for:-
► A comprehensive industrial strategy to boost economic growth and social wellbeing across the UK driven by the Office of the Prime Minister with all Government departments accountable for delivery.
► An ambitious Brexit deal that retains the benefits of the single market and enables seamless trade between Britain and the EU with minimal cost to business.
► A new immigration system giving employers the ability to manage work permits ensuring they have access to the people and skills they need.
► A boost for innovation, enhancing research and development incentives and making a solid commitment to improve digital technology, including the expansion of fast broadband.
► A clear commitment to deliver the 3rd runway at Heathrow and improve road and rail links.
► An extension of devolution deals across England with a focus on improving transport links.
► A renewed commitment to reduce regulatory cost on business including an enhanced role for the Regulatory Policy Committee.
Commenting on the plan, Richard Halstead said:- "Manufacturing industry must be at the heart of any new Government's vision for a strong and successful economic plan for the UK. Manufacturing firms across the North West represent the best of British business and they need to feel certain that Government is backing them in the face of the complex process of leaving the EU. Leaving the EU is an opportunity for a new Government to ensure the foundations of a comprehensive and ambitious industrial strategy are fully embedded. That means putting the delivery of that strategy at the very centre of government and making all departments are accountable. This is not a revolutionary concept. Many successful economies have done this for decades and are reaping the benefits. The UK must do the same. As we prepare to navigate what will inevitably be choppy Brexit waters, a clear commitment to an industrial strategy will give business confidence that the Government is capable of looking long term at strengthening some of the fundamental levers of our economy. From boosting innovation and improving infrastructure to ensuring we have a clear education strategy for industry where schools and colleges are preparing young people with the skills they need for the future. A new Government also needs to think differently and strategically about how it uses its significant spending power to help drive growth and exports. It can nurture existing and new supply chains and support more even economic growth through careful procurement planning. Whatever deal we eventually achieve with the EU, it must lead to a realistic and supportive trading relationship. Walking away without a deal would throw a significant spanner into any effort to build a vibrant and productive economy. A robust and growing industry will be the hallmark of a successful Brexit negotiation."
EEF's manifesto sets out a programme to boost investment and deliver a more skilled and productive workforce. Measures recommended by EEF include developing a close collaboration between Government and business to strengthen different sectors, and a drive to develop good business practices by giving shareholders a greater say on executive pay and promoting employee engagement in decision making.

Kiss is heading to Denmark, Italy, Czech Republic, Russia, Finland, Sweden, Norway, Germany, Austria, Holland and the UK!
KISS, America's #1 Gold Record Award winning group of all time in every category, are pleased to be performing at further Arena shows across Europe, throughout May 2017. Having already announced Russia, Finland, Sweden, Norway, Germany, Austria and Holland, KISS now add Denmark, Italy, Czech Republic and the UK!
As America's #1 Gold Record Award winning group of all time, and that's in every category, KISS can easily be named one of rock's most influential bands. The Rock N Roll Hall of Famers have released 44 albums and sold more than 100 million albums worldwide. Honored by their peers, KISS received the illustrious ASCAP Founders Award in 2015. Over 40 years of record breaking global tours have brought KISS to their fans. They kicked off their recent world tour with 5 headlining shows in Japan and a #1 single in 2014 "Samurai Son" with pop group, Momoiro Clover Z. Their 40th Anniversary World tour also rocked North America, South America and Australia. Additionally, once a year the "KISS Army" becomes the "KISS Navy" as fans from across the globe board the KISS Kruise (2017 will mark their 7th voyage). KISS teamed up with Warner Brothers in 2014 to create the well received original movie ScoobyDoo and KISS: Rock And Roll Mystery. Other high profile appearances have included the Super Bowl, the Winter Olympics, Rockin' The Corps concert, a FOX alliance with KISS appearing in multiple episodes of Family Guy, plus two special guest performances on American Idol finales. KISS has been featured in major advertising and marketing campaigns for John Varvatos, Google Play, Hello Kitty; even appearing in a Dr. Pepper Super Bowl commercial and advertising campaign in support of their Hottest Show On Earth tour. KISS founding band members Paul Stanley and Gene Simmons have also entered the culinary world by opening a string of successful restaurants aptly named Rock and Brews. KISS is dedicated to numerous Veterans Organizations including:- 'Vet Tix,' 'The Wounded Warriors Project,' 'The USO,' The US Chamber of Commerce "Hiring Our Heroes" program, The Legacy Organization in Australia, Help For Heroes United Kingdom and The Dr. Pepper Snapple Groups Wounded Warriors Support Foundation.

Consummate live performers, the band's illustrious career is marked by record breaking global tours. KISS across Europe in 2017 is not to be missed. Visit official Kiss website for information on Tickets and VIP Packages and for the latest band news, updates about the tour, and more!
Date
Venue
City
Country
1 May 2017
Olympiski
Moscow
RUSSIA
4 May 2017
Hartwell Arena
Helsinki
FINLAND
6 May 2017
Tele2 Arena
Stockholm
SWEDEN
7 May 2017
Spektrum
Oslo
NORWAY
9 May 2017
Forum Horsens
Horsens
DENMARK
10 May 2017
Scandinavium
Gothenburg
SWEDEN
12 May 2017
Westfallenhalle
Dortmund Y
GERMANY
13 May 2017
Schleyerhalle
Stuttgart
GERMANY
15 May 2017
Pala Alpitour
Torino
ITALY
16 May 2017
Unipol Arena
Bologna
ITALY
18 May 2017
Olympiahalle
Munich
GERMANY
20 May 2017
BVV
Brno
CZECH REPUBLIC
21 May 2017
Stadthalle
Vienna
AUSTRIA
23 May 2017
Festhalle
Frankfurt
GERMANY
24 May 2017
Ahoy
Rotterdam
HOLLAND
27 May 2017
SSE Hydro
Glasgow
UK
28 May 2017
Barclaycard Arena
Birmingham
UK
30 May 2017
Manchester Arena
Manchester
UK
31 May 2017
o2 Arena
London
UK