Air Ambulance responds to a road traffic collision on Promenade Road
Photographs by VAMPHire.com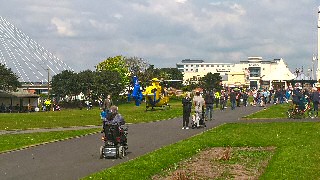 ON 2 May 2017, the Air Ambulance responded to a serious incident on the Promenade Road, on the entrance to Southport Pier.

Merseyside Police have told us that:- "Our Officers were called to a road traffic collision, at around 1:30pm, on 2 may 2017. A number of vehicles and Officers assisted at the incident which required the Promenade Road to be closed to traffic for a short time to allow the Air Ambulance to land and take off. We are told that the collision involved a Mercedes Sprinter Van, with 2 casualties, an elderly female along with an elderly male. Both we are told are in hospital in a stable condition."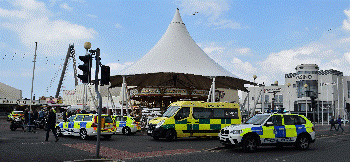 NWAS said:- "NWAS attended a road traffic collision on the Pier Forecourt, Promenade, Southport, next to Silcock's Funland, with a number of units, a Rapid Response unit, an Ambulance and the North West Air Ambulance. A male in his 90's had sustained injuries to his head and hip and a female, in her 80's, to her head and back. Both of the casualties were taken by vehicle to hospital and not by Air Ambulance as reported in some of the press."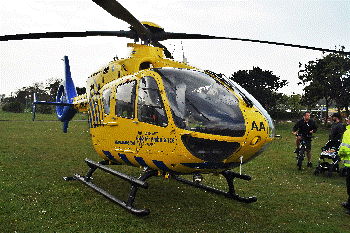 Merseyside Police have also commented that:- "If a road is closed to traffic, even if you cannot see why, do not try to drive down it. You will face prosecution in court that can lead to fine, penalty points on your licence and might lead to a disqualification from driving. They also want to remind drivers that under 'Section 35 of the Road Traffic Act 1988' it is an offence for the driver of a vehicle not to stop when required to do so by a Police Officer engaged in regulating traffic. This reminder follows on after a motorist declined to obey the temporary restriction in place at this incident."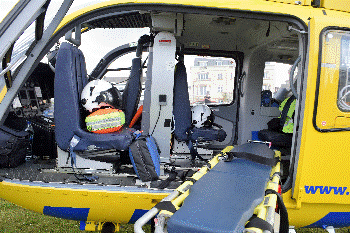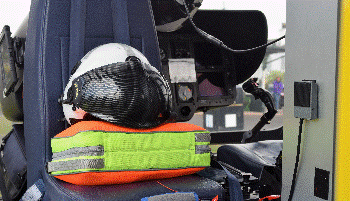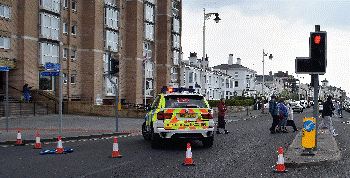 Shawn Mendes 1st ever Arena World Tour stopped off in Manchester
Photographs by Mark Kaye. Review by Jo Forrest.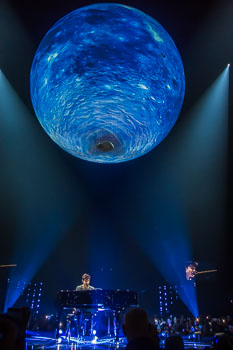 THE Multi Platinum singer / songwriter Shawn Mendes 1st ever headlining Arena World Tour stopped off at the Manchester Arena, on Friday, 28 April 2017, along with special guest James TW.

The Manchester Arena was packed with 15,000 people for the young Canadian singing sensation, Shawn Mendes, who, at only 18 years old is selling sold out arenas everywhere. Shawn rose to fame 3 years ago singing 6 second cover snippets on Vine and the rest is history. The crowd was 90% young teenage fans with mums and Dad's in tow, all having a great time.


Having released his second album, Illuminate sees Shawn embarking on a world tour and he kicked of the night with Holding Me Back and the crowd went wild and that was pretty much the scene to the entire show, with 15,000 young, adoring fans maniacally screaming to every song, even the ballads.

Once the 1st part of his 90 minute set had finished, Shawn moved to a piano on the much smaller, circular B stage to start part two with Life of the Party while a giant inflatable globe hung above him, not dissimilar to the one Drake used on his tour. The crowd surged to the stage, something I do not think security was prepared for, and for the next several songs the crowd further back got the chance to get a little more up close and personal before he moved back the the main stage. Phone torches lit the arena for almost the entire night and the crowd danced and sang to every song. Shawn finished the night with one of his massive hits Treat You Better, before leaving the young crowd desperately wanting more.

It was a truly impressive show for Canada's biggest export after Justin Bieber and hard to imagine what he could have done to have made it any better, the young adoring fans were thrilled by every move.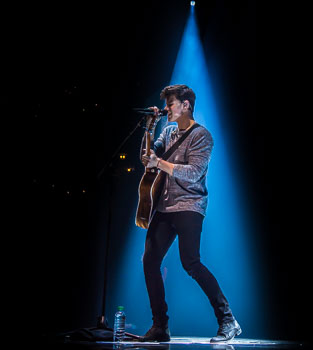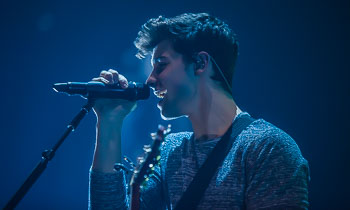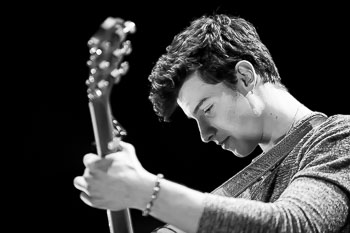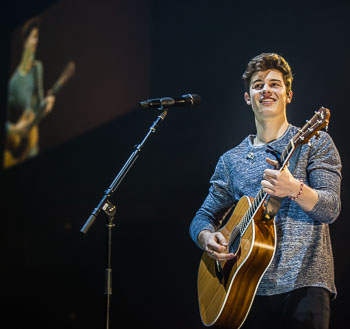 We hope you liked the photos, but please, don't copy them. Please help us to keep our copyright intact and to keep this website newspaper online. Click on here to find out how you can order copies of these photos.