Family Fun on LightNight 2017
WHETHER it's singing, getting stuck into a new art form or playing a retro game there's plenty to see and do this LightNight Liverpool's galleries, heritage and academic venues will throw open their doors late into the night on Friday, 19 May 2017, for the City's 8th Annual LightNight. The festival will see hundreds of free cultural events staged across the City Centre for visitors of all ages.
Over 100 arts organisations come together, with more than 900 artists and performers taking part to respond to the theme of 'time'. There's plenty to enjoy, even for the littlest of art lovers, and lots of opportunities to take part through music, dance and crafts.
A few of the events on offer will be:-
► Typhoon and the Pedal Players (LightNight commission)
Paradise Street, 17:00 - 21:00
Their time machine is broken and the Pedal Players are stuck in a time continuum; cycling around in circles for centuries, telling the same stories for years and YEEEARS! Will they return to 2017? Or surrender to a lifetime of steampunk storytelling? Join them as they journey across time and space. Typhoon and the Pedal Players can be found here, there or anywhere between Paradise Street (near John Lewis), Manesty's Lane, Peter's Lane and Bluecoat Courtyard. Seconds mean nothing in a time slip so join them along the route or at Paradise Street on the hour.
► Fancy a Selfie?
Bluecoat, 17:00 - 21:00
Join artists from Blue Room, Bluecoat's inclusive arts programme, as they take you on a fancy dress journey through time. Create your own accessories and props in a drop in costume workshop or take a shortcut and use the pre-made props and costumes, then visit the photo booth or one of the selfie stations to capture and share your moment in the Bluecoat time portal.
► Time, Space and Climate Change
LJMU John Foster Building and Gardens, 17:00 - 22:00
Fascinated by space? This is a must see for any budding scientists. A fun, interactive installation features experts from LJMU's Astrophysics Research Institute and Department of Geography to explore how scientists work out what the space is in, well, space. Learn what was happening on Earth when light left distant objects in our Universe, measure light and distance using spectral lamps and spectroscopes. Hands on activities explore how climate change has, and continues to change over time.
► Big Art for Little Artists
Walker Art Gallery, 17:00 - 22:00
Bring the little ones for a fun evening of craft activities, storytelling, exploring and dressing up in the children's gallery:- 'Big Art for Little Artists,' designed to introduce children to art. A special place where children can learn and have lots of fun! For children up to the age of 8.
► The Super Sonic Assembly (LightNight commission)
Liverpool Cathedral, 18:45 - 23:00
Bridging past, present and future through song and dance, the 'Super Sonic Assembly' showcases the evolution of music since WWII. This fun, interactive family event features choirs, community participation and a blistering DJ set of great music (from the and now) by Greg Wilson. Community choirs and the Reverend Cleve Freckleton lead a journey from the 40s, through the Summer of Love to the present day. Everyone is encouraged to join in to create a vast aural harmonic experience.
► Time Out of This World in Brass
Grand Ballroom, Liverpool Town Hall, 19:00 - 21:30
2 special pop up concerts by The Liverpool Walton Band of the Salvation Army performing James Horner's classic soundtrack to:- 'The Land Before Time', alongside off piste surprises and family favourites all rooted in the notion of Time.
► Fanny and George's Georgian Liverpool
Merseyside Maritime Museum, 17:30 - 21:00
Join Fanny and George for a poke around Georgian Liverpool and discover death, disease and docks, plus a few beauty secrets that will make your hair curl. With tales of smuggling:- 'oyster selling', and a good old fashioned day out at the hanging, this performance is not the for the faint hearted! For children aged 10+...
► Here be Dragons
Steble Fountain, 20:45 – 22:15
A group of mysterious hooded figures make their way through the crowds, accompanied by 2 huge dragons. Out of place and out of time, they bring messages from the past… but do we have the ears to hear them in our modern world? With two spectacular lantern puppets, Headstrung deliver an after dark visual feast to delight all ages.
► The Paper Moon Print Studio
Constellations, 17:00 - 21:00
Screenprinting is a very instant process, and it's a very satisfying one to turn your hand to. A once blank piece of paper is permanently altered in seconds from the pull of a squeegee. The Paper Moon is a shared screen printing studio space, base din Constellations. Come and take a look and try your hand at printing.
► Gaming Through Time
Contemporary Urban Centre, 18:00 - 20:00
Inspired by the number of retro games that came out of Liverpool, the Studio School curated the world's 1st interactive, educational, retro gaming museum. This interactive, playable exhibition is home to many consoles of the past; from the Commodore 64 to the ZX Spectrum and a Nintendo Entertainment System, moving into the modern day with consoles such as the SEGA Dreamcast and Playstation 1.
► Clay Time
Baltic Clay, 17:00 - 23:00
'How long did it take to make?' Artists are often asked this; now is your chance to find out. See a studio busy with artists creating work and have the chance to see how a piece of work comes to life as well as enjoying games and activities exploring time and the creative process.
The full festival line up is available at:- LightNightLiverpool.Co.UK.
The printed LightNight Festival Guide is on sale now for ₤3 and features full listings, a cultural diary for the rest of the year and in-depth articles about commissions and other cultural events taking place this year. The proceeds will fund LightNight 2018 so visitors are urged to show their support.
The LightNight Guide has been produced in collaboration with local publisher Wordscapes.
Order online or buy 1 from:- Bluecoat, Blackburne House, News from Nowhere, FACT, Liverpool Cathedral, Homebaked, Unity Theatre, Baltic Social, Furrow, dot-art Gallery, Baltic Bakehouse, Bluecoat Display Centre, Victoria Gallery and Museum, St George's Hall, Baltic Creative, British Music Experience, Northern Lights, Albert Dock Tourist Information, Liverpool Central Library, HUS and Black Lodge Brewery.

Voyage of a lifetime ahead for the crew on Tall Ship Lord Nelson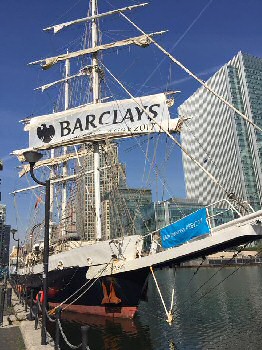 The Jubilee Sailing Trust and Barclays employees from across the UK have joined forces to embark on an extraordinary event; to voyage round Great Britain aboard Lord Nelson, 1 of only 2 fully accessible tall ships in the world. In total over 400 people, comprising of Barclays colleagues alongside disabled or disadvantaged people, will be joining the ship's permanent crew for 11 voyages over a 2 month period. The event programme aims to not only provide a life changing experience for all participants, but to create community level opportunities to promote accessible services, digital skills and inclusive employment thanks to a parallel series of in port events linking with Local Authority and Corporate partners. The 1st of its kind voyage has been a huge logistical undertaking, bringing together hundreds of people across the country, and dozens of community and charity groups, to help deliver the bold ambition of a:- "Round Britain Relay," aiming to change perceptions of disability and bring together the communities in which Barclays operates. Lord Nelson reached Huskinsson Docks, on Wednesday, 3 May 2017. With a new voyage crew joining in Liverpool, the ship will voyage back out to see before returning to Liverpool Cruise Terminal, at the weekend, ready for a day of events, on Monday, 8 May 2017. Commissioned by the Jubilee Sailing Trust in 1984, Lord Nelson was the 1st tall ship in the world to be designed and built to enable people of all ages and abilities to sail side by side on equal terms. Each of the 209 Barclays employees will be paired with a 'buddy' on the 11 leg voyage, with everyone working together to have a shared, inclusive experience. During the voyage, the crew will get the chance to share skills and life experiences, and make lasting friendships. Especially designed facilities onboard include wide flat decks for ease of movement around the ship, wheelchair lifts between deck levels, hearing loops, a speaking compass, when required and hydraulic power assisted steering to enable people with limited strength or mobility to experience the thrill of controlling a large sailing ship.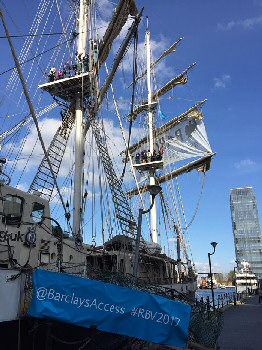 Simon Smith, Regional Director, Barclays Wealth Management, said:- "Volunteering on Lord Nelson will be an extraordinary experience for everyone involved and is something incredibly special for them to be part of. The ethos of the trip is about allowing the crew to test themselves in exceptional circumstances and we hope everyone involved gains an overwhelming sense of achievement and pride, which in turn, will impact on their personal and professional lives. We know that 1 in 5 of us have an impairment and initiatives such as this help to educate and equip everyone involved with the right tools and experience when catering for disabled and disadvantaged people. Living in a diverse society it's important for us to help raise awareness."
Duncan Souster, Chief Executive Officer, Jubilee Sailing Trust, commented:- "We are absolutely delighted to be working with Barclays on this ground breaking initiative. It is great to see their outstanding and strong commitment to creating more diverse, inclusive communities and to building individual life skills. I am so impressed by the fundraising efforts of their staff to provide this very special opportunity to individuals living within their community."
Elaine Draper, Barclays Director of Customer Vulnerability and Accessibility, said:- "Both organizations are committed to creating environments and opportunities which are open and accessible to all; and this event provides a fantastic platform to do something on a national scale, but with local flavour, so that it resonates with the whole community. Accessibility, digital innovation and community engagement are integral to the way Barclays does business and this project has been a fantastic opportunity to bring colleagues together to build a sense of pride in what the bank is doing and the way we do it."
For more information visit:-
JST.Org.UK/About-Jubilee-Sailing-Trust.
Liverpool's walking environment ranks 4th in a poll of the UK's 10 largest Cities
FOR National Walking Month, Living Streets, the UK charity for everyday walking, surveyed over 2,000 people living in the UK's 10 largest Cities about how walking friendly they felt their City is. The survey asked Liverpudlians how safe they feel when walking in their City, how close shops and amenities are, convenience of public transport and proximity to parks and green spaces. Liverpool scored well on most of the categories, with more than ½ of residents saying they feel safe when walking in the City and more than 60% citing shops and services as easily accessible on foot. However, pavements let the City down in terms of making it into the top three UK walking Cities with over a third 39% finding them poor or very poor when it comes to how clutter free and well maintained they are. The vast majority, 83% of Liverpool residents, said they are in favour of more measures to encourage walking in the City, as:- 'Living Streets' National Walking Month' launches this May 2017. Jenny Wiles, Living Streets Regional Director (North) says:- "It's great to see Liverpool doing so well in this poll. However, Cities around the UK have some way to go to become world leading walking Cities and this is something we want to help create. It's encouraging that people in Liverpool see the importance of investing in walking to make the City a better place to live in." This National Walking Month Living Streets are asking people to rate their everyday walks to build a picture of the walking environment around the UK. Rate your walk at online. This National Walking Month is the launch of the charity's Walking Cities campaign. Living Streets wants City leaders and transport professionals to design Cities around people, not vehicles. 7 steps for change include:- Make Walking a priority, Plan for walking, Create a walking network, Design streets as places to enjoy, Provide attractive alternatives to the car, Make walking safe and Change behaviour and celebrate streets.