Liverpool Disco Festival 2017
Photo by Hannah Metcalfe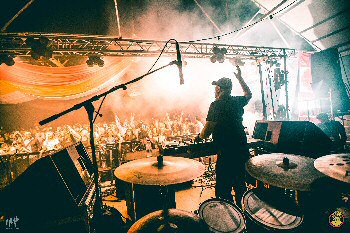 ON Saturday, 6 May 2017, Liverpool Disco Festival are extremely proud to reveal their next artists as they join forces with the 30th Anniversary of the legendary Southport Weekender. With local disco exponents Hustle and Croatian icons SUNcéBeat, they have all come together to present a beautiful weekend of music in the City's resplendent Baltic Triangle.
The Southport Weekender remains a seminal and celebrated event which has helped shaped the UK's festival scene, 1 of the most influential festivals whose influence and music blueprint extends around the world. They have booked pretty much every essential live act and DJ across the house, disco, jazz, funk and soul spectrums, and are weaving their magic; embracing all three decades of it this year; into the Liverpool Disco Festival's 2nd event in the City. Set in the Baltic Triangle; Liverpool's thriving cultural quarter; the festival takes place at Constellations, the Camp and Furness, Great Baltic Warehouse, New Bird Street Warehouse, Hangar 34 and 24 Kitchen Street.
Taking over the Camp and Furnace, Glitterbox is 1 of the world's most flamboyant and hedonistic parties. The club experience is enhanced by dancers and performers, but the crowd are always the true stars of the show; open minded, passionate, and encompassing all ages, colours, genders and sexual orientations. In 2016, Glitterbox reached a new high in Ibiza, with Fridays at Space seen as the very best nights on the island. Over in London, Glitterbox continues to sell out Ministry of Sound and the party is returning to We Are FSTVL and Defected Croatia this summer. making a rare adventure outside of London and coming to Liverpool for a very special show.
Widely regarded as one of the world's 1stsuperstar DJs, David Morales grew up during dance music's most influential era and frequented its legendary clubs such as The Loft and the Paradise Garage in NYC. He has remixed and produced everyone from Mariah Carey to Michael Jackson and the Pet Shop Boys to Jamiroquai, with a unique mercurial touch which has influenced his long running Def Mix label and agency. David is playing a disco set and after party house set at the festival, illustrating his vast depth of knowledge between and across the genres.
Next up is DJ Jazzy Jeff who has been wowing the world with his flawless turntable skills, innovative production and musical versatility for many years. The revered multiple Grammy and American Music Awards nominee is a pioneering turntable tactician, famed for his technical ability as much as his tune selection; he is most certainly a magnificent addition to the weekend.
And the beating heart of Glitterbox himself, Simon Dunmore, also joins the festival. The founder of Defected Records, one of the world's longest running house music labels, continues to develop both brands in new and exciting ways. Simon himself continues to spin across the world, bringing his decades of acumen and experience to Liverpool.
They join the already announced D-Train and Ultra Naté live, plus DJing are:- Tony Humphries (4hr Zanzibar set), Joey Negro, Jellybean Benitez, Danny Krivit, John Morales, Nicky Siano, Mr Scruff, DJ Spen, Karizma, Rahaan, Al Kent, Lenny Fontana, Graeme Park, Jamie 3:26, Red Greg, Mark Seven, Get Down Edits, Neil Pierce, Craig Smith, Ronnie Herel, Terry Jones, Bigger, Andy Davies, Paul 'Bozak' Morrissey, Davide Fiorese, Mark Stone, Paul Stuart, Natasha Kitty Katt, James Morgan, Jimmy Allen, Gavin Kendrick, Kamma, Masalo, The Queen and Disco, No Fakin' DJs, Groovement Soul and Ghetto Child DJs.
The Baltic Triangle is a historic City central area, which is enjoying a burgeoning renaissance, and is now the City's thriving cultural quarter. Just a stone's throw from the Albert Dock; Liverpool's World Heritage Site; and an abundance of fine bars, restaurants and shops, the Triangle has been reclaimed and resurrected by a growing colony of creative people and independent venues. Many boutique hotels and apartments are nearby for anyone wanting to stay over during the festival.
Tickets on sale here:- Skiddle.com and more information can be found on:- LiverpoolDiscoFestival.com.

Are the Government proposals to reduce air pollution - charity accuses ministers of abdication of responsibility?
THE UK Government on 5 May 2017 has produced a draft air pollution consultation after a protracted legal battle with campaigners. The Government is seeking views on these proposals in advance of preparing its final plan for publication by 31 July 2017. All final decisions will be taken by the incoming Government. The consultation will run until 15 June 2017. The proposals suggest it is for local authorities to develop plans for clean air zones. There is also a suggestion that speed bumps on local roads could be removed, as well as other:- 'traffic management measures.' According to the Royal College of Physicians, air pollution across the UK is linked to around 40,000 premature deaths every year. The UK has struggled to keep within EU limits on some pollutants, particularly nitrogen dioxide (NO2), which is produced by diesel engines and is linked to a range of respiratory diseases including asthma. Some 37 of the 43 regions of the UK are in breach of NO2 limits.
Gary Rae, campaigns director for Brake, the road safety and sustainable transport charity, said:- "These proposals had to be dragged out of the Government, who fought against it in the Courts, and lost. We will study the details in the plan, but the headlines give us cause for concern. It appears the Government has abdicated responsibility for reducing air pollution to local authorities. If any issue needs tackling on a national; and international; level, it's this. We have a national health emergency, and the Government is kicking the issue into the long grass. The idea that removing speed bumps on local roads will somehow reduce air pollution is both cynical and misguided. Most of the pollution comes from vehicles travelling on major routes, in big urban conurbations. Speed bumps are a red herring and the government knows it."
The rush to bring in 20mph speed limits might help to reduce road related deaths within built up areas, but ironically they increase toxic pollution. Reducing traffic speeds below 40mph may increase toxic pollution, says Transport Research Laboratory report Also according to AA research cutting the speed limit from 30mph to 20mph can pump up CO2 emissions by more than 10%.
Time to talk, learn about end of life issues as part of Dying Matters Awareness Week in Southport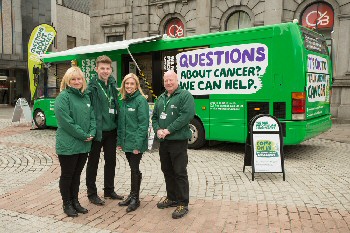 CANCER information and support is coming to Southport, on Friday, 12 May 2017, courtesy of Macmillan Cancer Support's mobile service. A team of cancer information specialists will be stopping off in Southport to answer questions, provide support and inform people about local cancer services. It's open to anyone, no matter what your concern; whether you're living with cancer or care for someone who is. Dying Matters Awareness Week is taking place between the 8 May and 14 May 2017 and it is an opportunity to talk about dying, death and bereavement. While in Southport, the Macmillan mobile team are encouraging anyone affected by cancer to come and see them if they have questions or concerns. If you or a loved one has received a terminal cancer diagnosis, for example, the team can provide information on palliative and end of life care, advance care planning, local services, and bereavement support among many other topics.
Lucy Rogers, Macmillan Cancer Information and Support Specialist on board the mobile unit, says:- "Receiving a terminal cancer diagnosis is a very difficult thing to deal with, for family and friends as well as the patient. We want to make sure you have all the information and support you need during this distressing time. If you have questions or you just want to talk, come and see us; no appointments needed and anyone is welcome. We're here for anyone affected by cancer, no matter what your worry on concern. We can provide information on a range of issues including different treatments, financial advice, exercise, getting back to work, or what local services might be on offer for you. You can even just stop by for a chat."
The bus will be located from 9.30am to 3.30pm, on Friday, 12 May 2017, on Southport, Chapel Street, Merseyside, PR8 1AR. Further information about Macmillan's mobile information service, and planned visits, can be found online or by calling Macmillan free on:- 0808 808 00 00 (Monday to Friday, 9am to 8pm).