A short medical textbook:- "The Geriatrician in Court"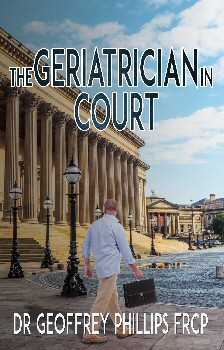 DR Geoffrey Phillips FRCP, of Liverpool, has written The Geriatrician in Court, a guide book for Physicians interested in embarking upon medico legal work.

Courts call upon expert witnesses from the medical field often, but there are few, if any books written by qualified geriatricians in this context. In 2016 Doctor Geoffrey Phillips FRCP was selected by the prestigious Lawyer Monthly magazine for an expert witness award in recognition of his specialist knowledge and experience. Offering his years of experience and many real life examples from his past cases, he has written a comprehensive guide to those who are thinking about embarking on a career to become an independent medical consultant, acting as an expert witness in court. Each aspect of the process is explained thoroughly in an understandable and clear way, covering all the typical concepts and problems encountered. Whether you're merely interested in medico legal work or wondering if becoming a court expert witness is for you, you will find this book an invaluable source of advice, encouragement, and practical know how.

Geoff Phillips is a retired Liverpool Teaching Hospital Consultant Geriatrician who for some 25 years was in increasing demand as a Medico legal Expert. Throughout his career in medicine (and before) he observed life, and collected an archive of stories reflecting pathos, humour, and the oddities of life together with interesting facts. He used some of them to enhance student and postgraduate teaching on his ward rounds and also when giving "after dinner speeches." The book is drawn from that archive and adapted for the general audience. The Geriatrician in Court is published by Austin Macauley, please visit:- AustinMacauley.com for more information.

3,000+ children in Manchester from disadvantaged backgrounds will benefit from Liberal Democrats plans
MORE than 3,000, 3 to 4 year olds in Manchester will benefit from Liberal Democrat plans to triple funding for the early years pupil premium, with gives extra cash to nurseries, preschools and school receptions when they take on children from disadvantaged backgrounds.

The cash would triple the funding to ₤1,000 per pupil per year, up from ₤302 in 2015 to 2016.

This will increase the allocation for local authorities in the Manchester from ₤888,000 to nearly than ₤2.7m and will pay for every disadvantaged child who benefits to receive 570 hours of state funded early education.

It forms part of a series of policies the Liberal Democrats are announcing ahead of launching their manifesto, with a focus on giving children and young people a brighter future.

These include:-
► Giving 16 and 17 year olds the right to vote in elections and referendums across the UK.
► Helping people buy their 1st home for the same cost as renting, with a new model of 'Rent to Own' homes.
► Restoring housing benefit for young people.
► Creating a discounted bus pass for 16 to 21 year olds, giving a 66% discount.
► Investing almost ₤7bn in our schools and colleges.
► Doubling the number of businesses that take apprenticeships.
► Tripling the early years pupil premium.
► Extending free school meals to all primary school students.

Former Liberal Democrat MP and Manchester Withington candidate, John Leech, said:- "Children and young people are at the heart of our progress. We will give them a brighter future, by investing in those from more deprived backgrounds to give them the best possible chance in life. This forms part of our credible and robust plan to build a fairer country and ensure not a single child or young person is left behind. Only the Liberal Democrats will provide a strong opposition to this Conservative government and stand up against cuts to local schools, Hospitals and regional funding. Jeremy Corbyn's Labour has let young people in Manchester down by voting with Theresa May and UKIP on Brexit. The Liberal Democrats will stand up to Theresa May and give the people the final say on Brexit, with the choice to remain in Europe if they don't like the deal on offer."