Countryside visitors encouraged to safeguard this national treasure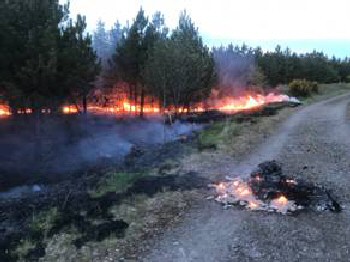 WITH the current warm weather, and the Bank Holiday weekend looming, the CLA, which represents landowners, farmers and rural businesses, is appealing for countryside visitors to be vigilant and report potential wild fires and irresponsible dog walkers. The appeal follows in light of increases in sheep worrying by dogs, fly tipping incidents and an increased risk of fires due to the recent spell of dry weather. It has been estimated that around 15,000 sheep are killed annually in sheep worrying incidents and Police forces in the region are taking this crime seriously, especially at this time of year with so many lambs around. The CLA is urging dog walkers to follow the Dog Walking Code to ensure that incidents of damage and on farm accidents involving dogs are kept to a minimum as people make use of the spring weather to enjoy walks with their pets.
CLA Director North Dorothy Fairburn said:- "Country walks are an enjoyable pastime, especially when we have such glorious weather, but it is vital that dog owners understand their responsibilities when walking their dogs on farms. That means knowing where you are permitted to walk your dog but also keeping dogs on leads around livestock, making sure that dogs are under close control at all times, and cleaning up after them. Sheep and livestock worrying by dogs can have a disastrous effect for farmers and dogs disturbing or chasing wildlife can also both harm the animals and jeopardise conservation schemes which help to protect vulnerable plants and wildlife."

Focusing on rural crime and access to land, CLA member and Director at the Land Factor, Tom Warde-Aldam, said:- "On Sunday, my brother who owns land at Healey in Northumberland, lost 4 acres of his woodland after a fly tipper set light to a dumped mattress. In addition, we've also had irresponsible dog owners not clearing up after their dogs, blighting our rural landscape. It is a commonly held misconception that forested areas are a free for all in terms of public access, but this is not the case. In view of these incidents, we have had to reluctantly restrict access to Healey Estate, encouraging visitors to stick to the public footpaths. The Tyne Valley and larger Northumberland County is a fantastic asset, and we all share in our responsibility to look after it as a national treasure, so I would urge visitors to be responsible, and to report any rural crime that might damage it for future generations."

If a crime is suspected, call:- 999. Illegal trespassing can be reported by telephone on:- 101. In the event of a wild fire, contact the local area Fire and Rescue service. The Dog Walking Code is an initiative published by countryside stakeholder groups including the CLA, Natural England, Natural Resources Wales, and the Kennel Club online.

Local artist has tourist trail all mapped out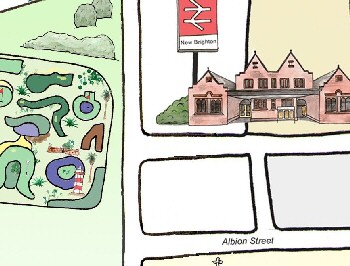 A local illustrator has expressed her pride at being invited to help promote New Brighton's newest tourist attraction.
Anita Cunningham of Fat Cat Illustration has worked in collaboration with New Brighton Coastal Community Team (NBCCT) to design the official map for the resort's new Mermaid Trail, which is set to be launched in June 2017. Anita said:- "I am Wallasey born and bred so I've seen New Brighton go from a virtual ghost town to its present day revival. It's great to see it so busy all the time. There is a good sense of community spirit here and I feel proud to be part of this."

The Mermaid Trail will see a set of 6 identical Mermaid statues installed in key locations across New Brighton.
They have each been individually decorated, 5 of them by local schools and a community group, and 1 by the local artist who designed and sculptured the statues, Barry Canning Eaton.
The Trail Map will form the centre piece of a guide leaflet, promoting the Mermaid Trail, which is being produced by the Floral Pavilion.
Anita was commissioned due to her work on other similar map projects and illustrations of local landmarks that caught the eye of the NBCCT.
Anita added:- "I started drawing maps unintentionally really. I think the idea came to me after a seeing a map of New Brighton and I thought it was a bit boring. With just a vague plan in mind, I began to draw some local landmarks and it all seemed to fall into place from there. It turned out a lot better than I imagined it would. I've always loved to draw and have studied various art courses in Liverpool and at Wirral Met. It was only after graduating from the Fine Art degree that I realised Illustration was more my cup of tea!"

The map and guide will be available for ₤1 from local shops and businesses across New Brighton, including:- Championship Adventure Golf, Floral Pavilion, Fort Perch Rock, Caffe Cream, Vale House Cafe and Tearooms, Literally A Bookshop on Atherton Street opposite the train station. The Ship Hotel, Wirral Model Shop and Cabovino Wine Bar and Tapas in The Old Town on Victoria Road and Victoria Parade will also have the guide on sale.
The Mermaid Trail has been funded thanks to a successful bid for a grant from the Burbo Bank Extension Community Fund.