NHS Trust volunteers hold Cathedral ceremony in thanks of therapy dogs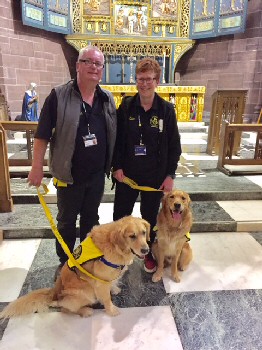 2 volunteers from Wirral based mental health trust CWP took time to paws for thought by hosting an event in celebration of local therapy dogs. Clare Grimshaw and Pete Fleming, who together with a group of passionate pooch lovers started the charity Therapy Dogs Nationwide, often visit Cheshire and Wirral Partnership NHS Foundation Trust's (CWP) Wirral mental health unit Springview with their dogs to bring friendship and companionship to service users. The ceremony took place at the Liverpool Anglican Cathedral and was attended by 34 dogs and their owners from around the region; all of whom are accredited by the charity and volunteer their time to visit people in hospitals and care homes.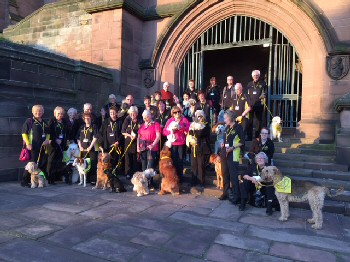 The service was led by the Cathedral's Vice Dean Miles Davies, who also blessed each dog individually in recognition of their selfless devotion to supporting some of the most vulnerable people in our communities. CWP Volunteer Clare Grimshaw said:- "It was amazing that so many of us had the opportunity to give thanks to our therapy dogs. Wherever we go they provide so much joy to people. If we could all see the world through the eyes of a therapy dog it would be a much happier place. Thank you to Liverpool Anglican Cathedral for being so welcoming and to everyone who was able to join us on the day."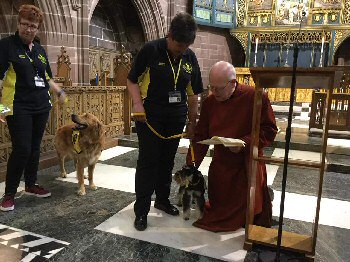 Research shows that introducing a companion animal to a care environment can result in a rise in patient health and wellbeing, with the presence of a cat or dog often helping service users feeling more comfortable, more communicative and motivated to engage with those around them. Lorraine Van Sluis, CWP Voluntary Services Lead, said:- "Volunteers such as Clare and Pete (and of course their wonderful dogs) are such an invaluable asset for the Trust. By giving their time, energy, skills and experience, they enhance the care that we deliver and add value to the experiences of our service users and carers. I am very proud of all our volunteers and can't thank them enough!"

Rock 'n' Roll Marathon Series transport information

​PUBLIC transport users are reminded that there will be a number of changes to regular services over Saturday, 27 May and Sunday, 28 May 2017, as the Rock 'N' Roll Marathon Series comes to the streets of Liverpool. A number of bus services in the City Centre and north and south Liverpool will be diverted during the events, while Merseyrail will be running some additional services early on the Sunday morning to transport runners and spectators to the start line.

The 5K event on Saturday will mainly affect services which travel along the Strand from Liverpool ONE bus station. Changes to these services will last until midday. The events on Sunday affect a wide range of services for much of the day.

Passengers travelling on the 82 and 82A services should note that all services on Sunday will depart from and terminate at Brunswick railway station for much of the day, you will be able to use a valid bus ticket to complete your journey to the City Centre (Liverpool Central) via Merseyrail.

Full details on all the services affected across the weekend can be found on the Merseytravel website, that includes details of diversions and changes to departure points for services. The additional early services provided by Merseyrail on the Sunday are as follows:-
...Wirral Line...
| | | |
| --- | --- | --- |
| Start Station | Destination | Departure Time |
| New Brighton | James Street | 0653 |
| West Kirby | James Street | 0701 |
| Hooton | James Street | 0659 |
...Northern Line...
| | | |
| --- | --- | --- |
| Start Station | Destination | Departure Time |
| Hunts Cross | Liverpool Central | 0707 |
| Kirkby | Liverpool Central | 0718 |
| Ormskirk | Liverpool Central | 0720 |
| Southport | Liverpool Central | 0658 |
Support offered to young people in Liverpool affected by Manchester attack
COUNSELLING is being offered to young people across Liverpool affected by the terror attack in Manchester earlier this week. Schools across the City are able to access and guidance via the Young Person's Advisory Service (YPAS) and CAMHS (Children and Adolescents Mental Health Service). If anyone needs support they should approach a member of school staff or they can approach the advisory service YPAS directly for support. CAMHS have mental health link workers connected to each of the City's secondary schools while YPAS has community hubs across the City, where young people can pop in for a chat or to arrange counselling.

Councillor Barry Kushner, Cabinet member for children's services, said:- "Our heart goes out to those whose lives have been changed forever as a result of what happened in Manchester on Monday night. We know that there are young people in the City were at the concert, or know people who were there and those who were tragically killed or injured. At this time, it is really important for young people and families in our City to know that counselling support is available for them."

Assistant Mayor and Cabinet member for education, Councillor Nick Small, added:- "We know that the shock of an event like this can take time to emerge, and it is important that people in our City know that this support will be there when they need it, whether it is now, in the next few weeks or even the next few months."

Monique Collier, Chief Executive of YPAS, said:- "We have already been providing support and therapeutic services to students in Liverpool and we believe that over the coming weeks there will be increased demand for services as the enormity of what has happened sinks in. It is important that people remember that support is available and they should not be embarrassed about asking for support."

More information about CAMHS can be found online and also on the YPAS website.