Robbery at Prestige Diamonds, Southport, results in staff has been taken to Hospital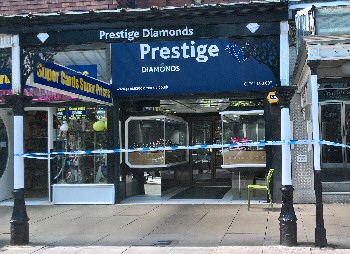 MERSEYSIDE Police Detectives are investigating following reports of a robbery, at Prestige Diamonds, on Lord Street, Southport, at around 9.35am, on Wednesday, 31 May 2017. Merseyside Police was contacted with reports that 2 men had entered the jewellers and in what is reported to be an attempted robbery. 1 of the men is described as white, aged between 40 and 50 years of age and of slim build. He was carrying a dark grey rucksack. Both men were wearing light coloured clothing. It is believed that staff were concerned about the behaviour of the 2 men and activated a fogging device.* An unknown substance was then sprayed in the shop. ​The men then left the shop through an alleyway in the direction of Stanley Street. It is not believed at this stage that anything was stolen. A member of staff has been taken to Hospital as a precaution after the substance was sprayed. They are not believed to be badly injured. An investigation is underway to establish what the substance was and CCTV and forensic enquiries are ongoing in the local area.

Detective Chief Inspector Gayle Rooney said:- "I would appeal to anyone who was in the vicinity of Lord Street who may have seen anything suspicious to contact us. It would have been busy in the area at the time and members of the public may have seen the 2 men either close to the shop prior to the robbery or leaving the area afterwards."

This incident has left locals and visitors to Southport shocked, as well as the local business community. Anyone with information is asked to contact Merseyside Police on:- 0151 777 3847 or the Crimestoppers line anonymously on:- 0800 555 111.

* Fogging devices are security devices used helping to foil offenders and act as a deterrent.


---
No Brainer earns coveted spot in UK's top 100 start ups
A pair of Cheshire based entrepreneurs who launched a creative PR and communications agency in 2015 have seen their company leap into a list of Britain's 100 best start ups. Gary Jenkins and Lee Cullen formed No Brainer in Warrington less than 2 years ago and since then have seen their PR, social media and content marketing business grow rapidly, garnering a clutch of national clients and top industry awards. Independently judged, The Startups 100 2017 Index highlights the UK's most game changing and pioneering new businesses. Compiled by:- StartUps.Co.UK and AXA Business Insurance, the list reflects the country's thriving start up community and innovative concepts which demonstrate:- "innovation, solid financials, economic impact and ability to scale." Only 21 businesses outside of London have been acknowledged with the accolade, with 'No Brainer' being 1 of only 3 businesses in the North West to feature in the index. Gary Jenkins, director and co-founder of No Brainer, said:- "This is a huge achievement for No Brainer and the team are thrilled to have been recognised on a national scale. We've worked incredibly hard over the past 2 years, establishing ourselves as a credible and innovative option for businesses, whether household names or SME's, who want support when it comes to telling their story in the most effective way possible. In a short space of time we've enhanced our abilities and employed new and innovative practises to strengthen our offering. We've got huge growth plans for the future and look forward to building on this success going forward." The agency currently works with a roster of national clients, including HomeServe, Northern Powergrid, Sale Sharks and MBNA. It also works with a range of Cheshire based clients including Aaron and Partners, Reaseheath College, CH1ChesterBID and Results Through Digital. No Brainer was also recently crowned:- 'New Agency of the Year' at the PRmoment north awards and last year picked up the 'New Business of the Year' title at the Warrington Business Awards.

Local cancer heroes urging others to join their fundraising fight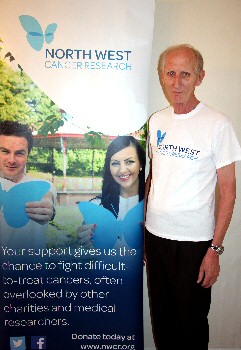 A group of fundraisers from the Sefton area are looking for local people to pledge their support and help them raise money for life saving cancer research.

Each year around 148 people in the Sefton region will be diagnosed with cancer and 1 in 3 of those will die from cancer or cancer related diseases.

The Sefton based fundraising group for the charity North West Cancer Research is now looking for volunteers to join its group, to act as regional cancer heroes and raise money for cancer research.

Jim Brown set up the group earlier this year after working with local cancer support group:- 'The Daisy Chain' for 12 years. Wanting to widen his support for cancer based charities, he set up the fundraising group for North West Cancer Research, with his two friends Kevin Dunne and Hilda Boyd.

Jim who has lived in the Sefton area all his life, was 1st inspired to work with local cancer charities after his wife Joan was diagnosed with breast cancer 5 years ago. Jim said:- "When we got Joan's cancer diagnosis, it was a shock for us all. , but thanks to treatment, which included surgery, chemotherapy and radiotherapy, she's now doing much better; although she still suffers from post treatment health problems today. Watching her go through her treatment was hard, but she has been so brave throughout it all. It was then that I knew I wanted to do something to help others and offer support for them and their loved ones. Research is an incredibly important part of the cancer journey. It's more than just finding a cure for cancer, but it's also about developing treatments which not only kill cancer , but are easier for patients to cope with and do not have the horrendous side effects that many treatments do today. I've been to the research labs at the North West Cancer Research Centre in Liverpool and spoken with the researchers the charity supports. It was great to see what the money we raise will be spent on and encouraging to hear some of the advances that their researchers are already making."

The Sefton based group is inviting volunteers to join them as they help raise money for this life saving cancer research. They are looking for people to help organise fundraising events in the local community. Jim added:- "Our aim is to have a group of around seven volunteers; although more are always welcome. We are looking for people who can generate fresh and exciting fundraising ideas, people who have a genuine desire to help support cancer research. You can give as much or as little of your time as you like and any contri, bution no matter how big or small goes a long way in helping the fight against cancer."

North West Cancer Research is one of the biggest independent funders of cancer research in the Sefton and Merseyside region. It has committed to funding more than ₤13million worth of research over the next 5 years.

Money raised by fundraisers like the Sefton group will support research such as a 2 year project looking at the role of a protein in causing drug resistance in the treatment of melanoma, and a clinical trial which will help improve the treatment of bile duct cancer.

To find out more how to become a volunteer for North West Cancer Research you can contact Jim Brown via email or by calling:- 01704 574787. You can also visit:- NWCR.Org for more details.