"Friendship group gave me a lifeline" says Edna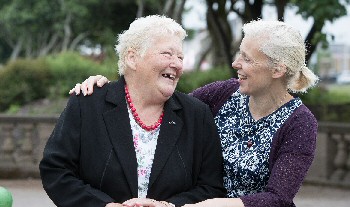 FORMER Southport Equal Opportunities worker Edna Palmer was left feeling isolated when she lost her husband who had shared many of life's experiences.
Then she turned to her local Oddfellows' friendship group; and says she's been smiling with new found friends ever since thanks to the 5 ingredients offered by the society.
Edna, 67, of Marshside, Southport, said:- "It's 8 years ago since I joined Oddfellows. When I lost my husband Albert I must say I was a bit lost, and I didn't know many people in the area. But as soon as I was persuaded to join by a friend I was hooked. I'd recommend it to anyone. You can just walk in to 1 of our meetings and give it a try or book something and then see if it's for you just like I did. I wanted to meet friends, and now I love it. We have visits to stately homes, theatre trips and have meals out, many of the things I enjoy and used to do with my husband. I go on nearly all of the events, you get to meet people within Oddfellows, and it leads you into other friendships as well."
The Ormskirk and Southport branch meets at the Royal Clifton Hotel, Southport, on the 1st Wednesday of each month, at 10.00am, when they get together for coffee, to chat and book events and trips.
Edna is speaking in support of Ormskirk and Southport Oddfellows' Get your 5 a Day, every Day local promotional campaign as it appeals for new members to come along and give the group a try with regular social events, care and welfare support, travel clubs, discounted offers and access to its heritage.
For more than 2 centuries, the Oddfellows, with 310,000 members and 132 Branches nationwide, has been serving up a unique recipe of friendship and support to local members, with the 5 key ingredients of regular social events, care and welfare support, travel clubs, discounted offers and access to its heritage through archives.
To find out more about the Oddfellows in Ormskirk and Southport, and to receive a membership pack and local events diary, contact Bonita Hesketh on:- 01695 424149, email or visit them online for further details.
---
Voters urged to be on alert to the risk of electoral fraud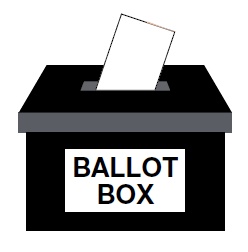 THE Independent charity Crimestoppers and the Electoral Commission are calling on the public to be aware of the threat of electoral fraud, as the UK prepares for a General Election, on Thursday, 8 June 2017. The 3 week campaign, which highlights the tell tale signs of electoral fraud. This includes intimidating or bribing voters, stealing postal or proxy votes, voting as someone else, tampering with ballot papers or postal ballot packs, or asking someone to reveal their marked ballot paper. During 2016, Police Forces across the UK recorded a total of 260 alleged electoral fraud allegations. This resulted in 2 convictions and 6 people being cautioned.

Mark Hallas, CEO of charity Crimestoppers, said:- "Electoral fraud damages the UK's tradition of free and fair elections, which is respected across the world. Incidents of people trying to unduly or illegally influence or rig the outcome of a ballot, or simply not playing by the rules; undermines the public's trust and is a crime, which is why our independent charity is here to take information on electoral fraud anonymously. To ensure the election is conducted to the highest standards, Crimestoppers is working closely with the Electoral Commission and police who take voting offences extremely seriously. Anyone with information can contact us 100% anonymously on:- 0800 555 111 or use our non traceable online form at:- Crimestoppers-UK.Org"

Electoral fraud offences include:-

► Influencing voters through intimidation or threats.

► Influencing voters through bribery or 'treating' with gifts.

► Pretending to be someone else to use their vote (personation)

► False application to register to vote.

► False application for proxy or postal vote.

► Tampering with ballot papers or postal ballot packs.

► Failing to mark election material with the details of the printer and party candidate responsible.

► Making false statements about candidates.

Crimestoppers and the Electoral Commission have been working together since 2015 when they joined forces to raise public awareness and encourage people to report their suspicions at the General Election. Tom Hawthorn, Head of Policy for the Electoral Commission, said:- "It is important that when voters go to the polls, on 8 June 2017, they are confident the Police and prosecuting authorities take allegations of electoral fraud seriously. Significant sentences will be imposed when electoral law is broken, and those responsible for electoral fraud can face jail. We are pleased to be working in partnership with Crimestoppers to raise public awareness of this. Voters should be confident that they can report any concerns about electoral fraud. Anyone who has evidence that an electoral offence has been committed should contact the Police immediately or report it anonymously through the Crimestoppers website or call:- 0800 555 111"

The campaign includes a schedule of posts on Facebook and Twitter designed to improve the public's understanding of what constitutes electoral fraud and offer available options in terms of reporting any concerns. Returning Officers across the United Kingdom will also be provided with campaign posters to be positioned in Polling Station on the day of the election. Electoral fraud can be reported anonymously to Crimestoppers through the charity's:- 0800 555 111 number or Anonymous Online Form. Members of the public can also report to their local Police by calling:- 101 or they can speak to their Local Council's Returning Officer.

Cruise Terminal's 10 Season off to a record breaking start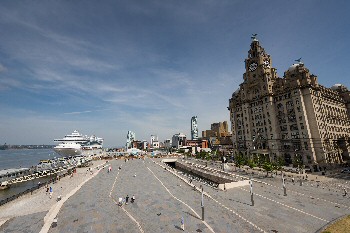 LIVERPOOL'S Cruise Terminal will launch its 10th year in operation with a record breaking start. The City's 2017 cruise season will see 10 vessels berth on the Mersey in the 1st 11 days including the biggest turnaround ship to ever visit Liverpool. Almost 20,000 passengers and crew will be welcomed at the terminal in this unprecedented two week opening, generating a ₤1.5m boost to Liverpool's tourism economy. To celebrate, the City will be staging 2 special quayside concerts / sail away shows as part of the Cruise Terminal's 10th Anniversary programme of events called:- 'A Decade Making Waves.'

The season will begin on Monday, 5 June 2017, with the Mersey debut of the luxury liner Silversea, followed the next day, by the Magellan, operated by Cruise and Maritime Voyages, who have also deployed its largest ever cruise schedule out of Liverpool. With a capacity of 1,500 passengers Magellan is the largest vessel to turnaround in the City and it will receive a celebratory quayside concert, from 8.15pm to 9pm. The concert will feature a variety of local artists and will honour the 50th Anniversary of:- 'The Beatles' Sgt Pepper' album and 'The Summer of Love.'

A colourful confetti show will signal the ships departure at 9pm. Members of public are invited to watch the concert from Princes Parade. Artists performing include:- Liverpool Ukulele Orchestra, Sing Me Merseyside Choir (80+ performers), The Night and Days, a special proclamation from Liverpool's Town Crier and Be Talls by VIP Puppets.

Liverpool will welcome another brand new addition to the City's cruise calendar when the Celebrity Eclipse makes her inaugural call on:- Wednesday, 14 June 2017. A celebratory quayside concert will take place from:- 4:45pm to 5:15pm.

Liverpool is already set for a record breaking year in 2017 as 63 cruise ships are scheduled to arrive, bringing with them over 111,000 international visitors and crew to the City.

Peter Murney, Liverpool's Cruise and Operations Manager, said:- "What better way to launch our 10th year than with a record breaking start to a record breaking season. The near non stop schedule of arrivals will certainly invoke memories of the Mersey's maritime hey day and with these special concerts we aim to give everyone a reason to celebrate the arrivals of these very special visitors to our river. We're delighted to be welcoming newcomers such as the Silver Whisper and Celebrity Eclipse and the Magellan is a highly notable landmark as it hints at the turnaround potential of the terminal over the coming decade."

Since Liverpool Cruise Terminal opened in 2007, it has welcomed 355 cruise ships carrying over 700,000 international passengers and crew, generated ₤50m to the local economy with an additional 20m GT of shipping traffic to the River Mersey.

Liverpool City Council is now looking to expand the City's cruise sector and recently appointed a technical team to develop a new permanent Cruise Passenger Facility on the River Mersey. The team will initially work on developing a detailed design on the proposed ₤50m facility before submitting a planning application for the former Princes Jetty, off Princes Parade, later this year. Further applications could potentially include supplemental projects with a new 200 room hotel and 1,100+ multi storey car park to enhance the City's capabilities in handling the next generation of turnaround cruises.
---
Leaders come together to celebrate 'Love Against Hate'
COMMUNITY and multi faith leaders will be gathering at a Liverpool Hindu Temple, on Saturday, 3 June 2017, in an act of love and solidarity for the Merseyside community.

The theme of the event is 'Love Against Hate' and will take place, between 11am and 2pm, at the Hindu Cultural Organisation, Radha Krishna Temple, 253 Edge Lane, Liverpool, L7 2PH. Indian food will also be provided for guests at the event and members of the Tim Parry and Jonathan Ball Foundation for Peace, an educational peace charity based at the Peace Centre in Warrington, will also be in attendance.

Multi faith organisation Merseyside Council of Faiths are also supporting the event. In a statement they said:- "The Council of Faiths was established nearly 20 years ago, to bring together representatives of all the faiths in the region. We work together in dialogue to speak with one voice wherever we hold common ground. Since the attack in Manchester it has become more important to show that all faiths work together. It is not religion which divides society but only hate."

The Bishop of Liverpool, the Rt Revd Paul Bayes, said:- "The Liverpool family is one which embraces people from across all faiths and I have always felt welcomed by any community I engage with. No matter how we express our faith we share a common desire to build a better society and make a bigger difference to the communities we serve. This event expresses that shared value and I hope people from all communities come and experience a wide range of cultures."

Metro Mayor Steve Rotheram added:- "I am pleased to be supporting this event that is an expression of the core human values that unite our community and that can never be broken by those who seek to sow seeds of disunity and division."
​
As well as community and multi faith leaders, the event will also be attended by Merseyside Police Chief Constable Andy Cooke, Merseyside Police Commissioner Jane Kennedy and local Councillors.

Merseyside Police Chief Constable Andy Cooke said:- "I am proud to be representing the force at 'Love Against Hate' this weekend. This is a great opportunity to come together and celebrate the cohesive communities of Merseyside. By embracing different cultures and experiences, we are able to enrich our lives, both individually and as a society. I hope that people of all faiths and beliefs will come along and enjoy the day, not to mention the delicious food which will be on offer."

Merseyside's Police Commissioner Jane Kennedy said:- "I am delighted to be joining this event in solidarity with all the diverse and vibrant communities of Merseyside to send a message of unity and camaraderie. By standing together in this way, we are showing that we will not be broken or divided, that our community will not be split or torn. We are stronger together. We celebrate our diversity while cherishing all that we have in common. The atrocity that took place in Manchester revealed the very worst of humanity, but the response to what took place has shown the absolute best of our society – people from all walks of life coming together in love and harmony. 'Love against Hate' will show the very best of Merseyside and I hope that people from across the region will come to the temple to stand with us."

More information on the Tim Parry and Jonathan Ball Foundation for Peace can be found on:- ThePeaceCentre.Org.UK. More information on the Hindu Cultural Organisation can be found online.