Local businesses at BNI are supporting Marie Curies BGTP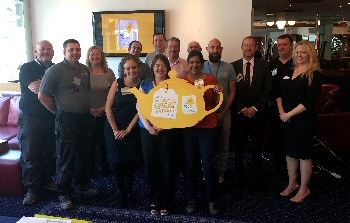 MARIE Curie is calling on businesses to hold a Blooming Great Tea Party in aid of the charity from 23 June to 25 June 2017. Marie Curie is encouraging people to get together with friends, family or colleagues to host a tea party, bake sale or special tea break to raise funds. The money raised will help Marie Curie provide vital care and support for people living with a terminal illness, and their families. Local fundraiser for South West Merseyside and Wirral Tina Robinson attended the networking group BNI Eagle to spread the word about Blooming Great Tea Parties. Paul Burns from Alexander Myerson and Co Limited, who attended the event, said:- "Marie Curie means so much to so many people across the region. As a local business we are proud to support the tremendous work that all at Marie Curie carry out from the Nurses to the Fundraisers. Events such as the Blooming Great Tea Party really do make a difference to so many lives. It is great to be part of a local business community who all come together as one to support such a worthwhile cause."
---
Isle of Man Steam Packet Company handles more than 5,000 bookings for TT 2018
THE Isle of Man Steam Packet Company handled a record breaking number of bookings when reservations opened for the 2018 TT festival.

The Company started taking provisional reservations, on Monday, 29 May 2017, 8.30am and by the end of the day had completed more than 5,000 bookings, a substantial increase on the 3,500 handled on the same day in 2016, which was the previous record high.

Almost 14,000 passengers were booked to travel, up more than 4,000 on 2016. The number of motorcycles booked reached 6,511, a significant increase on the 2016 figure of 4,755.

Online bookings were up by more than 1,000 on last year, with 3,235 made online, and 1,893 reservations were made by phone or in person, also an increase on 2016.

The Steam Packet Company Reservations Office and phone lines were fully staffed throughout the day, with extra staff brought in to help deal with the anticipated demand and teams in Liverpool and Heysham also helping out.

Isle of Man Steam Packet Company Chief Executive Mark Woodward said: - "I would like to pay tri, bute to all our staff who worked hard throughout the day to assist as many TT fans as possible to secure their travel for the 2018 TT. We experienced a significant increase in provisional bookings compared with the same time last year, which underlines the continued growth in popularity of the TT. By bringing in additional staff where possible and investing significantly to make our online booking system more robust we have made further steps forward in meeting the substantial demand. Next year we will open provisional bookings for the 2019 TT one week earlier, on Monday, 21st May 2018. Traditionally provisional bookings for the following year's TT have opened during TT Practice Week, but this is a time when our staff are already very busy and bringing the date forward will allow us to deploy additional staff to assist customers with their bookings."

The Steam Packet Company has been able to meet the increased travel demand, for motorcycles in particular, thanks to substantial investment in a removable mezzanine deck for fast craft Manannan and continued charter of MV Arrow to provide freight support. Final figures for passengers carried during this year's TT are expected to be released next week.

Mr Woodward concluded:- "Despite the volume of reservations we have already handled, there are still places on sailings to the Isle of Man during the 2018 TT, so it is worth checking on line or with our reservations team."
---
Reminder - Free Tennis this weekend in Southport!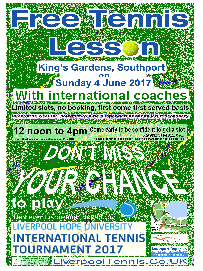 A free event will be held on 4 June 2017 on King's Gardens an historic park, which is listed in the register of Parks and Gardens (Grade II). It will also take place in the Marine Gardens, immediately opposite the Spa side of the Best Western's Royal Clifton Hotel. This fantastic event will let participants take part in mini tennis games, on a specialist mini softball tennis court, with instructions from international tennis coaches, who help train many of the world's best players! This free event, but will be on a first-come first-served basis and with limited time slots. Come early to get your chance to find out more about the sport from some of the world's best coaches. This fantastic free sporting event will be brought to you by the Liverpool Hope International Tennis Tournament 2017 and Friends of Kings Gardens Southport. Sponsored by Holistic Realignment, Liverpool Hope University and Southport Reporter. Don't forget to come along...
---
A 3rd of people haven't put money away last quarter
NEW quarterly research will track people's attitudes to saving and investments temporary installation highlights savers and investors who bury their heads in the sand. 37% of UK adults have not saved or invested a penny in the last 3 months, according to a quarterly tracker launched by RateSetter this month. RateSetter has commissioned an installation to urge people to take their heads out of the sand and take an active approach to putting their money to work. On average, people put away ₤211 each month in the last quarter. They found that men saved significantly more than women over the period, averaging ₤246 a month, compared to ₤175.

25 to 34 year olds put away the most over that period, averaging ₤245 a month, followed by those of retirement age, aged 65+, who stashed away ₤228 a month. Younger adults, aged 18 to 24, put away the least ₤141 per month, but 19% say that they currently have no savings at all, and 43% stated that they have no investments.

Average total savings and investments stand at ₤17,811 and ₤20,138 respectively, but again, men outstrip women here both on savings and investments, with total combined pots averaging ₤51,108 for men, and ₤24,934 for women. Across the regions, Yorkshire and Humberside top the table with average savings and investments of ₤45,457, followed by London at ₤44,845. Although there is widespread feeling among a majority of adults that that they are not saving enough, 50% agree, compared to 17% who disagree, just 21% expect to be able to save more over the next 12 months. But with low returns on cash accounts, both savers and non savers feel less incentivised to put money away; 44% say that low returns meant that it was not worth saving in cash. Although a 11% minority would prefer to borrow than to save to achieve life goals. This is particularly true of 28% of Londoners and of those aged 25 to 44, 19% of those aged 25 to 34 and 18% of those between 35 to 44.

Ceri Williams, Head of Investor Operations at RateSetter, commented:- "People who traditionally save their money in a cash account are in a difficult position right now, with many feel that low rates mean that it's not worth saving at all, and with inflation comfortably outstripping returns on savings products, it's easy to understand why. However, a significant proportion of people, 28%, have indicated that they were prepared to take on some risk in order to earn a better rate of return on their money. That's reflected in our experience too; as we've seen a steady rise in the number of people investing via our platform, earning returns of around 4% in exchange for taking on some risk."

RateSetter will continue to track attitudes to saving and investing, and will publish results each quarter. These figures also show just how unstable the climate is at the moment, due to Brexit and lack of money for many people through out the UK, due to pressures from paying off Student Loans and other related issues.

Formby Festival is more than just a festival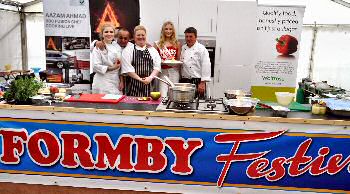 THIS fantastic event will bring you lots of food, drink, live music and entertainment over 3 days from 14 July to 16 July 2017. With cuisines and delights from across the globe, there's something to satisfy each person's taste. Italian? Thai? Indian? Real ales, fine wines and everything in between. Whatever quenches your thirst the event organisers hope they will be able to say:- "We've got it!"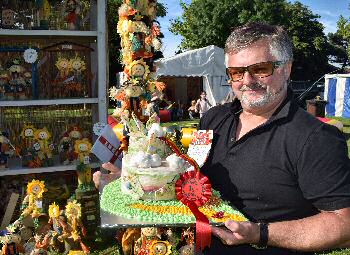 Are you an artisan enthusiast? With homemade gifts, specialist snacks and much more you won't be disappointed!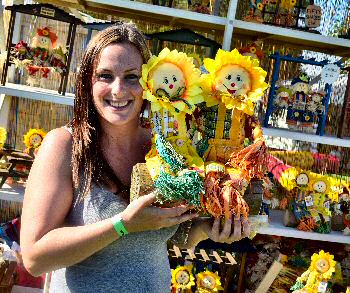 The event organizers have told us that:- "This year's event we are told will have chef demos throughout the Saturday and Sunday, with the show's resident celebrity BBC Fusion Chef of the Year; Aazam Ahmed with guest chefs as well. On the main stage this year, it's going to be jam packed with the finest talent the UK has to offer. From Friday night right through to Sunday evening you'll hear local bands, choral groups and even see performances from TV stars! The event will also have lots of things to keep the little ones busy too!"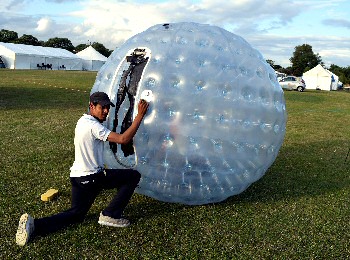 The event organisers added:- "From inflatable's, archery, climbing wall, water bumper boats, paintballing, the cave, rodeo bull, steam train, donkey rides to name, but a few. Plus the show will have many free activities for the kids too, including:- kids cooking zone, magic shows, balloon modelling, circus school and a craft marquee (all free). On top of all that, why not watch the dog display team or other displays in the arena? You can even enter the events bake off completion! Every year we aim to make Formby Festival 2017 will be even better than in 2016.
We're excited to announce that we'll be having a tri, bute night, on Friday, 14 July 2017! This will be a must see, so make sure you've got your tickets.
Robbie Williams 'The World's No. 1' Robbie Tri, bute... Recognized as 1 of the leading Robbie Williams Tri, bute Acts, this superb tri, bute act has appeared on Channel 4 and ITV and has performed in 15 countries! Not only does he look the image of Robbie, he sings and entertains exactly like the main man himself.
Cilla Black - The Cilla Show - Step Inside Love… Step inside Love is an authentic, respectful and professional tri, bute to the much loved, national treasure Cilla Black who sadly passed away recently. The Cilla Show; Step Inside Love features the amazing vocals and talent of Kate Bell and will take you back to the golden musical era of 60's and 70's!

The show is a must see, you won't catch it anywhere else, but at Formby Festival..."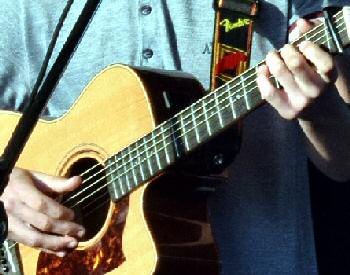 Saturday - Our Saturday night musical firework and laser display has become a legendary feature of the weekend. "You won't want to miss it! This is backed up with fantastic live entertainment on the stage and our fantastic House DJ before the fireworks begin." said Maria from the Formby Festival 2017.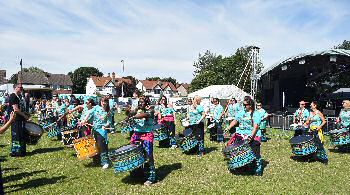 On Sunday, this event will bring to Formby a carnival atmosphere, thanks to the fantastic KATUMBA BAND, described as a walking wall of sound, don't miss them.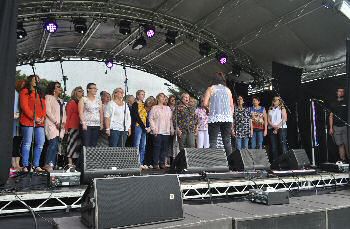 Go to the festival's website and see what is on:- FormbyFestival.Co.UK. You can also now buy tickets on that website, at a reduced rate to the gate prices.