3 men jailed in ₤17m tobacco fraud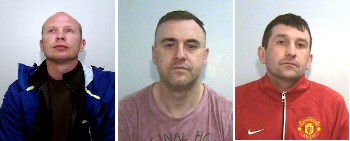 3 men have been jailed for a total of 16 years for a ₤17 million Tax fraud after an illegal tobacco factory was discovered. HM Revenue and Customs discovered that a Poland based criminal network used several sites in the North West and Essex to process raw tobacco into illegal tobacco products in an attempt to evade Excise Duty and VAT.

During the investigation, HMRC seized tobacco in:- Preston, Lancashire, in 2013 followed by arrests and more seizures of tobacco and manufacturing equipment the following year in:- Bury, Greater Manchester; Blackburn, Lancashire; and Halsted, Essex. 1 of the men, Robert Zduniak, fled during the trial, but was convicted and jailed for 8 years, in absence, at Manchester Crown Court, on Friday, 26 May 2017. His co-conspirators:- Hubert Jankowski, and Lukasz Pawelec, were each jailed for 4 years. Pawelec had also tried to flee, but was caught at Doncaster Airport and remanded for the remainder of the trial.

In April 2014, HMRC raided a farm in Essex, as well as 4 premises near Bury and another in Blackburn. They seized around 3 tonnes of raw tobacco that was in the process of being converted into counterfeit hand rolling tobacco (HRT), ₤15,000 in cash, chemicals, counterfeit packaging and tobacco packing machinery. The tobacco processing plant in Essex was dismantled immediately by HMRC. HMRC linked the 2014 seizures and the jailed men to a further 8 tonnes of tobacco valued around ₤1.8 million in evaded duty and Tax that was seized in Preston in 2013.

Further enquiries by HMRC established that the gang had imported more than 100 tonnes of raw tobacco mislabelled as:- "furniture" into the UK, from the Czech Republic, over a 15 month period. If converted into counterfeit HRT this represents a potential Tax loss of ₤17 million.
---
Local disability charity to celebrate volunteers as part of Volunteers Week 2017
REVITALISE Sandpipers in Southport have rewarded the centre's wonderful volunteers with a celebration and certificate presentation, as part of Volunteers Week, which is held from 1 June to 7 June, annually. Revitalise runs the largest residential volunteering programme of any UK charity and welcomes volunteers from all over the world. Every year, the charity's volunteers give a total of over 3,000 weeks of their time in order to live and work at Sandpipers; the charity's Respite Holiday Centre for disabled people in Southport and 2 other accessible centres in Essex and Southampton. Accessible excursions, activities and entertainments are an integral part of every Revitalise holiday.
---
Pleasureland's "Emergency Services Gesture"
SOUTHPORT'S Pleasureland have said a "BIG THANK YOU" to our wonderful emergency services and their often unsung heroes. The amusement park said:- "In troubled times, we take for granted the work done by our:- Police, Ambulance, Fire and NHS colleagues. , but it's not just the big events where they make a difference, it's also the less publicised support they give to each of us that we want to thank them for. So, on Friday, 2 June 2017, we offered them 50 free ride only tokens, loaded up onto 1 of our souvenir Fun Cards and lanyards. All that was required to get one was a photo ID to confirm that they are a member of the:- Police, Fire Services or NHS. They also extended this offer to those in the Armed Forces with ID. This gesture was only available on that specific date, but we hope all the families who did join us, enjoyed themselves and had a great day out!"

Liverpool just behind the Edinburgh's Royal Yacht Britannia in TripAdvisor's UK Top 10
THE Royal Yacht Britannia, in Edinburgh, comes in 8th in the overall rankings, with The Cavern Club, in Liverpool pushing hard, and holding at 9th, for the 5th year running.

Just like the music charts, things move around, as last year The Cavern Club was rated higher than Buckingham Palace, who this year came in at 6th. Oddly Buckingham Palace within the 'Excellent' reviews has only managed to get 53% over all, as opposed to The Cavern Club's 71% 'Excellent' reviews and The Royal Yacht Britannia's 72% 'Excellent' reviews... That means on the 'Excellent' reviews side, it gives us a totally different story, as if you go by them alone, the Royal Yacht Britannia came in 1st and The Cavern Club in close 2nd place, by just 1% separating them both. This is a fantastic achievement, considering the many other UK attractions that they both had to battle against.

The Cavern Club, known as the birth place of the Beatles nightclub, on Mathews Street, it's director Bill Heckle said:- "We're really pleased to maintain our place in the top 10 UK landmarks for 2017, particularly in a year where the Cavern is celebrating its 60th Anniversary. And it's great to be able to fly the flag for Liverpool in a list that is still dominated by London attractions. There are still a number of special events taking place during our year long celebrations. So as well as welcoming even more visitors to Mathew Street, we hope they will also feel inspired to share their experiences of the club with TripAdvisor. We hope that in 2018, we might be able to shoot up the charts even further! Considering what we have been listed along the side of, it is extremely humberling to have achieved this yet again. This years rating this shows just how hard and how good our staff at looking after our guests."

Delighted with the news, Britannia's Chief Executive Bob Downie said:- "Being included in TripAdvisor's Top 10 for 5 years in a row is a real testament to our excellent staff, who consistently provide great customer experiences that lead to such positive feedback from our visitors. There is a significant difference in the quality standards required to gain a 5 star Excellent review than a 4 star Very Good review – the former crucial in convincing new customers to invest their time in visiting your attraction."

Tripadvisor's Top 10 UK Travellers Choice Landmarks Awards:-
| | | | |
| --- | --- | --- | --- |
| Rank | Venue | City | % Excellent |
| 1 | Big Ben | London | 69% |
| 2 | Tower of London | London | 65% |
| 3 | Tower Bridge | London | 62% |
| 4 | Edinburgh Castle | Edinburgh | 58% |
| 5 | Westminster Abbey | London | 66% |
| 6 | Buckingham Palace | London | 53% |
| 7 | The Roman Baths | Bath | 70% |
| 8 | The Royal Yacht Britannia | Edinburgh | 72% |
| 9 | The Cavern Club | Liverpool | 71% |
| 10 | St Paul's Cathedral | London | 63% |
Travellers' Choice Landmarks awards honour top landmarks worldwide based on the millions of valuable reviews and opinions from TripAdvisor travellers. Award winners were determined using an algorithm that takes into account the quantity and quality of reviews for landmarks worldwide, gathered over a 12 month period. This success for Britannia, follows on from the iconic attraction reporting 2016, as its most successful year since opening 18 years ago, with 348,272 visitors in 2016 and this year, 22% up on all previous records. The iconic yacht has also been rated by national tourism agency, VisitScotland's quality assessors, as Scotland's Best Visitor Attraction for the 11th successive year.

Malcolm Roughead, Chief Executive at VisitScotland, said:- "We're delighted that 2 of Scotland's leading attractions feature in the Travellers' Choice top 10, reflecting the worldwide appeal of these iconic landmarks and the quality of the visitor experience. Scotland's history and heritage attracts millions of visitors from around the world and top attractions in Edinburgh such as these are why the Scottish capital remains a must visit destination for travellers."