Response from Chief Constable Andy Cooke to Tweet about Special Constables helping a Marathon runner over the finish line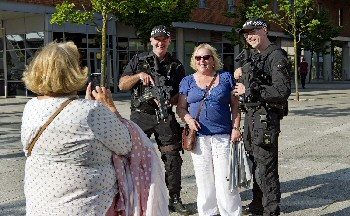 ​THE Chief Constable of Merseyside Andy Cooke have gone on record saying:- "I would like to take this opportunity to thank my Officers, Police Specials and Civil Nuclear Constabulary, who have ensured that the public of Merseyside have felt safe and confident enough to attend the many events hosted on Merseyside in the last week and during the bank holiday weekend. I was out on patrol on Friday night talking to Officers providing reassurance in the City Centre for the Take That concert and they have been overwhelmed by the public response and gratitude for the work they do. Armed Officers, who had also provided a Policing presence at the Saints v Wigan game on Friday night, were telling me that members of the public were coming up and shaking their hands, whilst thanking them for doing their bit to keep the public safe. Many of those Officers have worked for the Police for years and this was the 1st time they had personally experienced such a heartfelt response from the public and it really made an impression with them. The atmosphere in Liverpool throughout the weekend was palpable and the Tweet of the 2 Specials (Special Constable Andrew McIlroy and Special Constable James Liversidge) providing assistance to a weary runner who was struggling to make it to the finish line of the Rock N Roll marathon epitomises the spirit shown by the public and Officers alike over the last week. We cannot, and will not, let the terrorists disrupt our daily lives and we should continue to do what we would do normally. The strength, courage and humanity of some of those who found themselves caught up in the tragic events at the Manchester Arena last week has shone through. We must never lose sight of the fact that there are vastly more good people in this world than bad and the response of the people of Manchester and the North West following this tragedy speaks volumes. I am very proud of the work undertaken by my Officers and staff to protect the public and put their communities 1st and we will continue to do everything we can to keep our communities safe."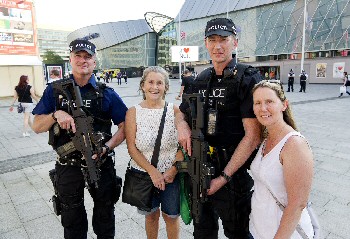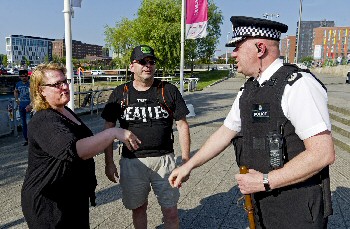 A night with the stars, as Jo Longthorne takes to the stage
TRUE song stylist Joe Longthorne brings his sensational band and a special guest artist to Southport Theatre, on Wednesday, 7 June 2017, from 7.30pm. Fans in Southport can look forward to a rollercoaster of songs and impressions including:- Tom Jones, Barry Manilow, Frank Sinatra, Sammy Davis Jr and, of course Shirley Bassey; as Dame Shirley once said:- "He does me better than I do myself!"

Joe, 1 of this UK's finest and much loved and cherished entertainers, has a showbiz career which now spans over 40 years. His incredible talent for mimicry saw him become one of the biggest stars of ITV's Junior Showtime, back in 1969, a ground breaking series, being the 1st children's TV variety show, with child performers. Joe stole the show most weeks with his brilliant performances and stayed until the age of 16, when he left with a wealth of experience and performing under his belt.

In 1981, his big break came with the LWT series:- 'Search For A Star.' Just pipped at the post in the final, he had the real prize already in his pocket and major success followed with appearances on all the key TV variety shows of the day, together with appearances at the London Palladium and a season at the:- 'West End's Talk of the Town.' He quickly became a household name, and the Variety Club honoured Joe with their award for 'Most Promising Artiste' in 1983.

A regular slot on the Les Dennis Laughter Show followed, along with a series of platinum and gold certified albums, and an appearance at the 1989 Royal Variety Performance consolidated his success. However ill health has dogged him since that time, with well documented battles against lymphoma and leukaemia finally resulting in a bone marrow transplant in 2005. Joe quickly resumed the title of:- 'the hardest working man in showbiz' with extensive tours in the UK and abroad, and regular summer seasons in Blackpool.

Joe was awarded the Variety Club of Great Britain:- 'Lifetime Achievement Award' in 2007, and an MBE for his extensive charity work in 2012. A diagnosis of mouth cancer in 2014 took him out of action for 6 months, but he bounced back again and is looking forward to entertaining his fans in Southport.

Joe Longthorne performs at Southport Theatre, on Wednesday, 7 June 2017, 7.30pm and tickets are available now. For more information or to book tickets call:- 0844 871 3021 or visit:- ATGTickets.Com/Southport (transaction fee applies)


---
Lord Mayor of Manchester Lends Support to Visiting Choir Festival
THE UK Choir Festival is thrilled to announce that the Lord Mayor of Manchester, Eddy Newman, will be opening the festival, on 8 July 2017. The UK Choir Festival is thrilled to announce that Lord Mayor Eddy Newman will be opening the event on 8 July 2017. The festival is coming to Manchester for the 1st time, following the huge success of last year's event, in St Albans. This years event will be held at Manchester High School for Girls, on Grangethorpe Road, Manchester (M14 6HS) over 8 July to 9 July 2017. Places for entries are slightly limited and tickets must be purchased for the entire choir, with a minimum of 4. Prices start at ₤29 for the Silver package and ₤39 for the Platinum package, per day.

The festival was founded in 2016 and aims to:- "support, train, and bring choirs together, allowing them to learn, develop and thrive in a truly unique way." The festival is produced by highly experienced and passionate musical director, Russell Scott, who started his musical career over 35 years ago. The UK Choir Festival is designed for choirs of all abilities, age and style, ranging from local community choirs to school or university choirs, barbershop and a cappella choirs. Founder, Russell Scott says:- "We are so pleased to have Eddy Newman formally opening the event in Manchester. As our 1st time coming to the city, it is so positive to see the local community getting behind the festival and offering their support to this fun, engaging and truly unique event."
The UK Choir Festival involves both practical and method teaching, mass choral singing, demonstrations and final performances. The festival is completely unique in the way that it is non-competitive, yet offers the chance to learn new techniques, develop performance and hear top tips to allow the choirs to be the very best they can. For further information on The UK Choir Festival, please visit:- UKChoirFestival.Com.