Enjoy a walk beside the seaside to help transform cancer care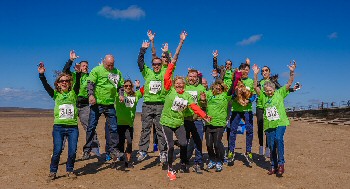 EVERYONE loves a walk beside the seaside and next month you can enjoy some hearty exercise or a gentle stroll, while raising money for The Clatterbridge Cancer Charity. Crosby Coastal Park will be the venue for the annual fundraiser, on Sunday, 11 June 2017, starting at 10am.

Everyone can take part in either the 5k or 8k walk, whether it's to celebrate a life, remember a loved one or just enjoy time at the beach with family and friends. As well as being a chance to stride out for a brilliant cause:- 'The Clatterbridge Cancer Charity Beside the Seaside Walk' will once again give dog lovers the chance to show off their four legged friends in the Pooch Parade.

So while walkers are raising much needed cash for the New Cancer Hospital Appeal, their pets can win prizes. The contest is even bigger and better this year and prizes will be awarded for Best in Show, Ultimate Cutie and Clatterbridge Mascot. The winner of each category will win a super prize and all entrants will receive a gift. Elsewhere there will be live music, and as you head towards the finish line there is a chance to stop and grab a bucket and spade and add a message of hope to your sandcastle. Entry for the walk is just:- ₤5 for adults and children aged 10 and over. Entry into the Pooch Parade is:- ₤5.

As an added bonus, everyone who takes part in the walk has the chance to win a prize for being the highest fundraiser. Canine Cottages have kindly donated a ₤250 voucher to spend on a cottage holiday of your choice. That's a prize to set tails wagging.
The New Cancer Hospital Appeal needs to raise ₤15 million towards the building of a specialist facility in Liverpool City Centre, to treat patients from Merseyside, Cheshire and surrounding areas. The 11 floor Hospital will treat both in patients and out patients and will also be a centre of excellence for research.

Katrina Bury, Head of The Clatterbridge Cancer Charity, said:- "This walk is a brilliant way to have fun beside the seaside while raising funds to help transform cancer care. All the proceeds will go towards our New Cancer Hospital Appeal, a once in a generation chance to build a Specialist Centre, in Liverpool, to fight this terrible disease. What can be better than a walk along the gorgeous Merseyside coastline that helps fund cancer treatment and research at the same time?"

For more information, or to take part in the Beside the Seaside Walk online or call:- 0151 556 5566.
---
Fusion Festival 2017 tickets on sale and 1000 Free Tickets to Emergency Services Personnel
THE Fusion Festival, the biggest pop event to wrap up the summer, and featuring 2 huge festival exclusives. The tickets are now on sale and this year the Fusion Festival will be making a substantial donation to the "We ♥Manchester" appeal from it's profits. Also as a gesture of gratitude for their heroic efforts, Fusion Festival are donating 1,000 tickets for this year's event to the brave men and women of Manchester's Emergency Services and Hospitals, along with their families. Members of Greater
Manchester Police and Manchester's NHS workers and Ambulance staff can apply for up to 4 tickets each. All eligible personnel who would like to take up this offer should email putting 'Emergency Services' as the email subject.
Fusion Festival is again teaming up with Capital, Liverpool's no.1 hit music station, to bring music fans access to the biggest acts in the world with exclusive coverage across the festival weekend. Pop sensations Little Mix headline Saturday night with their only UK festival appearance this year. The UK's most successful live act, Take That, will then close Sunday night. They are joined by:- Tinie Tempah, Ella Henderson, John Newman, The Vamps, Louisa Johnson, JP Cooper, 5 After Midnight and Jax Jones. Fusion Festival will take place at:- Otterspool Promenade, Liverpool, over 2 September and 3 September 2017. Capital will also give listeners the chance to win tickets to Fusion Festival.
Festival goers can expect the biggest pop anthems and a wide range of entertainment and attractions at the hottest event to round up the summer. Log onto the events website for more information and to buy tickets!
---
Murder investigation launched after shooting in Toxteth
MERSEYSIDE Police Detectives have launched a murder investigation following the fatal shooting of an 18 year old man, in Toxteth, Liverpool, on Friday, 2 June 2017. We are told that:- "The man was found seriously injured around 8.30pm, on Tagus Street, off Lodge Lane and was pronounced deceased at Hospital. His family have been informed and are being supported by specially trained Officers at this difficult time. A Post Mortem will take place in due course and detectives will continue with enquiries. Anyone who witnessed the incident or saw anything suspicious is urged to contact our Gun Crime Hotline on:- 0800 230 0600 or leave information anonymously and for free with Crimestoppers on:- 0800 555 111. You can also use their online form anonymously."

Britons choose "Bed and Brexit" but not in Southport!
ANALYSIS of booking data from more than 5,000 Bed and Breakfasts carried out by eviivo, the leading online booking specialist for independent hotels and B&B's, indicates that forward bookings are up 19.2% year on year compared with the same pre-Brexit vote period.
Thomas Messett, CMO of eviivo, said:- "There's no doubt that the Brexit vote and subsequent invoking of Article 50 have had a measurable positive impact on bookings at Britain's B&B's. There is no gloom at the Inn. Our B&B customers are seeing 2 benefits from a lower pound. 1st, more bookings from U.K. consumers concerned about their reduced spending power abroad. 2nd, an increase in bookings from international customers, keen to take the opportunity to enjoy a British break at a favourable exchange rate."
A poll of eviivo's 5,000 Bed and Breakfast owners also found that the majority support the Brexit decision. The result was slightly more decisive than the actual poll, with 48.3% favouring the decision to leave the EU and 45.8% favouring continued membership. The remainder were undecided. Almost 65.2% said that there was no need for a second referendum. 62.4% of owners expected to see an increase in foreign guests this year, reflecting the attractive exchange rate conditions.

Regional performance

Areas of the country benefiting the most from the upswing in bookings are Central England, Northern Ireland and Scotland.
| | |
| --- | --- |
| Region | % increase in forward bookings year on year (pre and post-Brexit) |
| Central England | 32.3% |
| Northern Ireland | 31.2% |
| Scotland | 27.5% |
| Wales | 20.3% |
| South East | 18.2% |
| North West | 15.7% |
| South West | 15% |
| North East | 14.5% |
| East of England | 12.5% |
Thomas Messett said:- "It's great to see such a strong performance from Central England, dispelling the myth that the B&B is all about the seaside. Country pursuits are a huge part of British leisure time and this performance demonstrates that. It's also encouraging to see Northern Ireland, Scotland and Wales doing so well. The strong performance is a truly national trend."

The Seaside's special sauce

Seaside towns in particular have witnessed a rising tide of popularity as many travellers choose to forego leap frogging flights to European seaside destinations and focus instead on the British seaside's nostalgic charms. Seaside B&B bookings in Towns like:- Torquay, Bognor, Brighton, Penzance, Scarborough, Blackpool and Great Yarmouth have been especially buoyant since the Brexit vote.

Seaside town

Percentage increase in forward bookings year on year (pre and post-Brexit)
| | |
| --- | --- |
| Seaside Town | % increase in forward bookings year on year (pre and post-Brexit) |
| Penzance | 35.5% |
| Scarborough | 30.6% |
| Torquay | 27.3% |
| Bournemouth | 22.6% |
| Great Yarmouth | 17.2% |
| Blackpool | 14.4% |
| Brighton | 12.7% |
Thomas Messett said:- "It's great to see some of the smaller seaside locations performing so well against names that we would think of 1st when we think of the British seaside. The British seaside offers incredible variety, as our owners in the top performing Penzance and Scarborough will testify."

Britain's iconic Bed and Breakfasts have experienced a slow and steady renaissance in recent years, with British tourists' growing enthusiasm for home grown holidays. eviivo's booking analysis also found that family friendly locations have seen a dramatic surge in popularity. B&B's labelling themselves as family friendly have seen bookings up a staggering 56.9% as families tighten their belts and choose British breaks.

B&B owners are also benefiting from a levelling of the promotional playing field online. eviivo's technology enables B&B owners to compete alongside large impersonal hotel chains without the need for a huge marketing budget. A recent deal with Ryanair is also stimulating demand for bookings at B&B's using the eviivo platform.

Thomas Messett added:- "British B&Bs are part of our heritage, but they've shaken off the cliches of the past. Today's B&B's are colourful, quirky and often luxurious and are far more memorable than bland chain hotel rooms. British B&B's offer a glimpse of real Britain and unique comfort and Hospitality that you just can't get in impersonal hotels. The lower pound will bring a surge of new tourists to B&B's which is great news for British tourism."

Sadly for Southport, this picture is not the same, as more and more businesses are closing! This opens up the question, what is going wrong in Southport and how can this be sorted out, before it is too late? Please email us your views to:- News24@SouthportReporter.com and let us know what you think!