Liverpool International Tennis Tournament visits Southport's Kings Gardens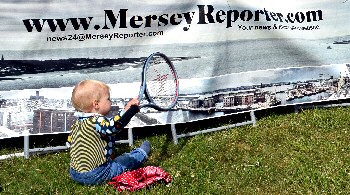 THE Liverpool International Tennis Tournament has grown, since 2002, to become the longest running and largest tennis exhibition in Europe. This amazing event is due to be held over 15 June to 18 June 2017, within the wonderful surroundings of the Liverpool Cricket Club. The 16th Edition of the now titled Liverpool Hope University International Tennis Tournament is set to be one of the best yet, catering for 10,000 spectators per tournament! With some of the biggest names in Tennis ready to play in front of you, at a fraction of the cost of Wimbledon Tickets!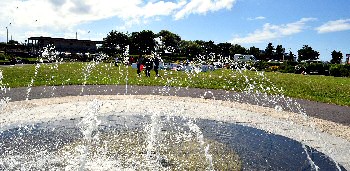 Here at Southport Reporter, as 1 of the media partners, we looked at how Southport can benefit from this excellent sporting event. Interestingly, we have a few of the UK's top players in and around Southport, plus Hope University is actively involved within the local tennis community, so to us, it makes even more sense to push it... Therefore as part of the build up to the 2017 event, the Tournament hosted a free Tennis session on King's Gardens, on Southport's historic Promenade, on Sunday, 4 June 2017. So with the thanks of the Friend's of Kings Gardens and Sefton Parks and Gardens, we decided to ask that the outreach part of the Tournament visit Southport. This outreach side of the Tournament is aimed at promoting not only the event, but also the benefits of Tennis in keeping people healthy and active, as well as giving information on how to join tennis clubs locally. Due to the London attacks, we decided to keep the event low key, but it was extremely well received and the miniature tennis court looked fantastic, within the 17 acre garden, overlooking Southport's Marine Lake.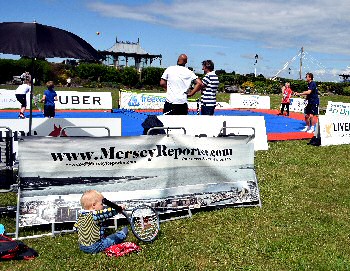 If you attended, please let us know what you thought of the session. Also, if you would like to see it return next year, even if you missed it this time, please let us know, via emailing us to:- News24@SouthportReporter.com. Let us know if you have any suggestions as to what events we might be able to add this outreach event, as well as comment, to...

To book tickets to see this amazing Liverpool International Tennis Tournament visit:- LiverpoolTennis.Co.UK.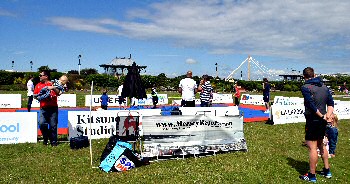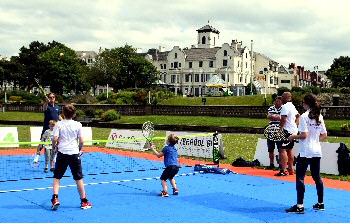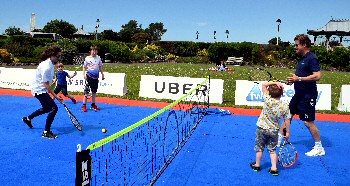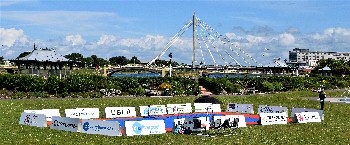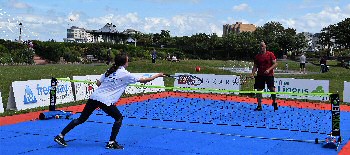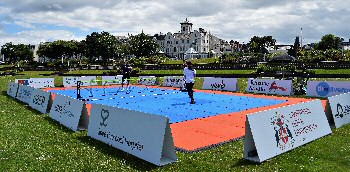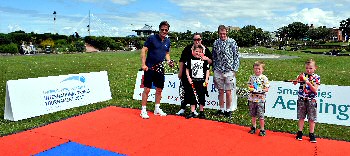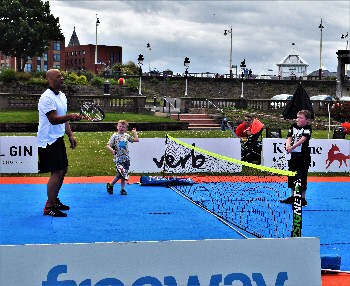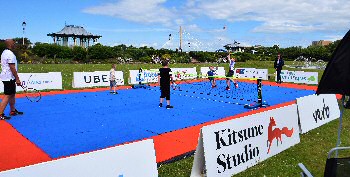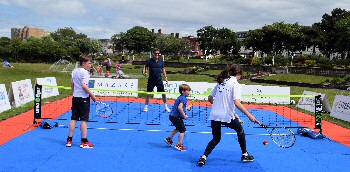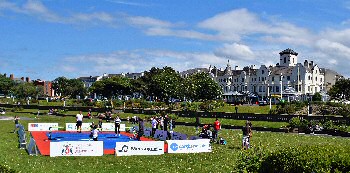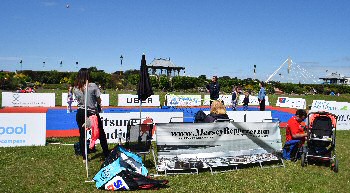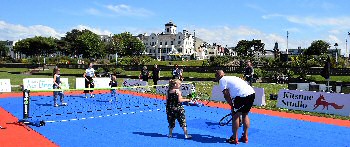 Review of Robbie Williams's sell out Stadium Tour
Review by Jo Forrest.
A warm evening, on the 1 June 2017, Manchester saw the rain hold off for the 1st night at the Etihad, on the opening night of Robbie Williams's sell out stadium tour of The Heavy Entertainment Show. He appeared on stage wearing a kilt and matching jacketed defiantly shouting:- "Manchester is not f***ing scared" before kicking off the evening with Robbies own rendition of Land of Hope and Glory, God Bess our Robbie, flanked by several dancers in sparkling boxing outfits. As the evening progressed a rainbow appeared over the stadium, there was a moment of reflective silence and then the rapturous applause of the crowd followed.

The evening continued with Robbie's anecdotes of Take That and fatherhood and the problems that comes with that. A young girl from Argentina was invited up onto stage to help Robbie sing Something Stupid whilst wearing a puppet mask, Robbie joked around by using alcohol rub on his hands, a reference to a previous concert in which the media accused him of being rude to an audience member for using the gel after touching someone..

He paid tribute to George Michael and talked of the 1st time he met him by singing a cover of Freedom and later on he did a cover of Sweet Caroline where he brought his father Peter on stage to help him.

For the encore he began with Strong in which he had changed the words to:- "Manchester we're strong" as a tribute to the terrible events of the previous week. Before finishing the night with a visibly emotional Robbie singing Angels which he dedicated to the victims of the attack in Manchester.

I must admit, it was a great concert, and 50,000 people clearly had an amazing time, but I felt this wasn't his best performance and there did seem to be something lacking. Whether due to a bad back, and he did admit he was on strong pain killers, this had an effect on his overall performance, I don't know but he did seem to be struggling at times both vocally and physically.. Whatever the problem is at the moment, lets hope he is soon back to his usual self as Robbie has always been a great entertainer..

Did you go? What did you think of the gig? Email us to:- News24@SouthportReporter.com with your thoughts...
---
Award Win for Arts Festival in 13th Year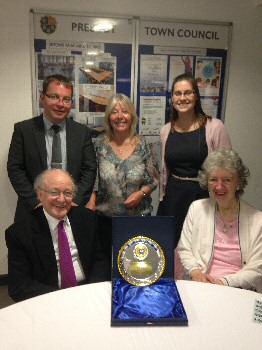 PRESCOT Town Council made the Prescot Festival of Music and the Arts the proud recipient of the 1st ever Prescot Community Group of the Year award, on the eve of its 13th Annual festival. The 10 day programme opens, on Friday, 16 June 2017, with Lancashire's number o1 ranked brass band, Leyland Band. To tie in with the Lancastrian theme, a traditional hot pot courtesy of Cottom's will be served on the night. The concert kicks off over a week of events, including appearances from the Phoenix Concert Orchestra, the Band of the Yorkshire Regiment and Liverpool Metropolitan Cathedral Girl Choristers, as well as Schools competitions and exhibitions.

"It is always a great encouragement to our hard working volunteers and performers to be honoured with an award. The show of appreciation really spurs us on in our goal of bringing quality arts and music to everyone in our community." said Artistic Director Dr Robert Howard.

Robert, a former Prescot School student who is now Assistant Head of Music Faculty at St Edward's College, was recently recognised by the British Arts Festivals Association with an award for his:- "Exceptional Service." The Prescot Festival runs from Friday, 16 June to Sunday, 25 June 2017. Full details of this year's programme, along with ticket information that can be obtained via the Festival's website.
---
Working to start on Phase 1 - A565 widening project
WORK is to start on creating a new dual carriageway for a major route into Liverpool City Centre, on Monday, 12 June 2017. National contractor Osborne is to begin widening the A565 (Great Howard Street/Derby Road) as part of a £22m road improvement scheme. The 1st Phase of the works will be at the prime City Centre junction of Leeds Street and King Edward Street and will require off peak lane closures between:- 9.30am to 3.30pm and 7pm to 6am. To minimise disruption 2 lanes will be kept open at peak times.
During off peak times, the junction may be reduced to single lane running and motorists heading north and east out of the City Centre, from The Strand, are advised to expect extended journey times and consider using alternative routes. This part of the project is expected to be completed by Winter 2017.
At the same time, work will begin to widen Great Howard Street with 1 lane of the Northbound carriageway heading to Bootle closed from Oil Street to Blackstone Street.
These works will take advantage of the current road closure where the Great Howard Street bridge is being replaced as part of a £10m project that will enable freight to travel to and from the new £400m Liverpool2 Deep Water Container Terminal, which is part of Peel Land and Trust's £5.5bn Liverpool Waters scheme. The bridge is expected to complete in August and will see the road re-open.
The dualling works will require a permanent Northbound Lane restriction which will then move to the southbound side as the scheme progresses. This element of the project is anticipated to be completed by Spring 2018.
Upgrading the route, which handles traffic between Sefton and Liverpool along the Northern Docks, is a key element of a £100m regeneration drive in North Liverpool.
The new 2.7km long stretch in the City's Atlantic Corridor is seen as crucial to a new creative district, within the area called:- '10 Streets' and will have spin off benefits for Everton FC's proposed new Stadium, on the nearby Bramley Moore Dock.
The new dual carriageway, part funded by the Liverpool City Region Growth Deal, will also pave the way for a major revamp of the historic Regent Road; aka:- "the Dock Road" to make that more pedestrian and bike friendly, creating a continuous cycle route from Crosby to Liverpool.
The new dual carriageway, which includes:- improved paving, traffic signals and street lighting.
This work will be complete in 4 Phases, as follows:-
► Phase 1:- Leeds Street to Blackstone Street; Road widening phase (completed by spring 2018)
► Phase 2:- Bankhall Street to Millers Bridge; Road widening phase (starting October 2017)
► Phase 3:- Regent Road from Paisley Street to Nelson Street; New pavement/Resurfacing and cycleway provision phase (starting late October 2017)
► Phase 4:- Boundary Street to Everton View; Upgrade of Traffic Signalised junctions and Street lighting with associated resurfacing (starting spring 2018)
Expected to finish by Summer 2019, the works are part of Liverpool City Council's wider £250m Better Roads Programme, that is aimed ay improving the City's road infrastructure and will be complemented by the creation of 2 new £20m waterfront link roads, at the City Centre end of the A565, which is being built to support a proposed new Cruise passenger facility.
Councillor Steve Munby, Liverpool's Cabinet Member for highways, said:- "Work on making the A565 a full dual carriageway is absolutely essential to the future economic success of the City. Once complete it will benefit millions of journeys every year and will stimulate the renaissance in the Atlantic Corridor. The scheme will give Regent Road a completely new lease of life, benefiting our plans for the 10 Streets creativity zone, as well as Everton FC's proposals for a new Stadium."
John Dowsett, Managing Director - Infrastructure at Osborne, said:- "Starting these works is highly significant to us and we look forward to helping to improve the infrastructure for Liverpool's City Centre. This sees us working with forward thinking local authorities who recognize the collaborative approach we bring."
---
Disabled 9 year old needs your help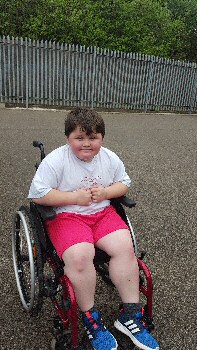 9 year old Liam Kost from Garston in Liverpool has a degenerative condition that affects his muscles. He needs a specialist wheelchair to maintain his independence and health; and a leading children's disability charity is calling on:- 'local heroes' to help make this happen. If you would like to support Liam, go to the Newlife website and click on the Donate button next to his story. The equipment costs:- £4,518. Newlife the Charity for Disabled Children is the UK's largest charity provider of specialist equipment for children with disabilities and terminal illness and has supported 631 under 19's across Merseyside.

Liam has the life limiting condition Duchenne Muscular Dystrophy which is gradually affecting his ability to walk and move. He is still able to take a few steps around the family home, but needs a wheelchair to mobilise outdoors and at School. He currently has a manual chair, but Liam can't self propel this; because it is too heavy; and has to rely on family, friends and school staff to push him around, which means he misses out on a lot of fun. It also means he isn't exercising his arms and chest muscles.

Local wheelchair services have offered Liam a fully powered wheelchair, but his physiotherapist and care adviser at Alderhey Hospital are both concerned that this would have a negative impact. Mum Manuela Kost said:- "It is important to Liam's overall health that he remains as active as possible for as long as possible. What he really needs is a power assisted self propelling wheelchair. He would have to use his arms to get it going, but the power assist feature would help him get around. It means he could play independently with his friends in the School Playground and at home, but still be getting health benefits. Unfortunately, this equipment is not available locally. Having this sort of wheelchair would really boost Liam's independence. It would also mean we could all go out and about more as a family; it is very tiring pushing him over long distances, partly because of the weight of the wheelchair, but he is quite a big boy because he is taking part in hospital steroid trials for his condition."

The cost of the equipment:- £4,518; prompted the Kost family to turn to Newlife for help. However, with UK wide statutory funding cuts resulting in a 64% increase in applications to Newlife over the past 5 years, the charity is more reliant on public support than at any time in its 25 year history.

So Newlife is looking for 'local heroes' to help fund this vital equipment. You can click on the website or alternatively, contact the Newlife Supporter Relations Team on:- 01543 462777 or send an email. Any money raised over and above what is needed for Liam will be used to provide specialist equipment for other disabled and terminally ill children on Merseyside. The charity is currently working with a total of 34 families in the area with equipment needs totalling:- £17,190. 100% of all donations goes directly to provide equipment.