Liverpool Homeless FC play Bartercard 11 in charity match at Prenton Park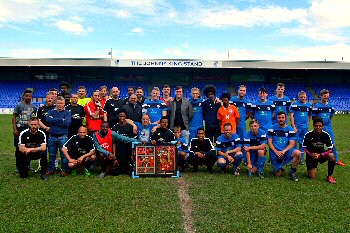 BARTERCARD UK has been raising awareness of Liverpool's homeless by taking part in a charity football match at Tranmere Rovers' Prenton Park. As sponsors of the National League side Tranmere Rovers, Bartercard UK organised to play Liverpool Homeless FC at the Stadium, in support of the charity's efforts to help those living on the streets of Merseyside. Chris Kirby, Brokerage Director at Bartercard York, said:- "When we chose to sponsor Tranmere Rovers, not only did we want to help the team and its fans, but also the wider community. This is just 1 way we love to get involved and I'd like to say a big thank you to everyone involved." The charity match was held in association with the Shankly Family Foundation. The foundation, which supports young people and grass roots football in the name of the great Liverpool Manager, Bill Shankly, provided accommodation and refreshments for the players at the Shankly Hotel.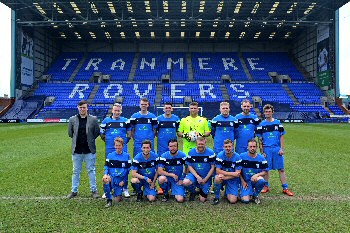 Meanwhile, Wonderland Memorabilia, another client of Bartercard UK, donated 2 signed Liverpool FC photo frames for the match, which the Bartercard team presented to Liverpool Homeless FC and the Shankly Family Foundation at full time. The match ended in a 4 to nil victory, to Bartercard. Globally, Bartercard operates in 8 countries, through 75 offices with 600 staff. Together, Bartercard offers access to a wide selection of businesses and a huge selection of products and services. For more information, visit:- BarterCard.Co.UK.
---
Lancelots help children's diabetes team score top marks for care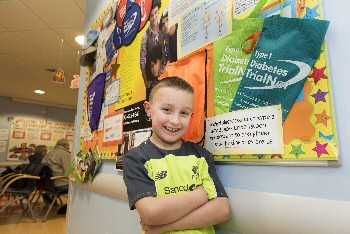 THE paediatric team looking after children with Diabetes, at Ormskirk Hospital, has been recognised as 1 of the best in the country. A national audit found they were among the top performers for supporting children with Type 1 Diabetes, in terms of quality improvements. Jamie Cranham, age 7, from Scarisbrick, near Ormskirk, has been a patient at the Hospital since he was diagnosed 4 years ago, with Type 1, the most common form of diabetes in youngsters. His dad, Andrew, is the chair of Lancelots, a Diabetes UK support group for children with Type 1 Diabetes. It is named after the lancets used for skin pricks to measure blood sugar. "Jamie is my role model. I look up to him because from an early age, and without a fuss, he's been able to do all the things he does with the help of the team here at the Hospital. The Lancelots is somewhere Jamie can meet children like himself. It's also great for helping parents too and we do fundraising to give support where it's needed." said Andrew. Jamie is pupil at St Cuthbert's Primary School, Halsall, and, when the keen Liverpool FC fan isn't playing football, he dreams of designing computer apps when he grows up. His doctor at Ormskirk hospital, Dr May Ng, Consultant Paediatric Endocrinologist, said:- "The Lancelots diabetes support group and the support of parents like Andrew and his wife Holly have been key to the success of this unit. Without their support, the brilliant professionals and the team that I work with wouldn't be able to make the steady and continued improvements to the care of our patients. Diabetes care has changed enormously in my 18 years as a doctor. With our staff's expertise and the enthusiasm of the Lancelots, I know we're ready to embrace emerging treatments and technology that will benefit local children in the years ahead."

Litherland woman takes on Southport 10k after stroke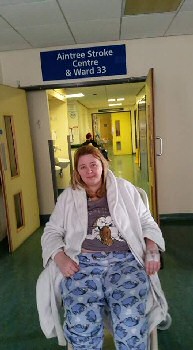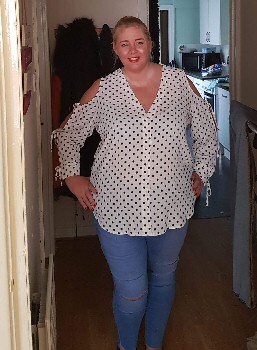 CLAIRE Rooney, 36, from Litherland, is taking on the Southport 10k, on Sunday, 2 July 2017, just over a year after she survived a life changing stroke. In April 2016, Clare had a stroke caused by 6 blood clots.
The stroke affected Clare's balance and the movement in her left side, as well as leaving her with severe tinnitus, anxiety and fatigue.
Clare said:- "The stroke really shook me up, but with lots of help and support from the Stroke Association and the community stroke team, I have my confidence back. I feel even better than I did before my stroke. Now, I really want to give something back and mark a huge personal achievement by taking part in the Southport 10k. I've chosen to raise funds for the Stroke Association to help other stroke survivors and their families to get the support they need. I've just starting my training and I'm nervous about the day; I haven't run since I was a child! All this has helped me and my dog buddy get out for walks together again."

Laura McMullin, Community and Events Fundraiser at the Stroke Association, said:- "With around 100,000 strokes in the UK each year, it's vital we have people like Clare to help raise vital funds. We're incredibly grateful to Clare for taking on the Southport 10k for the Stroke Association; the money raised will go a long way in helping to support others who are living with the effects of stroke, as well as their families and carers."

To sponsor Clare, visit:- JustGiving.com. For more information about stroke, contact the Helpline on:- 0303 30 33 100 or visit:- Stroke.Org.UK.
---
North West pensioners cash in on £432,000 a day from their homes
PROPERTY wealth boosted the retirement standard of living for pensioners in the North West by more than £38.8 million in the 1st 3 months of 2017, more than £432,000 a day, new analysis from leading over 55's finance specialist Key Retirement shows.
Its Equity Release Market Monitor shows retired homeowners made around £56,220 Tax free each on average by cashing in on their homes in the 1st 3 months of 2017, with sales of equity release plans up by 33% over the same period of 2016.
The detailed study, which also analysed the reasons for releasing equity across the whole of the UK, found the main motivation for using property wealth was to fund home and garden improvements with 62% using some or all of the cash for revamping their property.
The size of the payouts are having a major impact on the standard of living in retirement, enabling pensioners to tackle a range of tougher financial issues with 30% using some or all of the money to clear debts (including:- credit cards and loans) and a further 22% repaying an outstanding mortgage.
Families are also big beneficiaries with 22% retired homeowners using money to help out relatives, including providing deposits to help with a property purchase.
They are making the most of the wealth in their homes for themselves as well as 32% who have used some or all of the money for holidays.
Dean Mirfin, technical director at Key Retirement, said:- "Property wealth is making a huge contribution to retirement planning, and that is demonstrated by the growth in the value of equity being released in the North West. A large percentage of pensioners are also helping family members at a time when younger generations are feeling a tighter financial squeeze and the money released from properties can really be life changing. However, the biggest use of property wealth is to fund home and garden improvements, underlining how property wealth can help get your home retirement ready. Equity release is a growing alternative for pensioners who are seeing their savings squeezed by historically low interest rates."

Anyone looking to release equity from their home can get Key's independent guide to equity release by visiting:- KeyRetirement.Co.UK.