New patron and new future for NW veterans charity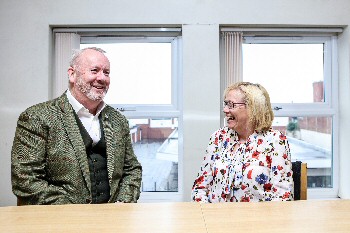 A new charity for Veterans in the North West is bidding to create a dedicated centre for ex armed forces personnel, reservists and their families in Liverpool. Veterans HQ launches with its first patron, The Earl of Derby DL, ahead of Armed Forces Day in Liverpool, on 24 June 2017.
The Veterans HQ charity has been established to support the 87,500 veterans across Liverpool City Region; which evolved out of the Liverpool Veterans project which began life in 2010; and Veterans HQ are forming strong partnerships with other veterans HUBs across City boundaries to ensure that every veteran living in the City region gets the same access to support, help and care to empower them to reach their full potential.
The charity has submitted a bid, in partnership with the Sovini Group, to create a dedicated centre for veterans at the site of the first headquarters of the King's Barracks in Everton. The Georgian block on Everton Road was the home of the 9th battalion, King's Liverpool Regiment. The derelict site includes a former parade ground and drill hall. Veterans HQ is one of two organisations that have submitted a bid to regenerate the whole site and give it a new lease of life.
New patron The Earl of Derby DL's great grandfather the 17th Earl of Derby, formed the Pals regiment in World War I. A battalion formed for the King's Regiment, to be recruited from men of the same workplace, thousands of Liverpudlians had volunteered for service, to eventually be formed into the 17th, 18th, 19th, and 20th Battalions. Collectively, the battalions became known as the City of Liverpool battalions or "Liverpool Pals."
The North West recruits 37% of all the armed forces; the highest percentage of any region in the UK. Many veterans leave service with acute mental health and social needs. The charity is hoping that if its bid for the former barracks is successful, it will be able to offer education and employability support as well as signposting Veterans to services run by partner agencies to help connect them with support around housing, alcohol dependency, social isolation and loneliness, and making the transition back into civilian society in a dedicated headquarters and centre.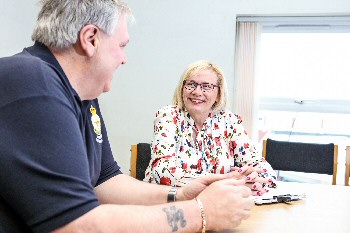 Stuart Fitzgerald, one of Veterans HQ's trustees and spokesman, says:- "Veterans are a hugely untapped resource in our economy. With the right helping hand, it can be easier for them to make the transition from the armed forces to civilian life. Some Veterans and their families may need our support in the longer term whilst others only dip in on a 1 off basis; it's always based on their personal need. Veterans HQ is already supporting over 600 individuals and their families. Most are men, some had been in trouble with the Police and might be in custody and others were put in touch with Veterans HQ through housing associations. Some needed emergency food parcels or help on their welfare rights. In other cases, families self refer to get support helping their family member to re-adjust to civilian and family life as they leave the cocoon of the military for the last time. Very few Veterans present with simple, singular needs whilst the majority can be struggling with many complex challenges. With the right support, these former forces personnel, from all walks of life, can give themselves a 2nd chance."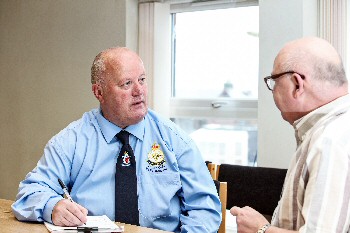 The Earl of Derby DL says:- "I am absolutely delighted to serve as Patron of an organisation that provides so much help to so many in need in an area of work; the armed services; which has always been close to my family's heart."
---
Metro Mayor offers support for 3rd runway at Heathrow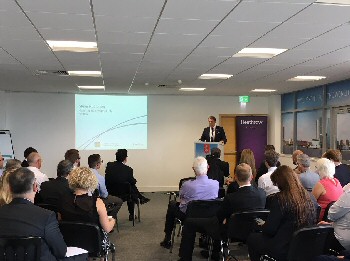 LIVERPOOL City Region Metro Mayor Steve Rotheram has offered support for the proposed third runway at Heathrow to enable Merseyside and Halton to become globally connected. Speaking to key stakeholders and business leaders at Peel Land and Property Marketing Suite, the Labour politician made clear that his administration is fully behind plans for the Heathrow expansion as long as there is a guarantee for a direct link from Liverpool to Heathrow, which was outlined in the Government's Airports National Policy Statement. Metro Mayor Rotheram, who says an aviation link from Liverpool John Lennon Airport to Heathrow will deliver:- 'better economic growth' and 'ease congestion', believes the airport expansion will be a growth engine for the whole of the UK and the Liverpool City Region could stand to benefit.
The Secretary of State for Transport, Chris Grayling, has stated that the Government expects Heathrow to add 6 more domestic routes across the UK by 2030 including a link with Liverpool, bringing the total to 14, strengthening existing links to nations and regions, and also developing new connections. In his speech this morning, the Metro Mayor told guests:- "Congestion and limited capaCity at Heathrow is not only stifling the economic growth of London and the South East, it is impacting on every region and City Region. Capacity constraints and limited slot availability have made it increasingly difficult for regional airports to secure services to Heathrow and achieve global connectivity. The value of a direct link to Heathrow is not about reducing journey times to London, it is about making our City Region globally connected. It is about a massive potential boost to what is already 1 of the UK's top 5 visitor destinations. It is a necessity for our City Region and it is underpinned by solid business logic. Clearly, our most important task is to secure the additional capaCity and space we need for domestic routes. It is for that reason that the Liverpool City Region has given its support to Heathrow Airport, and recognises it as the best option for the UK. It's an opportunity that we must grasp for the entire nation, and above all for our own City Region."
Speaking about his support for a third runway, Mr Rotheram added:- "The Liverpool City Region needs and deserves access to global connectivity to better meet our individual needs. I am supporting this initiative on the basis that Liverpool gets a direct link into what will be the UK's first hub airport. A slot for Liverpool would provide our area with the opportunity of stimulating economic growth through a boost in visitor numbers as well as ease congestion on our railways and roads. Given that there are capaCity constraints in London and the South East, a direct link into Heathrow will also give the City Region the chance to establish itself on the world stage. As long as the relevant stakeholders deliver on their commitments, my administration is fully behind the plans."

Liverpool reveals breakfast cereal sugar shock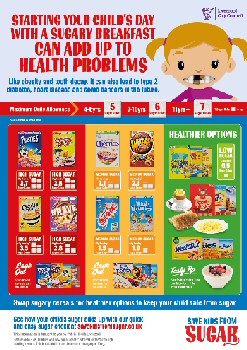 PUBLIC Health Officials in Liverpool are the 1st in the country to highlight the amount of sugar in specific breakfast cereals. 'Save Kids from Sugar' is the latest phase of the City's war on sugar, which began last year when the City identified the high number of sugar cubes in some popular drinks. Analysis shows that some cereals contain over 3.5 sugar cubes per serving, which means a child could be having over half their maximum daily allowance; 6 cubes; before they leave for School. When added to drinks and snacks later in the day, some children could be having up to 20 cubes in 1 day; more than 3 times the recommended number.
Over the next 3 months, Public Health Liverpool is highlighting the issue with a digital media campaign backed up by pop ups, posters and leaflets in:- Health Centres, Dentist Surgeries, Children's Centres and Hospitals, identifying how many sugar cubes are in an average serving of popular brands. Parents can log on to a new website and calculate how much sugar their children are consuming each day and get tips on healthier breakfasts. There will also be events at supermarkets and public buildings to educate families, a community street fair in Walton, and the Public Health team will also be working with School breakfast clubs on healthy options.
The drive is aimed at tackling an alarming level of childhood obesity in the City with 12% of reception School age children classed as obese. Over 23% of year 6 children are obese, and almost 40% are overweight or obese. Too much sugar in a child's diet can lead to obesity, tooth decay, type 2 diabetes, heart disease and some common cancers in the future Children aged between 4 and 10 years old consume approximately 5,500 sugar cubes each year hidden in their food and drink; more than the total body weight of an average 5 year old child.
Councillor Tim Beaumont, Mayoral lead for wellbeing, said:- "It is a myth that breakfast cereals are a healthy choice. Some are, but most are loaded with sugar. Families simply don't realise how much is in them. Combined with other sugary snacks, drinks and chocolate bars, this is contributing to an alarming level of tooth decay and obesity in children. Dentists are having to remove teeth from children as young as five under general anaesthetic on a weekly basis. Almost a 3rd of 5 year olds in Liverpool have decayed, missing or filled teeth, with 2 children a day under the age of 10 having to be admitted to Hospital to get teeth removed. This is about getting families and young children into healthy habits which will hopefully last a lifetime and prevent future unnecessary pain and trauma as well as debilitating health conditions."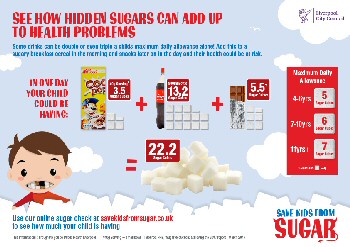 The Liverpool campaign breaks cereals down in to high and medium sugar classifications and also recommends healthier options.
►
High sugar
(between 2.4 and 3.7 sugar cubes per serving):
- Frosties, Cocopops, Coco Shreddies, Cookie Crisp and Krave plus supermarket own brands including:- Frosted Flakes, Choco Rice and Honey Nut...

► Medium sugar (between 1 and 2.2 sugar cubes per serving):- Cheerios, Weetos, Shreddies, Rice Krispies plus supermarket own brands including:- Multigrain Hoops and Chocopops...

► Healthier options (less than
½
a sugar cube per serving):- Shredded Wheat, Wheat Shreds, Ready Brek, Porridge Oats
and Weetabix, or alternatives such as:- a boiled egg, scrambled egg or toast.

Director of Public Health, Dr Sandra Davies, said:- "Tackling sugar in diets is a real priority for us because we know that people simply don't realise how much they are consuming. If we are to stand any chance of tackling this ticking time bomb, we must give parents as much information as possible so they can make informed decisions. Most people don't have the time to read labels when racing around the supermarket to complete their weekly shop and so we have to support them to make healthier choices."

The campaign is being backed by Liverpool-based campaign group Food Active. Alex Holt, Food and Nutrition Lead said:- "There are surprising amounts of sugar in everyday food and drink that we give our children and, without realising it, we all have too much sugar. Sugars are hidden in many foods, which people are unaware of and even creep into savoury items such as pasta sauces. Parents can make sure they limit the amount of sugar their children eat by reading the labels to make sure they are choosing low sugar varieties where possible. The amount of added sugar can really add up over the day, so starting with a low sugar breakfast and choosing water or milk for drinks, and fruit as snacks really can make a difference. You can also offer your child a reward such as a trip to the park, rather than a sweet treat."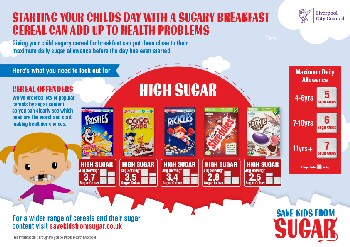 The number of sugar cubes in 40g servings of popular breakfast cereals:-
► 3.7 – Frosties (Kellogg's)
► 3.5 – Cocopops (Kellogg's)
► 3.5 – Crunch Nut (Kellogg's)
► 2.8 – Krave (Kellogg's)
► 2.1 - Cheerios (Nestle)
► 1.5 – Shreddies (Nestle)
► 1 – Rice Krispies (Kellogg's)
► 0.5 – Shredded Wheat (Nestle), Ready Brek (Weetabix Ltd) and Weetabix
Each cube = 4g of sugar...
Top tips:-
►
Keep sugary drinks, snacks and treats to mealtime and have only occasionally.
► Encourage your child to drink only water and milk between meals.
► Always check labels for sugar content.
► Get your child to brush their teeth twice a day.
► Take your child to the dentist at least from the age of 1.