With a fortnight to go the North West gears up for Armed Forces Day on 24 June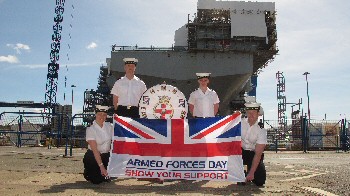 WITH just 14 days to go, Towns and Cities across the North West of England are preparing to mobilise to show their appreciation for the UK's Armed Forces.
Armed Forces Day is an opportunity to say thank you to the entire Armed Forces community for the outstanding work they do:- Soldiers, Sailors, Airmen and women, both Regulars and Reservists, Cadets and veterans.
In its 9th year, Armed Forces Day is the national day dedicated to honouring the work of the Armed Forces. From fighting Daesh in the Middle East, to guarding the UK's skies and seas, the UK's Armed Forces will be saluted at a record 300+ events across the UK and at the National Event, which this year takes place in Liverpool.
Events will take place across the North West, including:- a march past and display of military vehicles, in Manchester, 3 games of Armed Forces rugby, in Warrington and a cadet marching display, in Bolton.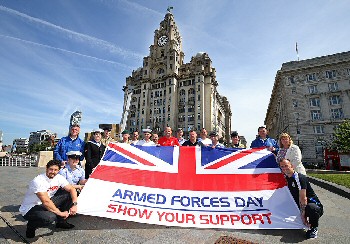 During the national event in Liverpool a military village of static displays, machines, equipment and exhibitions, physical training and motorbike displays will be on show. Ahead of the event in Liverpool, football mad sailors, soldiers and airmen met local footballing heroes Liverpool's Gary McAllister and Everton's Graham Stuart.
Also encouraging people to mark Armed Forces Day were the crew of the new aircraft carrier HMS Prince of Wales, the vessel which is still under construction is affiliated with the maritime City of Liverpool.
Commander Bernie Thompson, Chief of Staff at the Naval Regional Headquarters in Liverpool said:- "The Armed Forces have strong historic and current links with the North West region and the City of Liverpool. This year's Armed Forces Day National Event provides a great opportunity for us to engage with the public, who give us such tremendous support, and for the public to find out more about our kit and our people. Those currently serving in the Regular and Reserve Armed Forces, along with veterans and cadets, are eagerly looking forward to meeting the many thousands of people who will be in Liverpool, on the 24 June 2017."
Chief of Defence Staff Sir Stuart Peach commented:- "I'm delighted to see people across the United Kingdom coming together to mark Armed Forces Day. The day is a chance for people to say thank you to the extraordinary men and women, stationed across the globe who dedicate their lives to defending their country and keeping British people safe."
Councillor Wendy Simon, Assistant City Mayor and Cabinet Member for Culture Tourism and Events at Liverpool City Council, said:- "It is a huge honour to be the national host for the celebrations and together with our partners we look forward to staging an unforgettable event which will do our City, the whole country and the Armed Forces proud."
UK Armed Forces are currently involved in over 20 Operations in more than 25 countries, from South Sudan to Iraq. But many of those back at home will be in attendance at events across the country.
Also present will be many veterans that make up the estimated 2.56 million Armed Forces veteran community living in the UK. Young Cadets will be present too; together the Sea, Army, and Air cadet forces have almost 100,000 members, many of which will be at events up and down the country.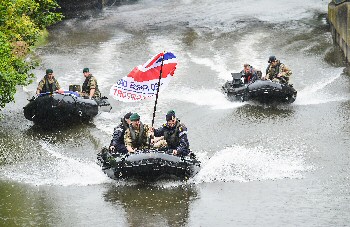 Local events in The North West will take place in the following Towns and Cities:-
STALYBRIDGE - 1 July 2017 - Tiny Armed Forces - promenade theatre event.
MERSEYSIDE - 1 July 2017 - Armed Forces Celebration Jamboree.
MORECAMBE - 25 June 2017 - Armed Forces Day Morecambe.
MORECAMBE - 25 June 2017 - Submarine Association Morecambe Armed Forces Day.
SOUTHPORT - 25 June 2017 - Southport Armed Forces Day 2017.
ST ANNES ON SEA - 25 June 2017 - Fylde Armed Forces Day.
SALFORD - 25 June 2017 - Broughton House Armed Forces Day.
DENTON - 24 June 2017 - Tameside Armed Forces Day 2017.
LANCASTER - 24 June 2017 - Armed Forces Day.
LIVERPOOL - 24 June to 25 June 2017 - National Armed Forces Day.
PADIHAM - 24 June to 25 June 2017 - Padiham Armed Forces Day.
WYTHENSHAWE - 24 June 2017 - Armed Forces Day, Northenden And Wythenshawe.
WIGAN - 24 June 2017 – Wigan Borough Armed Forces Day Celebration.
STRETFORD - 24 June 2017 - Trafford Armed Forces Day.
SKELMERSDALE - 24 June 2017 - 1439 ATC Squadron Armed Forces Celebration Day.
PRESTON - 24 June 2017 - Armed Forces Day Preston.
MANCHESTER - 24 June 2017 - Manchester Armed Forces Day: A Big Thank You.
ECCLES - 24 June 2017 - Salford Armed Forces Day.
WARRINGTON - 24 June 2017 - Warrington Armed Forces Day 2017.
WARRINGTON - 24 June 2017 - Warrington Armed Forces Day At Crosfields Arlfc.
LIVERPOOL - 24 June 2017 - Armed Forces Day Gathering
BIRKENHEAD - 24 June 2017 - Armed Forces Celebrating Recovery Barbecue.
BOLTON - 24 June 2017 - Joining Forces, Armed Forces Day.
NEWTON-LE-WILLOWS - 24 June 2017 - Armed Forces Day Family Picnic In The Park – Newton-Le-Willows.
GOLBORNE - 23 June 2017 - Golborne St Thomas Ce School Choir Sings For The Armed Forces.
HAYDOCK - 23 June 2017 - Armed Forces Day Fancy Dress Party.
GLAZEBURY - 21 June 2017 - A Social Occasion To Say Thank You To Our Armed Forces Families.
BOLTON - 19 June to 24 June 2017 - Armed Forces Day Bolton.
BLACKPOOL - 19 June to 25 June 2017 - Blackpool Armed Forces Week.
SALFORD - 19 June 2017 - Salford Armed Forces Flag Raising Event.
GOLBORNE - 19 June to 23 June 2017 - Armed Forces Enrichment Week (Schools programme).
RAWTENSTALL - 19 June 2017 - Armed Forces Day Flag Raising Ceremony – Rossendale.
HEYWOOD - 17 June 2017 - Armed Forces Day/Forgotten Wars/1940's – Heywood
URMSTON - 17 June 2017 - Armed Forces "Thank You" Breakfast.
Further information on Armed Forces Day, including a full list of events, can be found on the dedicated website. British Pathé footage of the previous launch (Lady Sponsor, the Princess Royal) can be found online.

Wirral's tourism businesses set for a huge boost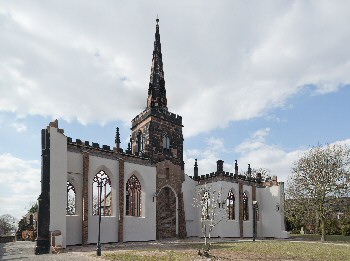 A new plan to increase Wirral's annual tourism revenue to ₤450 million is set to be agreed by Wirral Council. The Wirral Visitor Economy Strategy; created by local tourism businesses, industry experts, the Wirral Chamber of Commerce and Wirral Council; will see new promotions, events and attractions developed, to increase the value of Wirral's visitor economy to ₤450 million, per year by 2020. Already the fastest growing tourism destination in the region, the new strategy describes how the borough will focus on increasing overnight visitors, targeting younger and family groups, and increasing the amount of corporate and conference business attracted to the peninsula.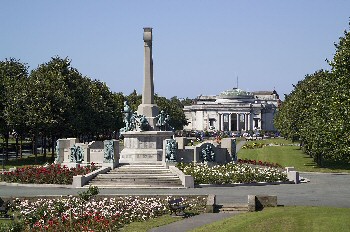 Cllr Phill Brightmore, Wirral's cabinet member for Environment which also covers tourism and the visitor economy, said:- "I think we all sometimes take for granted just how special Wirral is. We are surrounded by stunning coast and countryside, unique garden villages, fantastic food and drink and places to stay; including the only Michelin star restaurant and 5 star hotel in Merseyside and we are perfectly positioned between Liverpool, Chester and Manchester. It is about time we started telling people about Wirral, and encouraging people from all across the UK and Europe to discover our unique peninsula. This strategy will help us massively, it will attract thousands of new visitors to the borough and help our award-winning and dedicated tourism businesses create many new jobs for local residents."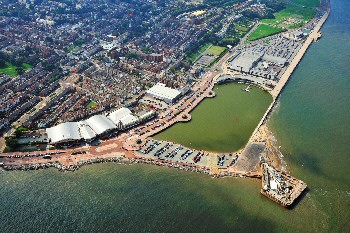 Paula Basnett, CEO of Wirral Chamber of Commerce, led the group of industry experts who developed the strategy. Paula said:- "I would like to thank the many regional and national experts who gave us their time and expertise to develop this strategy. I would also like to pay tribute to the local tourism businesses which have done and will continue to do so much to develop our visitor economy. We are extremely lucky in Wirral. Our food and drink offer is second to none; great restaurants, award-winning producers and breweries offering some of the most diverse and locally produced food in the UK. We have to capitalise on this, shout about Wirral's offer and make sure we promote what a fabulous place this is to visit and enjoy. This strategy helps us do it, and I am delighted to be able to lead its delivery."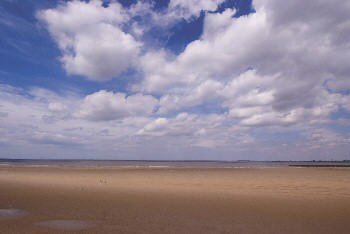 The Wirral Visitor Economy will be considered by the Council's cabinet, on Monday, 19 June 2017. So what are your views on this? Please email us to:- News24@SouthportReporter.com with your thoughts.
---
Extending the hand of friendship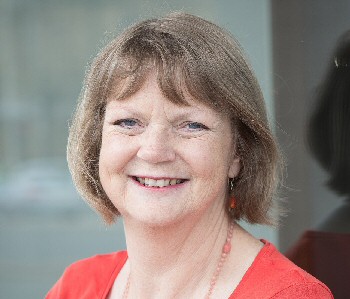 A woman from Skelmersdale has recounted how being part of a friendship group has been the tonic to her happy life. "When I lost my husband, the support I received from other members was tremendous. Knowing there were people around me who cared made all the difference..." said Brenda Lowe, aged 59. Brenda has shared her experience in support of her local Oddellows group's 'Get your 5 a Day, every day' promotional campaign; appealing for new members to come along and give the group a try. Brenda, originally from Plymouth, became an Oddfellows member at birth after her parents were so convinced by the support it offered. She explained:- "I was down to be an Oddfellow before I was even born in Plymouth. When I left home I was able to join the local branch in Ormskirk and Southport. It made making friends in a new area much easier. My grandparents were also members so we are now into the 3rd generation of Oddfellows members. Being part of a friendship group has given me support in a number of ways. Rebuilding my life after losing my husband, Derek, was made easier by the care shown by other members; a number of them would come round to my house to take me out. It was a touching and a very welcome distraction at such a difficult time." Brenda, who went to work in the x-ray department at Ormskirk Hospital when she moved from Plymouth 39 years ago, made contact with the local Oddfellows Ormskirk and Southport District Branch through a patient she got talking to at the Hospital. She explained:- "From there, it was easy. I went along to a meeting and I had found friends again, lovely people. I'd say the same to anyone in a similar position, just give it a try. I believe the Oddfellows offers something for everyone. You have people all around you for support when you might need it. I've made many lasting friendships as a result of being part of a local community group. We get together regularly, there are trips away; you just have lots of opportunity to spend enjoyable times with others. I'd definitely recommend it if you're looking to get out and about more, or would like to meet new people," she added. For more than 2 centuries, the Oddfellows, with 310,000 members and 132 Branches nationwide, has been serving up a unique recipe of friendship and support to local members, with the 5 key ingredients of regular social events, care and welfare support, travel clubs, discounted offers and historical archive access. To find out more about the Oddfellows in Ormskirk and Southport, and to receive a membership pack and local events diary, contact Bonita Hesketh on:- 01695 424149, sending an email or by visiting:- OddFellows.Co.UK for further details. Annual membership costs ₤30 a year (or ₤28 by Direct Debit).
---
1st National Clean Air Day marked by funding announcement for City Region electric vehicle charge points
THE 1st National Clean Air Day (NCAD) took place, on Thursday, 15 June 2017 and was marked in the Liverpool City Region by the announcement of a ₤110K fund to supply and install electric vehicle charge points (EVCs) at business premises across the City Region. Any member of Merseytravel's free to join Employers' Network will be eligible to apply for the grant of up to ₤5,000 for the supply and installation of electric vehicle charge points, provided for the exclusive use of their staff, visitors, company pool and fleet vehicles, with no match funding required. This initiative follows the ongoing success of Recharge, a network of charging points at key locations to support electric vehicle (EV) travel throughout the Liverpool City Region. The most recent of which is due to be installed in Prescot within weeks, bringing the total number of publically available charging points across the region to 54. Cllr Liam Robinson, chair of The Combined Authority Transport Committee, which oversees the work of Merseytravel said:- "The Merseytravel Employers Network allows businesses to promote more sustainable travel choices to their staff, including public transport, walking and cycling, so being able to offer grants for workplace charge points is a great way to extend this support and encourage some drivers to switch to electric vehicles."
The funding has been made available through the Growth Deal via the Department for Business, Energy and Industrial Strategy (BEIS) to support the region's low carbon initiatives to provide cleaner air and encourage greater use and purchasing of electric vehicles. Further details about the grants can be found on the Merseytravel website.