No respite for carers, warns local charity
AS nation's thoughts turn to summer holidays, disabled people's charity Revitalise appeals on behalf of unpaid carers during Carers Week. As the warm weather causes many people to start thinking about taking some time off, this Carers Week the local disabled people's charity Revitalise is appealing on behalf of the nation's unpaid carers and has revealed that for them, the luxury of any kind of break may be out of reach. Revitalise; which runs the Sandpipers centre in Southport, providing respite holidays for disabled people and carers from the North West region and beyond; is urging people to support its appeal, which aims to provide funding for disabled people and carers in hardship to take much needed breaks with the charity. In support of its appeal, Revitalise is citing recent research which demonstrates the enormous physical and emotional stresses that the UK's estimated 6.8 million unpaid carers have to contend with. Revitalise's study revealed that 69% of carers were always tired and 63% were mentally exhausted. 61% also said they had trouble sleeping and 35% said they were in chronic or persistent pain. 37% carers also said they felt lonely, evidence, says Revitalise, of the social isolation that many carers feel. To make matters worse and despite the known therapeutic value of respite, the majority of carers found themselves unable to take any time off from caring, for a variety of different reasons, a common factor being affordability. In order to provide a respite lifeline for disabled people and carers living in hardship, Revitalise has launched an appeal to raise funds for its Revitalise Support Fund, which enables people in need to take breaks with the charity. Revitalise is urging supporters to donate to the appeal, which can be found on the charity's website. Revitalise CEO Chris Simmonds commented:- "These days so many of us take so much for granted, including the ability to fly off on holiday, almost at the drop of a hat. But for disabled people and the loved ones who care for them, this basic freedom becomes a financial and logistical nightmare which is all too often out of reach. We know that a disproportionate number of disabled people and carers are living in financial hardship, but we also know from our own research just how vital respite breaks are in sustaining caring relationships. We found that 96% of our guests and their carers thought proper breaks away were essential to sustaining good caring relationships, yet 9 out of 10 carers were unable to gain access to them. We are determined to do something about this situation. Revitalise has been providing respite for disabled people and carers for over 50 years, so we know there really is no substitute for time off. That's why I'm urging everyone to spare what you can for our appeal; and help us make a real difference to the lives of disabled people and the loved ones who care for them."
Revitalise is a national charity providing respite holidays for disabled people and carers. Revitalise provides short breaks, with 24 hour nurse led care, on call and personal support, at Sandpipers and 2 other accessible centres in Chigwell and Southampton. Each centre offers a wide range of accessible activities and excursions in a holiday environment.
---
Sewing skills shortage exposed - 6 in 10 people from the North West can't sew confidently or at all
55% people from the North West say that sewing is a skill that is being lost in today's generation, with 49% of residents having to ask their mothers to help fix their clothes.These surprising statistics have been released on National Sewing Machine Day, Tuesday, 13 June 2017, by the British Heart Foundation (BHF) for its Big Stitch Campaign. Taking place throughout July, The Big Stitch encourages consumers to pop into a BHF shop, buy an item(s) and inject their own fashion flair to it to help fund life saving research into heart disease. 60% people polled revealed they are unable to sew confidently or at all, with 30% of people revealing that they were never even taught how to sew. The absence of sewing skills in today's society means 49% of residents have to ask their mothers to help fix their clothes and 14% asks their grandparents for help. 23% of those polled can't even sew on a button on properly, 39% of people cannot alter the length of their trousers and 30% cannot mend a rip in their clothes. 18% said that if they lost a button, they would buy a new item of clothing instead of fixing it. It has also resulted in residents in the region spending over ₤130 million fixing or tailoring clothes and ₤300 million replacing items of clothing due to an easily repairable fault last year. Around 26 million items of clothing were thrown or given away in the North West, due to a fault that could have been repaired. However, all is not lost as 51% of people in the North West wish they could sew and 59% are willing to learn the money saving skill. The BHF's Big Stitch campaign gives people the perfect opportunity to either put into practice their sewing skills or learn how easy it is to personalise their wardrobe. For a whole month, style seekers will be encouraged to put their own stamp on their wardrobe by visiting a BHF shop and personalising items bought in store by practising sewing and dressmaking skills. Jax Black, Senior Costume Technician at London College of Fashion, said:- "It is great to see the BHF championing sewing and dressmaking skills. Making alterations, adding buttons, trims, embroidery, and other decorative items to your BHF purchases is a great way to update your wardrobe this July."
Allison Swaine Hughes, Retail Operations Director at the BHF, adds:- "As the largest charity retailer in Europe, we want to bring sewing back to life. It always amazes me to see how clothes can be transformed so easily and cheaply, so we are really looking forward to seeing what the thousands of style seekers across the UK can create throughout July. All of our customers will be helping us raise ₤100 million to invest in heart research this year, so visit your local shop, buy an item and inject your own style stamp on your clothes this July."
By visiting 1 of around 750 BHF charity shops across the UK, buying an item and adding a touch of individual fashion flair to it, shoppers can save a bit of cash and help support life saving research in the fight against heart disease. For further information on The Big Stitch, which runs from the 1 July to 31 July 2017, and information about how to locate your nearest BHF shop visit the BHF website.

New ₤1.5 million training facility to support growing Maritime industry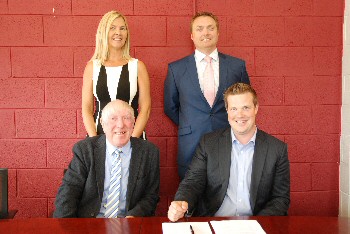 MERSEY Maritime and Wirral Council have confirmed an exciting inward investment from Glasgow based company, Stream Marine Training, which will establish a training facility for the offshore sector in the Mersey Waters Enterprise Zone and create up to 25 new jobs within the growing network of business members in Wirral's Maritime Knowledge Hub.
Stream Marine Training (SMT) will invest up to ₤1.5m in this first phase, opening up new training facilities at Tower Quays and a new fire training ground along Duke Street, both in Wirral Waters.
The investment could have a significant broader economic impact with the potential of up to a further 5,000 bed nights in Wirral per annum.
Using the Wirral Waters Investment Fund established to support development within the Enterprise Zone, Wirral Council have put together a compelling package of support as part of the strategy to strengthen the Maritime and Low Carbon sectors. It provides further critical mass when considered alongside the Wirral Waters programme, the DONG Energy investment, and the Wirral Well Made theme.
George Davies, deputy leader of Wirral Council, said:- "It was only Monday this week when we announced our ambition to create thousands of jobs in Wirral through a ₤1 billion regeneration programme. It's fantastic that, just a few days later, we are already talking about new businesses opening their doors in the borough - it's a sign of confidence in Wirral, and it's great news for residents. Maritime businesses such as Stream Marine Training are exactly the type of company we are trying to attract to Wirral; fast growing, ambitious and able to invest in the area and create jobs and I am delighted to be able to welcome SMT to Wirral. On behalf of the Council I pledge to do all we can to continue to support them."
Asif Hamid, Chair of the Liverpool City Region LEP and member of the Mersey Waters Enterprise Board said:- "The maritime and low carbon energy sectors are of massive strategic importance to the future growth of our economy as set out in the City Region Growth Strategy: Building our Future. We have world class expertise, capability and fantastic natural assets in these sectors on which we will build our economy over the coming years. This investment by SMT in the Mersey Waters Enterprise Zone recognises this expertise and will directly contribute to and support the growth of these sectors in addressing the skills needs of our local businesses. I am delighted with their decision to invest here and its great credit to Mersey Maritime, Wirral Council and Peel Land and Property in securing this important investment."
Mersey Maritime has been key to securing the investment, introducing the company to Seatruck, Cammell Laird, Bibby Line, Atlantic Container Line etc. Mersey Maritime CEO Chris Shirling Rooke said:- "The signing of the agreement today between Stream Marine Training and Wirral Council is the culmination of 18 months' hard work behind the scenes. Mersey Maritime has been at the heart of the discussions during that time as part of our agenda to drive forward inward investment and help create the right conditions for business growth. SMT's decision to set up its first base outside of Scotland in Wirral is a mark of confidence in the region and the opportunities available to ambitious business owners looking to expand. This type of investment is perfectly aligned with Mersey Maritime's vision for the cluster, promoting growth, innovation and new jobs."
The nearest offshore facility is in Lancashire and is heavily oversubscribed so the catchment for SMT is considerable and they are confident there is a real demand that can be served from this area.
Stream Marine Training CEO Martin White said:- "The range of support available to maritime businesses moving to the Liverpool City Region is outstanding. We have been welcomed with open arms and are excited to be setting up our new operation here in Wirral. I'm immensely grateful to Wirral Council, Mersey Maritime and Peel Land and Property for their work in getting us to this point and look forward to being part of this regional success story."
Paula Basnett, CEO Wirral Chamber said:- "It is great news, but just the start of our journey with SMT. They do already have relationships with major companies who have committed to using Wirral facilities when they open. We are now working closely with them to ensure they are fully aware of the quality of our other local suppliers as they operationalise."