Donkeys used at public events were underweight and had overgrown hooves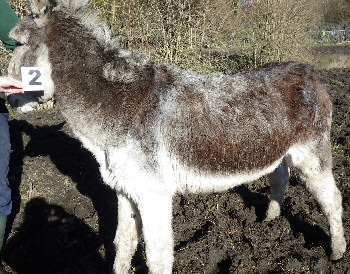 A father and son who run a Liverpool based donkey business have been sentenced in Court after pleading guilty to causing unnecessary suffering to 5 of their donkeys.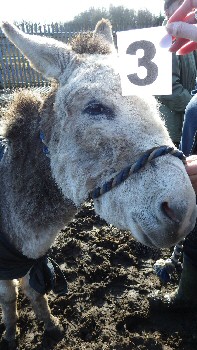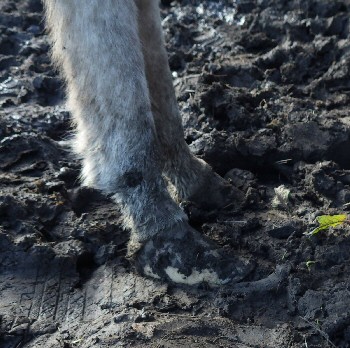 Eric Wheeler, from Liverpool, and Ronald Wheeler, from, Liverpool, pleaded guilty, on Monday, 5 June 2017, to 5 offences each of causing unnecessary suffering to 5 donkeys by failing to address their poor body conditions.
Ronald Wheeler also pleaded guilty to 3 offences of failing to meet the needs of 3 of the donkeys, by not tending to their overgrown hooves. A district judge at Liverpool Magistrates Court sentenced Eric to a 2 month community order and Ronald to a 3 month community order. They were also ordered to pay costs of ₤800.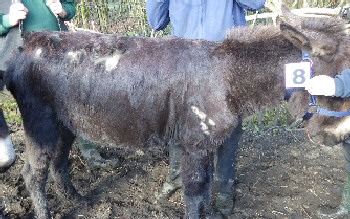 Liverpool Magistrates Court heard that the 5 donkeys; called:- Pepper, Toby, Domino, Lily and 1 unnamed; were used in public events such as fairs, nativity plays and parties. RSPCA inspectors Louise Showering and Claire Fisher, and welfare officers from the Donkey Sanctuary charity, visited the donkeys, on 19 February 2017, after concerns were raised by a member of the public.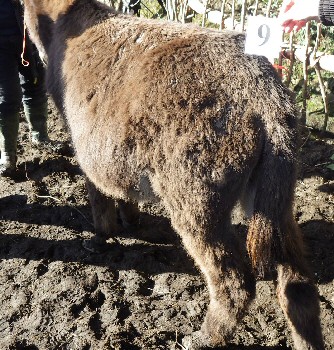 Inspector Fisher said:- "These 5 donkeys were clearly underweight which had led to them suffering unnecessarily, as well as having overgrown hooves which would have made walking uncomfortable. One of the donkeys, Lily, was also suffering from rain scald; a skin disease seen in equines; which was clearly causing her discomfort. Eric and Ronald Wheeler run a donkey business and should have known that five of their donkeys required veterinary treatment. The suffering that these donkeys endured could have been so easily avoided if they had been cared for properly. Anyone who owns an animal, no matter how many, has a legal responsibility to care for that animal and to ensure that they do not suffer unnecessarily."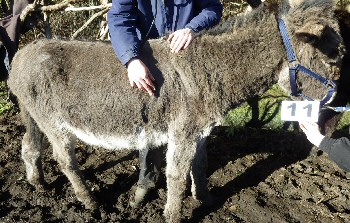 Hannah Bryer, senior welfare adviser for the Donkey Sanctuary, said:- "5 donkeys came into our care last year following an investigation led by the RSPCA. They were extremely thin, with very little fat or muscle coverage of their spine, ribs and hip bones. They also had overgrown hooves. The vet found that all five donkeys had been caused to suffer unnecessarily as their owners had failed steps to investigate or address their poor condition. All five donkeys have since improved in our care after being provided with a suitable diet and any necessary veterinary and farrier care. Keeping donkeys can be a very rewarding experience but one which should only be undertaken with the knowledge and commitment to care for them properly. As commercial operators, the defendants held a position of trust, not only to the donkeys in their care, but also to members of the public who used their services. We hope these convictions serve as a reminder to all that the welfare of donkeys used for commercial purposes is as equally important as those kept privately as companion animals. The Donkey Sanctuary continues to provide advice on donkey care and welfare, in addition to guidelines for working donkeys, all of which can be found on our website or by contacting the welfare department."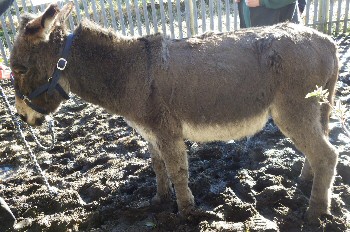 ---
Merseyside's best young artists crowned at St George's Hall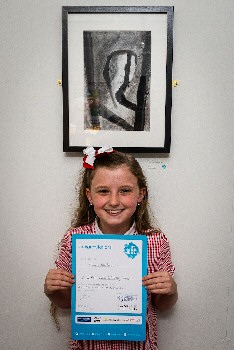 2 budding young artists are celebrating after battling it out with more than 900 pupils from Schools across the Liverpool City Region to be named the area's best young artists. Erin Gerrard, a Year 9 student from The Sutton Academy and Grace McKeown a Year 5 student from Knotty Ash Primary School, were crowned the overall winners of the dot-art Schools competition at a special prize giving ceremony, at St George's Hall, on Thursday, 15 June 2017. Erin's winning pen drawing titled:- "Intergalactic" and Grace's charcoal drawing titled:- "Lost Soul" both feature alongside the other shortlisted artworks, in the 5th exhibition in the dot-art Schools competition's history. This free exhibition at St George's Hall is open to the public, between 10am and 4.30pm, from Friday, 16 June to Saturday, 1 July 2017. Following the exhibition at St George's Hall, prints of the artworks will also be displayed at Merseyrail's Lime Street Lower Level Train Station, from 6 July to 6 August 2017. dot-art Schools is already a well established fixture in the academic calendar for many Merseyside Schools; since its inception almost 4000 students from over 200 Schools have taken part. This is the 5th year it will take place in the Liverpool City Region and due to its success and a new partnership with Liverpool John Moores University, a pilot scheme for Cheshire was launched this year.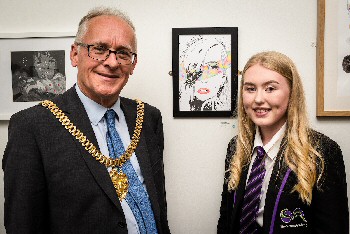 dot-art Schools project manager Carolyn Murray commented:- "The standard of work was outstanding again this year and it's thrilling to see we have so many talented young artists in the region. The exhibition is a fantastic opportunity for the public to check out the best work by some of region's rising stars. We're also excited to be staging our 1st Creative Careers event an inspirational day of advocacy to help teachers champion the impact and value of the arts in School on Friday, 23 June 2017."

The day includes a tour of Liverpool John Moores University School of Art and Design, tour of dot-art Schools exhibition at St George's Hall, Liverpool and a seminar with three expert speakers in County Sessions House. To find out more and reserve a FREE place online. Entry for next year's dot-art Schools competition opens in September, but Schools that register before the end of term will receive a discounted rate. For more information and to enter, visit:- Schools.Dot-Art.com or contact Carolyn Murray via email.

Unveiled Liverpool's plans for 2022 Commonwealth Games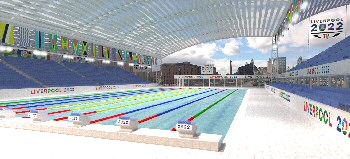 LIVERPOOL has unveiled ambitious plans to host a bold and inspiring 2022 Commonwealth Games that will speed up the transformation of its world famous waterfront and leave a lasting legacy for communities across the City and region.

Mixing existing world class venues, its iconic Mersey waterfront setting, exciting new planned facilities and an innovative partnership with Manchester, Liverpool, a City known the world over for its warm welcome, sporting prowess and cultural dynamism; promises a transformational Commonwealth Games in 2022.

Central to Liverpool's unique bid to stage the Games is the riverside regeneration of the Bramley Moore Dock, just 2 miles North of the City Centre; which would be home to Everton Football Club's new stadium.

The new football stadium; which is seeking to replicate the intimacy, fan proximity and atmosphere of Goodison Park; will accommodate a temporary athletics track for the Games without any disruption to those features. The track will be installed after the final home game of the 2021/22 season and will be removed before the first scheduled kick off of the 2022/23 season.

As part of Liverpool's transformational plan, which is predicted to accelerate ₤1bn of investment up to 10 years ahead of schedule and create more than 12,000 jobs, the City is also proposing to host:-

► Swimming at a new 50 metre pool within the City Centre dock system, that would remain in place after the Games; providing both a swimming and visitor attraction legacy.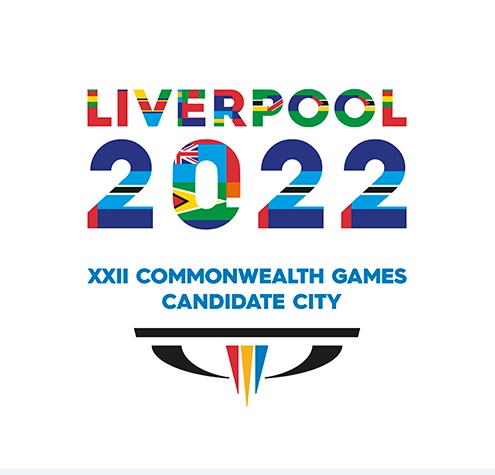 ► Triple jump, long jump and pole vault on the dockside by neighbouring Mann Island to ensure spectators are brought even closer to the action

► T20 Cricket and Track Cycling as its 'optional sports' which would take place in Manchester at Old Trafford Cricket Ground and Manchester Velodrome; marking an exciting partnership with its legendary North West neighbour.

Other key highlights of Liverpool's hosting plan include the following existing venues:-

► Arena and Convention Centre Liverpool – ACC:- home to the 11,000 seat Echo Arena, BT Convention Centre and Exhibition Centre Liverpool [Badminton, Artistic Gymnastics, Judo, Netball and Wrestling]

► Anfield Stadium [Opening ceremony, Rugby Sevens]

► St George's Hall [Squash Finals]

► Goodison Park [Boxing Finals]

► Stanley Park [Lawn Bowls]

A further key element of Liverpool's mould breaking plan is to host the Athletes Village beside Everton FC's new stadium in Nelson Dock, within Peel Land and Property's ₤5.5bn Liverpool Waters scheme; residential developments that already have outline planning permission meaning construction could start in the 1st half of 2018.

The City has also launched its official bid website with a call to action for the public to back the bid via social media with the hashtag:- #IAmLiverpool2022

Liverpool 2022 Bid Chairman Brian Barwick said:- "Liverpool is a world class City and what we have unveiled is truly transformational. We are utilising our existing, world class venues such as ACC Liverpool, Anfield, St George's Hall and Goodison Park, as well as facilities linked to the massive regeneration that is already taking place in the Bramley-Moore Dock area that would be home to the athletes village. Some of the other eye catching plans, such as the dynamic new pool in the docks and the creative approach to working with Everton FC's new state of art stadium will set the bar for how major games leave a real and tangible legacy. We are also being transformational in how we present sports such as athletics, by bringing some of the jumping events to spectacular locations in our docks. Through a creative partnership with our North West neighbour Manchester we are able to host T20 cricket and track cycling in world class facilities. This plan is both compelling and deliverable and will be amazing for the athletes, the spectators and the Commonwealth and crucially is designed to leave Liverpool transformed."

Mayor of Liverpool Joe Anderson said:- "In this City we do things differently. Since being European Capital of Culture in 2008, Liverpool has undergone a renaissance through smart investments, forging great partnerships and building a reputation as a major event and cultural hub. This bid taps directly into this creative ambition, innovative approach and the uniqueness of our City which will transform not just how the world views the Commonwealth Games, but will also transform the economic fortunes of our waterfront and countless lives across the City. Our vision for the Games brings together ambitious new sporting facilities on the historic waterfront, with the existing world class stadia revered by sports fans and athletes across the globe. This combination makes for a bid which I think is very hard for anyone to match in terms of ambition, creativity and sustainability and would result in a transformational games that would make Britain proud."

Everton FC Chief Executive Officer Robert Elstone said:- "Everton Football Club is proud and excited to partner Liverpool City Council and support its commitment to delivering a landmark Commonwealth Games in 2022, 1 that will celebrate the City's rich sporting history, showcasing the talent and energy within the Commonwealth. Significant progress is being made at Bramley Moore Dock and we are fully focused on the delivery of an iconic stadium which will complement and enhance the City's world-famous waterfront and deliver much-needed regeneration benefits to north Liverpool. From the outset, our designers were tasked with developing an atmospheric and intimate stadium for our fans, attributes we know the City Council wishes to replicate for the Commonwealth Games. Having seen the work to date, we are confident that our teams will find that solution - a stadium that will meet the needs of the football club and provide a venue for a world class Commonwealth Games Athletics programme."

Liverpool FC Chief Executive Officer Peter Moore said:- "Liverpool Football Club is delighted to support the Council's bid to host the 2022 Commonwealth Games. Our great City has a unique passion for sport and we would be proud to welcome the Commonwealth to Anfield Stadium."

Beth Tweddle, Olympic and Commonwealth Games gymnast and Liverpool 2022 Bid ambassador, said:- "Liverpool is my home town and, having won four Commonwealth Games medals, it fills me with a huge amount of excitement and great pride to imagine the Games in our great City in 2022. The concept looks incredible and ideal for athletes given the compact nature of the plan and close proximity of the village to the venues. That makes a real difference to the athlete experience. We also have sport in our blood in Liverpool, and I know our passionate and friendly fans would ensure an amazing atmosphere. I can't wait!"

Steve Parry, 3 times Commonwealth Games medallist and Liverpool 2022 Bid ambassador, said:- "Having competed at three Commonwealth Games I know what a special event it is and that Liverpool, my home City, would be the perfect host. The plans to create a pool in the City Centre docks are an absolute knockout and a world first for swimming. It will place swimming at the heart of the Games experience and provides a swimming legacy that would be a must-see visitor attraction. These Games would be a great springboard for Liverpool."

Steve Rotheram, Metro Mayor of Liverpool City Region, said:- "As Metro Mayor of Liverpool City Region I wish every success to Liverpool City's bid to host the 2022 Commonwealth Games. With its rich sporting heritage, strong international reputation and historic ties to the Commonwealth community, I can think of no more suitable City to host this prestigious event."

Sir Richard Leese, Manchester City Council Leader, said:- "Manchester is delighted to be supporting Liverpool's bid to host the 2022 Commonwealth Games. With the hugely successful Games our City held in 2002, and given the elite sporting venues we currently have in Manchester, we are pleased to be able to assist Liverpool in its quest to deliver an inclusive, innovative and inspiring Games for the Commonwealth."

The City of Liverpool submitted its Preliminary Phase Questionnaire to the UK Government's Department for Culture, Media and Sport today as part of the ongoing candidate City assessment process.

The total cost of hosting the Liverpool 2022 Commonwealth Games is anticipated to be in the region of ₤672 million, with ₤547 million expected to come from the public sector. Liverpool City Council will contribute ₤137 million of this from its 'invest to earn' strategy and existing resources as well as through various income steams raised from the Games.
Following assessment of the Preliminary Phase Questionnaire, Cities will enter a Secondary Phase Assessment process, with the UK Government's Department for Culture, Media and Sport expected to make a decision on Candidate City in September 2017. The Commonwealth Games Federation is expected to announce the host of the 2022 Commonwealth Games by the end of 2017.

Liverpool 2022 - Competition Venues / Sports:-

► ACC Liverpool - Badminton, Artistic Gymnastics, Judo, Netball and Wrestling.

► Anfield Stadium – Opening Ceremony and Rugby Sevens.

► Bramley Moore Dock (Everton FC new stadium) – Athletics.

► Goodison Park Stadium – Boxing Finals.

► City Centre Docks – Swimming, Long Jump, Triple Jump and Pole Vault.

► Liverpool Olympia – Weightlifting and Powerlifting.

► Liverpool Tennis Centre – Table Tennis.

► National Cycling Centre (Manchester Velodrome).

► National Squash Centre (Manchester).

► Old Trafford Cricket Ground (Manchester) - T20.

► Pier Head – Triathlon and Road Cycling.

► St George's Hall – Squash Finals.

► Stanley Park – Lawn Bowls.

► Wyncote Playing Fields – Hockey.