Hospital hosts tea party in support of Armed Forces' Week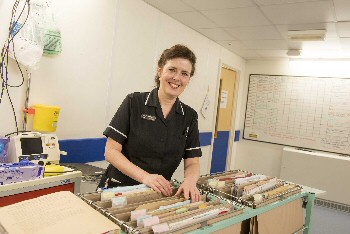 SOUTHPORT and Ormskirk Hospital NHS Trust have held a tea party in support of Armed Forces' Week and SSAFA The Armed Forces Charity. During the afternoon tea and coffee that was kindly donated by Bookers was served and a cake sale took place, with all donations for SSAFA. A vintage World War 2 Military Ambulance also was in attendance along with members of 208 Field Hospital, Liverpool and 207 Field Hospital, Manchester. The event had lots of displays about the role of medics in the Military on show thoughout the afternoon. The Trust is the 2016 public sector winner of the North West Armed Services Business Award and has a track record of working collaboratively with personnel. This includes providing flexible working for Reservists to undertake their Military commitments as on Exercise and Operational Deployments, with paid support and access to a Forces Champion. A number of staff at the Trust are members of the reserve forces or veterans, including Head of Nursing Kath Higgins, who is also a Lieutenant colonel within the Army Reserve. Kath said just before the event:- "We're thrilled to be supporting Armed Forces' Week and SSAFA. This is a great opportunity for our staff, patients and members of the public to find out more about the Armed Services and the role medical staff play."
---
Consider yourself a risk taker?
OVER 3 quarters of 18 to 24 year olds admit they buckle to social pressures causing them to make decisions they later regret, new research reveals. Furthermore, ˝ said they would join a friendship group that was popular even though they didn't like the people in it.

Young males are more likely to take risks...

The research also exposes the difference between genders when taking risks and making poor decisions with 11% of young men, that's compared to 5% of women agreeing that they took risks all the time. The results also show that when women do take risks, they are three times as likely to regret their decision compared to men.

Attitudes towards uninsured driving...

Young people's attitudes towards risks are particularly alarming when it comes to road safety. Uninsured and 'hit and run' drivers kill around 120 people and injure 29,000 every year; uninsured driving is a serious issue that needs addressing. The survey highlights the risks young people are taking when it comes to car insurance:-
► 1 in 4 of 18 to 24 year olds admit that they have considered not taking out car insurance to save money.
► A 3rd of men aged 18 to 24 years state that they have considered not taken out car insurance to save money.
► When asked if they had ever got in a car with a friend who didn't have the correct car insurance, around double the amount of men (20%) compared to women (11%) admit that they have and regretted it.

Ashton West OBE, MIB Chief Executive, says:- "We want to avoid millennials regretting their decisions particularly when it comes to taking a risk on car insurance. - Our aim is to get young people talking to each other about the serious issue of uninsured driving. Our new video as part of our Gone in Seconds campaign aims to get their attention and at the same time highlights 1 of the consequences."

Liverpool leads the way with revolutionary outdoor food education
LIVERPOOL Primary Schools are at the forefront of an innovative approach to healthy eating, as 3 Edible Playgrounds have just launch across the City, to encourage outdoor learning, growing and engaging food education.

The 3 Primary Schools:- St Teresa of Lisieux Catholic Primary and Monksdown Primary in Norris Green, and Holy Name Catholic Primary in Fazakerley; will each be serving up seasonal home grown feasts to their local School communities this afternoon as part of a nationwide initiative by charity, Trees for Cities, to get children outside growing and learning about healthy food.

The Edible Playgrounds; which were officially opened by Liverpool's Assistant Mayor, Cllr Nick Small; mark an experiential and innovative approach to food education; each a bespoke design for the School and their pupils to create outdoor learning hubs in the heart of the School grounds.

Councillor Small embarked on a tasty road trip across the City; cutting celebratory ribbons of the new Edible Playgrounds and enjoying the home-grown delights pupils have been growing; including herbs, salads and seasonal vegetables.

Said Councillor Small of his visits to the three Schools:- "This is a fantastic scheme which has so many benefits for School pupils, including encouraging outdoor learning and growing and eating your own food. The Schools are doing an amazing job coming up with creative ways to engage children in learning and fire their imaginations."

Today's launch is of particular significance to St Teresa of Lisieux Catholic Primary School, one of the largest Primary Schools in Norris Green, and a flagship School for the Edible Playground programme; made possible thanks to nearly ₤250,000 Dream Funding available from the generous support of players of People's Postcode Lottery.

Thanks to the inspirational outdoor spaces, and ongoing support and training from the Edible Playground team, the School can now enjoy seasonally grown fruit and vegetables all year round.

Alongside using their outdoor classroom area of the garden to create stimulating lessons and enrich teaching of the core curriculum, pupils will grow and harvest apples from their blossoming orchard trees, strawberries and raspberries from abundant soft fruit beds; as well as herbs, salads and root vegetables from a network of raised beds and trellis archways.

In addition to incorporating outdoor learning throughout the wider School curriculum, the School has also created an interactive Cookery Classroom where their School cook delivers outdoor cooking lessons to students 2 to 3 times a week.

Andrew Tremarco, Head of St Teresa de Lisieux Primary School said:- "We encourage our pupils to get outside, stick their hands in some soil and learn about the benefits of healthy eating. Our Edible Playground is all about trying to create a healthier, happier future for the children taking part. We want everyone to have those all-important memories of growing their own food, knowing where it comes from and experiencing the tasting of a wider variety of fruit and vegetables."

This approach to integrated food education in the City comes at a poignant time, following British Nutrition Foundation's report, released recently, has revealed that nearly 1 in 5 children believe Fish fingers come from chicken, and almost a 3rd think cheese is from a plant.

Liverpool's new Edible Playgrounds are part of a wider programme:- a partnership between Trees for Cities, School Food Matters and Chefs Adopt a School; to create 10 further flagship Edible Playgrounds in London, Manchester, Leeds and Reading. As part of the project, the pupils will also enjoy hands on cooking lessons from Chefs Adopt a School and access to food education programmes outside the School gate via charity School Food Matter's Membership for Schools.

Thanks also to Tesco, whose Bags of Help funding went towards the build of the Edible Playground as well as clearing and enhancing the School's nature trail area. Ernest Cook kindly supported teacher training and all School engagement activities.

Trees for Cities are encouraging more Schools to create an Edible Playground on their grounds, as a way to address growing concerns for food poverty, childhood obesity and a disconnect with food origins.

For more information contact the Edible Playgrounds team on:- 020 7840 5956 or via email.