'C' Bridge set for completion, but road remains closed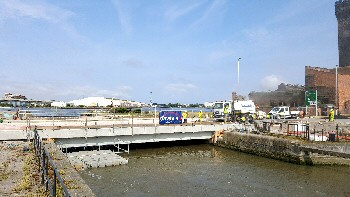 AS 1 bridge opens, another closes, that's what's happening this month along Tower Road, as works to replace 2 crossings over the docks between Birkenhead and Wallasey continues. There has been no through traffic along Tower Road now since the end of March as the 'C' Bridge was replaced by a brand new structure. Tower Road has been closed between Wirral Met College and the Twelve Quays roundabout, with access to the ferry terminal at 12 Quays possible only from the Wallasey side. Those works are set to conclude by 30 June 2017, at which time Tower Road will reopen from the Birkenhead end up to Twelve Quays for access to the ferry terminal, but close from the Wallasey side at the Dock Road roundabout to allow works to continue on replacing the iconic 'A' Bridge. Through traffic will continue to be diverted down Dock Road, across the Duke Street bridge and via Cleveland Street.

Cllr Stuart Whittingham, Wirral Council Cabinet member for Highways and Infrastructure, said:- "Replacing the 2 bridges at the same time is a massive, but exciting, undertaking and represents a significant investment in Wirral's transport infrastructure. When completed, the 2 new bridges will bring long-lasting benefits to the local area, residents and the economy. We know that Tower Road being closed brings disruption and inconvenience to the travelling public but it looks like they showing the kind of patience that they always do in these circumstances and can see the bigger, longer term picture."

Pedestrians and cyclists will continue to have access along Tower Road while the replacement works take place via either temporary or diverted paths. However, after 14 August 2017, when the old 'A' Bridge is scheduled to be removed, they will instead have to use a shuttle bus; which will have a trailer for bicycles if cyclists don't wish to ride along the diversion route. Unfortunately there will be no disabled access on this shuttle bus service. Works to replace 'A' Bridge, which is the lifting bridge allowing ships access to the Wirral docks from the river, are considerably more complex that the replacement of the 'C' Bridge and accordingly the road will be closed for a longer period of time.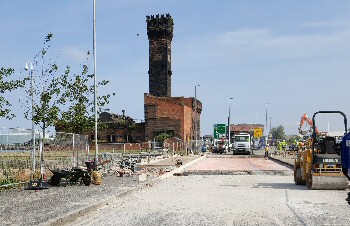 The old 'A' Bridge is set to be lifted out of position between 14 August and 18 August 2017. The new 'A' Bridge is currently being fabricated in Anglesey and some sections have already started to be delivered to Birkenhead to be assembled on the quayside at the corner of Tower Road and Dock Road. The main new 'A' Bridge structure itself is set to be floated in by pontoon, between 22 November and 28 November 2017. Work is set to continue until 24 January 2018 when the new 'A' Bridge will re-open to all traffic, pedestrians and cyclists.

All these dates are based on the contractor's latest forecasts and may be subject to change, but every effort is being made by all concerned to complete these essential works as quickly and safely as possible in order to fully re-open the road to all users at the earliest possible opportunity.

Cllr Whittingham added:- "The benefits of replacing the bridges and the improvements it will bring to the road network will help us to grow and develop the local economy, particularly around the Twelve Quays area and Wirral Waters. Their replacement at this time is essential. They have many outdated features and have required frequent and costly maintenance over recent years causing significant disruption to drivers, with the route regularly having to be closed, often with very little notice, for emergency or essential maintenance. If we had allowed the deterioration of the bridges to continue, the route would very soon have become totally inaccessible for HGV's."
---
Merseyside Police reservists on National Reserves Day 2017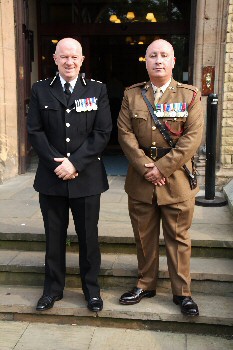 MERSEYSIDE Police Officers who serve as reservists in the Military are showing their support for National Reserves Day, which gives organisations the chance to thank their staff for giving up their spare time to serve their country. Reservists have to balance their civilian life with a Military career, and are prepared to be on hand to serve their country if needed. They are currently supporting operations worldwide including in:- Iraq, Afghanistan and South Sudan. Speaking at an event, on Tuesday, 20 June 2017, at Bootle Town Hall, in Sefton, where the 4th Battalion of the Duke of Lancaster's Regiment received the freedom of the borough, Chief Constable Andy Cooke, said:- "I am conscious that the contribution reservists make to this country's Armed Forces can sometimes go unrecognised. Staff here at Merseyside Police often go beyond the call of duty in their day jobs, so I'm not surprised so many of them volunteer to give up their free time to serve in the Military. It's vital that we recognise our officers and staff, who alongside their day job, work as reservists to protect the country. I would like to thank them for their dedication, professionalism and commitment in serving their country. It was a proud moment for me to spend time with members of the regiment and with Andrew Holsgrove, who has been working for Merseyside Police, for 15 years and has just returned from 7 months' service as a reservist with the United Nations in Cyprus. The visit gave me a real insight into the hard work they do and I am really proud of all the Merseyside Police reservists who give up their spare time to protect others." Andrew Holsgrove added:- "Merseyside Police has been very supportive towards me and other reservists who are also police officers. Our Military commitments mean we can be away from work for some time but we always feel fully supported by our senior managers I have recently returned to work after seven months' service in Cyprus for the United Nations. I believe this experience both benefits the police and the army. I have gained lots of transferable skills such as communication, conflict resolution, cultural sensitivities and the discipline needed to serve. Receiving the freedom of Sefton last night was a proud moment both for me and the regiment. This kind of honour shows the community really does appreciate the sacrifices service personnel make when serving their country."

An 'event'ful weekend for Liverpool
IT'S a bumper events weekend in Liverpool as the City gears up to be the national host of Armed Forces Day AND stages the popular Mersey River Festival at the same time. The 2 FREE major events will take place side by side, on Saturday, 24 June and Sunday, 25 June 2017, with the majority of the action being on the waterfront.

Armed Forces Day, Saturday, 24 June 2017

Liverpool is set to lead the nation in saying thank you to our servicemen and women with the event running, from 11am to 5pm, on Saturday, 24 June 2017. It will be attended by His Royal Highness The Earl of Wessex representing The Queen, senior political and Military representatives, the Mayor of Liverpool and Civic representatives, and hundreds of service personnel; both Regular and Reserve; from the Royal Navy, Army, Royal Air Force. Cadets and veterans will also attend.

A gun salute at the Pier Head will take place at 11am, and at that exact time a RAF Typhoon aircraft will fly over St George's Hall, signalling the start of a parade which will step off from St George's Hall plateau.

The parade route will follow Lime Street, St George's Place, Whitechapel, Lord Street, Castle Street (the veterans will join the parade here), James Street, The Strand, St Nicholas Place and along Princes Parade where a royal salute will take place coinciding with a flypast from the Red Arrows. The parade will disperse on William Jessop Way.

Activities and exciting displays will take place across the waterfront until 5pm and will take place in zones dedicated to all three Military services. These include getting up close to assets such as helicopters, diving tanks, rigid inflatable boats, tanks, a field Hospital, simulators and seeing marching bands in action. The Royal Navy's Type 23 Frigate, HMS Iron Duke, will be docked in the City for the celebrations.

A Display Arena will be located next to Liverpool Cruise Liner passenger lounge which will give visitors the chance to see a number of capability demonstrations, ranging from Royal Marines unarmed combat display and Military marching bands right through to an Army bridge building demo and a field gun-race between a team from RAF Cosford and the aircraft carrier HMS Prince of Wales (the City's affiliated ship). You can also watch the tri-services battle it out in a number of dragon boat races at Princes Dock from 2.15pm.

2 further air displays will take place which are the RAF Battle of Britain Memorial flypast at 1.50pm and a Royal Navy Wildcat flypast at 4pm.

The day will come to a spectacular close from 4.15pm as bands join together for a special performance which will lead to a Beat Retreat; a colourful pageant of Military music and drills. It will end at 5pm.

Military assets will remain on display for Sunday's Mersey River Festival

Headline sponsor for the event is Cammell Laird. CEO John Syvret said:- "I had no hesitation in taking on the lead sponsor role to support the holding of the 2017 national Armed Forces Day event here on Merseyside. I am certain all the communities of Merseyside will turn out in their thousands to provide their support, and that our great City and region will provide a magnificent venue and spectacle for the nation."

For full details of the day, head to:- CultureLiverpool.Co.UK

Mersey River Festival, Saturday, 24 and Sunday, 25 June 2017...

The Mersey River Festival in partnership with Liverpool ONE takes place across the waterfront on Saturday, 24 June and Sunday, 25 June 2017.

This maritime extravaganza will cover Albert Dock, Salthouse Dock, the paved area of The Strand, Mann Island and Dukes Dock with a whole raft of free family friendly activities.

A number of ships will be sailing in to the City and will be open to visitors across both days, including Tall Ships Kaskelot, Pelican of London, Johanes Lucretia, Phoenix, Shtandart, Earl of Pembroke, Maybe and Bessie Ellen. They will be joined by a number of Military vessels and research ships.

Thanks to its inaugural success last year, The British ThunderCat Racing Tour will make a welcome return on the Saturday, when boats will be battling it out on the Mersey, reaching speeds of up to 65mph. This is 1 of the most prominent motor water sports around and audiences can get a taste of the action, from 11am to 1pm.

Audiences can also expect the usual incredible jet skiing, fly boarding, international canoe polo and wakeboarding displays along with some dry land exhibitions or unarmed combat and weapons displays and the Sea Cadets will be performing their field gun window ladder semaphore and club swinging activities.

The heart in the mouth Yakovlevs, will be back with their breath taking aerial acrobatics displays on Sunday, 27 June 2017, at 2pm and again at 4pm.

There will be a number of small, live music stages across the site which are the Ship Stage (on board Tall Ship Kaskelot), the BME Stage (in front of the Cunard Building), Mann Island Stage (in the Mann Island Basin, behind Open Eye Gallery) and the Liverpool Cruise Terminal.

Heritage Great Britain PLC is the official sponsor of the music zones and across the weekend audiences can enjoy acoustic sets, Irish themed music, a Norwegian choir, drumming spectacles from Katumba, brass bands and sets from Liverpool International Music Festival Academy graduates.

Home Bargains, is the sponsor for the family zone which will see family workshops, interactive entertainment, street theatre, face painting and craft activities. Visitors can expect to be transported back to the 1940's, be amazed by mermaids, and surprised by some pop up performances.

The Northern Boat Show will also return for its third year, running, from Friday, 23 June 2017, until Sunday, 25 June 2017. It covers all aspects of the leisure marine industry and there will be displays of power boats, cruisers, narrow boats, and sail boats and features some of the biggest brands in the marine world such as Bavaria, Beneteau and Dufour Yachts.

All the Military assets from Armed Forces Day will also remain on site across the weekend. Wirral will also be playing a major role in this year's festival as a number of events and activities are planned for Woodside and New Brighton. Street theatre, balloon artists, pirates, stalls and workshops will form part of Wirral's programme.

Chris Bliss, Estate Director at Liverpool ONE, said:- "It is a great honour to be headline sponsor for this year's Mersey River Festival. This weekend we look forward to celebrating Liverpool's natural ability to host world class events with spectacular entertainment planned across both days once again."

Sue Grindrod, chief executive, Albert Dock Liverpool, said:- "Once again Mersey River Festival returns to Liverpool waterfront this weekend, with the stunning Albert Dock playing host to tall ships, music, and much, much more. This now iconic festival on Liverpool's annual event calendar couldn't be possible without the incredible partnerships between the City Council, ourselves and our waterfront neighbours. Albert Dock positively loves being at the heart of this maritime celebration, and people of all ages are guaranteed a fantastic day out!"

For full details and timings of the Mersey River Festival, visit:- MerseyRiverFestival.Co.UK, follow then on Twitter and look up Mersey River Festival on Facebook.
Liverpool City Council's Assistant Mayor and Cabinet Member for culture, tourism and events, said:- "The spotlight is certainly going to be shining on Liverpool this weekend and I've no doubt the City will rise to the occasion. When it comes to staging large, outdoor events, we are always ambitious and like to push the boundaries, and having two major events such as Armed Forces Day and Mersey River Festival running side by side isn't something that happens often. It makes me extremely proud that Liverpool is hosting these activities. One sees us thanking servicemen and women for the incredible job they do, and the other sees us celebrating our impressive maritime heritage; both are fantastic, family friendly and showcase our City and the waterfront at its very best. I hope as many people as possible come out both on Saturday and Sunday and show their support for the armed forces and the City as a whole."