Welsh Streets master plan set to be approved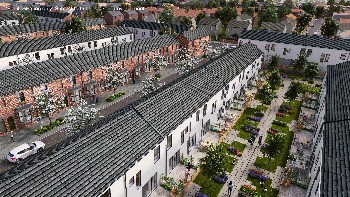 LIVERPOOL City Council's Cabinet is set to approve a masterplan for the Welsh Streets. The vision for the area has been drawn up in partnership with specialist development company Placefirst, who are nearing completion on a pilot scheme to bring some of the terraced properties on High Park Street and Voelas Street in Princes Park back into use. The masterplan envisages 294 new homes which will be a mix of refurbishment and new build. There will also be improvements to the streets, drainage and the creation of communal gardens to the rear. To address a shortage of larger homes in the area, the majority; 124; will have 4 bedrooms, while 109 will have three and the remaining 61 will have 2. It is envisaged that 30 of the houses will be affordable rent, 35 will be shared ownership / rent to buy, 194 will be let at market rent and 35 will be available to buy. Mayor of Liverpool Joe Anderson said:- "Placefirst have done an excellent job bringing some of the homes back into use as part of their pilot project, and together with the local community we have now drawn up some really exciting plans to breathe new life into the area and give it a long term, sustainable future. This is about providing certainty for the local community following years of frustration in which their wishes were thwarted by Central Government's interference in the local planning process. We've already demonstrated with the regeneration of Anfield and our Homes for a Pound scheme that we are leading the way in finding imaginative ways of retaining properties where it is viable to do so, and this project reflects our approach."

Councillor Frank Hont, Cabinet member for housing, said:- "I hope residents are encouraged at the progress that has already been made. For far too long they saw their hopes and dreams thwarted through no fault of their own. We have been working closely with the local community because there are a range of views about the way forward. We have done our very best to accommodate this by bringing forward proposals for a range of property sizes and tenures to suit a range of families and budgets. I would like to thank residents for their patience, resilience and support over the last few years and sticking with the area when some of them are in poor health as a result of the conditions they are living in."

The Council is also working with Plus Dane, the local social landlord, with a view to developing a further phase of improvements to their properties in the area. A 7 unit pilot refurbishment will start later in 2017. If the masterplan is approved at the Cabinet meeting, on Friday, 23 June 2017, a planning application will be submitted with more detailed proposals and designs.
---
Council lands control of Birkenhead Park fisheries
WIRRAL Council is to take on the management and patrolling of angling on Birkenhead Park's 2 fishing lakes this summer for the 1st time. The Council, which has previously worked for 30 years in partnership with the Association of Wirral Angling Clubs (AWAC) over the running of the popular fisheries in the park, will begin complete management of the lakes, on 1 July 2017. This follows the decision by AWAC to hand over its formal responsibilities for managing angling on the 2 lakes, back to the Council. After liaising closely with both AWAC and the Environment Agency, the Council will oversee the management and maintenance of the 2 lakes, as well the issuing of permits and day tickets to anglers. The Council will also look to introduce improvements to both the lakes and the surrounding environment during the coming months. Wirral Council's Birkenhead Park Manager Paul Davies said:- "All of the income we receive from anglers for using the facilities will be re-invested into the lakes and the surrounding environment to ensure it remains an outstanding facility for local people to use. This includes the regular restocking of the lakes, provision of good aeration facilities and increased maintenance of facilities such as fishing pegs and improvements to the surrounding banks and environment."

New permit prices will be introduced for using the lakes from 1 July 2017, which will be as follows:-

Adult Seasonal ticket:- ₤25.00
OAP Seasonal Ticket:- ₤15.00
Disabled Seasonal Ticket:- ₤15.00
Junior Seasonal Ticket, under 17:- ₤14.00

Bankside day tickets will also be available to buy, priced at ₤3.50 for an adult and ₤2.50 for a junior. These tickets and can also be used against the price of a seasonal ticket if redeemed within 1 month. All anglers using the facilities are required to hold an Environment Agency rod licence which is available by visiting the government website.

₤27m boost for City from its cultural organisations
A new report reveals that Liverpool's cultural organisations generated around ₤27 million pounds for the City in just 1 year. The Social Impact of the Arts in Liverpool 2015/16 report looks at 36 cultural organisations in the City which are funded through the City Council's Culture Liverpool Investment Programme (CLIP).

It found that:-

Arts organisations generated ₤27million into the City from a wide variety of local, national and international sources. This includes attracting millions of visitors and inward investment.

► An impressive 29,840 cultural activities took place in the City from 2015/16, with 66% of this activity targeted at special groups; young people, homeless, veterans etc.

► At least 4.6 million people attended funded events and festivals (broken down as 2,916,331 for events and 1,748,942 for festivals).

► More than 258,000 people took part in cultural activities.

► The funding enabled the organisations to raise an additional ₤15,140,917 from public and private sources.

Organisations reported their activities achieved a huge array of social impacts and benefits; for example improving the lives of those experiencing homelessness, worklessness, long term health issues or poor mental health. Young people with experience of the criminal justice system showed that those taking part in cultural events became more engaged in community, School and home life.

The report provides case studies giving evidence of cultural activities which have taken place and the impact of these activities. These include:-

Transitions; a programme by Collective Encounters, which used theatre to enable 55 adults with experience of homelessness, mental health challenges and addictions to achieve nationally recognised qualifications.

The Comedy Trust's Stand up to Stigma gave people accessing mental health services the opportunity to hone their comedy skills and developed their confidence to perform in front of an audience.

Metal's Meanwhile Space helped improve both the community spirit and physical environment of Liverpool's Picton ward by engaging residents of all ages and backgrounds to make a decision on the future of a disused green space.

Around 250 disabled young people took part in Young DaDa Fest; a weekly theatre and music workshop developing their creative and artistic skills. The sessions gave young disabled people the opportunity to socialise and take part in art which was relevant to them. As a result, some of the young people involved began to work directly with the Council's Children's and Young People's service to advise on issues such as marketing campaigns.

Fact's Veterans in Practice saw veterans meet every week to work on film, web, app or performance projects. This was accessed by 40 veterans ranging from 20 to 90 years old, developing their skills and giving them the confidence and self esteem to take on new challenges.
The programme also fostered a greater understanding and inclusion of veterans in the local community.
The full report can be found at:- CultureLiverpool.Co.UK/Impactreport.

Mayor of Liverpool, Joe Anderson, said:- "This report acts as a reminder of the hugely important role culture and the arts plays in the life of this City, both for residents and visitors. We know about the economic boost generated by the sector, but what's more important is the positive, priceless impact on the day to day life of residents and their communities shown in this report. Here are 36 examples of how continually investing in culture can result in unparalleled improvements in people's health and wellbeing. At the same time it succeeds in generating pride among those who live here and showing the world that we are an ambitious, creative City which will always push boundaries and always have social justice at our heart."

The 36 funded organisations are:-

20 Stories High, Africa Oye, Black-E, Bluecoat, Bluecoat Display Centre, Brouhaha, Collective Encounters, The Comedy Trust, DaDa Fest, Fact, First Take, Homotopia, Hope Street Ltd, Lantern Company, Liverpool Arab Arts Festival, Liverpool Biennial of Contemporary Art, Liverpool Carnival Company, Liverpool Everyman and Playhouse, Liverpool Irish Festival, Liverpool Philharmonic, Liverpool Pride, LOOK, Merseyside Dance Initiative, Metal Culture, Milapfest, Open Culture, Open Eye Limited, Pagoda Arts, Positive Impact, Squash Nutrition, Tate Liverpool, Royal Court Theatre, Tmesis, Unity Theatre, Windows Project, Writing on the Wall.

The report has been commissioned by Liverpool City Council and researched and written by Collective Encounters, one of the organisations who are nationally recognised for their cultural achievements.

Liverpool City Council works with Arts Council England to support the City's cultural organisations.