Hugh Baird University Centre gets highest possible national rating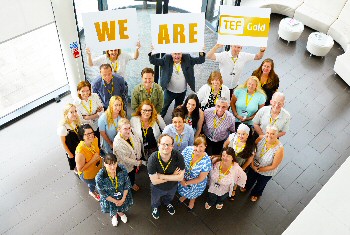 STUDENTS and staff at the Hugh Baird University Centre are celebrating after receiving a Gold rating for their higher education provision from a newly launched Government scheme. The Teaching Excellence Framework (TEF) was introduced to provide evidence about the performance of the higher education sector in the UK. Through the issuing of Gold, Silver or Bronze awards, the scheme will provide students with a picture of excellence in higher education teaching and learning. The TEF awards were decided by an independent panel of experts including academics, students and employer representatives. Drawing on national data, and evidence submitted by each University or College, the TEF measures excellence in three areas: teaching quality, the learning environment and the educational and professional outcomes achieved by students. The TEF Gold award is valid for 3 years and in their summing up, the independent panel who assessed the Hugh Baird University Centre commented that:- "students achieve consistently outstanding outcomes, with many students progressing to highly skilled employment."

In addition, the panel noted that the work undertaken by the University Centre at Hugh Baird College vastly improves the life chances of students living in the College's immediate locality. Assessors also commented on a curriculum that at the heart of its design was addressing the skills agenda set out by the Liverpool City Region Local Enterprise Partnership. When finding out what students themselves thought about the Hugh Baird University Centre, the panel's report indicated exceptional levels of satisfaction in relation to support and assignment feedback.

Colette Mawdsley, Dean of Higher Education at the Hugh Baird University Centre, said:- "Receiving the TEF Gold Award is a fantastic achievement. It is testament to the hard work undertaken by teaching staff at the University Centre and those who from across the College who support our learners on their journey. We believe that University level study is for all and we are proud to be working with many learners who will be the first in their family to gain a University degree. Here at the Hugh Baird University Centre we have a consistent culture of self improvement for both staff and students and outstanding levels of student engagement. This generates a great sense of community between students, staff and employers. I am extremely delighted that this was recognised by the panel in their report."

Phillip Walton, who is the University Centre's Student Governor, said:- "Studying at the Hugh Baird University Centre is a unique and individualised experience better suited to a student who prefers smaller and more open lectures. It has also saved me a considerable amount of money as I have lived at home, but have still achieved a highly regarded qualification. When studying higher education at the Hugh Baird University Centre, you are treated as if you are at University and I can honestly say you receive a University experience. It's just on a smaller more intimate scale where you feel valued and supported. Speaking on Behalth of all the student body at the University Centre, I would like to congratulate the staff for achieving this national quality indicator. It is thoroughly deserved."

Spaces are still available for courses at the Hugh Baird University Centre and it is not too late to apply to start this coming September 2017. To view courses, visit:- HughBaird.AC.UK/Universitry-Centre or alternatively come along one of the College's Summer Open Days which take place, on Monday 26 June 2017, Thursday, 6 July 2017, Thursday, 20 July 2017 and both 17 August and 18 August 2017.

Former Liverpool legend urges locals to run for disabled charity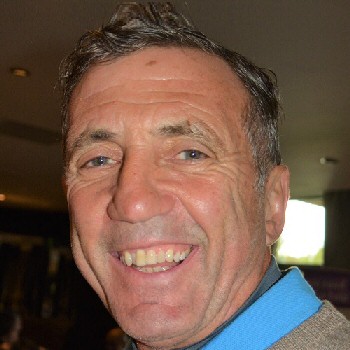 FORMER Liverpool and England star Alan Kennedy, is urging people in Merseyside to support a disabled children's charity by signing up for one of its charity places in the Great North Run. Kennedy, who won 5 1st Division titles, 4 League Cups and 2 European Cups during his Anfield career, says that by signing up for a Caudwell Children charity place runners will be supporting disabled children in the area. Caudwell Children is a national charity that provides practical and emotional support to disabled children and their families in Liverpool. Funds raised through the run will allow Caudwell Children to provide a range of specialist equipment, therapies, treatments and activity days for disabled children across Merseyside, says Kennedy. As he explained:- "The things that they provide, like specialist wheelchairs, buggies, tricycles, car seats and a once in a lifetime holiday to Disney World, in Florida, aren't funded through statutory measures. The charity is filling a real gap in provision and without their help families would be left with no support. So for a deposit of just ₤30 you'll not only secure a place in the world's biggest ˝ marathon, on Sunday 10th September, 2017, you'll also be helping disabled children to get the help that they desperately need and deserve."

The Great North Run starts in Newcastle and the 13.1 mile course takes in the iconic Tyne Bridge before passing the famous international athletics stadium in Gateshead. Runners will be spurred on by thousands of cheering supporters who will line the course, before they finish the race in the coastal Town, of South Shields. Kennedy said that:- "There's a real carnival atmosphere around the event. There's live music, jugglers and street entertainers. It's a run that the whole family can enjoy so I would urge runners to sign up for one of the limited number of Caudwell Children charity places whilst they're still available."

With only 12 weeks to go before the event Liz Hurst, Events and Challenges Assistant at Caudwell Children, says that this may be the last chance for runners to secure a place. As she explained:- "More than 100,000 people applied for the 57,000 places for this year's run. Now in its 37th year it's firmly established as the world's favourite run with participants from 178 United Nations member states. The BBC coverage has made it a truly global event so this is a chance to be part of running history."

Liz says that Caudwell Children places allow runners to give more back to charity. She said:- "Our places are unique in that 100% of the money raised will go directly to the children that we support. There are no hidden administration costs; every last penny generated through the run is spent on the services that we provide to the children."

The fundraising target for each runner is ₤300 and Liz is confident that they will smash this target:- "We guarantee that a dedicated fundraiser will be allocated to each runner participating on Behalth of the charity. They will provide runners with a fundraising pack containing a selection of materials and tips that will help them in their efforts."

You can register for a Caudwell Children Charity place online.