Sefton set to get 1st Community Police Station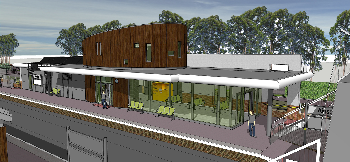 WORK is now underway to open Sefton's 1st Community Police Station. The new Community Police Station will be opened in Ainsdale Railway Station after Sefton Council granted permission for the proposals put together by Merseyside Police's estates team and the Merseyrail design team. The proposal to co locate the new Community Police Station in the Train Station were 1st suggested to Merseyside's Police Commissioner, Jane Kennedy, by Councillors from Ainsdale in 2015. Since then, Merseyrail has agreed to house the new Station free of charge within the Train Station, as part of its Corporate Responsibility Programme, meaning there are no costs to Merseyside Police for relocating to the site or on going rent charges. Work on the site has now commenced and it is hoped the new Community Police Station will be ready to open its doors in March 2018. Community Police Stations are designed to be accessible, visible centres which are co located with partners in busy neighbourhood hubs which are already well used by the communities they serve. They are a key part of the PCC's 10 year strategy to modernise and transform Merseyside Police's Stations with the aim of saving money on running costs which can be redirected straight into frontline Policing.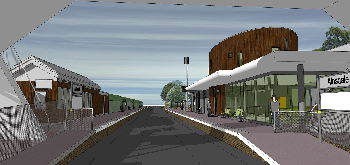 Jane said:- "I'm delighted that we are now in a position to get work started on Sefton's 1st Community Police Station. I am very grateful to Sefton Council and Merseyrail for engaging with the plans to make Merseyside Police more accessible and for helping this new Station to become a reality. It is a real example of what can be achieved in partnership. Thanks to Merseyrail's kind offer to house this Community Police Station, for free, we will also be saving money every year on our annual running costs. This is money which can be put straight back into the Police budget to be spent on Policing our communities. This new Community Police Station will put the Neighbourhood Team right at the heart of the community in a busy location which is well used by the community and which has been recommended by local Councillors. The Chief Constable and I want Officers to be visible and accessible to local people. It's what people tell me all the time when I attend events and meet the public. This is the 1st step in making this a reality across Sefton. I hope this new Community Police Station will be a really valuable community asset when it opens its doors."

By replacing inefficient and expensive old Police Stations with new Community Police Stations, the Commissioner will be able to reduce the annual running costs of Merseyside Police's estate by approximately ₤2.5m every year, protecting the jobs of 65 Police Officers.

Cllr Trish Hardy, Sefton Council's Cabinet Member Communities and Housing, said:- "Sefton's 1st Community Police Station, in Ainsdale, is another great example of partners working together to help protect our communities. The Station will be easily accessible, right in the heart of our communities and will reassure local residents that Officers and assistance is right on their doorstep."

David O'Leary, Merseyrail's commercial director, said:- "We are delighted to work with Sefton Council to be able to provide Merseyside Police with a Community Police Station at a newly rebuilt Ainsdale Station. We are proud to have a long history of working with local residents to create Station environments which contribute positively to the wider community they sit in. Having a small Police Station at Ainsdale, the second on our network, puts the Police at the heart of the community, heightening their visibility and presence and further enhancing safety and security within our local areas."
---
Mini festival highlight of 'Youth Week' at Southport respite centre
REVITALISE Sandpipers in Southport held its very own mini Glastonbury, on Tuesday, 1 August 2017. The fully accessible festival was the highlight of Youth Week at the popular Respite Holiday Centre, on Southport's Marine Lake and recreated the authentic festival experience on a small scale, complete with a main stage and pop up bar. The Centre's guests and volunteers were entertained by acts including Out of Chaos, Shea Doolin and Dan Morrison. The sound and lighting systems were provided free of charge by Total Music Solutions (TMS). The event also featured a 'colourblast' zone, a pop up bar sponsored by Southport Brewery, a hands on demo of off road wheelchairs, an art exhibition, hair braiding and henna tattoos.

No Holiday from Loneliness
WITH schools now broken up for summer the 'Great British Getaway' has begun in earnest the 1st Friday alone saw a record 2.4 million travellers take to the skies and another 2.5 million cars hitting the roads on the busiest day of annual mass exodus.

But as holidaymakers desert Town in their droves, The Silver Line, a leading UK charity which supports older people feel lonely or are isolated, predicts a record demand for its services during the summer from those who are left home alone.

Chief Executive of The Silver Line, Sophie Andrews says:- "We have already seen a 7% rise in the number of callers to our 24/7 Helpline in the past week, and they tell us that they dread the seemingly endless weeks ahead with their families and friends away on holiday."

The Silver Line Helpline, the UK's only free, national, confidential helpline open 365 days a year, typically receives between 3000 and 4000 extra calls per month over the July and August (around 10% more than the monthly average). 7 August 2016 saw a new yearly high in the number of calls to the Helpline, over 1,600 in a 24 hour period (which included its 1 millionth call since launch) out stripping the previous peak on New Year's Day 2016.

Alan Walsh, Head of The Silver Line Helpline says:- "Even if they do have friends and family nearby, for many older people the 'summer ghost Town' phenomenon means the usual familiar faces or people they are in daily contact with suddenly aren't around; their GP gets in a locum, their postman and local shopkeeper are replaced by holiday cover, while their favourite radio DJ or TV presenter are substituted with stand ins; and this can compound their sense of loneliness and isolation."

The Blackpool-based Helpline offers callers information, friendship and advice, or just someone to chat to around the clock (and crucially overnight and weekends and when other services are shut). It also acts as a single national point of contact to signpost callers to local organisations that can offer additional support and/ or to social activities in their area "all of which can help alleviate feelings of; as our summer callers often report; 'being stranded with nowhere to go and nothing to do'."

In addition to the Helpline for which it is best known, the charity also offers a range of personalised, 1 to 1 friendship services; including a regular weekly telephone call (currently around 4000 calls are made weekly) and/ or a pen pal style exchange of letters. These are delivered through an army of around 3000 volunteer Silver Line Friends, who are carefully matched to an older person based on mutual interests, and are free to both parties.

"At this time of year in particular, we often get calls from family and friends of older people; who are going away or extra-busy at work with colleagues on holiday; who want to ensure that there is a support network in place when they can't be there to check in on them. Our friendship services can provide this back up and give those concerned 'nearest and dearest' peace of mind that a Silver Line Friend can step into the fold when they aren't around…. or even when they are!" says Sophie.

Dame Esther Rantzen, Founder and President of The Silver Line adds:- "We should all look out for older people in our community who have left behind during the summer escape; and who, as members of the proud 'stiff upper lip' generation, are often hesitant to reach out. In the 1st instance we can stop and have a chat with them on the street, maybe offer to pop in for a cup of tea, or to help them with their shopping. And where appropriate refer them to services such as The Silver Line who can support them around the clock. While we at The Silver Line cannot cure the summertime blues, we also hear from our callers that just having the reassurance of knowing they have someone to chat to at any time of day or night can go a long way. So whether you are home or away for the summer, remember to give any older people who might need it The Silver Line Helpline number:- 0800 4 70 80 90."
---
Collective Encounters get ₤4k grant from Morrisons Foundation
LOCAL charity Collective Encounters has received a ₤4,200 donation to run creative arts workshops for people who have dementia and their carers in Merseyside.
The donation, awarded by the Morrisons Foundation, will fund twenty sessions and cover the costs of producing 200 arts and dementia pocket guides which will be given out for free during the workshops. The sessions aim to improve the health and wellbeing of participants by providing fun, creative and engaging activities.

The cheque was presented on behalf of the Morrisons Foundation by Ruth Gibson from the Morrisons store in New Brighton, who said:- "We were delighted to present this cheque to a charity which is supporting people who have dementia in our local community."

Aimee Rumbelow from Collective Encounters said:- "We are extremely grateful to the Morrisons Foundation for awarding us this grant, which will help to improve the lives of people living with dementia."

The Morrisons Foundation was set up by Morrisons supermarkets in 2015 and gets most of its funding from the sale of single use carrier bags. Charities are encouraged to visit:- MorrisonsFoundation.Com to find out how to apply for funding.