Commemorations to honour Captain Noel Chavasse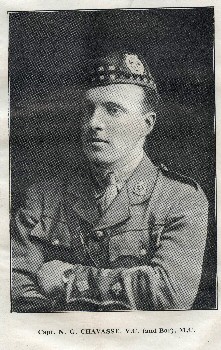 A Commemorative Paving Stone and a centenary service will be held on Tuesday, 29 August 2017, as part of a series of events marking the centenary of the death of Noel Chavasse, the only soldier to be awarded 2 Victoria Cross medals during World War 1.
Noel Godfrey Chavasse was born in Oxford in 1884 and moved to the Bishop's Palace, at 19 Abercomby Square, Liverpool, in 1900, when his father, the 'Right Reverend Francis Chavasse,' took up the post of Bishop of Liverpool. He attended Liverpool College where he excelled at sport and represented Great Britain in the 400 metres at the Olympics in 1908, before becoming a doctor serving as a medical officer with the British Army attached to the 1/10th Battalion of the King's (Liverpool) Regiment, a kilted territorial battalion, known as the Liverpool Scottish.

Despite not even being a frontline soldier, he was responsible for some of the bravest and most unselfish acts of the entire four year conflict and became the most decorated soldier of the war for his actions. He was awarded the Military Cross for his actions in June 1915 at Hooge near Ypres, where he continually went into no man's land for nearly 48 hours until he was satisfied there were no more wounded needing treatment. He was 1st awarded the Victoria Cross for his actions in August 1916 at Guillemont in France on the Somme when he attended to the wounded all day under heavy fire. He carried a critically injured man 500 yards to safety under heavy shellfire and rescued 3 wounded men from a shell hole just 25 yards from enemy trenches. It is estimated he saved the lives of some 20 seriously injured men as well as treating countless others. His 2nd Victoria Cross was awarded for his action in July and August 1917 in Wieltje, Belgium, when, despite being severely wounded in his skull, he refused to leave his post and for two days not only continued to perform his duties, but went out repeatedly under heavy fire to search for and attend to the wounded who were lying out. He was instrumental in rescuing many who would otherwise have undoubtedly succumbed under the bad weather conditions. On 2 August 2017, he was finally taking a rest at his 1st aid post when it was struck by a shell, but despite this he crawled for half a mile to get help for the others. He died on 4 August 2017, but not before dictating a letter to his fiancée Gladys in which he explained he carried on working because:- "duty called and called me to obey."

The citation for his Bar in the London Gazette reads:- "For most conspicuous bravery and devotion to duty when in action (Wieltje, Flanders).Though severely wounded early in the action whilst carrying a wounded soldier to the Dressing Station, Captain Chavasse refused to leave his post, and for two days not only continued to perform his duties, but in addition went out repeatedly under heavy fire to search for and attend to the wounded who were lying out. During these searches, although practically without food during this period, worn with fatigue and faint with his wound, he assisted to carry in a number of badly wounded men, over heavy and difficult ground. By his extraordinary energy and inspiring example, he was instrumental in rescuing many wounded who would have otherwise undoubtedly succumbed under the bad weather conditions. This devoted and gallant officer subsequently died of his wounds."

To mark the 100 years since his death, a Commemorative Paving Stone is being unveiled at Abercromby Square Gardens, on Tuesday, 29 August 2017, at 11am, attended by his family, the Bishop of Liverpool, the Lord Mayor of Liverpool, military representatives from the Royal Army Medical Corps, the Duke of Lancashire Regiment, the Liverpool Scottish Association and civic dignitaries.
It will be followed by a re-creation of his Memorial Service at Liverpool Parish Church in the City Centre at 2pm, exactly 100 years since it originally took place, which will include the original hymns he had chosen. His sword will also be on display, the 1st time it has been seen in public for many years.
To bring the day's commemorations to a close, 208 (Liverpool) Field Hospital will hold a Last Light Vigil, at 9pm, back in Abercromby Square Gardens.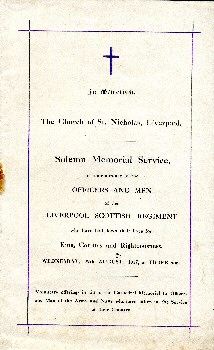 Lord Mayor of Liverpool, Cllr Malcolm Kennedy, said:- "Noel Chavasse was a courageous medical doctor whose selfless actions saved many lives. He was completely devoted to his duty and in his own words as he lay dying, he wrote:- 'Duty called and called me to obey.' Noel had been set for a brilliant career in medicine; but instead he became 1 of the most extraordinary soldiers Britain has ever seen, winning the Victoria Cross twice. Liverpool is incredibly proud of him and this is why the City is honouring him with this fitting ceremony. I am personally privileged to be able to attend and unveil this stone in his honour. It will be a permanent reminder of the incredible contribution that he made to the war effort and his role in making sure that more soldiers weren't lost."

Thomas Aidan Chavasse; nephew to Noel Chavasse, Son of Bernard Chavasse (Noel's brother), and oldest surviving relative of Noel said:- "On this centennial anniversary, the Chavasse family are grateful to the City of Liverpool for commemorating the courage and sacrifice of Noel Chavasse, and indeed all the citizens of Liverpool who died in the Great War. Noel's life was characterized by duty, service, and above all a deep sense of compassion and care for both the citizens of Liverpool, and for his brothers in arms in the Liverpool Scottish Regiment. This August, we both mourn and celebrate his extraordinary life and death, and in particular his supreme acts of bravery and courage in saving so many lives on the battlefield."

The Bishop of Liverpool, the Right Reverend Paul Bayes, said:- "My predecessor, Bishop Francis Chavasse, was devastated at the loss of his son, but also knew the tremendous example that Noel had set for others. Noel's heroism was in his care for others at the front, and his distinguished service in the Medical Corps. After his first VC, Bishop Chavasse told his son, 'You have been known so far as the son of the Bishop of Liverpool:- I shall be known henceforth as the father of Captain Chavasse.' I am proud to honour Noel's memory exactly 100 years after the 1st memorial service at Liverpool Parish Church using hymns which Noel himself had chosen. Bishop Chavasse wrote that it was a service of praise, and we continue today to give thanks and praise for the life of Noel Chavasse. We also remember with pride and thanksgiving those who, like him, choose to serve and to risk their lives in our Armed Forces today."

Separately, The King's Regiment are to hold a service at 1pm, on 4 August 2017, the day he died, at the Liverpool Heroes Memorial in Abercomby Square. The medals of Captain Noel Chavasse are on display at the Museum of Liverpool, from 31 July 2017 to 5 January 2018, the 1st time this important medal group, on loan from Lord Ashcroft KCMG PC, has gone on public display in Liverpool. Also on display at the Museum of Liverpool, until 1 September 2017, are stained glass windows, commissioned by the Chavasse family in memory of 'those who died' and 'those who gave their life' during World War 1.

Mums aim to help break breastfeeding record
MIDWIVES are backing:- 'The Big Latch On' in Southport this week in support of women who want to breastfeed. 'The Big Latch On' is a global event to raise awareness of the benefits of breastfeeding celebrated in 120 countries. Women and children will gather in their own communities to take part with the aim of breaking 2016's breastfeeding record, when nearly 18,000 children were fed. The local event will take place on Friday, 4 August 2017, at Lakeside Church, Fairway, Southport, PR9 0LA. Registration is between 9.30am and 10am. A headcount will be taken, at 10.30am, for the 'Official Southport Big Latch On' submission. 1 mum who will be supporting the event is Laura Corrigan from Formby whose baby, Arthur, was born at Ormskirk Hospital, on Saturday, 22 July 2017, weighing 8lb 9oz. "I always wanted to breastfeed because I knew it would be good for Arthur. I'm also told it's a great way to lose weight!" said Laura. Expressing milk also means that dad, Paul Mason, can help with feeding too. "The midwives have been fantastic and gave me loads of support, particularly early on when it can be so easy to give up." Lesley Fawcett, Infant Feeding Coordinator, at the Hospital, said:- "2016's event was so successful it has been moved to a much larger venue for 2017. It's great to see mums and babies reaping the benefits of breastfeeding and we look forward to meeting them at the event."
---
Young men in the North West most likely in the UK to say they'd report online child sex abuse imagery
41% of young men in the North West say they'd report online images of child sexual abuse to an internet watchdog or hotline, if they accidentally stumbled on them. That's according to a new survey, published 1 August, 2017, commissioned by the Internet Watch Foundation, for a joint campaign aimed at raising awareness of internet safety with soccer giants Everton Football Club. The report, from the polling company ComRes, looked at the attitudes of young men across the UK, aged 16 to 24, to online safety. Data in the survey reveals differences in attitudes across regions and nations, including:-
► Young men in the North West are the most likely to say that if they accidentally found images and videos showing child sexual abuse online, they would report it to an internet watchdog or hotline. 41% of young men in the North West say they would do this, compared to 29% in Yorkshire and Humberside, for example.

► 22% of young men have heard of the IWF in the North West, just 13% say the same in Yorkshire and Humberside.

► Young men in the North West are amongst the most likely to say they think cyber bullying is 1 of the biggest issues on the internet, with 55% stating this. 40% say they think this issue has increased over the last 12 months.

► 53% of young men in the North West say they think the best way to describe consent is:- 'you have to have the other person's permission,' more than any other region.
The ComRes survey has been published to support the:- 'See it, Report it' campaign which kicked off at an Everton Football Club fixture. The campaign was designed to have 2 elements:- firstly, raising awareness of the work of IWF's anonymous reporting Hotline, which takes reports and removes criminal images and video of child sexual abuse from the internet. Secondly, and in a 1st for British football, to trial a ground breaking online safety workshop 'Game On', across Everton Football Club's youth teams and wider footballing community, including staff and participants at the Club's award winning charity, Everton in the Community. The central aim of the project was to tackle online issues of inappropriate sexualised behaviours, as well as educate young men to the dangers of being online, through a series of targeted educational workshops.

Susie Hargreaves OBE, IWF CEO, says:- "It's incredibly positive that nationally over 40% of young men say that they would report it, if they accidently stumbled on child sexual abuse imagery online. But we need to get that message out to more young people; and let them know that they can report these disturbing illegal images to our Hotline, anonymously. Working with Everton FC has been amazing; they've been pioneers in online safety education. The support Everton has across the globe, has the potential to influence tens of thousands of young men. And by running these workshops, our goal to educate these young players to keep themselves cyber safe and in turn spread the positive online safeguarding message has been a real success."

Adam Green, Head of Safeguarding, Everton Football Club, says:- "This is a unique safeguarding initiative and we're proud to be the 1st club to partner with the IWF. At Everton, we have a history of putting safeguarding 1st, both for our young players and in the wider Everton community. This project takes that message one step further, we want to help young men develop appropriate relationship behaviours, both online and offline. And, in a complex online world, we want to help keep our young players, staff and community participants safe."

The 'Game On' project has been supported by an Advisory Board made up from leading charities and online safety experts. The work of the project has been fully evaluated by ComRes.
---
CO-OP to serve up newest store in Aughton with funding boost for community groups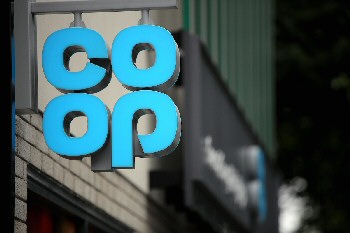 THE Co-op is set to serve up its newest food store later this month in Aughton, Ormskirk, following a ₤625,000 investment creating 14 new jobs. The new store in Town Green Lane; which opened on Thursday, 10 August 2017, will deliver a funding boost for local good causes through its Membership scheme; Members receive a 5% reward on the purchase of own branded products and services, with a further 1% benefitting local good causes. Groups initially set to benefit include:- Maghull Air Training Corp (ATC), which is raising funds for adventure equipment to support young people taking part in the Duke of Edinburgh Award scheme, and Carla Lane Animals in Need. The new store will offer an in store bakery alongside its focus on fresh, healthy foods, meal ideas, award winning wines and essentials. Members of the community are invited to pop into the new store, on Wednesday, 9 August 2017, the evening before its launch, between 6pm to 9pm, for a preview. A chance to see the new store, meet the team, and find out more about the Co-op and the benefits of Membership.

Dan Lee, Store Manager for the new Co-op store, said:- "We are looking forward to welcoming members and customers into their new Co-op, it is an exciting time to be involved in the opening of the Co-op's newest store. The Co-op is moving forward with a clear purpose and momentum. Our ambition is to establish the store as a local hub, a real asset for the community. We want shoppers to know that they can become a co-owner and member of their Co-op. We are also giving back to the community. Our members can make a difference locally, simply by swiping their membership card when they shop with us they can raise much needed funding for organisations in the area who contribute to improving local life. There are offers and promotions in and around the new store to mark its launch, plus students in Ormskirk holding the NUS extra card will also receive a 10% discount off their groceries."