Land transformed amid a 'Hive' of activity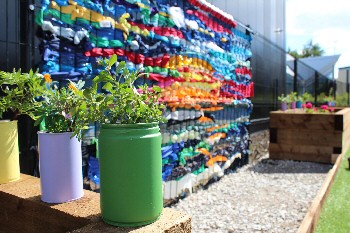 A stretch of land between Birkenhead Fire Station and the new state of the art youth zone, the Hive, has been transformed into an oasis of calm thanks to partnership working. In a project that has involved the Birkenhead Constituency Committee, local Councillors, Merseyside Fire and Rescue Service, the Hive, local young people and a number of private contractors, the land has been transformed into a peaceful garden area within the hustle and bustle of central Birkenhead.
Those youngsters who visit the Hive have also been at the forefront of designing the garden, which features a number of:- seating areas, raised beds, beehives, bird boxes and a greenhouse, donated by B&Q.

The work has been carried out by local volunteers, supported by employees of Engie and Benchmark, who are contracted to maintain the area around the Fire Station as part of the PFI agreement managed by Balfour Beatty. The land is owned by Merseyside Fire and Rescue.

Cllr Phillip Brightmore, Wirral Council Cabinet member for Environment, said:- "This is a fantastic example of local people and a range of organisations coming together to show much they love where they live. This was an unused, bare piece of land and represented a divide between the 2 buildings. The work that has taken place here has not only made the area look more attractive, it has brought these 2 neighbours together at the same time."

Some of the young people who took part in the project are taking part in an Enterprise and Employability course at the Centre.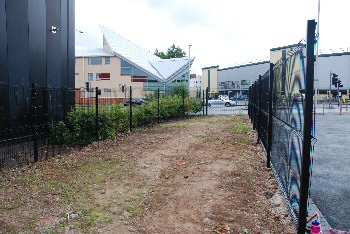 Gill Pleavin, who co-ordinates the course, said:- "Watching the group of young people working together has been fantastic. They have only been together for 4 weeks but they already recognise each other's strengths and were able to decide who should work on each part of the garden project. They were able to organise themselves to make sure all the work was completed within the timescales."

Ash Georgeson, 1 of the course members, added:- "I enjoyed the garden project and the chance to work on some designs for it. It's been 1 of the best parts of the Enterprise and Employability programme."

And another course member, Lindsey Hitchmough, said:- "Working on the Hive garden has given me a good idea about what it's like to work outside, and I think this is something I would like to look into as a career."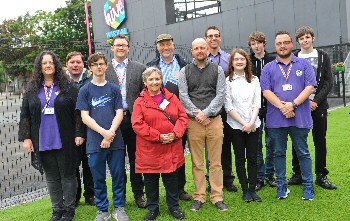 As the finishing touches were being made to the garden, a judge from North West in Bloom stopped by to take a look and evaluate it as part of Birkenhead in Bloom's entry to the annual competition.

Cllr George Davies, the Chair of the Birkenhead Constituency Committee, added:- "We're proud of the contribution this project has made to improving the local environment even more and it is a major contributor to our 'In Bloom' activities this year. We'll find out later on what the judges thought, but I'm sure they will have been impressed by what has been achieved here."

206 people arrested during summer drink and drug driving campaign
A total of 206 people were arrested by Merseyside Police on suspicion of drink and drug driving during a month long summer campaign. A total of 1995 breath tests were conducted during a 4 week crackdown in June to make the county's roads safer. Of the 206 people, 97 were arrested for drink drive offences such as failing a breath test or refusing to give one, and 109 drivers tested positive for drugs such as cannabis or cocaine. Of those arrested for drink drive offences 85% were male and 15% female with 67% in the 25 to 49 age range. For those stopped for drug driving offences 95% were male and 5% female and 70% were in the 25 to 49 age range. The majority of people were stopped between 11pm and 3am (42%) with 29% stopped on a Sunday. All those arrested face a minimum 12 month driving ban and could be hit with a £5,000 fine by a magistrates court. Inspector Keith Kellett, from the force's roads Policing department said:- "Hundreds of people are killed every year in this country because of drink and drug drivers. These incidents cause devastation to so many people yet could have been avoided if the motorist had chosen not to get behind the wheel while under the influence. Drink and drug driving is a serious offence with serious consequences and that is why we carry out targeted campaigns like this in order to take offenders off the road and send out a clear message to others. But I don't want drivers to be complacent that they will no longer be caught because the summer campaign has finished. We will continue our efforts to educate the public and to highlight the risks of drink and drug driving and our enforcement activity will also continue throughout the year across Merseyside. The number of breath tests conducted this year was lower than last year as the campaign ran for 4 weeks and not the s6 weeks that it ran during last year's Euro football championship. We also saw a corresponding drop in the number of arrests, which we hope means that more drivers are taking heed of our road safety messages. During this campaign, many drivers were issued with a free, disposable breathalyser to test themselves the morning after drinking. Only 3% of drivers were arrested during the morning peak times so perhaps they proved useful in showing people how they can still be well over the limit after a night out. The vast majority we did stop, over 95%, passed the tests so we know it is only a minority of drivers who are behaving like this. We are also trying to ensure the next generation of drivers get the message. Anyone wanting to learn to drive can sign up to the Engage scheme and not only be taught how to pass the driving test, but also learn about issues such as drink and drug driving, distractions such as mobile phone use and several other topics that the Police believe are also critical in becoming a safe and responsible driver. Our focus will remain on removing all drink and drug drivers from the roads of Merseyside and my message to would be offenders is that you can be stopped at any time by any Police Officer and be tested for alcohol or drugs. It only takes a matter of minutes for Police to obtain a result and if you fail you will be arrested and taken to a Police cell with the potential of a driving ban and a criminal record, which could cost you your job and affect not only you, but your family. It really isn't worth the risk of ruining your life and potentially the lives of others. If you know or suspect someone is driving whilst under the influence of alcohol or drugs, then please contact Crimestoppers anonymously on:- 0800 555 111."
---
'Home owning hopelessness' as private renters fear they may never get on property ladder
59% of private renters in England never expect to buy their own property because they won't be able to afford 1, as Councils warn of the nation's growing "home owning hopelessness." The Local Government Association said Councils need powers and funding to create a mix of affordable housing options, both for renters hoping to save up for a deposit and those looking to buy, to help boost affordability and home ownership. The latest English Housing Survey figures show there has been a noticeable increase in the amount of renters that say that affordability will stop them from owning their own home. In 2008/9, the proportion of this group was 56%, compared to 70% in 2015/6. The LGA, which represents more than 370 Councils in England and Wales, is also concerned that 21% private renters are dissatisfied with their tenure, compared to less than 1% of owner occupiers. Just 2.7% of renters said they rented because they preferred the flexibility of the tenure, suggesting that most renters would like to own, but cannot afford the home that they need. With the average homebuyer expected to pay 7.6 times their annual wages for a home, many renters are locked out of the housing market. In Camden, in London, this rises to as much as 11.8 times the average salary, in Wiltshire, it's 9.5 times the average salary, and in Harrogate, in Yorkshire, house prices are 10 times the average salary. Private renters spend on average 35% of their income on housing costs, compared to those who own their home spending just 18%. The LGA said Councils need to be given additional freedom and flexibilities and access to funding, to resume their historic role as a major builder of affordable homes; including those for social and affordable rents; to boost affordability and home ownership. This means being able to borrow to invest in housing and to keep 100% of the receipts from any homes they sell to replace them. Cllr Martin Tett, the LGA's Housing spokesman, said:- "It's worrying that so many people renting a home feel a sense of home owning hopelessness. We know that the shortage of houses is a top concern for people as homes are too often unavailable, unaffordable and not appropriate for the different needs in our communities. All types of homes; including those for affordable and social rent; have to be built to solve our this shortage, boost affordability and increase home ownership. For this to happen, Councils desperately need additional flexibility, and access to funding, to resume their historic role as a major builder of affordable homes. This means being able to borrow to invest in housing and to keep 100% of the receipts from properties sold through Right to Buy to replace homes and reinvest in building more of the genuine affordable homes our communities desperately need."