Cultural Armada to launch 2022 Games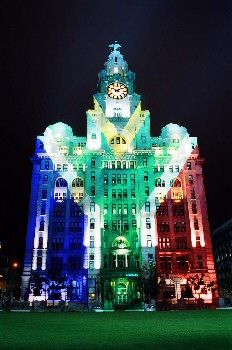 A 'Cultural Armada' of 71 boats could sail down the River Mersey, if Liverpool is successful in its bid to host the 2022 Commonwealth Games. Plans are being explored around staging an unforgettable opening ceremony which would see the River become the focal point for welcoming competing nations from across the globe. Each vessel would represent a Commonwealth country, flying the flag of that nation as is sails into the City.

Liverpool's Director of Culture, Claire McColgan MBE, said:- "The Cultural Armada would be the 1st thing a global audience would see of Liverpool 2022. And what an image it would be; a river filled with ships, each with the flag of a different nation sailing into one of the world's most iconic waterfronts at sunset. The cultural programme is at the heart of our bid; it will tell the story of Liverpool and the Commonwealth, what binds it together and what makes each nation so unique, and will in turn create a programme of extraordinary moments in unexpected places."

The opening ceremony itself would take place at Anfield Stadium, giving more than 50,000 people the chance to be part of a key moment in Liverpool, and the Commonwealth's, history. The ceremony would be a spectacle of light, pyrotechnics and sound; mixing small intimate moments with experiences on an epic scale.

It is also proposed that each competing nation would have its own 'Cultural Embassy' in the City; a building which would be taken over for the duration of the event as hubs dedicated to showcasing art, culture, music and food from each nation. Each night, these buildings will be lit up to create a fortnight long festival of light, the likes of which has never been seen before in the UK. Artists from each country will design a light show for the venues which could include the likes of the Philharmonic Hall, The Black-E, St Vincents School or St George's Hall.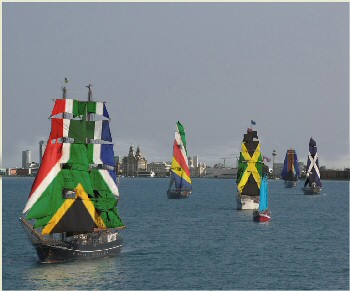 Throughout the duration of the Games, the embassies will become hubs dedicated to showcasing art, culture, music and food from each nation. Each night, they will remain lit up, providing a spectacle for both residents and visitors. Claire continues:- "Liverpool is recognised internationally as a cultural leader, so the scale and ambition of our plans won't come as a surprise to anyone. This is a City which pushes boundaries with major events and culture, and we don't want to leave anyone with any doubt that by staging the Games in Liverpool, we'll be positioning Britain as a creative, outward looking and progressive nation. And we know Liverpool can deliver; staging events became 2nd nature for this City following our European Capital of Culture tenure and now we know just what amazing, unforgettable experiences can be achieved when this City unites for a common goal. This is an exciting time for Liverpool and we hope we're given the opportunity to tell the compelling Commonwealth story with the humour, passion and integrity the world has come to expect and love from this City."

Chairman of the Liverpool 2022 bid, Brian Barwick, said:- "The team behind the plans for the City's 2022 cultural programme are the powerhouses who delivered what is widely regarded as the best ever European Capital of Culture year in 2008. Combine that with what is easily one of the most photogenic waterfronts in the world and it's a winning combination. This is a team which is used to delivering major events year after year, from the Three Queens to Giants and Sgt Pepper at 50, Liverpool delivers unforgettable experiences, and what we are talking about today is just a taster of what is being proposed. With the 2022 Games as inspiration, they have created a bold, exciting and unrivalled vision that would engage and enthral millions of people around the world."

Liverpool is going head to head with Birmingham, to become the UK's nomination to host the 2022 Commonwealth Games. A decision on the UK's preferred City is due to be announced next month.

73% of Brits Approve of Tattooed Policemen
THE Police Federation announced earlier this month that their campaign for the acceptance of tattooed Officers has been met with success. The new appearance standards guidance; developed by the College of Policing and accepted as best practice, has been said by the Police Federation to "provide Officers and staff with clear direction on their appearance, so that they present a professional image while also being allowed some self expression."

Savoy Stewart, have delved deeper into the issue of tattooed Police Officers in the workplace using independent research, alongside reports from the Police Federation. Studies have revealed that 48% of serving Officers have a tattoo, 17% of which have a visible tattoo when in their uniform. However, Home Office guidance on tattoos is vague and open to interpretation, meaning that over recent years, guidelines on inked Officers have varied wildly across forces. A survey by Savoy Stewart has looked into how comfortable the public are with tattooed professionals across industries in order to see where Police Officers would appear on the list. The survey asked Brits the following question: How comfortable would you be with a person with a visible tattoo working in the following occupations?
| | | |
| --- | --- | --- |
| PROFESSION | COMFORTABLE | UNCOMFORTABLE |
| Athlete | 88% | 12% |
| Chef | 81% | 19% |
| Police Officer | 73% | 27% |
| IT Technician | 72% | 28% |
| Estate Agent | 69% | 31% |
| Banker | 63% | 37% |
| Doctor | 59% | 41% |
| Judge | 59% | 41% |
| Nurse | 57% | 43% |
| Lawyer | 57% | 43% |
| Primary School Teacher | 49% | 51% |
| Political Figure | 44% | 56% |
| Air Hostess | 42% | 58% |
The results showed that respondents were more comfortable seeing a tattooed Police Officer than a tattooed estate agent. This supports the Police Federation's own study, which demonstrated a similar level of acceptance, where 55% of fellow Officers felt comfortable working with a tattooed colleague.

Interestingly, the public seemed to be more uncomfortable seeing body modifications in female associated roles such as primary School Teachers (51% of respondents were uncomfortable with this), Air Hostesses (58%) and Nurses (43%). Indeed, according to this study by Savoy Stewart, British workers are more comfortable seeing a tattooed Politician (44% approval) than a tattooed Air Hostess (42%).

The study also revealed the characteristics we most associate with people who have tattoos. These included being rebellious, less intelligent, and unhealthy.

Although more and more of us are inking our bodies, this doesn't seem to be stopping employers from using this as a reason not to employ an individual, with 54% of hiring decision makers thinking that tattoos can have a negative impact on the workplace.

Currently in the UK 3 in 10, 25 to 39 year olds, have tattoos, which means a serious shrinking of the talent pool if an employer decides not choose a candidate with body art. This would be particularly troublesome to an already struggling Police Force.

Studies have shown that British women in particular would be affected, as they are more likely to be tattooed than men. Indeed, the Police Federation has demonstrated that 52% of female Officers have a tattoo compared with 47% of male Officers.

However, times maybe be changing, as proven by the new appearance standards guidelines by the College of Policing.

Some Officers have had their say on the issue:-

"We talk about more visibly resembling the communities we represent; but not when it comes to tattoos, why would that be?" said a Chief Inspector, male, 26 years' service.

"Very dependent on the tattoo, but heavily tattooed areas do make me feel uncomfortable." said a Sergeant, female, 25 years' service.

"If I was working with a colleague who had tattoos on their hands / neck / face then I would feel uncomfortable when dealing with some victims (particularly elderly) as they seem less tolerant of them than the younger generations." said a Constable, male, 12 years' service.

"Tattoos have no bearing on the professionalism of the Officer. To think or even question that would be discrimination." added a Constable, male, 13 years' service.
So what are your views on this topic? Please email us to:- News24@SouthportReporter.com with your thoughts...
---
Medication was lost within the Waterloo area
MERSEYSIDE Police Officers are warning people that a quantity of medication was lost in the South Road area of Waterloo, on Tuesday, 22 August 2017. A member of the public reported that medication includes a number of injection pens and if taken, they could prove to be fatal. Anyone who finds any of the medication should hand it in to their local Police Station or call Officers on:- 101.