Large knife used in convenience store robbery
MERSEYSIDE Police Detectives are appealing for information after an armed robbery at a convenience store, in Bootle, on Monday, 21 August 2017. We are told that 2 members of staff at Marsh Lane Local and a customer were left extremely shaken, but not injured, after 2 men are believed to have entered the shop and demanded cash. 1 of the men was reported to have been holding a large knife. The incident is said to have happened around 9.45pm, when the offenders left with a cash draw, which we are told they discarded outside and a quantity of cash taken. The 2 males are described as white, wearing black sportswear with hoods up and scarves covering their faces, having their faces covered and wearing. 1 of the males had a red logo on 1 of the arms of his jacket.

Detective Inspector Robbie Moss said:- "Business robberies such as this are thankfully rare in the area and I would appeal to anyone with information to contact us immediately, to help us remove these people from the streets. Thankfully the members of staff were not injured, but they are understandably extremely shaken and to be threatened in such a way is despicable and desperate behaviour. The victims are being supported by officers and I would urge anyone with any information, however small, to call us as it may be vital for our investigation. I want to assure all residents and businesses that we will do everything possible to identify the offenders and bring them to justice, and ensure that Bootle is a safe place to live, work and visit."

Witness and CCTV enquiries are ongoing and detectives wish to speak to anyone who saw men acting suspiciously around Marsh Lane around the time of the incident to get in touch. Anyone with information is asked to call:- 101. You can also call the independent charity Crimestoppers anonymously and for free on:- 0800 555 111 or via their online form.
---
Miniature silver gas canisters appearing on pavements in and around Formby

OVER the last 6 months, Formby residents have been reporting silver gas canisters appearing on pavements and paths around the village. Since finding one ourselves we have finally tracked down where they may be coming be from. The finger length canisters contain nitrous oxide, N2O, also known as laughing gas, they are sold in the street. They are used commonly for soda siphons, and cream whoppers. It has been found that some whipped cream dispensers made between 2009 and 2013 are still in circulation. In some cases, those devices have resulted in the capsules:- "being expelled like a bullet, at high speed" and have killed people. The most well know victim was a fitness model called Rebecca Burger, then 33, who died of a cardiac arrest, after a defective can of whipped cream which had been taken off the market in 2013, exploded, hitting her on the chest; that occured in France. The phenomenon of the exploding canisters put many people off using them, but for a growing number of people, in the UK, these whipped cream dispensers are becoming popular again. The chances of getting a defective dispenser that can kill you is extremely low, but always take care if you are using them, keeping it pointed well away from your face and body, along with those around you. The good news is also that the gas is not illegal, but nitrous oxide, is more commonly known as:- 'hippy crack' by young people and we have heard reports that some kids are now trying to use these devices to deliver the gas. If this is true, this raises many worrying issues. Let's hope this is not revealing anything more disturbing but the fact that the sudden appearance of these canisters is due to nothing more than people have been correctly putting the empty cans in the waste bins, but that as they are so small, they have slipped out when collections are taking place... We tend to have a knee-jerk reaction to things that look unusual, and in reality it is probably wrong... But this summer, if you do know of anyone misusing these canisters, it might be worth reminding them about what happed to Rebecca Burger, even though when it went wrong for her, she was using it in the correct way! For more information on this potentially deadly craze and the effects Nitrous Oxide (laughing gas) can have, go to FRANK.
---
1st Civil Youth Injunction Order for Knowsley
A teenager who terrorised his community has become the 1st in Knowsley to receive a civil injunction. The 15 year old has been served with a Civil Youth Injunction Order, by Liverpool Youth Court. Villages Housing Association took initial legal action against the teenager following his persistent anti social behaviour in the community where he lives at the beginning of July 2017. Magistrates granted the injunction on 26 July 2017, where he was served with the 12 month order preventing him from going to certain parts of Knowsley; contacting certain people in the area; inciting or being involved in any anti-social behaviour or criminal damage or carrying a knife in a public place. If the respondent breaks the terms of the order, which has a power of arrest attached, he could face a supervision order or detention. Matt Jones, Managing Director of Villages, said:- "Villages will not hesitate to take legal action to protect the people living in communities, who have a right to live in their homes and go about their business in peace. The defendant's behaviour has caused distress and fear to neighbours and others living or working in the area. At Villages, we are proactive in working with our partners to tackle and address anti-social behaviour. We welcome the judge's decision to grant an injunction order in this case." Villages worked closely with Merseyside Police to secure the injunction.

We all have kind neighbours, but what's the kindest thing a neighbour could do? Save a life?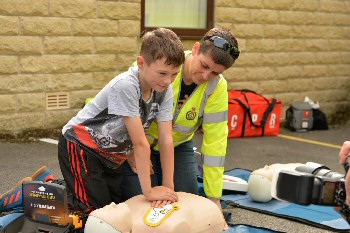 THE North West Ambulance Service (NWAS) is on the look out for heroes all across the North West to join a life saving team of community 1st Responders (CFRs) and become the:- 'Hero Next Door.'

CFRs are ordinary people who do extraordinary things as volunteers for the Ambulance Service. They find the time to save the lives of their neighbours whilst going about their normal routines.

David McNally, Community Resuscitation Manager for NWAS said:- "We rely on our community 1st Responders to not help us save lives, but also to just be there for our patients and be a reassuring face. Sometimes it's the smallest things that make the biggest difference. The idea of the Hero Next Door campaign is to let people know that volunteers can go about their everyday lives and have no other connection to healthcare but still find time to be a hero!"

The new social media campaign using the hashtag #HeroNextDoor launched on 25 August 2017, with a special event in Burnley to find the:- 'North West's Safest Street.'

Community 1st Responders and staff from NWAS pitched up near Gilbert Street in Burnley to teach life saving skills to as many people as possible, meaning that everybody on the street knows what to do in the event of a cardiac arrest.

The team managed to teach over 50 CPR superheroes in 3 hours, skills which people will be able to be pass onto their friends and families making sure as many people as possible could be potential life savers.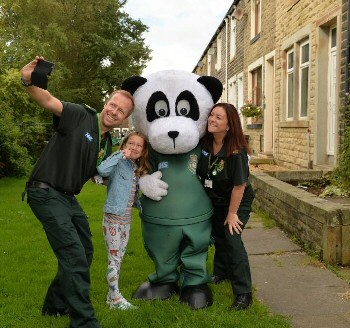 From Nursery School Children to Mary at the grand age of 91, the whole community got involved to learn the life saving skills as well as get a high 5 with the Trust's mascot, Pandamedic and take a look around an Emergency Ambulance.

When a person goes into cardiac arrest, their chance of survival drops by 10% for every minute that they are left without CPR and defibrillation, showing just how important it is for people in the local community to know how to help.

Mark Jarnell, Community First Responder for NWAS, said:- "Working as a CFR allows me to give back to my community and be there for people in their hour of need. I simply sign on when I'm available, whether that be in between appointments at work or when I'm at home watching the telly. The best part for me is after a busy call out, the relative or patient simply saying thank you."

Community 1st Responders can be called upon to attend incidents such as cardiac arrest as well as other emergency situations, and possibly being closer to the patient than an Ambulance they are able to start life saving treatment as quickly as possible.

Only required to commit a few hours per week, a CFR could be anyone over the age of 18 and doesn't require any previous training. Visit:- NWAS.NHS.UK/Volunteer to find out more.