'Live On Mars' - A Tribute to David Bowie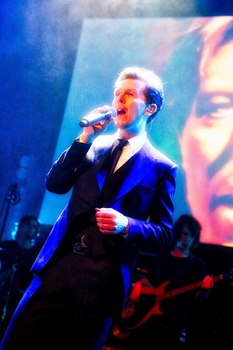 A bold new stage production celebrating iconic pop hero David Bowie; his music, artistry, style and showmanship... Influenced by Bowie's legendary concert performances:- 'Life On Mars' fuses sound and vision to Portray the essence of Bowie, his alter egos and creative muses, with elements of mime, dance, and stunning big screen visuals and animation. Featuring the electrifying vocals and uncanny likeness of singer and lifelong Bowie fan Alex Thomas, with a hand picked world class band, and covering the Bowie back catalogue from Space Oddity to Let's Dance and everything in between, 'Live On Mars' is sure to become the definitive show that all generations of Bowie fans have been waiting for. So express your inner space oddities in makeup and costume, and join us to become part of the 'Live On Mars' experience! Set list includes:- 'The Jean Genie,' 'Space Oddity,' 'Life on Mars,' 'Ziggy Stardust,' 'Heroes,' 'Ashes to Ashes,' 'All The Young Dudes,' 'Let's Dance,' 'The Man Who Sold The World,' 'Changes,' 'China Girl,' 'Fashion,' 'Moonage Daydream,' 'Fame,' 'Starman,' 'Rebel Rebel,' 'Sound and Vision,' 'Modern Love' as well as 'Young Americans.'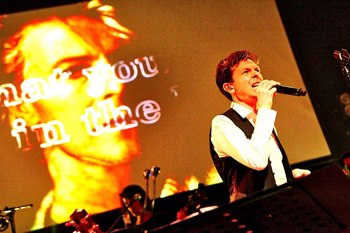 If you wish to see this show, check out the 2017 UK tour dates below:-

► Tuesday, 24 October 2017, Basingstoke The Anvil, call:- 01256 844244.

► Wednesday, 25 October 2017, Liverpool Philharmonic Hall, call:- 0151 709 3789.

► Friday, 27 October 2017, High Wycombe Swan, call:- 01494 512 000.

► Saturday, 28 October 2017, Poole Lighthouse, call:- 01202 280000.

► Sunday, 29 October 2017, Plymouth Pavilions, call:- 0845 146 1460.

► Tuesday, 31 October 2017, Truro Hall for Cornwall, call:- 01872 262466.

► Wednesday, 1 November 2017, Yeovil Octagon Theatre, call:- 01935 422884.

► Thursday 2 November 2017, St Albans Alban Arena, call:- 01727 844488.

► Saturday, 4 November 2017, King's Lynn Alive Corn Exchange, call:- 01553 764864.

'I'm About To Lose Control And I Think' Joe Lycett Comes To Manchester Palace Theatre TWICE In June 2018!
JOE Lycett, star of Live at the Apollo (BBC One), Taskmaster (Dave) and 8 Out of 10 Cats Does Countdown (C4), is delighted to add even more dates to an already jam packed brand new UK and Ireland tour of the hit show:- 'I'm About To Lose Control And I Think Joe Lycett.'
The tour begins in Bristol, on 13 February 2018, and comes to Manchester Palace Theatre on Saturday, 2 June 2018, and an extra date on Wednesday, 6 June 2018, has now been announced and tickets are now on sale.
The new show will see Joe sharing jokes, paintings and some of the ridiculous internet trolling he's been up to recently. Joe said:- "Since the last tour I've basically just sat on my phone being an annoying berk online so I can't wait to get off the phone and on the road to tell everyone what I've been up to. It's all absolutely pathetic but some of it is a right laugh."

After making his comedy debut in 2008, Joe has gone on to secure a string of awards and acclaim for his stand up, including 2 Chortle Awards and a nomination for the Edinburgh Comedy Award for Best Newcomer. H
e has become a regular face on TV, including appearances on 'Would I Lie To You?' (BBC One), Room 101 (BBC One), 'The Royal Variety Performance' (ITV) and as guest host of 'Sunday Brunch' (C4).
He is host of BBC Radio 4 series 'It's Not What You Know' and brand new forthcoming series 'Joe Lycett's Obsessions,' and in 2016 released his debut book:- 'Parsnips, Buttered' (Hodder and Stoughton), which drew widespread praise and is has been released in paperback.
'I'm About To Lose Control And I Think Joe Lycett' is Joe's 3rd nationwide tour after previous total sell out tours:- 'If You Lycett Then You Should Have Put a Ring On It' and 'That's The Way,' 'A-ha, A-ha,' 'Joe Lycett,' the latter of which was released on DVD in late 2016, by Universal Pictures.
---
Merseyside Police's week of action to protected heritage sites and buildings
MERSEYSIDE Police have take part in a week of action to target criminal activities involving protected heritage sites and buildings. During the week of action, which runs that ends on Sunday, 17 September 2017, local Policing Teams have carried out high visibility patrols of key sites across Merseyside, with the assistance of partner agencies such as Park Wardens and ASB Teams. The sites included:- local parks, cemeteries, halls, churches and cultural sites such as wells and farms.

Detective Inspector Paul Lamb said:- "Sadly experience has taught us that some heritage locations are susceptible to high volumes of antisocial behaviour and can be targets for vandalism, graffiti, arson, or in some cases theft. This week of action is aimed at targeting criminal activity including the theft of metal and unlawful metal detecting for cultural objects but it is also to make people aware of the importance of these sites and that anyone found breaking the law will be dealt with. Merseyside has numerous heritage sites, which are well loved and frequently visited by members of the public. These sites are protected for a reason and I would encourage anyone who sees any criminal or antisocial behaviour at any of these sites to report it to Merseyside Police on:- 101 or Crimestoppers anonymously on:- 0800 555 111."

Mark Harrison, head of heritage crime and policing advice for Historic England said:- "Heritage crime comes in many forms. When thieves steal metal from listed churches, artefacts from the ground or historic stonework from an ancient castle, they are stealing from all of us and damaging something which is often irreplaceable. The value of England's heritage can't be judged in pounds and pence. The impact of theft on our historic sites and buildings has far reaching consequences over and above the financial cost of what has been stolen. We work closely with law enforcement colleagues across England, including Merseyside Police, and we fully supPort any action which helps to protect heritage sites and buildings for our future generations."