Entries invited for annual Christopher Salmon poetry competition
THE Christopher Salmon foundation and Wirral Libraries are once again pleased to announce that the Christopher Salmon poetry extravaganza will be returning for 2018 following the event's huge success last year. The competition will be launched this month as part of Wirral Libraries' poetry week. The annual poetry competition, now in its 8th year, began as a tribute to former Calday Grammar School student Christopher Salmon who tragically lost his life to a rare streptococcal infection in February 2009, aged just 15. The theme for this year's competition is:- "memories'' and is open to Wirral residents of all ages. Both winners and runners up in each age category will be awarded cash prizes and will be given the chance to attend a workshop with renowned local poet John Hughes. The prizes will be presented by Mr. Hughes at an awards evening for the winners and their families, at Wallasey Town Hall. The overall winner for the aged 18 or under category will also become Wirral's Young Poet Laureate for the following 12 months; with all winning poems being published in an anthology which will be available for purchase. Chris's Parents Julie and Rich Salmon said:- "We are absolutely delighted that the competition has grown so much in popularity and now attracts entrants whose ages range from 4 to 94. It is wonderful to be able to do something positive and creative in Christopher's memory which captures the imagination of so many talented people." The Christopher Salmon Foundation was set up in 2009 and has so far raised almost ₤50,000 for charity in Christopher's memory. Full details of this year's competition and official entry forms will be available from Wirral libraries and on the charity's website. Completed forms should be returned to Diane Mitchell at Birkenhead Library by 19/01/2018.
---
Southport quintet conquer Simplyhealth Great North Run for local charity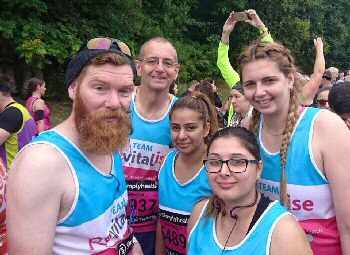 TEAM of 5 local runners take on UK's largest ½ Marathon for Southport respite centre. 5 brave locals conquered the Simplyhealth Great North Run on Sunday, 10 September for local disabled people's charity Revitalise, which runs the Sandpipers Respite Holiday Centre in Southport. 4 of the 5 runners actually work at the Centre.
The 4 successful runners who work at Sandpipers were Dave Chroston, Deputy Manager, Nafisa Mohammed and Manmeet Punny, both Healthcare Assistants, and Duty Manager Rachel Yule. Rachel was joined by her father Vernon Yule for the race, completing the 'Famous 5.'

Commenting on the team's challenge, Dave Chroston said:- "Disabled people and carers from across the region and beyond depend on Revitalise and Sandpipers for the lifeline of respite, so there was no way we weren't going to complete this challenge. Before the race we said we were going to run, walk or crawl the Great North Run to raise money for Revitalise. Well, none of us had to crawl!"

Revitalise Sandpipers provides much needed respite holidays, combining 24 hour nurse led care with a real holiday experience, for disabled people and carers from the North West region and beyond. It is 1 of 3 UK centres run by the charity. The Simplyhealth Great North Run on Tyneside is the UK's largest ½ Marathon. This year over 43,000 runners took on the famous 13.1 mile course. People can still donate to Revitalise via the 5's Just Giving Page.

100 miles to mark 100 years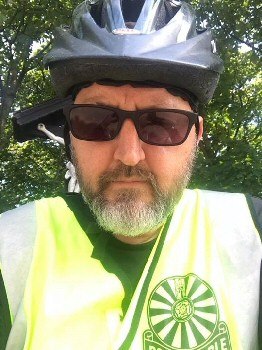 LOCAL man and Chairman of Southport Hesketh Round Table, Dean Wilson (46) has set members of Southport Hesketh Round Table a challenge to cycle 100 miles from Southport Monument to the National Memorial Arboretum Dean recently discovered his great grandfather fought at the Somme and Passchendaele and since its 100 years since this battle , he wanted to raise money for the Royal British Legion . Dean says:- "We aim to raise 1917 pounds and are very grateful to have received sponsorship from our friends family and local people of over ₤1000 so far, It would be wonderful if we could hit our target for the Legion "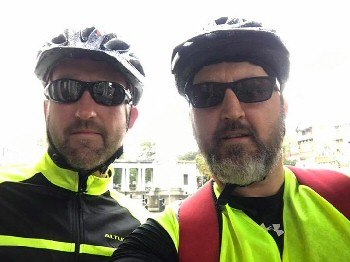 You can show your support via donating on his Just Giving page. Dean is joined by Dan Hubbard (vice chairman) and Chris Green (Treasurer) in cycling the 100 miles from Southport Monument to the National Memorial arboretum in Staffordshire. The challenge starts at 8.00am, on Saturday, 23 September 2027 and they hope to arrive in time for the Sunday Service, at 11.00am, on Sunday, 24 Sep 2017.

Apart from this event every year members of Southport Hesketh Round Table raise thousands of pounds for local good causes through their events (Southport Charity Bonfire and Fireworks at Victoria Park, Mad Dog 10k run and our popular Santa Sleigh). They've recently donated over ₤7000 to local good causes and are looking for local men aged 18 to 45 to get involved via visiting the Southport Hesketh Round Table's website.
---
Fatal road traffic collision in Southport
MERSEYSIDE Police are asking for witnesses after a fatal road traffic collision happened on Scarisbrick New Road, shortly before 4pm, on Saturday, 9 September 2017. We are told that the North West Ambulance Service attending the incident, involving a pedestrian and a heavy goods vehicle, had reported it to the Police. The pedestrian, a man in his 60's, was treated by Paramedics and was sadly pronounced deceased at 4.49pm. The driver of the lorry stopped to assist Police with enquiries. Anyone with information is asked to call:- 101 quoting incident number 717.