Sale Sharks team up with energy giant to deliver Wirral rugby project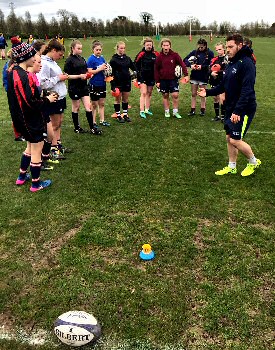 THE Sale Sharks have joined forces with 1 of Europe's leading energy groups to launch a new Wirral based project, designed to get more girls into rugby; and encourage disabled or elderly people to be more active. DONG Energy, which operates the Burbo Bank Extension Wind Farm, that is located off the coast of the Wirral and South Sefton, has provided, with its partners, a grant of more than 10,000 pounds to fund the 12 month project. Coaches from the award winning Sale Sharks Community Trust will kick off 28 weeks of sessions designed to encourage girls to play the game with a special event, at Oldershaw RUFC, in Wallasey. And at the same time, coaches will also be delivering 28 weeks of inclusive tag rugby and walking rugby at Birkenhead Park RUFC aimed at encouraging non-traditional rugby playing groups; like the elderly or disabled; to join the club and get involved.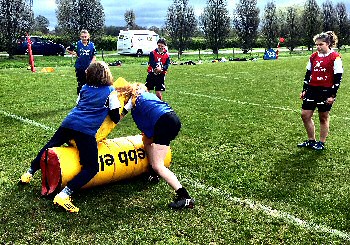 Sale Sharks Inclusion Officer Vicky Irwin said:- "We're incredibly grateful to DONG Energy and its partners for the support and funding they've provided to deliver this fantastic project. The Women's Rugby World Cup has just finished and we saw how popular that was and how it inspired girls to pick up a rugby ball. Now we want to make sure we provide opportunities to capitalise on that by giving as many girls as possible the chance to get involved in the game. We also know how powerful rugby can be in terms of helping to combat social isolation, which is a real issue for elderly and disabled people. This work can make a really positive impact on people's lives in Wirral and we're excited to get this project underway."

Natasha Nanuck, a Stakeholder Advisor from DONG Energy, said:- "We're absolutely committed to being part of the communities where we operate, like the Wirral, and so I'm delighted to see funds from the Burbo Bank Extension Community Fund going to such a worthwhile local project. Our presence in the North West is something we're very proud of and the reason we set up this fund is to help make a difference locally. Getting more people in the area to be active through rugby is a great initiative and one that we're very happy to be supporting."

For more information on the project email Vicky Irwin, or visit:- SaleSharks.Com/Community, to find out more about the work of the Sale Sharks Community Trust.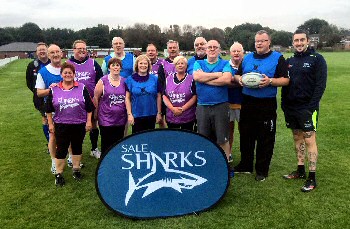 Did you know that:- The Sale Sharks are 1 of the leading professional Rugby Union clubs in Europe and the pride of the North West. Historically based in the Manchester suburb of Sale, but now playing at AJ Bell Stadium, the Sharks compete in the Aviva Premiership, having played in England's top flight since 1994.

About Burbo Bank Extension Community Fund...

The Fund supports community and environmental projects along the North Wales and English coast, off the Irish Sea, within a defined area. Approximately ₤225,000 is available each year. The Fund is split equally between 2 annual funding rounds. There are 2 levels of grants available:-

► Small grants between ₤500 and ₤5,000.

► Main grants between ₤5,001 and ₤25,000.

Applications to the Fund are made using an online application system via the GrantScape website.

Parents urged to access vital funding to help children become 'School Ready'
LIFE chances commission finds that a ⅓ of childcare settings in the Liverpool City Region are missing out on vital funding of up to ₤300 per week, for disadvantaged children. Commission announces 3 moves to counter low take up... Ensuring a child is ready for school, regardless of their background, is a key priority for the Liverpool City Region Life Chances Commission which informs the Liverpool City Region Combined Authority's Health, Adult and Children's Services Portfolio. The Commission has found in a survey that the Early Years Pupil Premium, a fund worth up to ₤300 per week, which is aimed at helping 3 and 4 year olds become 'School Ready,' is having a positive impact on disadvantaged children's development in the Liverpool City Region:-

► Most childcare providers see clear improvements in confidence, self esteem, language and communication skills as a result of the funding.

► Funding is generally being used on communication and language training, early literacy programmes, play based learning and social and emotional learning strategies.

► Using funding for play and outdoor based learning has improved social and emotional skills as well as language and communication.

1 respondent to the survey stated that:- "most children in last year's cohort made more than expected or accelerated progress in most areas of learning," as a result of an:- 'Early Years Pupil Premium' funded programme.

A number of providers stated that the Early Talk Boost and Chatterjacks programmes in particular have improved communication and language skills. However, take up of the funding remains incomplete, with around a ⅓ of childcare providers surveyed by the Commission not receiving any 'Early Years Pupil Premium' funding. Those providers are aware of eligible children who were not claiming the extra funding, and 1 of the main reasons for this is due to a lack of awareness amongst parents that they are able to apply for it.

The Commission announces 2 moves to help counter this low rate of take up. It has move immediately and urged every local authority to use their benefits data automatically to register eligible families for this additional support, before the full Universal Credit service arrives. As a longer term measure, requested that the Minister of State for Digital develop a new digital charter to counter child poverty and equalise life chances. This would enable improved sharing of data between providers and local authorities, once Universal Credit has been rolled out, so that all eligible children automatically benefit from 'Early Years Pupil Premium' and free school meals.
The Commission's Chair, Frank Field MP said:- 'We are clearly seeing improvements in a child's development where the 'Early Years Pupil Premium' funding has been claimed. The early years are a critical time during a child's development and the funding provides opportunities that can be life changing. Whilst the money isn't necessarily visible to parents, it does benefit their child, so it's vitally important that parents of eligible children apply for it." In the meantime, the Commission is urging parents to apply now so their children can benefit from this additional support. To find out more about eligibility, or to apply for funding, parents can contact their Nursery or Childminder in the first instance. Further information about the 'Early Years Pupil Premium' Fund is available from local Family Information Services.
Cllr Andy Moorhead, Portfolio Holder for the Liverpool City Region Health, Adult and Children's Services added:- "Our priority is to ensure children across the Liverpool City Region get the very best start in life and 'Early Years Pupil Premium' funding can provide additional support and resources to accelerate a child's development. I would urge any parent to speak to their childcare provider to see if they are eligible and ensure the funding is claimed; if we don't claim, someone else will!"
---
Gang member jailed after tobacco fraud smashed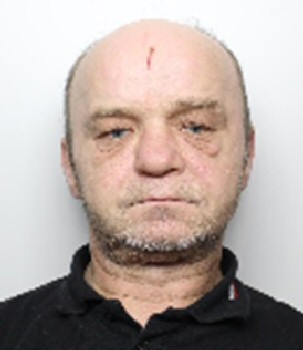 A gang member, who rented properties just to use them as delivery addresses for more than 14 tonnes of smuggled tobacco worth ₤3.1 million in evaded VAT and duty, has been jailed. Emmanuel Cieply, 57, of no fixed abode, rented three properties in Bradford, Leeds and Liverpool, where 1,041 packages containing the illegal tobacco products were delivered between October 2014 and February 2016. A HM Revenue and Customs (HMRC) investigation found the parcels, which came from Germany, were often disguised as glass products and addressed to phoney businesses. Cieply was arrested at a property on Longroyd Avenue, Leeds, after a damaged parcel was found to contain 76 kilos of hand rolling tobacco, in December 2015. Duty had not been paid on the Amber Leaf branded products, which were seized by UK Borer Force.
HMRC Officers searched the property and found ₤70,810 cash in a duvet cover and packaging identical to that seized by UK Border Force. A total of 1,041 tobacco parcels, worth an estimated ₤3,184,003 in duty and VAT, were addressed to the properties:-

► 260 parcels sent to Longroyd Avenue, Leeds.
► 123 parcels sent to Temple Street, Bradford.
► 658 parcels sent to Halsbury Road, Liverpool.

Investigations also found he was linked to parcels sent to addresses in Sheerness, Paisley and another property in Leeds. The duty evaded on all the parcels is estimated at ₤3,505,707. Sandra Smith, Assistant Director, Fraud Investigation Service, HMRC, said:- "Cieply played a significant role in this large scale smuggling operation which brought tonnes of illicit tobacco into the UK. He thought his criminal scheme would go unnoticed, but he was wrong and now he is paying the price. Trade in illicit tobacco takes trade away from legitimate businesses. I encourage anyone with information on this type of fraud to contact our Fraud Hotline on:- 0800 788 887."

Cieply used fake documents and various aliases, including Emmanual Hync and Marek Witkowski, to rent the 3 properties. He admitted excise fraud, at Leeds Crown Court, on 9 August 2017 and was sentenced to 38 months in prison, at the same Court, on 2 October 2017. 4 other suspects are currently being pursued by HMRC.