St Joseph's Hospice is launching its annual Light up a Life appeal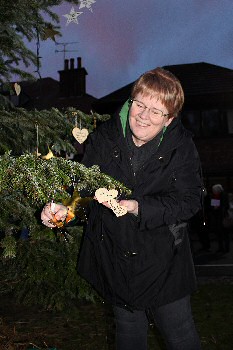 ST Joseph's Hospice are launching its annual Light up a Life appeal this week and they are inviting local families to join them to remember their loved ones. The Light up a Life remembrance and carol service will take place from 4pm, on Sunday, 10 December 2017, and will be followed by a Christmas Light Switch On. Every year, hundreds of local people dedicate a light on the hospice's Christmas tree to celebrate or remember the life of a friend, relative or colleague, whether they are no longer with us or just a long way away. Dedications can be made from this week and will be entered into the hospice's special Light up a Life dedication book. Memory hearts will also be available at the service to write a personal tribute to hang on the tree.

Mike Parr, Chief Executive of St. Joseph's Hospice, said:- "Light up a Life is a wonderful way to think about special people at Christmas time. It is a very festive occasion, not only for those who have a connection to the Hospice, but for is anyone who would like to make a dedication to someone they love or have loved."
In 2016, Sheila Stone, from Crosby, dedicated lights to her Aunty Joan and Uncle Dave who both died at the hospice in February 2016. She said:- "I've been coming to Light up a Life since my mum died many years ago. Part of my heart is here because of all the wonderful work they do. I knew Father O'Leary and he was such a wonderful man. St. Joseph's Hospice is just such a significant part of our local community."

Joyce Johnson, from Thornton, said:- "Being together with others makes it a bit easier as we're all here together for the same thing, to remember those we love."
Fiona Hollis, from Crosby, said:- "Light up a Life is a lovely service. It's so comforting to be surrounded by others who have been though the same grieving process. We may not know each other, but we're all one big family, all in it together."

Dedications can be made now by downloading a form from the charity's website. Forms are also available from St. Joseph's Hospice Shops and other locations around Merseyside. To find out more about Light up a Life or how you can support St. Joseph's Hospice, please call:- 0151 932 6044 or emailing them directly. If you would like to make a donation to St. Joseph's Hospice, please text:- 'JOSP05' plus the amount you'd like to donate to:- 70070 eg. 'JOSP05 ₤10' to donate ₤10.
---
North West manufacturers offered updated health, safety and environment expertise
COMPANIES in the North West will have the chance to learn about the latest trends in key issues across health, safety and the environment, at a briefing by experts in the field from Engineering Employers' Federation (EEF), the manufacturers' organisation. The briefings will cover the possible impact of the EU Withdrawal Bill, key legislative developments and updates to industry standards and guidance, all with the focus on practical implications for business so companies can prepare and remain compliant with the law. The briefings will also cover key topical issues with a review of recent prosecutions and a 'hot topic' with a focus on best practice and common challenges in industry. Aimed at those responsible for health, safety and the environment, as well as managers and Directors the briefings will include:-

► Possible outcomes from the EU Withdrawal Bill.

► Impact of sentencing guidelines.

► The implications of the Grenfell Fire.

► Latest health, safety and environment prosecutions.

► Occupational Health briefing.

► Updates on Energy and Environmental regulations in the UK and EU.

► Updates on European Commission health and safety activity and impact on the UK.

► Energy saving opportunities

Commenting, Steve Jackson, EEF Director of Health, Safety and Sustainability, said:- "Investing in health, safety and environment is not just good business practice it is essential for companies to remain within the law where the penalties for getting it wrong can be severe. This briefing will bring companies right up to speed on developments post Brexit so they are able to prepare and remain fully compliant."

The ½ day briefing will take place on 30 October 2017, at EEF's Office in Warrington, from 9am, until approximately 12.20pm. For full details on booking contact:- 0845 293 9850 or book online.
---
A sea of orange sweeps through Liverpool
ON Friday, 29 September 2017, 130 walkers stepped out for Maggie's Culture Crawl Liverpool. The walkers were taking on the 10km tour of cultural buildings across the City Centre, to raise money for the Cancer Care Centre located next to Clatterbridge Cancer Centre. The route saw walkers visit Victoria Museum and Gallery, Liverpool Medical Institution, FACT, Liverpool Parish Church, the 'Bombed Out Church' and ending at the Museum of Liverpool. Walkers were treated to performances by Wirral Symphony Orchestra, PopVox Choir, Shiverpool, Pagoda Arts and Wirral Ukelele Fanatics. The event is expected to raise over ₤10,000 to help Maggie's Merseyside at Clatterbridge continue to provide free, professional support to all those living with cancer who need it across the region. Each participant was able to write a message on a lantern, that was later displayed by candlelight at St Luke's Church, as to the reasons they were taking part in the walk for Maggie's. Registration for 2018's event is already open and you can get a place by clicking on here. Walkers said of the 2017 event:- "Greatly enjoyed the walk round Liverpool and the venues. It was quite a privilege to take part in such a worthwhile event. Just to say a huge thank you to the organisers and volunteers for last nights event. It was a first for myself and daughter. We enjoyed the whole experience and are already looking forward to next years. It was an amazing uplifting experience, walking with and hearing people's stories relating to Maggies. The venues were wonderful especially the 'Bombed Out Church.' Sure it was a huge success for you all. Well done."

Arrests linked to smuggled cigs and fake vodka factory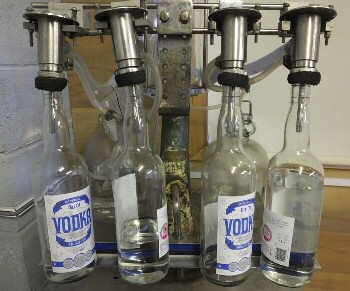 5 men have been arrested in Liverpool during raids linked to a suspected ₤100,000 Tax fraud involving smuggled cigarettes, an illegal vodka factory and Tax Credits fraud.

HM Revenue and Customs (HMRC) visited several address across Liverpool and Sefton, on Tuesday, 3 October 2017, as part of an ongoing investigation into previous seizures of illicit cigarettes and fake vodka in the region, as well as associated money laundering.

Officers also discovered and dismantled a fake vodka bottling plant in July 2017, in Aintree.

During the operation HMRC Officers:-

► Searched premises in Formby, Knotty Ash, Mossley Hill, Walton, and Woolton.

► Aarrested 5 men aged 39, 44, 47, 48 and 55.

► Discovered a suspected amphetamine laboratory, at 1 address.

Angela McCalmon, Assistant Director, Fraud Investigation Service, HMRC, said:- "We will continue to act to disrupt suspected criminal activity. This investigation is still at an early stage but shows the spectrum of suspected crimes that can be uncovered in 1 enquiry. HMRC will work closely with our partners to ensure there is no further risk to public health or the public purse from these suspected activities. Dealing in illicit tobacco and alcohol harms honest businesses and steals money destined for public services. It is important that anyone in the area with information about the illegal trade in tobacco or alcohol reports it to our Hotline on:- 0800 788 887."

In March 2017, HMRC seized 199,780 suspected counterfeit Mayfair King cigarettes, in the Aintree area, which was worth ₤56,138.68 in evaded Excise Duty and VAT. In July 2017, a fake vodka bottling plant in Aintree was dismantled and bottles labelled as No. 01 Imperial Vodka Blue were seized. It was worth an estimated ₤45,000 in unpaid Excise Duty. Subsequent chemical tests found the alcohol, although not toxic, contained compounds that should not be present in vodka. Prior to the arrests, HMRC Officers also uncovered a suspected substantial Tax Credit fraud. HMRC also called in Merseyside Police and Merseyside Fire Brigade to deal with the chemicals, located at the suspected drugs factory.
Anyone with information regarding fraud can contact the HMRC Fraud hotline, on:- 0800 788 887 or report it online.
---
8 out of 10 people have little knowledge of what Taxis and Minicabs are legally allowed to do
THE majority of people in North England could be at risk of using illegally operating or 'fake' vehicles because they have little knowledge of how Taxis and Private Hire vehicles (Minicabs) can legally operate, according to a YouGov poll commissioned by Suzy Lamplugh Trust.
The poll reveals that 77% of people in North England say that they have little or no knowledge about what Taxis and Minicabs are legally allowed to do. Only 15% of people feel knowledgeable about how Taxis and Minicabs can legally operate. Most worryingly, people do not know what Minicabs are legally allowed to do when picking up passengers. Although all Private Hire vehicles must be pre booked by law, 24% of people think that Minicabs can be hailed on the street, and 29% of people believe Minicabs can take passengers who approach them while parked. This is concerning as licensed Minicab drivers that pick up unbooked passengers are committing a criminal offence, and drivers that operate without a licence pose a serious risk to passenger safety. These illegal drivers and their vehicles are not subject to regulations, checks and journey recording. They are uninsured, unsafe and could be linked to more serious crimes, such as assault, rape and robbery.

In the North, the survey results suggest that illegal and unsafe touts may be able to pick up unsuspecting passengers. 41% of people have taken a Taxi or Minicab without checking for a licence on the vehicle 1st, and 55% have taken a Taxi or Minicab without asking to see the driver's ID badge 1st. Furthermore, 4% of people in the North admit that they have used a Taxi or Minicab that they knew was illegal, in comparison to 7% in London.

The poll, which is released just after fresher's week, also revealed that students are the least clear about the difference between Taxis and Minicabs. 87% of students say that they have little or no knowledge about what Taxis and Minicabs are legally allowed to do. As prominent customers of the night time economy, this makes students one of the most vulnerable groups using Taxis and Minicabs.

These statistics, which are published on:- 'National Personal Safety Day,' raise personal safety concerns around illegally operating Private Hire vehicles. If people are unaware of how Taxis and Minicabs can legally operate, they are unable to check vehicles are acting legally, and cannot make a safe and informed choice.

Suzy Lamplugh Trust advises anyone using public transport to plan their journey before they go out, and to share information about their journey with someone they trust. If you're using a Taxi or Minicab, check that a Taxi or Minicab licence is displayed on the vehicle, and ask to see the driver's badge, before you start your journey. If you're using a Minicab, remember it must be booked in advance. Always trust your instincts; if you feel worried or threatened, ask the driver to stop in a busy area, so you can get out.

Rachel Griffin, Chief Executive of Suzy Lamplugh Trust, commented:- 'People have the right to be able to choose between the modes of transport they use, and to be safe when doing so. We are concerned that many people are unaware of the difference between Taxis and Minicabs, and may therefore not have the knowledge to make safe choices about which vehicles to use. It is important that people are informed about their choices, and can easily identify licensed vehicles and distinguish between Taxis and Minicabs in their area. Licensed Taxis and Minicabs are regulated, and each type of vehicle must abide by rules which help to keep passengers and drivers safe. It is never a victim's fault if they are assaulted or experience aggression as a result of using a Taxi or Minicab, and any reports or concerns about drivers should be taken seriously by the Police. Violent and aggressive incidents which take place on public transport are completely unacceptable, and perpetrators must be held to account for their actions."

James Button, President of the Institute of Licensing and Solicitor, said:- "Taxis and Private Hire vehicles are a very safe and convenient form of transport, driven by drivers who have been vetted by the licensing authority and who provide a great service; however, there are always those who will try to take advantage of unsuspecting people. Although you might want to get home quickly, it is far better to get home safely. Always check that the vehicle has a licence plate or sticker displayed identifying the vehicle as either a hackney carriage or Private Hire vehicle, and ask to see the driver's badge. Any licensed driver should be happy to show a passenger his badge, and if they can't or won't, don't get into the vehicle. It is better to wait a few minutes for another vehicle than get into an unlicensed vehicle or ride with an unlicensed driver. You might be okay, but you might not, and that is simply not worth the risk. I am delighted the Suzy Lamplugh Trust are emphasising Taxis and Private Hire vehicles as part of their National Personal Safety Day and I am sure that it will help the public understand what they need to check before using a Taxi or Private Hire vehicle. I hope that the licensed drivers, operators and vehicle proprietors will support it wholeheartedly, and the public will heed the advice."