Liverpool creates world heritage taskforce
LIVERPOOL has set up a special taskforce to examine how the City can maintain its UNESCO World Heritage Status (WHS) Mayor of Liverpool, Joe Anderson, has informed Heritage Minister John Glen, MP, of the establishment of the Liverpool World Heritage Board in a bid to work closer with the DCMS to:- "reset the relationship with UNESCO."

The Mayor has appointed Sir David Henshaw, who was the Chief Executive at Liverpool City Council when the City received the status in 2004, to lead a team of experts including Sir Neil Cossons, former chair of English Heritage. Joining Sir David and Sir Neil on the board; which meets for the 1st time; will be:- Claire Dove, Chief Executive of Blackburn House Group, Professor Gerald Pillay, Vice Chancellor of Hope University, Professor John Belchem, Emeritus Professor at University of Liverpool and Professor Michael Parkinson, Associate Pro Vice Chancellor for civic engagement of the University of Liverpool, with more appointments to be made in the coming weeks.

The move follows the annual summit of UNESCO which has recommend that it looks at whether to "delete" Liverpool from its World Heritage list at its next summit in July 2018. In the letter to the Minister, who recently visited Liverpool to discuss the WHS issue, Mayor Anderson says:- "We greatly value World Heritage Status and recognise that it brings huge benefits in terms of the City's economy, identity and self esteem. With the impact of austerity we have lost focus on communicating the importance of those benefits as effectively as we previously did. I welcome the UNESCO challenge as it will enable us to highlight all the City's achievements and re-energise the heritage agenda which has been less visible than I would have liked. I have established a Liverpool World Heritage Board to review our position, involve all the City stakeholders and engage directly with UNESCO with objective or reaching agreement on the way forward. With the support and input of the DCMS I am sure this approach can ensure Liverpool's World Heritage Status is secured."

The creation of the board comes as the state of conservation within Liverpool's Maritime Mercantile City WHS is at an all time high. A new survey has shown that almost ₤750m has been invested into historic assets within the UNESCO approved site including the upgrade of 37 listed buildings since 2012, 18 with Council financial assistance, such as the Aloft Hotel, the award winning Central Library and Stanley Dock. Liverpool City Council's Cabinet has also endorsed a new WHS management plan to further enhance conversation efforts and visitor appeal.

The management plan, which was prepared in consultation with Historic England and the public, is 1 of the corrective measures the City Council has agreed with UNESCO to remove the site from the list of 'World Heritage In Danger.' The plan, which is based on 5 key themes includes guidance aimed at developers to explain the attributes of the 'Outstanding Universal Value' of the site and the conservation and management requirements under the World Heritage Convention. The cabinet report highlighted that the Council's "Buildings at Risk" programme continues to be the most successful project of its type in England; with a 75% reduction in 'at risk' buildings in the past decade.

Liverpool has also recently been recognised as a world leader in sustainable heritage regeneration. It is the only City in the UK to have been awarded:- "Role Model" status and is part of Europe's largest sustainable Heritage Project, 'Horizon 2020,' which is examining how Cities can use heritage as a powerful engine for economic growth. Sir David Henshaw, who is Chairman of National Museums Liverpool, said:- "Liverpool's track record in preserving its unique heritage is beyond question. What has been unfortunate is that the need for economic growth and job creation has clouded the fact that heritage is actually a key ingredient in achieving those goals. Liverpool has achieved a huge amount since 2004 in investing in its historic assets but has somewhere along the way failed to demonstrate how this is shaping the City's future. I'm delighted to have been asked to chair this new board and look forward to working with our partners, both in the City and in Government, to achieve a new understanding with UNESCO and show how the City can address the concerns it has raised. As the Mayor has said, this is a huge opportunity for Liverpool to showcase why its World Heritage Status is an asset and how it is being utilised to engineer new investment and growth."
---
Drop in session to be held in Wirral as part of Empty Homes Week 2017
WIRRAL Council is holding a drop in session for owners of empty properties as part of events around Empty Homes Week, that runs from 16 October to 22 October 2017. As part of efforts to provide good quality housing in Wirral, the Council supports owners of empty properties to bring them back into use. Between last year and this year, 308 empty properties in Wirral were returned back to use as homes with support from the Council. As part of Empty Homes Week, an annual national campaign organised by the Empty Homes Agency, a drop in session is taking place, at Wallasey Town Hall, on Thursday, 19 October 2017, to help owners of empty properties find out what help is available. The public can also attend to flag up any empty properties that are causing them concern. The drop in will be from 10am to 3pm and no appointment is necessary. Cllr George Davies, Wirral's Cabinet Member for Housing, said: 'Empty homes are a waste of good housing stock and money. By 2020, the Council aims to bring 1,250 of them back into residential use. "This work is carried out by our Housing Renewal Team who help owners of empty properties return them to use through a range of support, including the Empty Property Grant scheme." As part of Empty Homes Week 2017 the owners of empty properties are urged get in touch to find out how Wirral Council can help them improve, let or sell their property. We also want to hear from residents who may be affected by an empty property in their neighbourhood. If you would like help or support, please contact the Housing Renewal Team on:- 0151 691 8132 or send them an email. You can also visit the Council's website.

Local pubs staging 12 day beer festival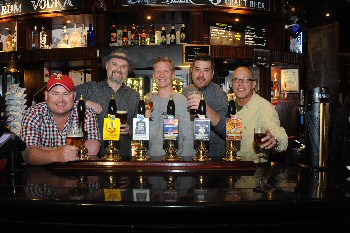 BEERS from the UK as well as Australia, USA, South Africa, Sweden and Spain will be available at 2 pubs in Southport during their beer festival. Sir Henry Segrave and The Willow Grove, both in Lord Street, will each be serving a total of 30 beers during the festival, which runs from Wednesday, 11 October 2017 to Sunday, 22 October 2017, inclusive. All beers will be priced at ₤2.09 a pint. The line up includes new, seasonal and speciality beers as well as those brewed exclusively for the festival. There are beers flavoured with pink grapefruit, coffee, chocolate, tobacco and toffee.

The overseas beers are:- St Eriks Midnight Sun (St Eriks Brewery, Sweden), Young Henrys Newtowner (Young Henrys Brewery, Australia), Arcadia Autumn Wheat (Arcadia Ales, USA), Cerveza Fort Oatmeal Porter (Cerveza Fort Brewery, Spain) and Zululand Pale Ale (Zululand Brewery, South Africa).

The UK beers include:- Chocca Mocca (Cotleigh Brewery), Banana Bread Beer (Charles Wells Brewery), Green Hop Monster (Rudgate Brewery), Dark Side of the Moon (Truman's Brewery), Trojan Horse (Caledonian Brewery) and Steampunk (Vale Brewery).

Customers will be able to sample any three of the real ales in special ⅓ of a pint glasses for the price of a pint.

Sir Henry Segrave manager, Ian Radford, said:- "We are promising our customers a superb range of beers from overseas which have been brewed especially for the festival, together with some great beers from brewers across the UK. The festival will be the perfect way for real ale enthusiasts to enjoy a range of excellent beers over 12 days."

Tasting notes on all of the beers will be available in each of the pubs.
---
Liverpool City Region can use devolution to innovate ways to create great jobs
A new report sets out how Liverpool City Region can create new jobs, with decent pay and conditions, by using devolved powers to pursue place based and innovative industrial strategy. How to deliver great jobs: towards a regional industrial strategy for Liverpool City Region was commissioned by the TUC and written by the Heseltine Institute for Public Policy and Practice, University of Liverpool. It finds longstanding problems, including:- high unemployment, low productivity, pockets of entrenched deprivation, and a weak skills base. And it identifies challenges ahead, such as ongoing public sector austerity, and the future loss from of ₤100m a year of funds that currently come from the European Union.

But it finds opportunities too. Devolution is allowing Liverpool City Region to take more control of the funds and decisions that can lead to job creation. And it provides an opportunity to pursue 'inclusive growth,' so that Liverpool's bedrock sectors, like manufacturing and the visitor economy, have the support needed to create better quality jobs.

Devolution also allows the opportunity to take risks and try new approaches, learning from innovative models such as Cleveland Ohio's focus on 'anchor institutions' (for example the University of Liverpool), or the support the Basque Country in Spain has given to large scale cooperative businesses.

TUC Regional Secretary for North West England Lynn Collins said:- "We want working people to be able to get skilled work that's close to home, pays well and gives them the chance to get on in life. We must build on our bedrock industries, like manufacturing and tourism, so they have support and trained workers to deliver more great quality jobs. And we must draw on Liverpool's proud heritage of creativity to innovate new approaches. Devolution must not just be a transfer of power from 1 level of Government to another. It must be about giving workers more of a say in shaping the economy too. That's why new partnership bodies for unions, employers and Government are such an important part of the plan."

Dr Alan Southern, from the Heseltine Institute for Public Policy and Practice at the University of Liverpool said:- "Industrial strategy must address the UK's regional inequalities. Our research suggests that devolution can frame that debate. With Liverpool City Region's new powers, we can choose policies that help make work more secure. And we can choose to spend public funds in ways that improve economic and social outcomes. We found a will, and a momentum, to support approaches by the Metro Mayor and Combined Authority that improve locals business and the quality of work. We have strong industries, such as a highly productive manufacturing sector, and an economically important public sector. The challenge is to bring more benefits from these sectors to local people. While devolution can play a major role, it must be backed by action from central Government to tackle work insecurity. And we should consider the case for greater devolution, so we can take more control through local democracy, and choose to invest more in modern infrastructure and supporting small businesses."