Liverpool "Marathon Man" Gears up for Kirby Milers 10 Mile Road Race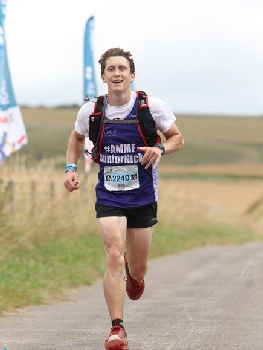 A Liverpool marathon fanatic is set to complete his 11th competitive run at Knowsley Safari Park, on 8 October 2017, in a bid to raise ₤5,000 for the AMMF, the UK's only charity dedicated to cholangiocarcinoma (bile duct cancer), a rare and frequently lethal liver cancer. For 'Marathon Man' Ben Francis, a Research Associate in the Department of Biostatistics, at the University of Liverpool, the Kirkby Milers 10 mile road race follows hard on the heels of an already packed monthly programme of Marathons and Races around the UK and across Europe, including:- the Paris Marathon, in April 2017, and the forthcoming Athens Marathon, that on 12 November 2017. The mammoth series of races, which began in December 2016, has already seen Ben run more than 295 km, and after the Athens Marathon, this will reach 353 km in total. Outlining his reasons for taking on the huge challenge, Ben explains that he wants to raise awareness of cholangiocarcinoma (cancer of the bile duct) following the loss of his brother Nick, aged 33, after a very brief fight with the disease in December 2014.

As Ben says:- "I never knew just what I had until I lost Nick in December 2014. Since then, through tough and happy times, I have vowed to keep him ever present in my thoughts and actions. My decision to embark on a year of running events; 1 each month; is a way of keeping Nick in my memory. As brothers, and in our own different ways, both Nick and I never backed down from a challenge and I felt this could be a special way of remembering him by keeping alive that shared spirit of meeting a challenge. In so doing, I also hope to increase awareness of cholangiocarcinoma and AMMF whilst also fundraising for the charity's vital ongoing work. Completing each marathon or run is a defining moment and enables me to look back and know what Nick's memory has pushed me to do. Just looking at the mileage achieved in my races thus far, it is roughly the distance from where I am in Liverpool to Chingford cemetery where Nick is buried. This was not intentional but it's a very happy surprise when I've added the numbers!"

In response to the Ben's forthcoming race, Helen Morement, CEO and founder of AMMF comments:- "We're totally bowled over by Ben's mammoth marathon challenge and can't quite get our heads round what he has achieved already and what he has planned. Ben's incredible support and his fundraising efforts go towards helping AMMF in its work to tackle this devastating cancer on all fronts, by providing information and support, campaigning to raise awareness and encouraging and supporting research. Over recent years an enormous and extremely worrying worldwide increase in cholangiocarcinoma's incidence has been noted. Latest figures show there were 2,161 deaths caused by cholangiocarcinoma in 2013 in England alone (NCIN/Cancer52 report). The incidence appears to be increasing across all age groups, including younger people, and the cause of this ongoing increase is unknown. Much more research is desperately needed. Ben is helping to make a difference and we wish him all the best."
---
More 'grot spots' to be cleaned up
A 2nd campaign to rid communities in Wirral of some of the most problematic areas for fly tipping is now underway. 18 'grot spots' have been earmarked for action after local Councillors and partners nominated sites in their neighbourhoods; on either privately owned or unregistered land, which have been particularly blighted by fly tipping.

The Council is reinvesting some of the proceeds received from littering fixed penalty notices to get these areas cleaned up as soon as possible, hiring contractors to do the work and where possible, billing careless or unresponsive owners.

The latest phase of this campaign saw an unregistered area of land on Barton Street, at the rear of Grange Road West, in Birkenhead cleared. This land had been suggested for clearance by the Birkenhead BID, as it was blighted by unpleasant fly tipping, litter and overgrown vegetation and had a small derelict building next to it which was attracting anti social behaviour.

Over a period of four days last week, work to clear the land and demolish the small structure took place and the area is now much improved, with the land no longer providing the seclusion and cover for the kind of activities that were taking place there previously.

Cllr Phillip Brightmore, Cabinet member for Environment, said:- "The areas being targeted in this operation are all places which we know are used by prolific fly tippers. They are not public areas, so the responsibility lies with landowners; not the Council; to take measures to keep their land clear and secure. Many landowners take their responsibilities seriously and look after their land as best they can. However, in other problem areas; where a landowner has been difficult to identify or they've been unresponsive, or where the land is just unregistered; we're using proceeds of littering fines to clean up our borough to the benefit of local communities. We will then seek to recover the costs wherever possible and take steps to deter future fly tipping, including measures that will help the Council to identify and prosecute anyone who does return and attempt to dump waste there again. We will not tolerate environmental crime."

Call out for Halloween Lantern Carnival Parade dancers; no experience needed!!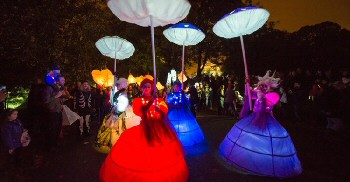 MOVEMA World Dance Company invite local people of all ages and abilities to perform with them at the spectacular Halloween Lantern Carnival Parade, Sunday, 29 October 2017, with amazing costumes by Liverpool Lantern Company! Award winning local company Movema specialise in bringing community members to participate in incredible City events alongside professional artists. The evening parade takes place in Liverpool City Centre and promises to be "the best trip of your after life!" Rehearsals will take place at Movema's base at the prestigious Liverpool Institute for Performing Arts, on Wednesday evenings, throughout October 2017.

Choreographer Maria Malone says:- "We are thrilled to offer this amazing opportunity to the people of Liverpool. We have performed many times with the Liverpool Lantern Company, participants and audiences love the extravagant, light up costumes, it's an unforgettable experience."

Places are limited so anyone interested should come to our World Fusion classes 6pm to 7pm on a Wednesday ASAP to secure their costume. Rehearsals are part of the class, which includes a fun dance session of dances from around the world for ages 8+.

For more information about rehearsals, performance and prices please see the groups 'Movema' Facebook Page, email them or call them on:- 07548 365 869.
---
Underused Citybike Stations removed
CityBIKE Docking Stations in Liverpool which are used less than once a day are being removed in a drive to reduce costs. There have been around 300,000 rentals to date, with usage up significantly year on year, and those using the bikes have cycled a total of 1.4 million miles so far. But the size and scale of the operation means that, in common with other bike hire schemes, it requires an annual subsidy to cover the costs of repairs and maintenance; and data shows that 80% of the hires come from just 20% of the Docking Stations. A total of 33 stations which have less than 25 hires a month are being removed, following a decision in August 2017, to bring the scheme under Council control from operator Hourbike and save ₤100,000 a year.

Councillor Steve Munby, Cabinet member for highways, said:- "Citybike has been a huge success in terms of the number of people using the cycles to get around Liverpool, evidenced by the number of people we see riding around on them, particularly in the City Centre. But there is a fine balance between making the scheme attractive and affordable to users, against the ongoing costs of maintenance of the bikes and the Docking Stations and that is why, in common with other local authorities that run bike hire schemes, we have had to subsidise it. We know the scheme brings huge benefits and that people use them to get to work or for leisure and that they are great for tourists to explore our City so we are committed to its future and are looking at ideas to expand it, such as to neighbouring boroughs."

There will be no loss of bikes from the network as they will simply be deployed elsewhere.

The Docking Stations being removed are:-
► ASDA Hunts Cross.
► Hillfoot Avenue, Hunts Cross.
► Woodend Avenue, Hunts Cross.
► Brownlow Hill.
► Lime Street Station.
► Renshaw Street.
► Childwall Abbey Road, Childwall.
► Liverpool Hope Campus, Childwall
► Calderstones Park, Yewtree Road.
► Calderstones Park Cafe.
► Tesco, Mather Avenue, Allerton.
► Lifestyles Alsop, Walton.
► Lifestyles Walton.
► Lowestoft Drive, Cressington.
► Everton Road Hostel.
► Liverpool John Moores, Byrom Street, Everton.
► Mere Lane Health Centre, Everton.
► Gardner's Drive, Kensington.
► Kirkdale Railway Station.
► Silvester Street, Kirkdale.
► The Rotunda, Kirkdale.
► Lifestyles Ellergreen, Norris Green.
► Tesco, Old Swan.
► Estuary Boulevard, Speke.
► Estuary Business Park, Speke.
► Speke Boulevard.
► Speke Retail Park.
► Speke Road, Garston.
► Speke Road Matchworks.
► Speke Road - New Mersey Shopping Park.
► Lifestyles Peter Lloyd, Tuebrook.
► Newsham Park, Gardner's Drive.
► Picton Clock, Wavertree.

CityBIKE in numbers:-
► 35 – average rental time in minutes.
► 32,800 – active users.
► 307,000 – rentals to date.
► 1.4 million – miles cycled to date.
► 9am and 5pm weekdays / 12pm to 4pm weekends; most popular rental times.