Paramedic who hosts Christmas dinner for elderly reaches Amplifon Awards for Brave Britons final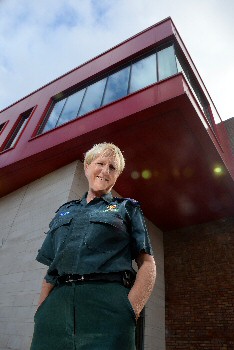 SOUTHPORT'S Sara Lace has been nominated for the Community Champion award, as global hearing specialist Amplifon searches for unsung heroes who represent:- 'The Best of British.'
Sara has served Christmas dinner for 40 elderly people at the fire station where she's based since 2013. She was inspired to act after being sent on a call to an elderly man just days before Christmas 2012 and learning he had no relatives to share Christmas dinner with. Upset by the encounter, she approached her manager to ask whether they could use the station's community rooms the following year and a tradition was born.
Colleagues put forward the names of people they'd like to invite and Sara asks local businesses and community groups to donate food, gifts and money for the event. Paramedics and firefighters help on the day, peeling vegetables, decorating the room and wrapping presents before serving dinner and playing bingo with their guests. One member of the crew even dresses up as Santa to deliver presents.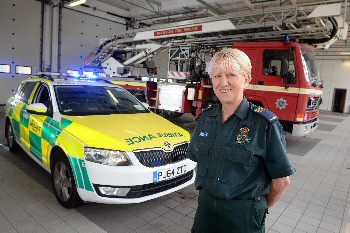 Sara was delighted to be nominated for the Community Champion award. She said:- "So many emergency service staff are on duty at Christmas and it's great to get them involved in the dinner. My mum Flo and son James help out and, last year, James said it was the best Christmas Day he'd ever had. I keep on fundraising to host the dinners because after seeing how much the guests enjoy it I couldn't not do it again!"

Set up in honour of Amplifon's founder, 2nd World War hero Major Charles Holland, the awards recognise courage and achievement in the categories of Outstanding Military Bravery, Community Champion and Against All Odds. Animals who have transformed the lives of their owners are honoured in the Hero Pet category.
The finalists will be judged by a panel including:- Falklands war veteran Simon Weston, who is an ambassador for Amplifon. Charles Holland was awarded both the MBE and the Military Cross and received the Bronze Star from the United States Government in 1948 for his bravery behind enemy lines during the 2nd World War.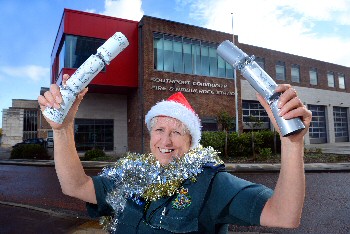 After the war, the courageous veteran dedicated his life to providing better hearing for people affected by the conflict and in 1950 launched Amplifon, which has become a global company specialising in providing the best in class hearing solutions and devices.

Giuseppe Manzo, general manager for Amplifon UK and Eire, said:- "We received some fantastic entries in the Community Champion category and the 4 finalists truly embody the heroism shown by Charles Holland."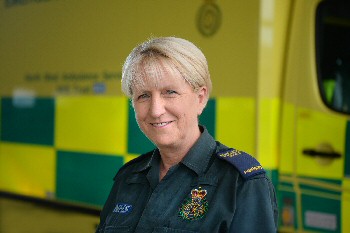 The winners will be announced at a ceremony, at the Army and Navy Club, London, on Tuesday, 17 October 2017. A panel of judges will choose an overall winner of the Charles Holland Award from the category winners, who will win a trip to Italy.

Partnership aims to cut Merseyside road casualties by a ⅓ by 2020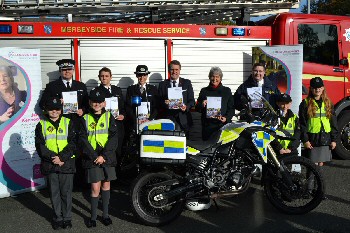 ROAD safety chiefs on Merseyside have vowed to try and cut the number of deaths and serious injuries in the area's roads by a ⅓ by 2020. In a new strategy just unveiled Merseyside Road Safety Partnership says it wants to see the number of deaths and injuries slashed to an all time low of 400 within the next 3 years. Merseyside Police and Crime Commissioner Jane Kennedy joined Merseyside Police's Assistant Chief Constable Julie Cooke, Liverpool's Metro Mayor Cllr Steve Rotheram, Merseyside Fire and Rescue Authority Vice Chair Councillor Les Byrom and Area Manager Guy Keen to launch the new strategy, at Crosby Fire Station, located on Crosby Road North, Waterloo.

In 2015, casualty figures involving pedestrians, cyclists and motorists in Merseyside totalled 585, the 2nd highest number recorded since 2006. Figures for 2016 show that the figure has risen further to almost 600. Figures in the new strategy also reveal a strong rise in the number of casualties in Sefton and the Wirral since 2010, whilst most recently casualties in Knowsley and St Helens have risen sharply in the last 2 years.

The new strategy also highlights key areas which show a marked increase in the number of accidents involving cyclists, motorcyclists and older road users locally since 2010. For example the number of cyclists killed or seriously injured in Merseyside since 2010 has risen from 5% to 17% out of the total casualties recorded in that period, while the number of motorcyclists involved in accidents has nearly doubled from 12% to 22% in the same period. The number of accidents involving road users aged over 60 in the last 10 years meanwhile has risen by 53 %. This includes pedestrians and both older drivers and passengers in vehicles. The figures also show that for road users over 70, the chances of being killed or seriously injured in a road collision are as high as 29 %, while with those aged over 80 the likelihood is 37%.

As part of the drive to reduce the risk to cyclists, Merseyside Road Safety Partnership has recently launched a Safe Pass campaign urging drivers to make sure they give cyclists enough room (minimum 1.5m) when overtaking them on the road. The campaign has already featured a number of education and enforcement initiatives in the local area, designed to highlight the dangers of driving too close to cyclists.

Merseyside's Police Commissioner Jane Kennedy said:- "Every death or serious injury on the roads of Merseyside is 1 too many. Almost 570 families received that dreadful knock on the door last year, to be told that their son or daughter, wife or husband, mother or father had been seriously injured or even killed. For the family, that phone call, that knock on the door, stops the world turning. Here on Merseyside, too many people are knocked down, knocked off their motor bikes and cycles every year, or are injured in their cars. That's why I have made working in partnership to improve road safety 1 of my policing priorities. Merseyside Police has a pivotal role enforcing the law to improve the safety of the travelling public especially on our road network. Ultimately it must be our vision that there is zero loss of life and much reduced risk of injury on our roads."

Merseyside Police Assistant Chief Constable Julie Cooke said:- "Merseyside Police and our key partners are absolutely committed to the reduction of deaths and serious injuries on the roads of Merseyside, a commitment demonstrated by the launch of this strategy. We all recognise the massive impact that these incidents have on individuals and communities, and initiatives such as the Safe Pass campaign will raise vital awareness on being considerate of all road users, and bring about long lasting changes in driving behaviour and safety."

Liverpool's Metro Mayor Cllr. Steve Rotheram said:- "We urgently need to make our roads safer especially for more vulnerable groups like cyclists and pedestrians. We are not going to be able to promote cycling as a healthy, sustainable and family friendly transport mode, unless we convince people it is safe. We need a concerted campaign, but also significant behavioural change from motorists in particular to be more responsible, aware and considerate."

Merseyside Fire and Rescue Service Area Manager Guy Keen said:- "It is clear that there is important work to be done bring the number of casualties down on Merseyside's roads. With the latest figures for people killed or seriously injured 33% above the target set for 2020 we acknowledge our part to play in this. We believe that close working between ourselves and other partners can help bring behaviour changes among road users and create safer roads for us all."
---
Man charged and investigation continues after shogun found
MERSEYSIDE Police Detectives investigating the recovery of a shotgun, on Friday, 6 October 2017, in Maghull, has resulted in charging of Joseph Saunderson (20), from Kirkby, in connection with the offence. He appeared in Sefton Adult Remand Court, on Monday, 9 October 2017. Merseyside Police are now appealing for further information. Detective Inspector Robbie Moss said:- "Another recovery means one less firearm and ammunition on our streets that could be used to cause fear, intimidation or harm. We would urge anyone with information on this incident or the storage and use of firearms to speak to us, so we can continue to take positive action and make your streets safer. We are still proactively investigating this incident and we are still looking for any witnesses or people with information to identify anyone else who may have been involved in this incident. We believe that the men ran off from the area of Ormonde Drive and if you were in the vicinity around 1.45pm and saw anything, please get in touch and I can assure you we will act on all information provided." Forensic enquiries are ongoing in relation to the ammunition, shotgun and suspected stolen Audi recovered, close to disused garages, on Park Road, Kirkby. Anyone with information can contact the Gun Crime Hotline on:- 0800 230 0600, or Crimestoppers anonymously on:- 0800 555 111.