Akram Khan's Giselle - Review
Review by Dasha Ibrajeva and photo by Lauren Liotardo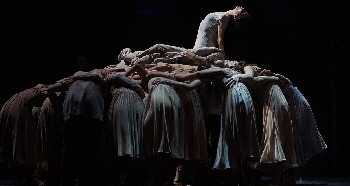 DO you know this feeling when you see something weird, extraordinary, bizarre, from time to time even creepy, but you can't stop watching because it's truly bewitching and you kind of like it? That's what I felt at the premier of Akram Khan's Giselle that took place at the Liverpool Empire Theatre, on Wednesday, 25 October 2017. What can I say? Hell yes, that's an eccentrically good production that must be seen by everyone!

Performed by English National Ballet and English National Ballet Philharmonic, Khan's Giselle is a new, contemporary version of the much-loved romantic ballet. Together with dramaturg Ruth Little, Khan modernises the classic plot and makes it more proximate to our times. Instead of peasants and rural residents - a community of migrant garment factory workers who lost their jobs. In place of aristocracy - cruel capitalists. Giselle is no longer a naive girl. The main heroine of Khan is a proud little woman who has already experienced much in life, but still managed to stay sincere and kind hearted. Hilarion is not just an honest peasant who is jealously in love with Giselle and is fighting for his happiness. Now he is an opportunist, who trades with and mimics the landlords for his own and his community's profit. But even with all of these metamorphoses, the main story stays the same - the rich boy (Albrecht) pretends to be an outcast, so he can be close to his beloved girl (Giselle). The girl finds out the boy has a secret fiancée, aaand the tragedy happens. Sad story, isn't it?

I would say that Khan's Giselle is very mature, deep and philosophical production. It gives some space for your imagination and proves that sometimes you don't need a huge amount of decorations to tell the story. By the way, talking about decoration and set designs, I was impressed by an implacable monolithic stone wall with palm prints of desperate people being used as the class divide between rich and poor. It was a very strong metaphor. And what about the costumes of the factory Landlords? I still cannot forget this gorgeous white 5m wide dress that was an absolute masterpiece. Well, no surprise, that's what you get when you have an Academy Award winning designer on board. I'm talking now about Tim Yip, who developed scenography and costumes for the play and who is also known for his work on the hit film:- "Crouching Tiger, Hidden Dragon."

Music is another gem that makes the production so unique and distinctive. Gifted composer Vincenzo Lamagna has upgraded the score to the whole new level, leaving the original melody lines written by Adolphe Adam only at key points. He is using some oriental motifs in combination with electronic sounds, which makes the score so extraordinary.

Talking about the casting team, I'd really love to highlight 2 performers who, in my opinion, made this production so triumphant. All Act I I couldn't take my eyes off Hilarion (Jeffrey Cirio). He was so bright, energetic and flexible that he will stay in my memory for a long time (even his role was not the main one). The same I can say about Myrtha (Stina Quagebeur). She was exceptionally good and left far stronger impression than the lead principal Tamara Rojo (Giselle).

Akram Khan's reimagined Giselle will be performed at the Liverpool Empire Theatre until Saturday, 28 October 2017. Make sure you catch it!

For more information, visit:- Giselle.Ballet.Org.UK.







4 out of 5 stars.

Did you see this show? Do you agree with our 4 star rating? Email us to:- News24@SouthportReporter.com with your views and thoughts about this show.
---
Have a safe and fun Halloween
IT'S that spooky time of year for frightening fun and delightful treats, but for North West Ambulance Service (NWAS) Halloween or 'Mischief Night' is 1 of the busiest times of the year. Many of the gruesome and ghoulish injuries Ambulance crews see could be easily avoided if people take a few simple steps to make sure everyone has a terrific rather than terrifying time. Both the young and old all enjoy dressing up and a lot of effort goes into the perfect outfit but sadly some costumes can be extremely dangerous. With more candles and lanterns around to help create that Halloween atmosphere, check costumes are "flame resistant" with a visible CE mark. Remember to never leave burning candles or pumpkin lanterns unattended, better still replace the candles with torches and lights. Capes and long material are very common in costumes and not only can they be a fire risk they can cause trips and falls. Stay clear of any costumes that are too tight around the neck and it is best that masks fit properly and have holes big enough to see out of. Try costumes on before the big night to be sure it fits properly and can walk around comfortably. If using face paints test them on a small area of the skin 1st to check for any irritation. Parents should always go with their children when going 'trick or treating.' Stick to the streets and areas that you know and be respectful of your neighbours. To help children be more visible to drivers to prevent any road accidents it's a good idea if they wear something reflective, or give them a torch or glow sticks to carry. Wrap up warm or perhaps wear clothes under a costume to stop from catching a chill. Advanced Paramedic, David Blowers, said:- "Halloween is a really fun time of year and we want everyone to have a really great time. To stop it turning into something scarier it is important to keep in mind our simple safety tips. The Halloween weekend is also a very popular time for party goers and adults who should also follow this safety advice. Remember to drink in moderation, have plenty of soft drinks and plan your journey home when on a night out. We are extremely busy so please only call:- 999 for life threatening and potentially life threatening emergencies only. There are other healthcare options out there for less serious incidents such as Walk In Centers, your GP, pharmacies or by getting advice from the NHS via calling:- 111."

"Bombed Out Church" lights up Liverpool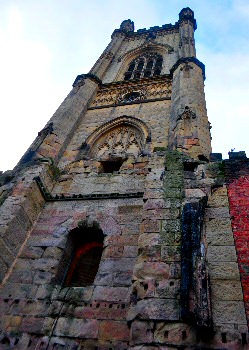 1 of Liverpool's most famous landmarks can now be seen in a different light; millions of them in fact!
A new 3-G, architectural lighting system means the iconic St Luke's Church, affectionately known as:- 'The Bombed Out Church' can be transformed by any colour in the spectrum from the touch of a button; anywhere in the world.
The dynamic, colour and visual effect changing installation; has been commissioned by Liverpool City Council to complete the ₤500,000 restoration of the 185 year old, City Centre Church.

Designed and fitted by Liverpool lighting company, MJ Quinn, who used specialist electrical engineers and stone masons, the completion of the scheme also coincides with Historic England announcing today (Thursday, 26 October) that the Grade II* listed building has been removed from its Heritage at Risk register.
The early 19th century Gothic Church, which sits within Liverpool's World Heritage Site buffer zone, was burned out in the 1941 May Blitz in the Second World War and had been on the Register since its inception in 1999. Its removal comes as a recent survey shows that almost ₤750m has been invested into historic assets within the City's UNESCO approved site including the upgrade of 37 listed buildings since 2012, 18 with Council financial assistance.

A special event to mark this achievement and the full re-opening of the Church and gardens will be held at 10am, on Thursday, 26 October 2017, with performances by Liverpool's Pagoda Youth Orchestra Flower Drummers. Earlier this year Liverpool City Council awarded a 30 year lease to:- "St Luke's Bombed Out Church Ltd" to run the venue as a distinctive space for arts and events, that supports the vulnerable and provides opportunities for volunteering.
The appointment followed a public consultation on the future use of the much loved, City Centre war memorial after the Mayor of Liverpool, Joe Anderson, made a commitment to secure its long term viability.

St Luke's Bombed Out Church Ltd have set out a plan to invest in the venue which, subject to heritage funding, could include reinstating the balcony in the nave, mezzanine floors in the vestries and potentially a glazed canopy in the chancel with the nave remaining open to the elements.

The Church and gardens will be open to the public from 11am, after the official event has completed online.

Mayor Anderson:- "It's been a personal goal of mine that we restore St Luke's to its rightful place as one of the City's crown jewels and I'm delighted that as of today it is no longer on Historic England's Heritage At Risk Register. This is a landmark moment that heralds an exciting new chapter in its illustrious history. This amazing new lighting scheme gives St Luke's a whole new dimension to be part of City wide celebrations. It is also a signal of the quality we should come to expect as part of a wider strategy to attract, enchant and enthral a new generation of admirers."

Charles Smith, Principal Adviser for Heritage at Risk at Historic England in the North West:- "Having been burned out in Second World War, the Grade II* listed St Luke's Church was one of the North West's longest running Heritage at Risk cases. Historic England is delighted to have worked in partnership with Liverpool City Council to deliver the renewal of this great Liverpool landmark, allowing this much loved building to be used and enjoyed in the future."

Ambrose Reynolds, Director of Bombed Out Church Ltd:- "I've dreamed of days like today. For me St Luke's has always been a place of beauty and wonder but now with the support of Liverpool City Council and Historic England everyone else will get to see it with a fresh pair of eyes. This venue has so much potential and I'm thrilled to have the opportunity to help shape its future."

Karl Monaghan, Director at M J Quinn:- "M J Quinn are delighted to have had the opportunity to support Liverpool City Council to transform and illuminate such a historic building as St Luke's Church. As a local company we are proud to be identified with this project and to have been part of an enthusiastic team working together with Council and the recently appointed venue operator."
---
Man charged in connection murder of 80 year old Teresa Wishart
ON Thursday, 19 October 2017 a Charles Stapleton, 51, from Kirkby was charged with the murder of 80 year old, Teresa Wishart, from Kirkby. Stapleton has since appeared at Liverpool, Knowsley and St Helens Magistrates Court, on Monday, 23 October 2017. Anyone with information to assist this investigation is asked to contact detectives on:- 0151 777 6887 or leave information with Crimestoppers, anonymously, on:- 0800 555 111.