Public welcome at November Board Meeting
SOUTHPORT and Ormskirk Hospital NHS Trust will hold its next Board Meeting, on Wednesday, 1 November 2017, at 10am. The meeting will be held in the Clinical Education Centre at Southport and Formby District General Hospital. Members of the public are welcome to attend and observe the meeting. Anyone with a special requirement should contact the Trust in advance on:- 01704 704783. The agenda will be available on the Trust website in advance of the meeting. Supporting papers will be made available on the day.
---
Consumers in the North West turn to jumpers and hot water bottles as they worry about high energy bills
CONSUMERS in the North West are worried their energy bills will go up this year and as a result are reaching for extra layers, blankets and hot water bottles instead of turning on their central heating. The Winter Warming Report from TopCashback.co.uk, the UK's most generous cashback and comparison website, finds 67% of consumers in the North West are anxious about increases to energy prices effecting their heating bills and fear they will be paying more in 2017.

49% of people in the North West are planning to switch energy suppliers in the hope to bring down costs yet 71% of people are considering not turning their heating on all together, instead looking to cheaper alternatives to avoid high heating bills.

Over the course of winter, consumers in the North West spend ₤70 stocking up on alternative warmers including jumpers (82%), blankets (63%), hot water bottles (29%) and draft excluders (15%). The majority (85%) of people also switch to hotter and more comforting foods in the evenings, increasing their grocery bills by ₤22 a month.

The report also finds consumers are finding it harder to fight the cold weather with the number of people claiming to turn their heating on between September and the end of November increasing from 88% in previous years to 90%. However, instead of having the heating on throughout the colder months or using a daily timer, 42% are turning their heating on only when it is needed to take the bite out of the air.

Natasha Rachel Smith, Consumer Affairs Editor for TopCashback.co.uk, said:- "With energy prices rising at the fastest rate since 2014, it is having a real effect on consumers in the North West who are worrying about their heating bills going up. Our report shows people are concerned as to whether they can afford to heat their homes this winter and are desperate to find ways to avoid turning on their heating at all. Switching energy providers can make a big difference, yet only half of consumers are planning to switch this year. It's inevitable heating will be needed meaning everyone should be looking for the best deals. TopCashback provides a comparison services that lets consumers work out the best deal for them while earning cashback on top. Members can currently get ₤140 cashback when switching to npower."

► Family disagreements...

Discussions about whether to turn the heating on or not are also causing arguments across households in the North West with 51% quarrelling with their loved ones. People in the North West are the most likely to argue about the heating. People in the North West most commonly argue with their partners (74%), parents (19%) and children (16%). Those who disagree with turning on the heating suggest putting on extra layers (94%), having a hot drink (34%) and even going for a jog around the house (6%) as alternative ways to warm up.

► Regional heat mapping...

The report finds consumers in Wales are the most concerned about their energy bills going up while people in the North West switch their energy providers the most. People living in Yorkshire and the Humber also reach for winter warmers instead of central heating more than any other region. However, those living in the south-west spend ₤141 on items to warm them up in winter, which is the most in the UK compared to people in the east who spend just ₤65.

CCTV image appeal following an assault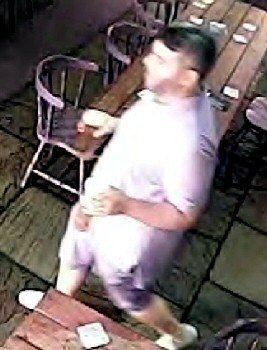 MERSEYSIDE Police Detectives have released CCTV image of a man they wish to speak, after a male, in his 60's, was allegedly assaulted outside a Bootle Pub. The incident is said to have happed on Saturday, 12 August 2017, at about 7pm. Merseyside Police have told us that the victim was punched at a side doorway of the Mayflower Public House, located in The Palantine, Bootle New Strand. The after reporting the incident, the following morning, the victim was taken to Hospital and received stitches to a wound in his head.

Detective Chief Inspector Gayle Rooney said:- "This appears to have been an unprovoked assault which has resulted in a head injury and a long term impact on the victim due to the level of violence involved. We are still trying to establish the exact circumstances and want to hear from anyone who was in or outside the premises at the time, or the man pictured, who we think may have valuable information. It was busy in the pub at the time, and someone may have seen the incident itself or know who this man is. We are relentless in pursuing anyone involved in violence, and ensuring that they are put before the courts. I can assure people that information will be acted upon."

Anyone with information is asked to contact:- 101 quoting incident number:- 0517205814 or you can leave information anonymously and for free on:- 0800 555 111.
---
Civic Service focuses on regeneration
LIVERPOOL'S Annual Civic Service will celebrate the City's incredible renaissance through regeneration. Led by Lord Mayor, Councillor Malcolm Kennedy, it will take place at Liverpool Parish Church, Our Lady and St Nicholas, on Sunday 29 October at 11.45am in front of an invited audience of civic dignitaries and representatives from community and voluntary groups. It will include readings from regeneration expert Professor Michael Parkinson, the Associate Pro Vice Chancellor for civic engagement and Executive Director of the Heseltine Institute for Public Policy and Practice at the University of Liverpool. There will also be an address from Reverend Bill Addy, Chief Executive of Liverpool BID (Business Improvement District) Company and hymns led by Belvedere Academy Chamber Choir. Councillor Kennedy said:- "Anyone who has been to Liverpool in recent years knows it is a City that has been transformed through incredible regeneration projects. From Liverpool One, the Arena and Convention Centre and the Pier Head through to new housing in Croxteth and Norris Green and the new district centres being created in Everton and Anfield, regeneration has transformed this City's fortunes. It has given us the infrastructure to be able to attract millions of visitors every year and the confidence to stage major cultural events that are amongst the best in the world. And all around us we can see the City's ambitions for the next phase of growth, whether it is the Knowledge Quarter in Edge Hill, Liverpool Waters and Ten Streets in the north and the Festival Gardens site in the South. So it is right and proper that we give thanks for the positive impact of regeneration at this year's Civic Service."