Residents urged to take care with wheelie bins over Bonfire period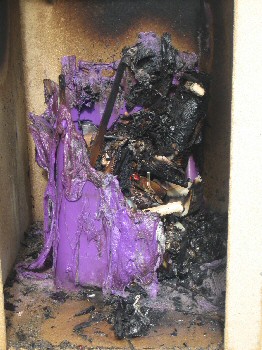 MERSEYSIDE Fire and Rescue Service is urging residents to help prevent their household wheelie bins becoming targets for arsonists over the Bonfire period. Arson attacks on wheelie bins and refuse containers in the Merseyside area have nearly doubled in the last 3 years around Bonfire night, with 79 incidents taking place between 30 October and 7 November 2016, almost double the number of incidents during the same period in 2014 when 41 were recorded. Domestic refuse bins can become easy fire targets outside properties particularly if they are left out after collection days.

This year during during the past two weeks alone, crews from Merseyside Fire and Rescue Service have dealt with 24 fires linked to wheelie bins and refuse containers, with incidents taking place across Liverpool, Knowsley, Sefton, St Helens and the Wirral. With the risk of arson attacks on wheelie bins likely to increase in the next week during the run up to Bonfire night itself, residents are being asked to be extra vigilant and keep their bins in safe areas.

Paul Kay, Station Manager for Arson Reduction and Incident Investigation for Merseyside Fire and Rescue Service, said:- "The risk of wheelie bins being targeted during the run up to Bonfire night has increased in recent years and the figures in Merseyside in 2016 reflect that. Incidents like this are the result of irresponsible and dangerous behaviour, putting both the lives of residents and the safety of their properties at risk. We would urge local residents to take care in helping to minimise the risk of their bins being targeted. Only put your bin out on the day of collection and bring it back in immediately. Store it in a safe area away from windows and doors if possible."

For fire safety advice call Merseyside and Rescue Service on:- 0800 731 5958. It is outside office hours, please leave a message with your details and a contact number:- 0800 731 5958. Also seek out the Merseyside Fire and Rescue Service pages on Facebook, Twitter and You Tube.
---
New campaign in Wirral highlights how taking antibiotics when you don't need them puts you and your family at risk!
PUBLIC Health England launches a major new campaign in Wirral to help:- 'Keep Antibiotics Working.' The campaign warns people that taking antibiotics when they are not needed puts them at risk of a more severe or longer infection, and urges people to take their doctor's advice on antibiotics. Antibiotics are essential to treat serious bacterial infections, such as meningitis, pneumonia and sepsis, but they are frequently being used to treat illnesses, such as coughs, earache and sore throats that can get better without medication. Taking antibiotics encourages harmful bacteria that live inside you to become resistant. That means that antibiotics may not work when you really need them. It is estimated that at least 5,000 deaths are caused every year in England because antibiotics no longer work for some infections and this figure is set to rise with experts predicting that in just over 30 years antibiotic resistance will kill more people than cancer and diabetes combined.

The 'Keep Antibiotics Working' campaign urges residents in Wirral to always trust their doctor, nurse or pharmacist's advice as to when they need antibiotics and if they are prescribed, take antibiotics as directed and never save them for later use or share them with others. The campaign also provides effective self care advice to help individuals and their families feel better if they are not prescribed antibiotics.

Dr Diane Atherton, Lead Primary Care GP for Antimicrobial Resistance (AMR) and Chair of Wirral Clinical Commissioning Group's AMR Group says:- "It is important for people to understand that if they are feeling under the weather and see their GP or a nurse, antibiotics may not be prescribed if they are not effective for their condition, but they should expect to have a full discussion about how to manage their symptoms. Without effective antibiotics, minor infections could become deadly and many medical advances could be at risk; surgery, chemotherapy and caesareans could become simply too dangerous. But reducing inappropriate use of antibiotics can help us stay ahead of superbugs."

Cllr Chris Jones, Wirral's Cabinet Member for Adult Social Care and Health says:- "I welcome the launch of the 'Keep Antibiotics Working' campaign. The public has a critical role to play and can help by taking collective action. Always take your healthcare professionals advice and remember that antibiotics are not needed for everything."

For further information on antibiotics, their uses and the risk of resistance, please search:- 'NHS Antibiotics' online.
---
Free 'Sustained Weight loss and a Guilt Free Christmas' Workshop
ARE you female in your 40's, 50's or beyond and you've been trying to lose weight forever? Linden Tree Health are holding a free Health seminar on Thursday, 2 November 2017, at the The Vincent Hotel, on Lord Street, Southport. Erica Gibbon BSc BANT said:- "We have 2 workshops, 1 in the Morning and 1 in the afternoon, entitled:- 'Sustained Weight loss and a Guilt Free Christmas' claim your free workshop place go online now. We really look forward to seeing you for an informative, inspirational and fun start to a New Christmas You..."

'Don't Trick or Mistreat' this Halloween and Bonfire Night
MERSEYSIDE Police are encouraging young people, families and businesses to play their part in helping to keep their communities safe over the Halloween and Bonfire Night period. Officers will be patrolling local neighbourhoods to ensure people can enjoy the festivities in their area safely but Merseyside Police cannot do this alone. Parents and guardians are also being asked to help by taking responsibility for their children's whereabouts and actions and to be mindful of any neighbours who may be elderly or vulnerable and who might feel frightened or intimidated. Shopkeepers are also being urged not to sell any items that could be misused to cause damage:- such as eggs, flour and cans of shaving foam or spray paint. The force has also designed a short video; aimed at School children and young people; entitled:- 'Don't Trick or Mistreat,' which shows the consequences of antisocial behaviour and the people who may be affected by it. The video, which will be shared on social media and with all local authorities, can be viewed on YouTube.

Chief Inspector Chris Hitchell, who is heading this year's operation for Merseyside Police said:- "This is always a fun time of year and we want to make sure that everyone can enjoy the organised events and activities safely. We know that antisocial behaviour is of concern to people, particularly those who are old and vulnerable, and I want to reiterate my message that we will take robust action against those found committing antisocial acts. We know the vast majority of young people have respect for other people and their property, but we know the behaviour of some can go beyond fun. I want to make it clear that is not acceptable to throw things at people or their homes, commit criminal damage or abuse or intimidate people. My message is think about what you are doing and how you may make other people feel. How would you feel if a member of your own family was too frightened to leave their own home or walk down the street? The support of parents and guardians is vital at this time of year. They can minimise the risk by not letting children hang around the streets with nowhere to go and know who they are with and what they are doing, especially in the run up to Halloween and Bonfire Night. Damage caused by used by Halloween 'tricks', such as throwing eggs and flour, or any objects at windows, doors, cars and people is a criminal offence. It is also illegal for those under the age of 18 to buy, carry, or use fireworks and under the Explosives Act of 1875 it is illegal to let off or throw a firework in a public place. Anyone involved in criminal behaviour could be arrested and receive a fine, a criminal record or even jail time. If your child is under 16 then you will be liable for payment of any fine. By taking some simple steps it could prevent that knock on their door from a Police Officer informing them that their child has been arrested or, worse still, has been involved in a serious accident."

Station Manager Paul Kay, Arson Reduction Co-ordinator for Merseyside Fire and Rescue Service said:- "Merseyside Fire & Rescue Service would like everyone to enjoy Halloween and Bonfire Night as safely as possible. We urge people to be careful of how they dress on Halloween; some costumes bought in shops can be flammable so labels should be checked to see how fire resistant the costumes are. Costumes should not be used to genuinely frighten people, particularly those who may be elderly and vulnerable Keep clear of all flames such as candles and lit pumpkins, which could cause burns or costumes to catch fire. Ideally, use battery operated lights in pumpkins instead of candles. Never leave children alone with lit candles and make sure they are extinguished before leaving the room. If clothing does catch fire remember to STOP, DROP and ROLL; STOP where you are, do not run. DROP to the ground and lie down flat. ROLL over and over on the ground until the flames are out. Fireworks should be enjoyed at organised events as they provide safe, controlled displays in places that are suitable. We would encourage people to take advantage of organised events rather than risking the safety of themselves, their family and friends by using fireworks at home."

For information on activities happening over the Halloween and Bonfire Night period in Merseyside, can be found online.

Firework Facts:-

► It is illegal for under 18's to buy fireworks, shops should refuse to sell to people under 18 and ask for proof of age if there is any doubt.

► It is against the law to carry or use adult fireworks if you are under 18. An adult firework is any firework except a cap, cracker snap, novelty match, party popper, serpent, sparkler or throw down.

► Under the Explosives Act of 1875, It is illegal to let off or throw a firework in a public place.

► It is illegal to sell fireworks form unregistered / licensed premises.

► Don't light fireworks after 11pm, or midnight, on 5 November 2017.

If anyone believes they have information about the illegal sale, use or possession of fireworks, please contact Merseyside Fire and Rescue Service on:- 0800 731 5958 , Merseyside Police on:- 101 or Crimestoppers anonymously on:- 0800 555 111.

Some Safety Advice for Young People:-

Do's

► Only trick or treat in your own neighbourhood and stick with an adult, if possible.

► Stay in well lit areas where there are plenty of houses.

► Make sure an adult knows the area you plan to visit and what time you'll be back.

► Look out for 'no callers please' posters and respect your neighbours.

► Keep to pavements and trick or treat on one side of the street before crossing safely to the other side; don't criss cross.

► Lock away any building materials if you're having work done.

► If you have a wheelie bin avoid leaving it visible at the front of your home.

► Tidy away anything at the front of your home that could be used for an illegal bonfire.

Don'ts

► Don't cut through back alleys, parks or fields, and don't trick or treat too far from home.

► Don't go alone; take an adult with you or stay in a group.

► Wait to eat any treats until you get home so that an adult can check them.

► Don't allow children to leave the house with eggs or flour.