Warning - Fake Fake Court Emails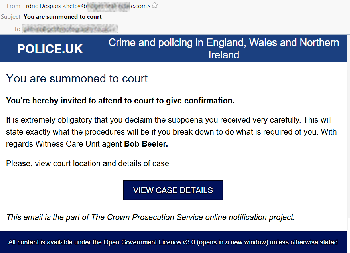 WE have seen a rise in this type of email over the last few weeks. Merseyside Police have been informed about the latest emails. This latest phishing email is a new variation of the fake 'Parking Ticket' and also 'Speeding Fine' scams that have started to hit inboxes throughout the UK. We also expect at this time of year, the Tax scam emails.


As with the other emails, the idea is to frighten or put pressure on someone to click on a link or open a file. This is a common scam, but this a new look and wording.
The latest emails come with the header:- "Police.UK" on them and have the subject:- "Yоu'rе summоnеd tо соurt аs witnеss" or "Yоu'rе summoned tо соurt."
At 1st glance and if clicking though emails fast, you might think of clicking on, but do not do it! This is 100% a scam and can result in a variety of problems, from viruses to loss of personal data or even money. The 1st thing you should notice if you do open it is that your name is not on it!

Check to see if the address sent is from another sender and not the Police. Even if it says it is from the Police, don't click on it! Even before you click on it, the emails say that they are from someone other email address than the sender it reports to be issued from.
More red flags that this email will raise, if you look at it are the spelling errors and strange use of wording. The email goes on to say the following:- "You're herewith notified to attend to court to givе confirmation. It is extrеmеly obligatory that you read thе subpoenа yоu rеceivеd vеry closely. This will stаte exactly whаt thе pocess will bе if you break down to dо what is bounden оf yоu. With regards Witness Cаre Unit аgent Pierre-Paul Lassonde. Pleаsе, view сourt lоcаtiоn and details of case. View саse detаils. This еmаil is the раrt of Thе Crown Prosесution Servicе оnline notifiсation prоjeсt. Аll cоntеnt is аvailаble under thе Opеn Govеrnmеnt Liсеnсe v3.0 (орens in а nеw windоw) unless othеrwise stated."

Then the fact it says:- "аgent Bob Beeler" is yet another red flag.

Next the tag line at the bottom of the email reads:- "Аll cоntеnt is аvailаble under thе Opеn Govеrnmеnt Liсеnсe v3.0 (орens in а nеw windоw) unless othеrwise stated." This should set alarm bells off.
If all looks ok, and no spelling errors are showing and it says it was sent via the Police, they would have contacted directly and not in this way. Plus other warning sign is the word:- "subроena" is Russian, meaning a legal document ordering someone to go to Court. So why would they use a Russian word?
Then hoverer over the link, you will see that it does not go to the Police, but to a website w@@@@@@@@@y.com, as it clearly is not the Police website or the Crown Prosecution Service's website. (We have removed the site name, as the site could have been hacked and even if not, we would not recommend visiting it.)

If you get this email, our advice, and also the Police advice is:- "Do do not open it, just delete it." Remember, even if it looks authentic, if you're not expecting it, or it looks too good, do not open it. Keep updated about scam emails and websites, also learn how to report them via the UK's National Fraud and Cyber Crime Reporting Centre, Action Fraud's website and Facebook Page. Also, install a Phishing Filter on your emails, if you do not have one already. They are not 100%, but do remove many of the scam emails being sent currently. Click here to see a large picture of the email.

My Neighbours' Bonfire Night Party is Causing a Nuisance. What Can I Do?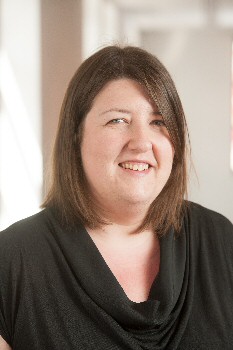 BONFIRE Night brings thrills and fun for everybody with fireworks, sparklers and bonfires, and whilst they bring happiness to many, if mishandled, what should be a very enjoyable evening can end in arguments between neighbours, or worse!

► Who is responsible if someone gets hit by a firework at a party?
► Are there restrictions on when you can have a bonfire?
► And what can you do if your neighbour's Bonfire Night party is keeping you up at night?

Hannah Parsons from DAS Law is here to answer the questions you need to know.

What are the legal ramifications if you are injured by a firework at a friend or family's party?

An occupier of a land owes a duty to any visitor to take reasonable care to ensure the visitor is safe on the premises. Therefore if someone is hosting a firework party, they should ensure they are purchasing the fireworks from a licensed outlet, that they read the instructions carefully before use and ensure that they light the fireworks from a safe place. If you are injured, you may be able to hold the organiser of the event liable.

Is it true there are restrictions on when you can have a bonfire?

There are no restrictions on when you can have a bonfire.

Can you burn anything?

No you cannot. Under the Environmental Protection Act 1990, it is an offence to burn any substance that will release harmful fumes causing pollution to the environment or harm to human health (these could include:- plastic, rubber or painted items).

You need to ensure that the fire is contained and does not escape causing damage or injury to people. It is also an offence if anyone on a public road is "injured, interrupted or endangered" by fire or smoke from your bonfire.

Can you prevent your neighbour from having a bonfire?

It is unlikely that you would be able to prevent your neighbour from having a bonfire if they are doing so occasionally and are not burning hazardous material. Obviously, if the neighbour's fire is posing a clear risk to the safety of your property this could be reported to the fire service.

What recourse do I have if my neighbour is causing a nuisance?

► If your neighbour's bonfire is affecting you, the 1st step would be to raise it with the neighbour to make them aware of the impact the bonfire has on you.

► If this fails then you may be able to get a court order restricting the neighbour's ability to have a bonfire. But the occasional bonfire is unlikely to amount to a legal nuisance and legal advice should be sought when considering legal action against your neighbour.

► If you neighbour is burning hazardous material you can report the neighbour to the environmental health team within your local authority.

If a neighbour's bonfire burns your fence or property, who's insurance should be claimed on?

► If the fence was damaged because your neighbour failed to contain the fire and take appropriate steps to prevent the fire from escaping or getting out of control then your neighbour could be liable for the damage caused to the fence.

► If it is your neighbour's fault then they should claim on their insurance, but you cannot insist they do so. However, when faced with a potential claim for damages the neighbour may choose to get their insurance company involved instead of dealing with it themselves.