Macmillan Cancer Support's North West mobile service will be in Merseyside next week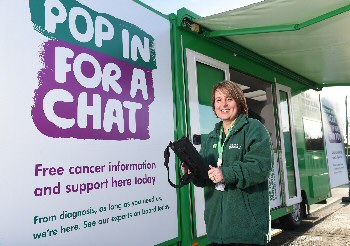 FREE, cancer advice and support is coming to Merseyside, between Tuesday, 28 November and Thursday, 30 November 2017. Macmillan Cancer Support's mobile service will be visiting the area, with cancer information specialists; including:- a Welfare Rights expert on some of the dates, on hand to answer questions and provide information.
The team encourages anyone with worries relating to cancer to stop by, whether you're living with cancer, or care for someone who is. Cancer can impact all aspects of your life, not just your health. The team are highlighting issues around the financial impact of cancer. If you've been affected by cancer, your finances might not be your first thought, but many people are faced with extra costs they hadn't considered. Macmillan research shows that 83% of people are, on average, ₤570 a month worse off because of a cancer diagnosis1. This is often due to being unable to work and having increased costs such as travel to Hospital or increased fuel bills.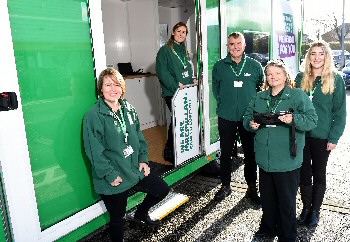 Details of the visit:-

► Tuesday, 28 November 2017, Wallasey - Cherry Tree Shopping Centre (Pedestrianised entrance), Liscard Way, CH44 5TL, from 10am to 4pm.

► Wednesday, 29 November 2017, at Prescot; Eccleston Street, L34 5GA, from 10am to 4pm.

► Thursday, 30 November 2017, at Tuebrook - Tuebrook Car Boot, Dorset House, West Derby Road, L34 5GA, from 9.30am to 3.30pm.
Jo Trask, Macmillan Information and Support Specialist and Welfare Rights Experts, will be on board for both the Prescot and Tuebrook visits, to offer valuable advice and information about the welfare benefits and entitlements available to people affected by cancer, who are receiving treatment, and also to their dependents and carers.

Jo says:- "It's really important that people living with cancer are able to access the financial advice and support they are entitled to, so they can focus on what's most important; their health. We can help signpost people to Macmillan benefits advisers who can provide free, confidential advice. We'll be here to answer any questions about cancer. Whether you want to know what symptoms to look out for, need advice about managing the side effects of your treatment, or want to find local support for carers, come along and see us. We'd be happy to help."

If you are unable to visit the unit but have questions about cancer, visit Macmillan's website or call Macmillan free on:- 0808 808 00 00 (Monday to Friday, 9am to 8pm). You can find out about Macmillan services near you by clicking on here.

Cheshire and Wirral Partnership Awarded Contract for Willaston Surgery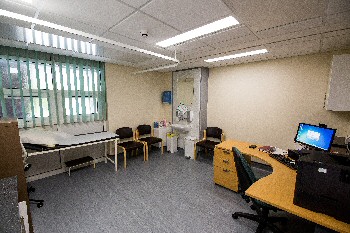 CHESHIRE and Wirral Partnership NHS Foundation Trust (CWP) is delighted to announce that it has been awarded the contract to provide primary care services at Willaston Surgery, from December 2017. Willaston Surgery, a GP Practice near Neston in Cheshire, becomes the second GP practice to be managed by the Trust, joining Westminster Surgery in Ellesmere Port, Cheshire. CWP's time providing services at Westminster Surgery has been a successful 1, so far, as in June 2017, the Surgery was rated as:- "Good" overall by the Care Quality Commission (CQC) with how responsive services were to their patients' needs being highlighted as a particular area of good practice. At Willaston Surgery, there are 4registered GPs, and the Practice also provides specialist treatment for asthma, diabetes, Chronic Obstructive Pulmonary Disease (COPD) and heart disease. It has over 4000 registered patients and an existing rating of 'Good' from the CQC. The Trust is looking forward to working with staff at the Practice, embedding our Trust values and Person Centred Framework, to improve the already caring and responsive services at Willaston. This way, together, we can provide the best possible care to the people of Willaston. Alison Swanton, CWP general manager for West Cheshire, said:- "We are really excited to welcome the staff and patients at Willaston Surgery to CWP and we look forward to working together in the future. Since Westminster came on board in 2015, we have seen some real improvements which were recently noted by the CQC, including how services are planned t take into account the needs of different patient groups and our vision to provide person centred care for everybody."
---
Holocaust Memorial Day poetry competition being launched
YOUNG people are being invited to write poems which will be read out at Liverpool's Holocaust Memorial Day service. The theme for this year's Holocaust Memorial Day is 'The Power of Words', and explores how language has been used in the past and the present and the impact that it has on us and those around us. The competition is being launched at the Schools Parliament at Liverpool Town Hall, on Tuesday, 28 November 2017. 2 of the entries submitted by Friday, 12 January 2018, will be selected to be read out at the civic event on Friday 26 January at Liverpool Town Hall. Lord Mayor, Councillor Malcolm Kennedy, said:- "Holocaust Memorial Day is not only a time to remember those millions who died in the Holocaust and subsequent genocides, but is also a call to action for the present. The words we use can be an immense power for good but also evil, so it is essential we stamp out their use to promote hate crime and prejudice. We have many talented, articulate and eloquent wordsmiths among our young people and I know that we will receive some powerful and thought provoking entries."

A selection of the poems entered will be included in an anthology that will be presented to entrants, schools and libraries in the City. Liverpool City Council's lead on Holocaust Memorial Day, Councillor Jeremy Wolfson, a member of the City's Jewish community, said:- "Attendees at the recent HMD planning meeting wanted to do something particularly poignant for 2018, which marks the 10th Anniversary of Liverpool hosting the national event for Holocaust Memorial Day in 2008. This poetry competition fits well into this year's theme 'The Power of Words.' It gives our young people an opportunity to reflect on the Holocaust and raise awareness of not only what happened, but to try and ensure that the attitudes which led to it are not repeated. I would particularly like to thank the Holocaust Memorial Day Trust's Mandy Penellum, Jeff Dunn, Director of Liverpool Schools' Parliament and John Gorman from The Scaffold, for their invaluable advice and support in setting up the poetry competition."

Poems should be submitted to: Jeff Dunn c/o Liverpool Town Hall, High Street, Liverpool, L2 3SW or by email.