Merseyside's Police Commissioner announces new and enhanced support for victims
MERSEYSIDE'S Police Commissioner is marking the start of a UN's anti violence campaign by announcing her plans to further improve the care for vulnerable victims of crime across Merseyside. Jane Kennedy officially launched the Victim Care Merseyside service in 2015 after powers to commission victim support services were passed to Police and Crime Commissioners (PCCs) from the Ministry of Justice (MoJ). As Victim Care Merseyside approaches its third anniversary, the Commissioner has conducted a comprehensive research programme reviewing the existing service and assessing how the needs of victims across the region may have changed and developed since the service was first established. In light of that review, the Commissioner has announced her plans to further improve and expand upon the existing package of care and support from 2018 onwards to ensure she delivers the best support for vulnerable victims of crime in Merseyside. Jane's proposals build on the services that have been running over the last 3 years and aim to plug any gaps in the service.

Key improvements to the existing service include:-

► Increasing the funding provided to the region's 5 local authorities to provide support for families and young people affected by domestic abuse or violence.
► More funding for the Vulnerable Victims' Champion service to ensure it can also provide support for victims of ASB, cyber crime and fraud.
► An enhanced service supporting victims of rape and sexual assault across Merseyside.
► Nearly doubling the funding provided to support victims of hate crime.
► A dedicated new service offering support to those affected by harmful practices, including:- forced marriage, so called:- 'honour based' violence and female genital mutilation.
► A dedicated support service for families who have been affected by murder and manslaughter, including:- crime related, fatal road traffic collisions.

The strategy also confirms Jane's commitment to maintaining a number of essential Victim Care Merseyside services, running since 2015, including:- a dedicated service for victims of all forms of child exploitation, a pan Merseyside restorative justice helping victims to get answers from their offenders, and an independent reporting line for hate crime.

To increase the consistency of these services for victims, the Commissioner has also pledged to commission all the service for the next three years, from 2018 to 2021.

Jane said:- "These are still early days for the commissioning of local services for the victims of crime. Nobody chooses to be a victim, and when someone does suffer at the hands of others it is only right that they get the support to help them cope and recover. The aim of Victim Care Merseyside is to ensure victims get that support. That's why I took the decision, as we approach the 3rd Anniversary of the service, to take stock, review what's working and where we can, improve, to make sure we are delivering the best possible services. The nature of crime is also constantly evolving and that means we have to adapt and update our services to ensure they are meeting the needs of victims today. As we approach International Day for the Elimination of Violence against Women, I am delighted to announce my proposals for how I can continue to improve the Victim Care Merseyside, service offering more support for more victims. I am particularly proud that we were 1 of the 1st areas in the country to offer support for victims of child criminal exploitation, and I have taken the decision to expand on this forward looking approach to offer a new service supporting victims of harmful practices and a dedicated service for families who have been affected by the most horrific of crimes, murder and manslaughter. I am also expanding some of the existing services, including our provision for domestic abuse, rape and sexual assault, and hate crime so those services can reach more vulnerable people. All of the decisions I've taken to improve the Victim Care Merseyside service are based on detailed evidence, compiled as part of a Victim Needs Assessment. This important document provides a really comprehensive overview what victims need and deserve and I'm very proud of the time, energy and commitment that has gone into ensuring Victim Care Merseyside delivers the right support for victims of crime over the next 3 years."

The Victim Needs Assessment was carried out between May and October and incorporated extensive reviews of the crime data, a 'what works' literature review, a victim service mapping exercise and feedback sessions with service providers. Crucially it also involved extensive consultation with victims of crime, including an online survey, focus groups and 1 to 1 interviews. A special workshop was also held with nearly 40 support organisations with the aim of identifying 'hidden' crimes that may still be going on undetected and out of sight. Following the announcement, the Commissioner is now inviting organisations to apply to deliver these services. The application process will be published in early December 2017. A dedicated commissioning event will also be held to help organisations understand how the bidding process will work. Applications will be then be put through a competitive selection process, by way of a panel, before the successful organisations are notified. If you have been affected by crime and need information, help or support, please visit:- VictimCareMerseyside.Org.

Top award for Liverpool social work team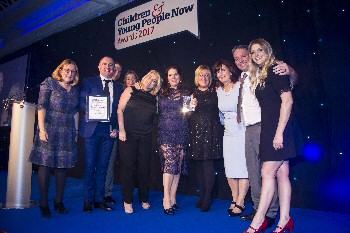 A team of Liverpool City Council social work staff who help keep families in crisis together have won a top industry award. The Instant Response Team in the Family Support Service scooped the prestigious:- 'Public Sector Children's Team Award' at the Children and Young People Now awards in London. They respond to referrals where there is an imminent risk of family breakdown, often in extremely difficult and challenging circumstances, to ensure children and young people can safely remain at home with their families by providing timely, intensive, targeted support. They saw off competition from Councils in:- Cambridgeshire, Central Bedfordshire Council, Lancashire, Hammersmith and Fulham, Kensington and Chelsea and Westminster City to scoop the prize.

Councillor Barry Kushner, Cabinet member for children's services, said:- "Our social work staff are unsung heroes, who spend every working day helping keep vulnerable young people safe, often in very traumatic circumstances. I am so proud that the Instant Response Team's diligence, passion and commitment to their work has been rightly recognised and rewarded in this way. This is a vindication of the investment we have made in our Early Help teams and the impact it has on children's and families before they get into crisis. All the evidence shows that keeping families together and working proactively alongside mums, dads and carers to resolve their issues is far better in the longer term. The value of their work is truly immeasurable and we should all be grateful that we have among our workforce so many compassionate staff."

Between April and September this year, a total of 97 children were referred to the team; of which 79 were able to stay with their families rather than being placed in foster or alternative care. A further 3 were eventually able to return home after support was provided.
---
Shelter issues warning ahead of critical Christmas season
SHOCKING new figures show Shelter received a call for help from the North West every 4 minutes in the run up to Christmas 2016, and the charity is warning that the situation this winter could be set to get worse. New research from Shelter and M&S shows that in 2016 the charity's national helpline received over 10,700 thousand calls from the North West in the 2 months leading into Christmas. And crippling combination of rising homelessness, sky high rents, problems with Universal Credits and a dearth of affordable homes means this winter the charity is preparing for huge numbers of people struggling with homelessness and housing problems to come to them for support. And with calls from people in the North West to the free Shelter helpline increasing by 36% over the past year (2017), their expert advisers are overwhelmed with pleas for housing help. The Shelter helpline is funded by M&S customers throughout the festive season, with 5% of every purchase made from the:- 'Festive Collection for Shelter' going directly to the charity. This means the helpline can offer housing advice and support every single day of the year for people battling bad housing and homelessness.

Mark Cook, a helpline adviser for Shelter, said:- "Every Christmas I speak to parents in despair as they face the trauma of homelessness, when they should be filling stockings and looking forward to Christmas dinner. Even though I'll be working at Christmas, I think myself so lucky to be able to go home at the end of the day when there are so many families having to go without such a basic need. No family should face the agony of losing the roof over their heads, which is why we're calling on people to get their lunch from M&S's Festive Collection for Shelter. Something as simple as buying a sandwich could make the world of difference to a family whose home is on the line this Christmas."

Mike Barry, Plan A Director at M&S, said:- "We know our customers care about this issue and purchasing lunch from our Festive Collection for Shelter is a small, simple way they can make a big difference this Christmas. With calls to the Shelter helpline increasing by 25% over the past year it's more important than ever we support this important cause."