Merseyside Police donate shoeboxes, bikes and tools to Caribbean islands hit by hurricanes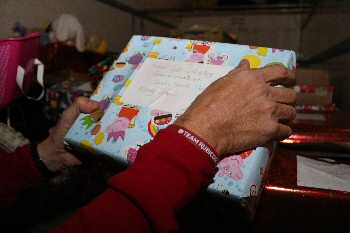 MERSEYSIDE Police has donated 35 bikes as part of the relief effort to help countries in the Caribbean hit by hurricanes.
The cycles were collected as part of the Cycles 4 the Caribbean initiative and together with hundreds of shoeboxes containing gifts and sweets for children will be delivered to the British Virgin Islands in time for Christmas as part of Operation Rudolph.
The islands were left devastated after being hit by Hurricane Irma and Hurricane Maria, in August 2017. Thousands of people were left homeless and without basics such as food and clean water.
4 Police Officers from Merseyside Police flew out to the islands as part of a North West contingent of Police Officers, in October 2017, to offer their assistance and experience in helping the region get back on its feet.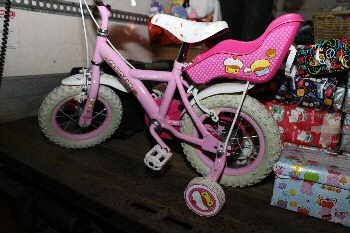 In addition to the bikes in the region of 20000 shoeboxes were collected; of which 300 came from Merseyside alone; containing:- small gifts, toys and treats for children whose homes and lives have been affected.

The Merseyside collection was organised by Constable Daniel Holdsworth and Sergeant Ian McPhail from Merseyside's Safer Roads Unit with the assistance of Merseyside Property Store, Dave Riley and specialist mechanics from Liverpool charity Peloton Coop City Bikes. It was shipped with the assistance of Simon Gee on behalf of Team Rubicon UK; a disaster response veterans' service organisation.
Updates so far are:-

► Gifts were also donated by Merseyside Caribbean Centre, Wirral based Tri 4 life Triathlon club and Police forces from across the UK.

► The bikes and shoe boxes were shipped out over the weekend and are expected to land at the islands, on 17 December 2017.

► Work will continue to send more bikes and tools to the devastated islands.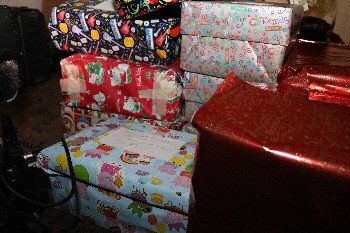 Assistant Chief Constable Julie Cooke said:- "Merseyside Police is pleased to support the ongoing aid effort in the British Virgin Islands. Last month four Officers from the Force flew out voluntarily to offer their help as the islands try to return to normality. To assist this effort we have also, on behalf of other Police Forces in the North West of England, collected a number of children's bikes and staff have donated shoeboxes for the children for Christmas. I hope this small gesture will in some way go to help the residents of BVI as they continue to get their lives back on track."

Merseyside's Police Commissioner Jane Kennedy said:- "A huge amount of work has gone into collecting these bikes, tools and Christmas shoe boxes to send to families in the Caribbean whose lives were devastated by Hurricane Irma. This effort typifies the compassion, generosity and goodwill of the men and women of Merseyside and I applaud everyone who has rolled up their sleeves and got involved. In particular, I applaud the Officers who have organised the collection and delivery of these wonderful donations. They should be really proud that through their efforts they will be making a difference to those in terrible need of help."

The Liverpool Commonwealth Association has also set up a Just Giving page to raise money to supply bicycles, tools and general building materials to help communities across the Caribbean.

For more information and to donate go to their Just Giving Page 'Cycles For The Caribbean.'

Merseyside will light up Orange for anti-domestic violence campaign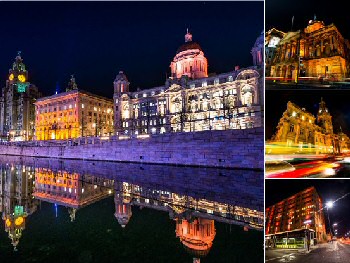 SOME of Merseyside's most iconic buildings will glow orange on Saturday, 25 November 2017, in support of a UN's campaign to break down the wall of silence surrounding domestic violence. The International Day for the Elimination of Violence against Women and the region is showing its support with a two week long campaign to raise awareness about how people can support friends and relatives by helping them to speak out.

Orange is the official colour of the UNiTE campaign, symbolizing a brighter future free from violence against women and girls, and numerous buildings will be lit in solidarity, between 5pm to 7pm, during the 16 days of action.

The venues include:- The Town Halls of Birkenhead, Bootle, Liverpool and Wallasey, Merseyside Police's HQ, the Cunard Building, Radio City Tower, St Luke's Church (aka The Bombed Out Church), Liverpool's Central Library and Crosby, the Floral Pavilion Theatre and Conference Centre in New Brighton and Greystone footbridge in Knowsley.

Radio adverts will also be aired as part of the awareness campaign, funded by Liverpool's City Safe partnership, to promote WomensAid.Org.UK website, which acts as a one stop shop in providing information and details for support and advice for those suffering domestic violence.

According to the United Nations, 1 in 9 women in the UK annually suffer from domestic violence and 2 are killed each week.

The U.N. has called on international support for their UNiTE campaign which begins on 25 November and ends after 16 days of action on 10 December 2017, Human Rights Day, celebrating the signing of the famous U.N. charter in 1948.

This year people are asked to also use the hashtag '#endvaw' along with '#orangetheworld' and '#16days.'

People across Merseyside are also encourage to wear an item of orange clothing throughout the campaign and show their support via social media.

Cllr Ann O'Byrne, Deputy Mayor of Liverpool and Chair of City Safe Partnership, said:- "Sadly violence against women and girls is an issue that even in this day and age needs tackling. Abuse comes in many forms and with the rise of the internet and social media means abusers have developed new ways to intimidate and silence their victims. Friends and relatives of victims have a huge role to play in spotting signs and offering to listen. Often it is the first step in speaking out which is the hardest and we all know abusers love the sound of silence. I'm delighted we have such iconic landmarks turning orange on Saturday evening to showcase Liverpool 's support but even if people wear an item of orange clothing over the 16 days and share that on social media, that small gesture would be greatly appreciated. By raising awareness and providing the tools to educate people hopefully we can break down these walls and save lives."

Merseyside's Deputy Police Commissioner Cllr Emily Spurrell, said:- "It is completely unacceptable that violence remains a part of daily life for some women and girls, either in the community or in their own homes. Today we are taking a stand against abuse to make it clear it will not be tolerated. By wearing orange and lighting up some of Merseyside's most iconic buildings in this vibrant colour, we are sending out a clear, visible message that we are supporting the UNiTE campaign for a brighter future for women and girls, free from violence and abuse. I hope that some of those women who do feel frightened and trapped realise they don't need to suffer in silence and that there are lots of people and organisations who will help them if they need it. Merseyside Police is 1 of those organisations and I'm proud that headquarters will be glowing orange today to let all victims know that the Police are on hand to help you to get the care and protection you need if you are escaping an abusive or violent situation. I am also proud to be working with our Metro Mayor, Steve Rotheram, and a host of partners to create a strategy aimed at putting a stop to all Violence and Woman and Girls in our region."

Cllr Trish Hardy, Sefton Council's Cabinet Member for Communities and Housing, said:- "In Sefton we have a vision where girls and women live equally alongside men, free from harassment and abuse. The colour orange was chosen to symbolise a brighter future without violence and we are proud to be part of the call to action by lighting up our buildings. More than 100,000 women and girls in the UK are at risk of abuse. This needs to stop. In Sefton we fully support the 16 days of action to end all abuse against women and girls. We want everyone to join our call today, so that we may have a better tomorrow."

Detective Superintendent Richie Salter from Investigations, Protecting Vulnerable People said:- "We are very happy to support this campaign, which sends out a powerful message that women are suffering in silence and we have to encourage people to talk about what they are experiencing and seeing. We want men and women who know that offences are being committed but remain silent, as well as victims to get in contact. We all need to work together, not just the police with our partners in the local authority, NHS or charities but with members of the public to break the silence. White Ribbon Day and the following 16 days is a time to remember those that have suffered domestic violence but also to look forward in the hope of eliminating violence against women. Merseyside Police is dedicated to tackling all forms of domestic abuse. We want anyone suffering in silence to know we have specially trained officers to investigate domestic crime. We are focussed on listening not only to those that are victims, but those that know people who are victims. We want them to come forward in confidence so we can take action."