Revealed... National Retailer commissioned the Giant Fireworks Box Cake to support Southport and Hesketh Round Table
Photograph by Paul Heaps, Create Photography.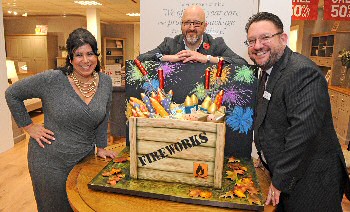 A few weeks back, on Saturday, 4 November 2017, it was the Southport and Hesketh Round Table's Firework and Bonfire Night Display and Avis Robinson has been in contact with us to let our readers know that the giant fireworks cake that was filmed at the show will be on TV next year, on Channel 4. We will bring you more information about it soon... We are also told that Oak Furniture Land's store in Southport and it's the new Store Team donated the giant box of fireworks cake to the charity. Here are the details and some fantastic cake facts about the cake...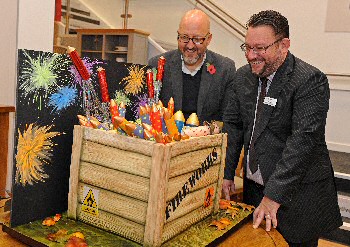 The cake was a 3ft cake designed as a box of fireworks cake, filled with edible rockets, sparklers and catherine wheels to Southport Hesketh Round Table fundraiser, at the official opening of its 1st store, in Southport. As our readers know it was made by the UK's most famous cake artist, Rosie Cake Diva. The fantastic box of fireworks was:-

► A chocolate cake...

► It was made of 8 layers of chocolate!

► The box was filled with edible rocket cake pops, rice krispie treats giant rockets and Catherine wheels!

► The box of fireworks cake was 3ft high...

► The cake came complete with edible leaves and is decorated in glow in the dark colours!
---
25 November marks start of 2 week campaign to eradicate violence against women
WIRRAL Council will unite with colleagues across Merseyside, on Saturday, 25 November 2017, to mark International Day for the Elimination of Violence Against Women and Girls. The day signals the start of a 16 day campaign of activism to raise awareness of domestic abuse, and people are urged to show their support by sharing social media posts with the #endvaw. Council Buildings including:- Wallasey Town Hall, Birkenhead Town Hall, and the Floral Pavilion, New Brighton, will glow orange to support the UN campaign and people are being urged to wear orange to show solidarity. The Wirral, on 25 November 2017 will also be supporting:- 'White Ribbon Day,' when people are asked to wear a white ribbon and take the 'White Ribbon Pledge' to end male violence against women. Wirral Council has a 0 tolerance approach to domestic abuse. Earlier this year, the Director of Public Health's annual report:- 'Domestic Abuse: Let's Make A Difference' raised awareness of Wirral's higher than average rates of Police recorded domestic abuse, and said it was important to work collaboratively to tackle the problem. An awareness raising campaign across Merseyside will focus on how people need to talk about what is often a hidden problem and seek help. Cllr Anita Leech, Wirral's pledge champion around domestic abuse, said:- 'The UN estimates that 1 in 4 women in the UK annually suffers from domestic violence and 2 are killed each week. Orange is the official colour of the campaign, symbolizing a brighter future free from violence, and we're urging people show their support. Knowing you're not alone can be first step towards seeking help. I'm sure many people will be behind the campaign and showing their support by sharing social media posts." Buildings across Merseyside including Birkenhead and Wallasey town halls, and the Floral Pavilion, New Brighton, will be illuminated orange in solidarity, between 5pm to 7pm, on 25 November 2017. The campaign will be launched by Liverpool DJ Ellie Phillips, who last year publically spoke out about her own experiences of abuse.

E.ON opens its Energising Communities Fund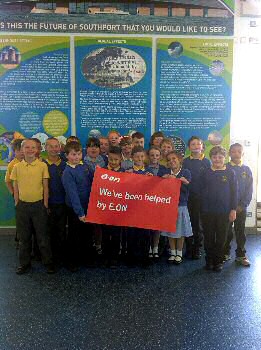 CHARITIES and community groups in Merseyside are invited to apply for up to ₤2,000 of funding through the E.ON Energising Communities Fund, available for the 2nd time this year. To be eligible for funding organisations must submit a request which supports activities that help bring about a reduction in their own energy use, help generate energy from a renewable source, or provide energy efficiency advice for local people. Applicants are encouraged to get their funding requests in now, ahead of the application deadline of Monday, 29 January 2018. Groups can apply for funding of up to ₤2,000 which may cover the full or partial cost of energy related improvements and activities.

Suzanne Doxey, Community Relations Manager at E.ON, said:- "We're really excited to be offering our E.ON Energising Communities Fund for the second time this year to give more local community groups and charities the opportunity to apply for funding. At E.ON we understand that heating bills can account for a large part of the running costs for a community group or charity and so their need to become energy efficient and save on costs is really important. With our Energising Community Fund we're able to support community groups and charities who would like to become more sustainable but don't necessarily have the available funds to be able to progress with their plans. Since launching our fund in 2013, we've distributed over ₤140,000 to almost 85 community groups nationwide to fund energy-related projects and it's been great to hear the benefits that the funding has had, not only on the groups and charities themselves, but the wider community who use the facilities. We look forward to receiving the applications and supporting more successful community groups with the fund."

One recent beneficiary of the fund was a group of school children in Southport who attended one of 11 energy efficiency workshops at the Southport Eco Centre which was funded by a ₤1,925 grant. The pupils have since shared the energy saving advice and money saving tips they learnt with their families and the wider community, as well as presenting a special assembly at which the rest of the school heard about simple steps to reduce energy use in the home.

For full Terms and Conditions for the E.ON Energising Communities Fund and to access the application form, please visit:- EOnEnergy.Com/Community.

The E.ON Energising Communities Fund is one of the ways E.ON is supporting homeowners and the wider community to become more energy efficient and to save money on their heating bills. To find out more about how E.ON could support, visit:- EOnEnergy.Com.
---
Wards moving at Southport Hospital
SOUTHPORT and Formby District General Hospital began the move of 3 Wards within the Town Lane building. The moves bring acute, medical and surgical care wards into one place. Each ward will keep its telephone numbers from their original locations. The 3 Wards moving will be:-

► The Stroke Ward 10b is moving to Ward 15b.
► Surgical Ward 15b moves to Ward 11a.
► Surgical Ward 11a moves to Ward 10b and becomes the Surgical Assessment Unit.

The moves are part of the Trust's ₤250,000 "Safe at all Times" project which aims to make the best use possible of buildings and staff. The work, at Southport, also includes creation of a clinical communications hub which will support bed management and give oversight of activity across the Hospital to underpin safe care.

Therese Patten, Chief Operating Officer, said:- "Having patients in the right place at the right time is a key factor in giving them the best possible experience while in our care. I want to thank all the staff who have worked so hard to make these changes happen as well as patients and their families for their patience this week."