Late night clubbers in Liverpool spared Hackney Cabs fare rise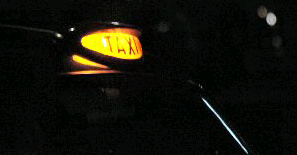 A rise in Hackney fares in Liverpool is to be introduced; but an additional hike in the cost of journeys in the early hours of Sunday morning has been dropped.

Of the 2,138 drivers in the City, only 38 (2%) submitted objections opposing varying aspects of the rise, which was requested by Liverpool Hackney Branch through UNITE the union. UNITE asked for it on the grounds that it would encourage more cabs on to the road in the early hours, discourage the urge for to cherry pick fares and also enable drivers to invest in the new electric London EV taxi.

The increase being introduced from, Monday 4 December 2017, users of Hackney Cabs will see a 20p rise in the minimum fare for tariff 1; the so called day rate will be ₤2.60. This is still lower than the national average of ₤2.76 and, locally, below the fare charged in Wirral.

There will also be an increase in the night rate which applies from 11pm to 6am, on Easter Sunday and on Bank Holidays, from ₤3.00 to ₤3.25.

The X (extra tariff), which applies to journeys at Christmas and New Year; and can also be charged for journeys over 4 miles beyond the nearest City Boundary, if agreed prior to the start of the journey with the passenger; will be charged at a minimum of ₤3.90, up from ₤3.60.

An initial plan would have seen the X minimum tariff of ₤3.90 used for journeys taking place between 2am and 6am, on Sunday mornings, has been dropped.

Overall, Liverpool fares for a 2 mile journey remain the cheapest among the big 'Core Cities' and the City is 294th in the national fare league table.

Councillor Frank Hont, Cabinet member for regulatory services, said:- "Nobody likes price increases, but Liverpool's fares are still lower than other similar sized Cities and this is only the 2nd rise in 6 years. We have decided against increasing fares in the early hours of Sunday morning because of feedback that it would be unfair to clubbers and may discourage drivers from agreeing to take people beyond the City Boundary. Our licensing team are doing a lot of positive work with the trade to drive up standards and address issues such as cherry picking, plying for hire and encouraging drivers to consider more environmentally friendly vehicles. This rise will help make the hackney trade in the City more financially viable."
---
Santa Dash 2017... Are you going???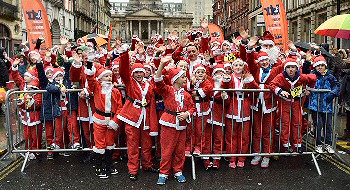 IN Liverpool City Centre will be awash with red and blue Father Christmases this year as the 14th Annual Liverpool Santa Dash takes place on Sunday, 3 December 2017. The event runs from the Pier Head at 9am, finishing at the Town Hall at around 10:30am, with the Mini Santa starting outside the Liverpool Town Hall at around 10:45, ending around 11:30am, also at the Town Hall. It's hoped Liverpool will retain its title of World's Biggest Festive Fun Run. If you take part, keep hold of your suits as The BTR Liverpool charity event has added an extra bit of Christmas Cheer to the run up to Christmas... On Thursday, 7 December 2017, the group will be holding the St John's Santa Conga. So check out the BTR Liverpool's website for more information and we will also post more on our Facebook Page.

Blue Air announces new route from LJLA!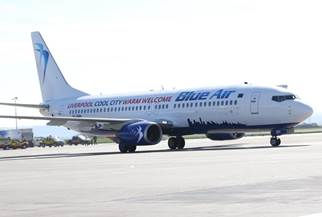 AIRLINE Blue Air have announced their latest new route to operate from Liverpool John Lennon Airport (LJLA), with flights to Palma de Mallorca for Summer 2018. Flights will commence on 2 June 2018, with twice weekly departures on Wednesday's and Saturday's through to the end of September 2018.
Liverpool became Blue Air's 8th European base earlier this year with the basing of one of the airline's 189 seat Boeing 737-700 aircraft, at LJLA, and this new destination for the airline complements their existing 6 flights from Liverpool to Milan, Rome and Alicante along with 3 destinations in Romania. Majorca is a favourite summer sun destination for North West holidaymakers and Blue Air's flights are expected to be very popular.

Paul Winfield, Director of Aviation Development for LJLA commented:- "We are delighted to see Blue Air announce additional services from Liverpool and we will continue to work closely with one of Europe's fastest growing airlines to look at other new destinations in the near future too. This new service gives the Region's holidaymakers a further opportunity to travel to one of the most popular destinations in Europe from the fastest easiest friendliest airport in the North West."
Tudor Constantinescu, Blue Air's Chief Commercial Officer said:- "To be able to announce a brand-new route less than 12 months after our arrival at Liverpool John Lennon Airport is something that we are very proud of. It's been an incredible year and we are delighted with the response that we have received from our passengers. We want to thank them by offering a sale on all Blue Air routes in the UK, which will of course include Palma de Mallorca, our latest addition to our Summer 2018 schedule."
---
Birkenhead Park recognised as 1 of the Top 100 historical places in England
BIRKENHEAD Park has been chosen as 1 of the Top 100 historically significant places in England by Historic England. The 'A History of England in 100 places' project has been searching the length and breadth of England to find the country's most significant sites which have helped shape both this country and countries internationally. The Grade I listed landscape and conservation area was 1 of 10 historical sites chosen in the 'Homes and Gardens' category alongside Windsor castle, Blenheim Palace and Wirral's own Port Sunlight village. TV presenter George Clarke, who has judged the Homes and Gardens category, is 1 of a panel of expert judges, including Mary Beard, Baroness Tanni Grey Thompson, Tristram Hunt and David Olusoga, who have chosen 10 places in 10 different categories from a long list of public nominations. Designed by Sir Joseph Paxton and opened in 1847, Birkenhead Park was the world's 1st publicly funded park in the world and was also the 1st park to be created through an Act of Parliament. Its creation was a response to the poor health conditions brought on by the industrial revolution with the aim of developing a 'green oasis' amongst the hustle and bustle of urban life. Birkenhead Park has influenced the design of urban parks across the world, most notably Central Park, New York and will now be featured in Historic England's recently launched podcast series, hosted by Emma Barnett.

Cllr Phillip Brightmore, Wirral's Cabinet Member for Environment said:- "I am incredibly proud that Birkenhead Park has been recognised by Historic England and the Top 100 places project. To be chosen alongside places such as Windsor Castle is a real honour and shows just how influential Birkenhead Park has been in the history of not only Wirral and England, but internationally as well. I would also like to thank the hard working, dedicated staff and volunteers that care for Birkenhead Park and maintain it to its historically excellent standard."

To see the full list of historical sites chosen by the Top 100 places project visit the Historic England website. To listen to the podcast series, search on iTunes for Irreplaceable - A History of England in 100 places.