Southport Art House Life Drawing Class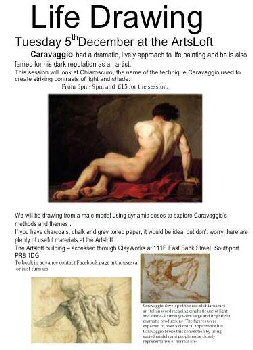 A life drawing class will be held on Tuesday, 5 December 2017, at the Art House, Southport. Classes run from 6pm to 9pm and cost just ₤15 for the session. People attending will be drawing a male model and using dynamic poses to explore Caravaggio's themes and his use of the technique - chiaroscuro. If you have charcoals, chalk and grey toned paper, it would be ideal, but don't worry there are plenty of useful materials at the Artsloft The Artsloft building; accessed through ClayWorks, at 111B East Bank Street, Southport, Merseyside, PR8 1DG. To book in advance contact them via their Facebook Page - Art House Southport or just turn up!
---
Pearl Jam Summer 2018 European Tour
PEARL Jam will embark on a 14 date European tour in June and July of 2018, including 2 shows at the O2 Arena, on 18 June and 19 June 2017.

22 October 2015 officially marked 25 years of Pearl Jam performing live. 10 studio albums, hundreds of unique live performances and official live concert bootleg releases later, the band continues to be critically acclaimed and commercially successful; with over 85 million albums sold worldwide and a 2017 induction into the Rock and Roll Hall of Fame.

The band's summer tour kicks off on 12 June 2018, in Amsterdam, NL and wraps up on 14 July 2018, in Lisbon, PT. This tour marks the band's 1st performance in Rome since 1996 and 1st ever concerts in Padova, IT and Kraków, PL.

A special ticket pre-sale begins today for current Pearl Jam Ten Club members. General public tickets for the O2 Arena go on sale, on Friday, 8 December 2017, at 11AM. Check PearlJam.Com for updates.

Pearl Jam's full European tour dates are as follows:

► 12 June 2018, AMSTERDAM NL, Ziggo Dome.
► 15 June 2018, LANDGRAAF NL, Pinkpop Festival.
► 18 June 2018, LONDON, O2 Arena.
► 19 June 2018, LONDON, O2 Arena.
► 22 June 2018, MILAN IT, I-Days Fetsival.
► 24 June 2018, PADOVA IT, Stadio Euganeo.
► 26 June 2018, ROME IT, Stadio Olimpico.
► 1 July 2018, PRAGUE CZ, O2 Arena.
► 3 July 2018, KRAKÓW PL, Tauron Arena Kraków.
► 5 July 2018, BERLIN DE, Waldbühne.
► 7 July 2018, WERCHTER BE, Rock Werchter Festival.
► 10 July 2018, BACELONA ES, Palau St. Jordi.
► 12 July 2018, MADRID ES, Mad Cool Festival.
► 24 July 2018, LISBON PT, NOS Alive Festival.

In celebration of Pearl Jam's legendary, sold out performances at Wrigley Field during the Chicago Cubs historic World Series championship season, Pearl Jam recently released documentary film Let's Play Two and accompanying soundtrack album. Full details at:- LetsPlayTwoFilm.Com.

Trust Leads the Way on High Quality Apprenticeships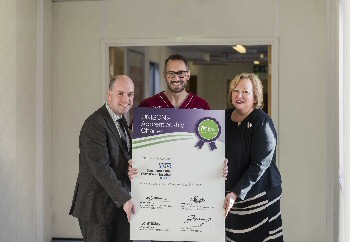 SOUTHPORT and Ormskirk Hospital NHS Trust has become the 1st organisation in the country to sign up to UNISON's apprenticeship charter. The charter ensures that apprenticeships deliver a positive outcome for both apprentices and employers. The charter commits the Trust to provide apprenticeships that are well funded, high quality and that lead to a meaningful job. Apprentices will receive the correct rate for the job they are doing, high quality training, and a safe and healthy working environment. Karen Jackson, interim chief executive, said:- "The Trust is delighted to be able to support UNISON's charter. Apprenticeships help us develop our staff, opening new doors in their development so together we can best meet patient needs."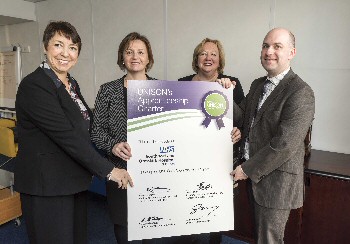 UNISON assistant general secretary Christina McAnea; who will be in Southport to sign the charter has said:- "We are delighted the Trust has decided to sign up our charter, publicly signalling its commitment to structured learning. The contribution of apprentices to the workplace is too often overlooked, and unfortunately many young people find themselves exploited, working long hours for low wages, with little support. Yet by properly investing in the workforce of tomorrow, employers can nurture talent and help fill the skills gap; and give a boost to the local economy at the same time. It's very welcome that the Trust views apprenticeships as an investment in its future workforce, rather than a short term source of cheap labour. With the number of apprentices set to rise significantly over the next few years, we hope many other employers will soon follow their lead."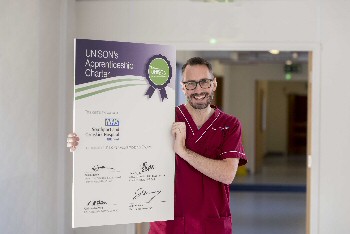 Simon Bunting is currently undertaking an apprenticeship. He is employed by the Trust and works in the Pharmacy as a Computer services manager. He said:- "I have really valued the opportunity to develop my career through undertaking an apprenticeship at the Trust. It is hard work, but I have learned a great deal which is already helping me to have a better understanding of leadership and management, enabling me to use this knowledge to become better at my job. It is great that more people will have a chance to undertake a high quality apprenticeship in the future."