Liverpool pub couple jailed for tax fraud
A Liverpool couple who ran a pub and garage in the city have been jailed for a total of 7 years for a ₤470,000 tax and benefit fraud.
Members of the Knutsen family ran Chaplin's Bar on Lodge Lane and a car repair garage, on Hill Street, but failed to pay any VAT, National Insurance or Income Tax while also fraudulently claiming benefits.

The fraud was revealed during an investigation by HM Revenue and Customs (HMRC) into the family members:-

► Bernard Knutsen, 68, who was jailed for 4 years.

► His wife Maureen, 62, was jailed for 3 years.

► Their daughter Kelly Ann, 39, was jailed for 21 months suspended for 2 years.

Sandra Smith, Assistant Director, HMRC Fraud Investigation Service said:- "This family thought they were exempt from the law. You cannot decide to ignore your tax obligations and not expect HMRC to take action. We are determined to maintain a level playing field for all local businesses and will not tolerate fraud like this. Tax evasion isn't a victimless crime, tax fraud is theft from the public purse, it takes money out of public services that everyone in the UK relies upon. If you suspect fraud similar to this report it to the HMRC 24 hour Fraud hotline on:- 0800 788 887 or go online."

HMRC investigators found Bernard Knutsen ran the Hill Street garage; which was known at various times as Able Testing, Hillside Services and The Service Station; and failed to pay any VAT, Income Tax or National Insurance.
He did the same with Chaplin's Bar, which he ran with the help of his wife Maureen. The pair failed to declare their income from the businesses when claiming various benefits.

Their daughter Kelly Ann received unexplained money from both businesses into her bank account. She also claimed benefit to cover her rent but failed to declare a second property she owned and rented out.

Family friend Gary Hyland, 50, was also involved in the fraud and was given a 2 year community work order with 12 months supervision and a 3 month curfew for benefit fraud, on 8 May 2017, at Liverpool Crown Court. He did not declare his rental income to HMRC and the Department of Works and Pensions (DWP).

Hyland lied about his involvement in Chaplin's Bar to secure a ₤13,000 loan to buy a caravan. He admitted being a front for the business and had no financial involvement in it.
He also failed to declare he was renting out a property he claimed to live at for his benefit claim.

The investigation by HMRC and the DWP found other individuals claiming benefits without declaring income received while working for or with the Knutsens. These individuals were investigated separately by DWP.

A DWP spokesman said:- "Only a small minority of benefit claimants are dishonest, but cases like this show how we are rooting out the unscrupulous minority who are cheating the system and diverting taxpayers' money from those who really need it."

The Knutsens were sentenced on 1 December 2017, at Liverpool Crown Court, confiscation proceedings have begun to recover the stolen tax.

Liverpool's most Christmassy School!
HISTORIC Arnot St Mary Church of England Primary School in Walton, which dates back to 1884, is opening a Winter Wonderland for the local community on Friday, 1 December 2017. The grounds of the 400 pupil School will be lit by a 20 foot real Christmas tree and lights, while a tepee in the garden includes a Santa's workshop with storytelling sessions, mince pies and of course, Santa himself. The opening is being performed by the oldest surviving pupil, Ronnie Dalglish, who attended in the 1920's, is now 95 years old and is a former Father Christmas for the School. Headteacher, Fiona Roper, said:- "Our School is at the heart of the local community and our fantastic staff always go the extra mile to make Christmas a special time for our children and their families and we want this year to be extra special! Christmas can be a challenging time for many families and sadly, some of our children don't always experience the Christmas we would hope for them. This year, we want to bring our whole community together to give all of our children a Christmas to remember. We think it is really important that we make a difference during the festive season and we want to do it by bringing Christmas to them. We'll have lots of great prizes to be won in our raffle which have been generously donated by local businesses, including the star prize which is a 49" LED Smart TV! Our Winter Wonderland is a magical place for everyone; it's a place where our whole community can come together and share in the joy of Christmas." The display will be open every day after School until the end of term.
---
Custom House Pop-Up To Open In Baltic Triangle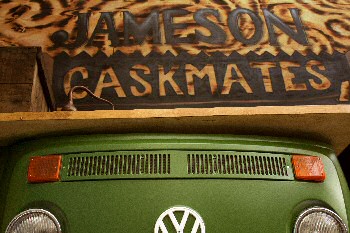 A corner of Ireland is popping up in the Baltic Triangle, 49 New Bird St, Liverpool, L1 0DN, this Christmas in a celebration of its enduring relationship with Liverpool. Custom House is set in the unique surroundings of the Botanical Greenhouse, creating an unmissable venue this December for those seeking sanctuary from the Christmas madness. The aesthetic inspiration combines the lower decks of the Titanic meeting an old school Irish public house circa 1800's creating a uniquely intimate escape in the Baltic Triangle. From the same creative minds that bring The Botanical Garden each summer to the City, Custom House will be serving everyone's favourite Irish export through festive period:- expect all kinds of whiskey, Irish Cream, Stout, plus lots of winter warming hospitality as well as the promise of the best Irish Coffee in Liverpool and a cockle heating hot Jameson's and ginger. Custom House will also introduce rare spirits including Green Spot, Redbreast Lustau Sherry Cask and the marvellous Jameson Caskmates which is a fine whiskey aged in stout barrels. There are also paired whiskey tasting flights, delicious Irish cheeseboards and the obligatory packet of Taytos to ensure everyone is well fed and watered. In the spirit of all the best Irish bars, there will be regular live music from local musicians and a lively atmosphere each day is guaranteed. Custom House opens on Thursday, 7 December 2017, on 4pm, midnight every night and will be open throughout to early 2018, except for Xmas Day, and with a late licence on NYE until 1am.