Workers 'too excited' by Christmas to concentrate on the job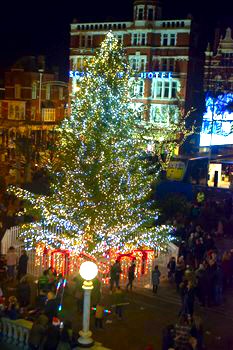 WELL over ½ of employed Brits (61%) admit to being distracted at work by Christmas as early as November, according to new research by HR analytics company Peakon.
A survey of more than 2000 people reveals that, for those of us who can hold our attention until December, we can't wait much longer; with 18% of people saying they start to get distracted by festivities on the 1st of the month.
As Christmas creeps ever closer, employees admit to a whole raft of distractions from their everyday work duties.
42% of people confess to doing Christmas shopping online, 35% say they're planning Christmas day and 30% are planning their Christmas break instead.
16% confess to indulging in the odd Christmas tipple on the job; with men twice as likely to take advantage of a festive drink than women (22% and 11% respectively).
17% of those surveyed leave work earlier than usual, and 12% take longer lunches. A small percentage 4 confess to calling in sick.

When asked why they'd slacked off, 21% respondents said they were simply 'too excited' to focus. 32% said they had too much to plan ahead of Christmas day, 21% admitted to feeling 'burnt out' and 19% said workplace festivities such as Secret Santa or the office party were to blame.
32% said it was simply the case that business has slowed down and there's less work to do at this time of year.
To gauge when the disruption to businesses would become palpable, Peakon conducted a follow up study of 3,000 UK workers and found that 57% admitted to their productivity noticeably declining ahead of the final week before Christmas, starting, on 18 Monday 2017.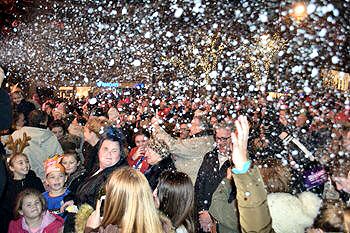 Dan Rogers, co-founder of Peakon, which helps businesses to measure employee engagement and retention, says:- "I think it's fair to say that the great Christmas 'click-off' is well and truly a thing, with a silent agreement in most workplaces that productivity takes a hit at this time of year. As a business, the worst thing you can do is bury your head in the sand; it pays to try to understand what is going on. Acknowledge that this dip is inevitable and plan around it. Think of it as good time to regroup as a team, gather feedback on the progress you have made during the year, and plan how you will continue in January. Most businesses, with the exception of retail, experience a slow down around this time of year anyway, so trust your team and let them relax a little. Many employees are unlikely to have taken a break since summer, and will be more prone to burnout. If you look after the well-being of your team, you'll ultimately get the best out of them."

Some employers are tackling this head on. Online marketing agency Distilled has offered employees Christmas shopping hours, whereby workers can take Friday afternoon off if they make up the time during the week. Distilled's CEO, Will Critchlow, says:- "A bit of distraction is inevitable at this time of year. We're all human. So at Distilled, we don't try to fight it too much; with flexibility for shopping, the odd long lunch, and generally trusting the team to plan their time. We might take a bit of a hit at this time of the year, but we trust our team and we know it balances out over time."

For more detailed results, data visualisations and top tips for employers visit:- Peakon.Com.

Liverpool 2018 – 10 Years in the Making
FINAL plans are being put in place for Liverpool to stage an ambitious and forward looking culture programme to mark the 9th Anniversary of its reign as European Capital of Culture. Details of Liverpool 2018, the year long celebration of the City's thriving creative scene; will be announced in January. This will be when the City gears up to once again step into the international spotlight and showcase its extraordinary culture offer, while looking forward to the next decade of cultural innovation.

► A number of major projects within the programme have already been announced including:-
► China's 1st Emperor and the Terracotta Warriors; coming to the UK for the 1st time in a generation.
► The Three Festivals Tall Ships Regatta linking Liverpool, Dublin and Bordeaux on 25 May to 28 May 2018.
► The finale of the Clipper Around the World Yacht Race which is set to race back onto the Mersey in late July 2018.
► The Clothes Show which returns to the City for a 2nd year, from 19 October to 21 October 2018.
► Tate Liverpool's 30th Anniversary programme including an Egon Schiele retrospective .
► Liverpool Biennial's 10th edition presenting leading visual artists from across the world takes place over 15 weeks.
► Rewire - A major new art and technology commission led by FACT with Invisible Flock, working with artists from across the globe and communities in Toxteth and Dingle.

Alongside this, Liverpool 2018 will also showcase premieres across the worlds of entertainment and sport, new major public artworks, some extraordinary 1 off music moments and four artistic seasons each bursting with new commissions exploring:-

► China Dream – showcasing the best of modern Chinese culture.
► The Future World of Work - what does this mean for society.
► The Art of Football - the global relationship with the beautiful game.
► Nineteen Eighteen (working title) - the centenary of the end of the 1st World War.

The City's unrivalled festival offer; from Africa Oye and Liverpool International Music Festival right through to Milapfest; will mark the year with some of their most ambitious line ups ever, while brand new music events; including a piano festival like no other; will reinforce Liverpool's position as a UNESCO City of Music.

To add to that, the team behind Liverpool 2018 can reveal plans for Easter Fire; a collaboration with renowned live event creators Walk the Plank. Easter Fire at St George's Hall will take place during the Easter holidays, creating a world of fire, entertainment and gastronomy. Famous for their spectacular live performances, Walk the Plank are promising to create a unique experience in one of the hidden gems of the City. Tickets for the event and further details will be available from Friday 8 December.

Mayor Joe Anderson, said:- "European Capital of Culture was an extraordinary year for this City, but it was never just about 2008; it was about the legacy that followed. Culture has been the backbone of Liverpool's renaissance over the past decade, and Liverpool 2018 is a chance for us to recognise the growth in confidence, ambition, creativity and cultural engagement which is seen in every corner of Liverpool; putting us quite rightly as a cultural exemplar on a national and international stage. Liverpool 2018 is an opportunity for us to once again roll out the red carpet for people to come and visit for the 1st time, or to rediscover what we believe is the most exciting destination in the UK. Some of the projects which we will be announcing in the New Year really do raise the bar and it will be an incredible time for residents and visitors who will undoubtedly travel from across the world to experience how Liverpool puts on a show."

Mayor of Liverpool City Region, Steve Rotheram, said:- "The City Region Combined Authority is delighted to be supporting Liverpool 2018 with ₤5 million from our Single Investment Fund. It will kick start a new cultural journey for the whole of the City Region and it is my ambition that all areas feel the same benefits as Liverpool has done in the last decade. This region is blessed with a huge depth of talent and it is our job to provide the platforms to showcase that creativity and encourage participation. I was Lord Mayor in 2008 and saw 1st hand the impact celebrating culture had on people and communities. I very much look forward to another outstanding year of culture that will hopefully enrich and improve the lives of all who live and visit here."

Claire McColgan, Liverpool's Director of Culture, said:- 'Liverpool has been defined by culture for centuries, from our incredible architecture and galleries to major live events which turn City into a playground. It is the most powerful way to tell our story across Europe and the world, and is central to the image of modern Liverpool. The last decade has seen such incredible growth in our cultural scene, it is right that we use this anniversary to celebrate the extraordinary organisations which make this City the most exciting in the UK, but also it is crucial that we use it as a chance to look forward to the next ten years and challenge ourselves to imagine what we might look like and can achieve by 2028."

John Wassell from Walk the Plank said:- "We worked on the opening event of European Capital of Culture and have watched on admiringly as Liverpool's cultural sector has grown from strength to strength ever since. Walk the Plank perform all over the world, and Liverpool's name is synonymous with ambitious cultural events wherever we go, so it's exciting to return a decade since we were last here and to bring something never seen before as part of this truly bumper year!"

The official launch of the 1st ½ of the programme will be made on 11 January 2018, 10 years to the day since the 'People's Opening' which launched European Capital of Culture in 2008. The GREAT Britain campaign is an official partner of the Liverpool 2018 programme and will use its impressive reach across the tourism, culture, investment, export, trade and education sectors to promote Liverpool's programme and position it as a must visit destination. For more information on already released projects and to help plan your visit to Liverpool go to:- VisitLiverpool.Com/2018.