Liverpool, UK Sport and British Gymnastics are to bid to host the 2022 World Gymnastics Championships
Photos by David Munn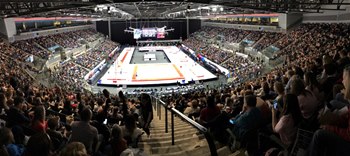 LIVERPOOL City Council's cabinet is set to endorse British Gymnastics' bid to the Federation of International Gymnastics (FIG), on Friday, 15 December 2017, which if successful would bring together 500 gymnasts from over 80 nations for 10 days of exhilarating action, generating an estimated 15,000 bed nights and a ₤6m boost to the local economy.

Last held in the UK in 2015, when Glasgow attracted a worldwide audience of 665 million viewers, the 2022 championships has an added cache as it will be the 1st event for nations to qualify for the 2024 Olympics in Paris.

Liverpool is seeking to host what would be its biggest ever international sporting event at the waterfront based Echo Arena complex, which has annually hosted the British Championships since 2012 and will host the BBC Sports Personality of the Year Awards this Sunday.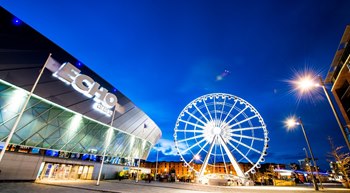 And as part of the bid, British Gymnastics have announced the Kings Dock venue, which has held Davis Cup ties and many other major sporting events, will continue to host these championships until 2022.

The move is designed to underpin a capacity building and audience development programme, as well as providing the GB team with the best possible opportunity to qualify as one of the top three nations for Paris.

The World Championships would also be a lasting legacy of the work undertaken by Liverpool for its 2022 Commonwealth Games bid, which had aimed to base the gymnastics element in the same venue.

Mayor Joe Anderson said:- "The World Gymnastics Championships in 2022 would be a huge sporting occasion for Liverpool and a unique opportunity to showcase the City to a global audience. Liverpool has a fantastic track record in nurturing gymnastic talent like triple world champion Beth Tweddle and we've fostered a great relationship with British Gymnastics by hosting its championships since 2012, so a 2022 World Championship would be great way to celebrate a decade long journey. A lot of hard work remains to be done, but our exciting bid for the 2022 Commonwealth Games undoubtedly boosted the City's reputation for its ability to host prestigious sporting events. We have world class facilities, brilliant partners in the City and in British Gymnastics and UK Sport, and we have the x-factor in our passionate crowds who are second to none, so I can guarantee we would give the sport of gymnastics a World Championships to remember."

Both UK Sport, which will support the bid through National Lottery funding, and British Gymnastics regard Liverpool's ability to co-locate all competition and training facilities at the Kings Dock as a huge asset; with on campus hotels requiring minimal transport requirements for athletes, coaching staff and judges.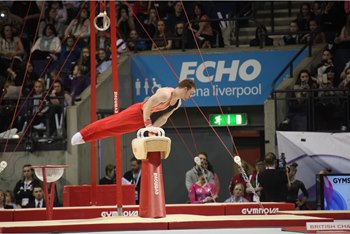 A UK bid is also strengthened by the fact that British Gymnastics is held in high esteem by the FIG for its ability to stage world class events, having held three World Championships, the most recent of which in Glasgow was widely acknowledged as the best ever, as well as the 2014 Commonwealth Games and 2012 Olympic Games.

Legacy will be another key element in the bid and British Gymnastics is already working collaboratively with the City Council's Sports Development Team to assist with the establishment of a community development programme to build participation across the City up to and beyond the championships.

Matthew Greenwood, Events Director at British Gymnastics, said:- "We are delighted to partner with Liverpool City Council and UK Sport on the bid for the 2022 World Championships. We have a rich history of working together and staging magnificent events in the City. To bring the World Championships back to the UK ahead of the Paris Olympic Games and host it in Liverpool would be fantastic."

Esther Britten, Head of Major Events of UK Sport, said:- "Bidding for the World Gymnastics Championships forms part of our ambitious strategy to invest National Lottery funding to maintain the UK as a world leading host of innovative and inspirational international sporting events. 7 years on from successfully hosting the 2015 Championships in Glasgow, we look forward to working in partnership with British Gymnastics, City of Liverpool and the FIG on the 2022 edition."

Beth Tweddle, Liverpool's celebrated Triple World Gymnastics Champion, said:- "I lived, trained and went to University in Liverpool and, having won three World titles, it fills me with a huge amount of excitement and great pride to imagine these championships in our great City in 2022. The tournament would be ideal for gymnasts given the compact nature of all the venues and hotels and having competed myself at the Echo Arena know full well what an amazing atmosphere our passionate fans can bring to the event. We also have sport in our blood in Liverpool, and I know our passionate and friendly fans would ensure an amazing atmosphere!"

The Federation of International Gymnastics is expected to announce the winning bid for the 2022 World Championships at its next Council meeting in Istanbul in May 2018.

Christmas spirit brings maternity communities together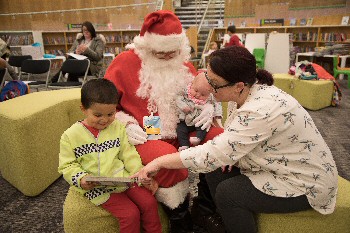 NHS maternity services, voluntary support groups and local families across Cheshire and Merseyside came together for a recent event to celebrate the launch of:- 'Maternity Voices.' Hosted at Liverpool Central Library by the Improving Me Women's and Children's Services Partnership, the event shone a light on maternity support available to families across the Region, and aimed to encourage wider collaboration between different organisations and services. This collaboration will be driven by new Maternity Voices groups; teams of health care professionals, commissioners and members of the public working together to improve experiences for families accessing maternity services; which have now been established across Cheshire and Merseyside.

Catherine McClennan, Programme Director for Improving Me, said:- "I'm delighted that we have been able to launch Maternity Voices. This will ensure that families can have their voices heard throughout the maternity system and really be involved in a meaningful way. We had a great turn out and a really diverse audience, which highlights just how important it is that everyone can have their say. Our next step is to work closely with our maternity partners to drive this momentum at a local level. I'd like to say a huge thank you to everyone who joined us on the day."

In addition to its focus on partnership working, the event also included powerful stories from local women about their maternity experiences, a performance by local poet Terry Caffrey and a visit from Santa Claus himself, who delighted attendees with gifts of books for children; generously donated by the library.

Danielle Gillett, a mum from Southport who shared her maternity story at the launch event, said:- "Events like this are great to show parents how to get involved in ensuring maternity services are designed around them. Maternity Voices partnerships are brilliant forums to enable your voice to be heard to professionals at the heart of local maternity care. I thoroughly enjoyed the day, I hope my story helps others tell theirs and gives them the courage to get involved too."

Councillor Wendy Simon, Liverpool Assistant Mayor and Cabinet Member responsible for libraries, said:- "Events like this are incredibly important in order to give women and their families the support and advice they need, and I'm delighted the event was held in the beautiful surroundings of Central Library. It was a great turn out and we hope to host similar events in the future."

What is Maternity Voices? Maternity Voices Partnerships (MVPs) are an innovative development based on an updating of Maternity Services Liaison Committees (MSLCs) within providers of NHS maternity services. Maternity Voices groups take forward issues raised by maternity service users by looking at aspects of the service in detail and making recommendations for improvements. Service users, providers and commissioners then work together on putting these into practice.

What is Improving Me? Improving Me is a partnership of 27 NHS organisations across Cheshire and Merseyside aiming to improve the experiences of women and children. The Partnership is 1 of NHS England's Vanguard New Care Model initiatives. To get involved or to find out more about Cheshire and Merseyside Maternity Voices send them an email to:- Info@ImprovingMe.Org.UK. or visit:- ImprovingMe.Org.UK.
---
Merseyside Police have delivered presents across the Merseyside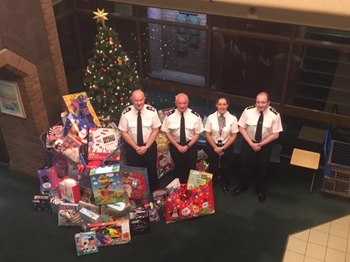 MERSEYSIDE Police became Santa's helpers for the day, on Friday, 15 December 2017, when they deliver presents donated from their:- 'Christmas Tree Project' to children across Merseyside. The project saw members of the public, Officers and staff donate suitable gifts at various Police Stations, which have now been collected and will be delivered to children between the ages of 2 and 17, in care homes, across Merseyside. Each person donating was allocated a child to buy for, to make sure each 1 gets the perfect present. The response from the public and staff has been truly heart warming and Chief Constable Andy Cooke was joined by his Chief Officers, at Police Headquarters this morning to gather the gifts together before they are given to children across Merseyside to make their Christmas special.
The Chief Constable said:- "I would like to thank all of the companies, members of our communities and our staff who have given their time to this amazing project. It is humbling to see the generosity of people across Merseyside. This really is what Christmas is all about, with every gift making this time of year better for those children in our communities who might otherwise go without. We are happy to do our bit in ensuring the children that we reach wake up on Christmas Day with a present, as every child should experience the magic of Christmas."
Merseyside's Police Commissioner Jane Kennedy said:- "This is such a simple idea, but 1 that will make the world of difference to a child who may otherwise have been waking up on Christmas morning with nothing waiting for them under the tree. Even a small gesture can make a huge difference at Christmas and, thanks to the generosity and thoughtfulness of the Officers and staff of Merseyside Police and all those who offered to buy gifts, these children will instead be experiencing some festive cheer this year. I would like to thank everyone involved with this fantastic project and all those who gave so kindly; this is what Christmas is all about."