The Greyhound Trust urgently needs the help this Christmas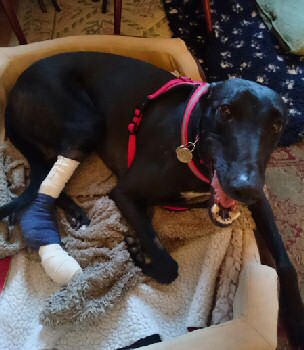 THE Greyhound Trust urgently needs the help of people in Lancashire area to find permanent loving homes for greyhounds like Sergio and to help us look after them over the festive season.

Every year the Greyhound Trust finds homes for thousands of retired racing greyhounds. Greyhounds like Sergio, who has been patiently waiting for 2 years for his forever home. It hasn't been easy for Sergio, left with a deformed leg from an old injury that didn't heal properly. Through the patient and loving support of our volunteers, Sergio travelled across the UK to a specialist vet, who carried out life changing surgery to give Sergio the quality of life he deserves. He is now with one of our volunteer foster families working on his recovery.

Despite it all, Sergio is a happy, loving, and affectionate greyhound. Blessed with the greyhound traits of a gentle nature, calm temperament, and devoted loyalty that have made them a favourite breed from the Egyptians to King Canute. The only breed mentioned in the Bible, good with children and the elderly alike, these elegant 40mph couch potatoes are making a return to popularity as an increasingly popular family pet.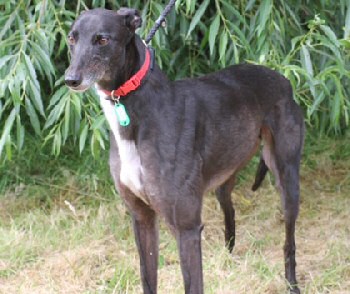 Sadly there are greyhounds just like Sergio at our branches all over the UK. At our local branch in Lancashire, Redley has been waiting for his forever home. Redley is an eight year old boy who has retired from racing now and looking for his forever home. He is slowly learning about one to one time with humans as we don't think he's ever really experienced it. He is learning to take toys and treats from you gently, as his favourite thing in the whole world is food and toys. Redley has a lot of love to give, and with patience and understanding with the right family, he will flourish. He's a fantastic lad looking for a very special greyhound experienced home to call his own.

It costs the Greyhound Trust ₤10,000 a day to continue to help greyhounds like Sergio and Redley. Money that covers veterinary costs, vaccinations, flea and worm treatments, leads, collars, food, bedding, and keeping them safe, secure, and comfortable this Christmas. Hundreds of committed volunteers will spend their Christmas cleaning out kennels and making sure all our greyhounds get walked and fed. We simply couldn't do this without their support.

To make that happen the Greyhound Trust is appealing for help, to find a forever home for Sergio, Redley, and the hundreds of others who you could give the ultimate gift this Christmas. If you are expecting a busy festive period and now is not the time to offer a home, perhaps volunteer a few hours to help with walking, donate some food, or even an old duvet to sleep on. Every single donation, big or small, makes a difference. Please help us, to help our greyhounds get their Christmas wish this year. Visit:-GreyHoundTrust.Org.UK/Sergio to find out more.

---
Mayor launches 'Always Room Inside' rough sleepers campaign
A public information campaign about Liverpool City Council's new approach to tackling rough sleeping has just been launched. 'Always Room Inside' is the message; ensuring there is greater public awareness about the Council's 24/7 provision to get people off the streets and into a warm, secure environment. As well as the day facilities at the Whitechapel Centre on Langsdale Street, the Council has recently opened a new night shelter, at Labre House, on Camden Street which is already providing rough sleepers with overnight accommodation, where they can rest, wash, get something to eat and use computer and telephone facilities to keep in touch with family and friends. Labre House is set to become a hub providing a wide range of services for rough sleepers, including:- GP and health services, welfare and housing advice and support to help rough sleepers turn their lives around. Together with the Council's active outreach teams; which includes a Labre House minibus helping bring rough sleepers to the Centre; it is hoped that the numbers sleeping on the streets can be reduced and that no one has to spend a single night outside. 'Always Room Inside' branding will start appearing around the City Centre in coming days, including the large mounted display screens throughout the City Centre and at the end of the M62. The hope is that it will encourage the public to urge any rough sleepers they meet to head towards Labre House for help and support. Mayor of Liverpool, Joe Anderson, explained:- "There is nothing worse than finding yourself on the streets without a place to go in weather like this. I am absolutely determined that no human being should ever be in that position, which is why we have launched Labre House and the 'Always Room Inside' campaign. Altogether, the council spend ₤18 million a year helping people and families that have fallen on hard times, preventing many from becoming homeless in the 1st place. Rough sleeping is the visible bit of the problem; the tip of the iceberg; and now requires a more concerted approach. As a result, we have the funding and facilities in place to address the problem and this campaign will help to get the message out that help is available and that there is, literally, 'Always Room Inside.'"

Merseyside's newest firefighters save Santa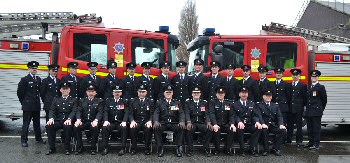 17 firefighters graduated from Merseyside Fire and Rescue Service's Training and Development Academy, on Wednesday, 20 December 2017. The Service's latest trainee firefighters celebrated their passing out with family, friends and colleagues. Following 18 weeks of rigorous and challenging training, the firefighters in development were proud to receive their Certificates of Achievement from Chief Fire Officer, Dan Stephens. The ceremony, held at the Croxteth based academy, saw the new recruits carry out skills demonstrations; which included firefighting and vehicle extractions, as well as the seasonal highlight… rescuing Father Christmas, who was 'stuck' on the roof of the Fire House. The service's Fire Choir treated guests to a set of festive Christmas favourites before the new firefighters addressed attendees, providing an overview of the course's most challenging and rewarding elements. CFO Stephens congratulated the recruits and commended each 1 for their success. Later, a very grateful Father Christmas was on hand to give gifts to the guests' children.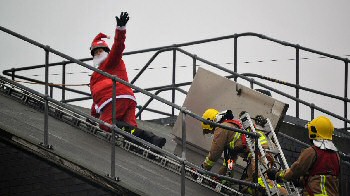 CFO Stephens said:- "I am delighted that our 17 newest recruits have made it through the rigorous training course to become operational firefighters for Merseyside Fire and Rescue Service. They have all shown diligence during their training; along with a strong team spirit which is essential for protecting our communities and their colleagues. I would like to personally congratulate each of the recruits for their hard work. I am extremely proud of each and every one of them and I wish them a long, happy career with the service."
After firstly passing a tough selection process, the firefighters started the course earlier in 2017, with training including fire and water rescue, rescue from high rise buildings, as well as tunnel and airport scenarios. Training was also received in skills such as engaging with the community and promoting fire safety awareness.
---
LJLA plane pull ropes in ₤2,500 for Alder Hey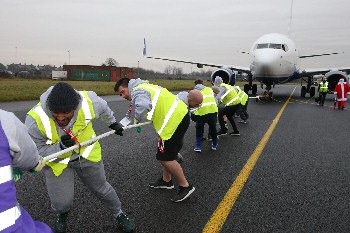 COLLEAGUES at Liverpool John Lennon Airport (LJLA) , on 19 December 2017, joined by employees from a number of local companies in a plane pull challenge all aimed at raising money for the Airport's charity partner Alder Hey Children's Hospital. Blue Air who has an aircraft based at Liverpool with flights to 7 destinations from LJLA, very kindly let the Airport use one of their Boeing 737 aircraft weighing almost 40 tonnes for the plane pull, with teams competing against one another to see who could pull the aircraft the furthest in 1 minute. Companies represented at the challenge included:- Matalan, Santander, Gaskells Waste, Peel, Merseyside Fire and Rescue, Morgan Sindall, Sovini, Swissport, South Liverpool Homes, The Land Trust and the Airport itself, with Matalan coming out on top by managing to pull the plane an incredible 49.2m in 60 seconds.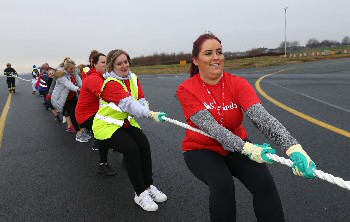 Organised by employees at the Airport, the challenge raised approximately ₤2,500.00 for Alder Hey Children's Hospital and will be added to over ₤80,000 raised by Airport employees over the past 12 months for the charity. Carol Dutton, HR and Community Director for LJLA commented:- "This has been an amazing effort by everyone involved and a big thank you goes to all the companies who gave up time to take part in this unique challenge and particularly to Blue Air for providing one of their aircraft. This is one of the highlights of our fundraising calendar with more much needed funds going to Alder Hey."